The 2020 NFL offseason was dominated by movement at the game's most important position. With the season looming, theScore is predicting the statistical production for all veteran and rookie quarterbacks who are set to play for new teams. Only QBs expected to start a significant number of games were considered.
Veterans
Tom Brady
New England Patriots ➡️ Tampa Bay Buccaneers
Though few would deny that Brady's supporting cast in 2019 was one of his worst under Patriots head coach Bill Belichick, the future Hall of Famer also looked well past his prime.
Brady's 3.9 touchdown percentage was a career-worst mark, his 253.6 yards per game were his lowest total since 2010 (Brady won MVP that year but threw 121 fewer passes), and his 60.8 completion percentage was just his since 2007 that was below 63%.
Not only did Brady fail to live up to his own lofty standards in 2019, but he was also an average passer at best when compared to the rest of the league. Brady finished 17th in both QBR and DVOA, 18th in passer rating, and 20th in adjusted yards per attempt. He was roughly as accurate as Jacoby Brissett, threw a touchdown about as often as Ryan Fitzpatrick, and racked up yards at the same per-game rate as Kyle Allen. Only Jameis Winston's 44.5 passer rating against pressure was worse than the six-time Super Bowl winner's 51.8, according to PFF.
Now, Brady has basically everything he could dream of with the Buccaneers. He'll have old friend Rob Gronkowski and two Pro Bowl receivers in Mike Evans and Chris Godwin, as well as solid pass-catching tight ends O.J. Howard and Cameron Brate and a strong offensive line. Brady will also be working with offensive mastermind Bruce Arians.
So, should we put more stock in Brady's struggles during his final year in New England or the talent in Tampa Bay? Winston put up eye-popping totals last season (5,109 yards and 33 touchdowns) with the Bucs, but he was also inefficient, even for a quarterback in Arians' no-risk-it, no-biscuit scheme, and was sacked 47 times.
If anyone has earned the right to be trusted until it's clear he's finished, it's Brady. Tampa Bay should be confident it gets the quarterback we saw from 2016 to 2018.
2020 stats prediction: 4,500 passing yards, 34 TDs, 13 INTs, 64% completion percentage, 7.9 YPA (16 games)
Cam Newton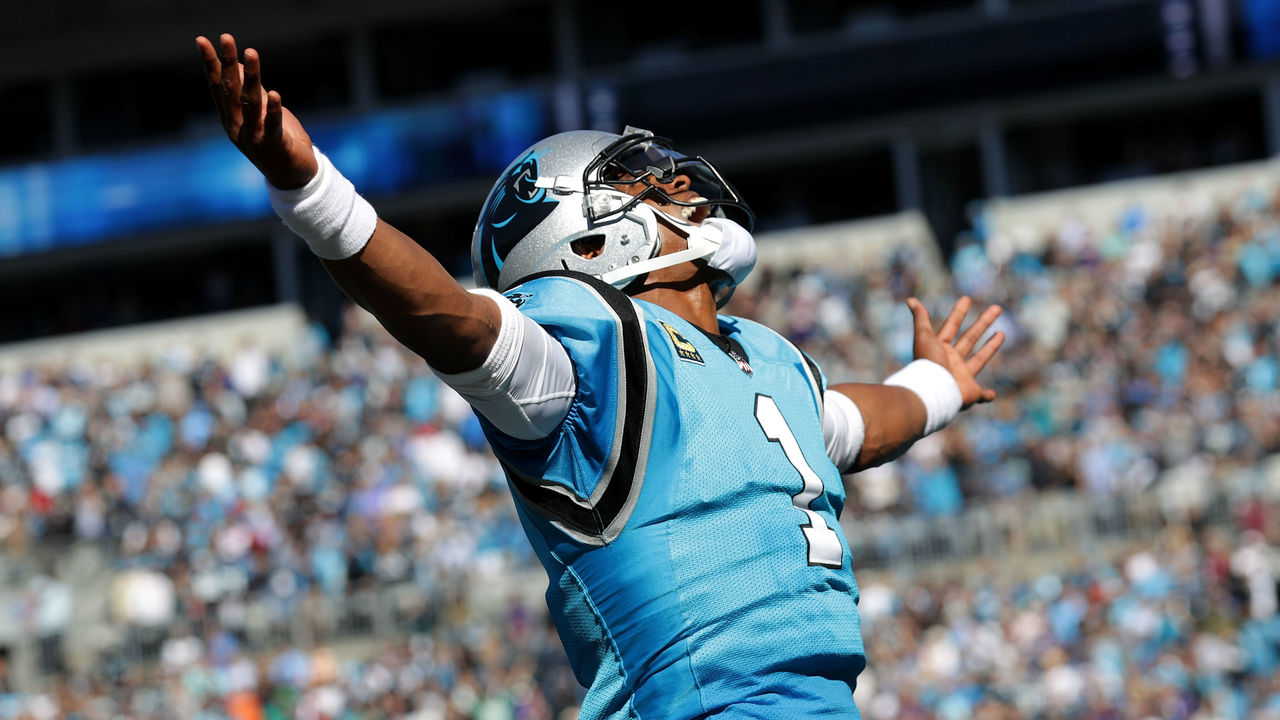 Carolina Panthers ➡️ New England Patriots
You can believe Belichick's statement that the Patriots will hold a starting quarterback competition in camp if you want, but Newton will be under center in Week 1. It remains to be seen, though, whether the former Panthers star can avoid injury and stay in that spot. Newton's last two seasons have been plagued by injuries - he played through most of the 2018 campaign with a shoulder issue before missing the majority of 2019 with a foot ailment.
Newton recently said he's fully healthy. Some will need to be convinced that his injury issues are behind him, but he missed just three games in seven seasons before 2018, a near-miraculous feat considering his style of play.
If the 2015 NFL MVP is to rebound, his biggest obstacle will be New England's lack of offensive firepower. No one could consistently get open for Brady, not even Julian Edelman. New England did little to address its skill positions this offseason outside of drafting a couple of tight ends, so Newton may be destined for the same struggles.
Newton's ceiling in 2020 is likely limited by his lack of pass-catching options, but arguably no quarterback is better at creating their own yards outside of their system. Newton overcame a lack of talent year after year in Carolina, and now he has Belichick and coordinator Josh McDaniels spending every waking minute designing the offense to suit his skill set.
In the first half of 2018, before his shoulder worsened, Newton was lighting it up in Norv Turner's quick-hit passing game. He threw 15 touchdowns against four interceptions, completed 67% of his passes, and rushed for another 342 yards and four scores across eight games. Maybe that version will never return, but if there's one team with which it could, it's Belichick's Patriots.
2020 stats prediction: 3,400 passing yards, 23 TDs, 13 INTs, 64% completion percentage, 7.8 YPA; 550 rushing yards, 9 TDs
Philip Rivers
Los Angeles Chargers ➡️ Indianapolis Colts
Virtual offseason workouts and limited training camps will mean quarterbacks on new teams face a far tougher task getting up to speed with their new systems. But Rivers should have an advantage thanks to his time working with Colts head coach Frank Reich and offensive coordinator Nick Sirianni with the Chargers.
He struggled during his final season with the Chargers, throwing just 23 touchdowns against 20 interceptions (the third-most in the league). Rivers finished 15th in DVOA, 16th in adjusted yards per attempt, 17th in passer rating, and 22nd in QBR. It was a dramatic decline from an MVP-caliber season the year before when he ranked third, fifth (tied), fifth, and seventh in those metrics.
The longtime Chargers standout will be replacing Brissett, who started strong in 2019 but declined dramatically as the Colts were decimated by injuries. Reich also didn't trust Brissett, as Indy was 31st in first-down passing attempts, according to teamrankings.com.
Rivers' arm might not be what it once was, but the 38-year-old is still a gunslinger and will be able to open up the passing attack again. With the Chargers, he was working behind an offensive line that PFF ranked 29th, and he also didn't get much help from the running game, which produced just 90.8 yards per game (fifth-worst in the league). Rivers often tried to do too much with too little support.
That should change with the Colts, who own what is arguably the NFL's best offensive line in addition to a strong rushing attack that will likely be even better in 2020 after pairing rookie Jonathan Taylor with Marlon Mack. Indy also drafted Michael Pittman - the kind of big-bodied wideout Rivers has historically loved playing with - to pair with speedster T.Y. Hilton.
Reich is one of the most creative play-callers in the league, and with such a dominant ground game at his disposal, the head coach likely won't ask Rivers to carry the offense as he did in Los Angeles. He'll put up numbers that easily exceed Brissett's from last year but fall well short of Andrew Luck's from his final campaign.
2020 stats prediction: 4,100 passing yards, 27 TDs, 15 INTs, 68% completion percentage, 7.2 YPA (16 games)
Teddy Bridgewater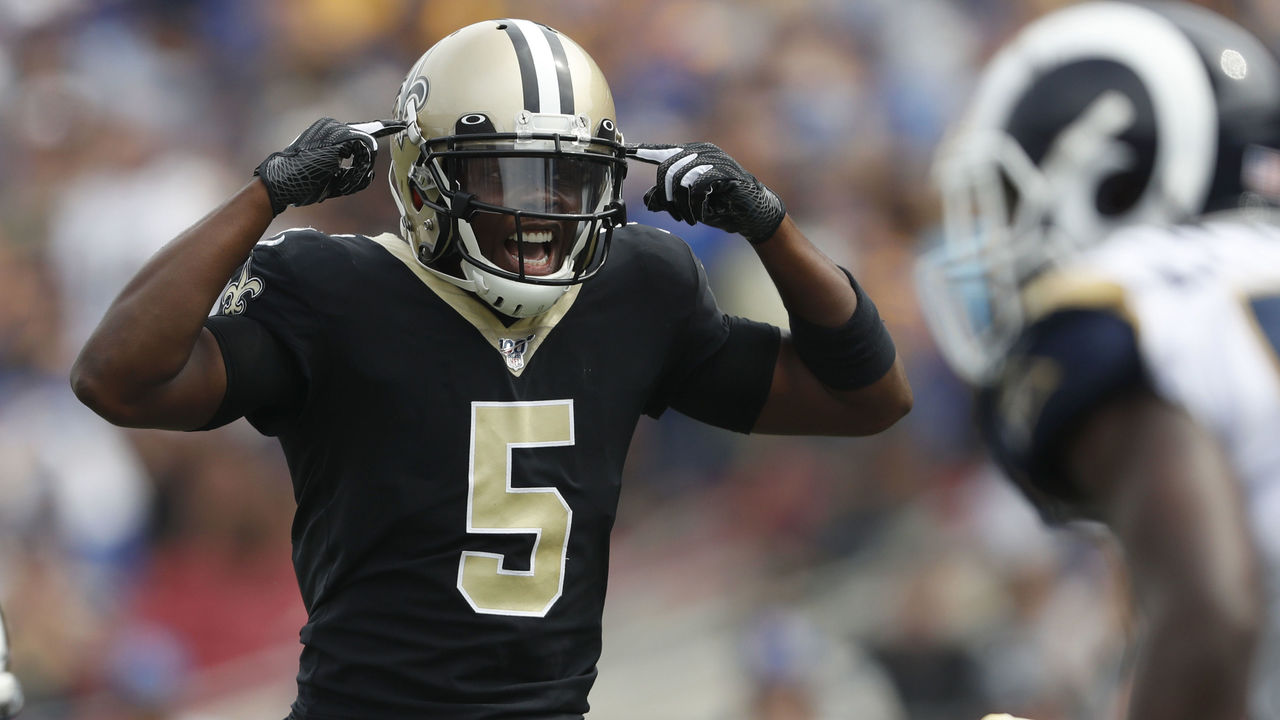 New Orleans Saints ➡️ Carolina Panthers
Bridgewater's long journey back to a starting job is complete. The veteran spent the last two seasons with the Saints as Drew Brees' backup, rebuilding his value and health following a career-threatening knee injury in 2016. Bridgewater took full advantage of an opportunity when Brees went down with an injury, winning all five of his starts.
He was highly efficient during those games, throwing nine touchdowns against two interceptions to go with 1,205 yards while completing nearly 70% of his passes. Bridgewater would've finished with around 29 touchdowns against seven interceptions and 3,850 yards if those numbers carried over a 16-game campaign. However, he was also playing in Sean Payton's system with star receiver Michael Thomas and dynamic back Alvin Kamara.
Bridgwater threw 14 touchdowns in each of his first two seasons with the Minnesota Vikings - he started 12 games as a rookie and 16 as a sophomore. He averaged 201.9 yards per game in 2015 and easily beat that in 2019, hitting 241 yards per game. He got a big statistical boost from playing in one of the most quarterback-friendly environments last year, but he wasn't working with a ton of talent in Minnesota and was only two years into his career.
The signal-caller won't have the same support in Carolina, but he won't be forced to carry the offense, either. Do-it-all running back Christian McCaffrey is the workhorse, and receivers D.J. Moore and Curtis Samuel should make Bridgewater's life a lot easier. Still, with the Panthers more likely to be in the running for a top-five draft slot than the playoffs, Bridgewater will likely struggle to produce better than average stats in 2020.
2020 stats prediction: 3,400 passing yards, 23 TDs, 10 INTs, 68% completion percentage, 7.1 YPA (16 games)
Nick Foles
Jacksonville Jaguars ➡️ Chicago Bears
The only true veteran quarterback competition this season will take place in Chicago, where incumbent Mitchell Trubisky will attempt to bring his career back from the brink against Foles, a former Super Bowl MVP. It's unlikely one will be able to keep the job for the entire campaign, but, for our money, it'll be Foles who racks up the majority of the starts.
Foles was traded to the Bears just one year after signing a big free-agent deal with the Jaguars. The former Philadelphia Eagles standout broke his left clavicle in the first quarter of the opening game and wasn't able to return until Week 11. Rookie Gardner Minshew exceeded all expectations after becoming the starter, and the Jaguars went back to the 2019 sixth-rounder after Foles returned for three underwhelming starts. The veteran finished 2019 with 736 passing yards and three touchdowns against two interceptions.
He was unable to take advantage of Jacksonville's offensive talent, which has been the story of his career. Foles is capable of hot streaks - such as the one during Philly's Super Bowl win in 2017 - and has had strong full seasons, but his poor play with the Jaguars was also nothing new.
The Bears boast better talent - Allen Robinson is a stud who deserves a more talented quarterback than either he's stuck with for 2020 - but the difference isn't huge. Foles' experience should make him a more enticing option for head coach Matt Nagy, who often couldn't hide his frustrations when Trubisky made rookie-like errors in Year 3. However, Foles' play will likely be much closer to that of his short Jacksonville tenure than his legendary Super Bowl run.
2020 stats prediction: 2,300 passing yards, 14 TDs, 12 INTs, 65% completion percentage, 7.3 YPA (10 games)
Rookies
Joe Burrow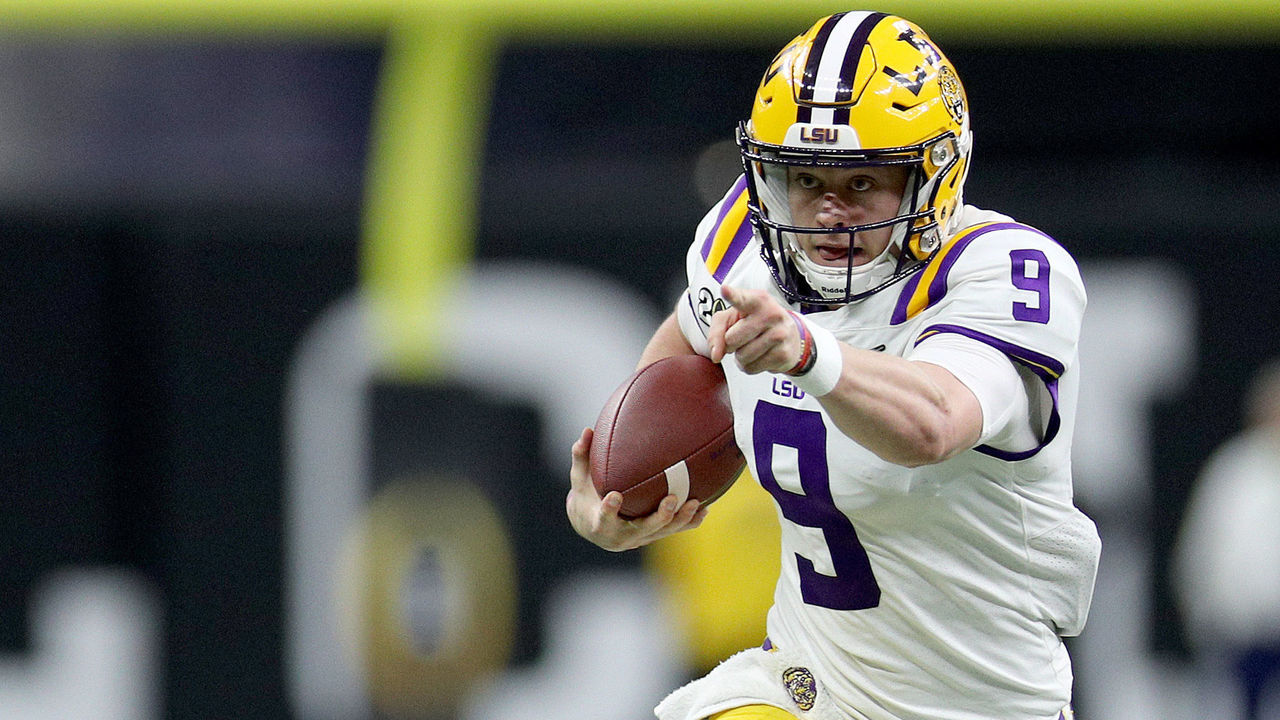 LSU ➡️ Cincinnati Bengals
Burrow produced the most dominant college quarterback campaign of all time last season at LSU. He set CFB records with 60 touchdown passes and a 202.0 efficiency rating, and his 5,671 passing yards were the third-most all time.
Though Burrow could get a pass for any rookie struggles due to the fact he's entering the NFL amid unprecedented circumstances, sophomore quarterbacks are winning MVP awards now. There simply isn't the same level of patience - from fans or teams - granted to young passers. And, due to his late breakout, Burrow will turn 24 years old in December.
Fortunately, he isn't joining a talent-poor offense as some No. 1 picks do. The Bengals have more firepower to offer their new quarterback than the Arizona Cardinals did with Kyler Murray in 2019 or the Cleveland Browns did with Baker Mayfield the year prior. The wild card is the health of A.J. Green, who is a legitimate top-10 receiver but has missed 13 games during the last three years. However, even if Green isn't quite the same player anymore, Burrow will have Tyler Boyd, who is coming off consecutive 1,000-yard seasons, 2017 first-round speedster John Ross, and 2020 second-rounder Tee Higgins at his disposal.
The Bengals' porous offensive line remains a major concern and will likely be the reason if Burrow fails to hit the ground running. With limited training camps and virtual offseason workouts, Cincinnati could rely on budding star running back Joe Mixon early in the campaign to give Burrow time to acclimate.
But even if that happens and his production takes a hit, Burrow is too talented to stay shackled for long. He'll overcome the circumstances and put together a strong first year that should have Bengals fans pinching themselves.
2020 stats prediction: 3,850 passing yards, 24 TDs, 10 INTs, 62% completion percentage, 7.7 YPA; 280 rushing yards, 3 TDs (16 games played)
Tua Tagovalioa
Alabama ➡️ Miami Dolphins
Burrow is the only first-year quarterback with a clear path to his team's starting job. Tagovailoa is the next best bet, but the former Alabama standout will have to beat out wily veteran Fitzpatrick. Fortunately, the rookie is entering camp with a clean bill of health following a draft process dominated by lingering questions about his season-ending hip injury in November.
Even if Tagovailoa is unable to win the job out of camp, he'll likely take it early in the season. Fitzpatrick is an all-or-nothing passer, and it will be a matter of time before he puts in a turnover-filled performance that causes Dolphins fans to cry out for their new star.
Tagovailoa will likely need to form an instant connection with wide receiver DeVante Parker if he's to produce a good rookie year. Parker enjoyed a breakout 1,202-yard season in 2019 and is by far Miami's most dangerous weapon on offense. The wideout's ability to challenge teams downfield - he averaged 16.7 yards per catch, tied for the eighth-best mark in the NFL - meshes well with Tagovailoa's skill set. Third-year tight end Mike Gesicki is in line for his own breakout campaign after a 570-yard, five-touchdown sophomore season, especially after the wide receiver group was further depleted when Allen Hurns and Albert Wilson opted out.
As is the case with Burrow, Tagovailoa's ceiling might be capped by terrible protection. The only offensive line that is worse than the Bengals' is the Dolphins', according to PFF. Tagovailoa was often unshakeable under pressure in college, even if he got more clean pockets compared to most other quarterbacks. He won't put together a full 16-game stat sheet, but he'll look every bit worth the No. 5 overall pick as soon as he starts.
2020 stats prediction: 2,900 passing yards, 17 TDs, 9 INTs, 61% completion percentage, 6.9 YPA; 100 rushing yards, 2 TDs (13 games)
Justin Herbert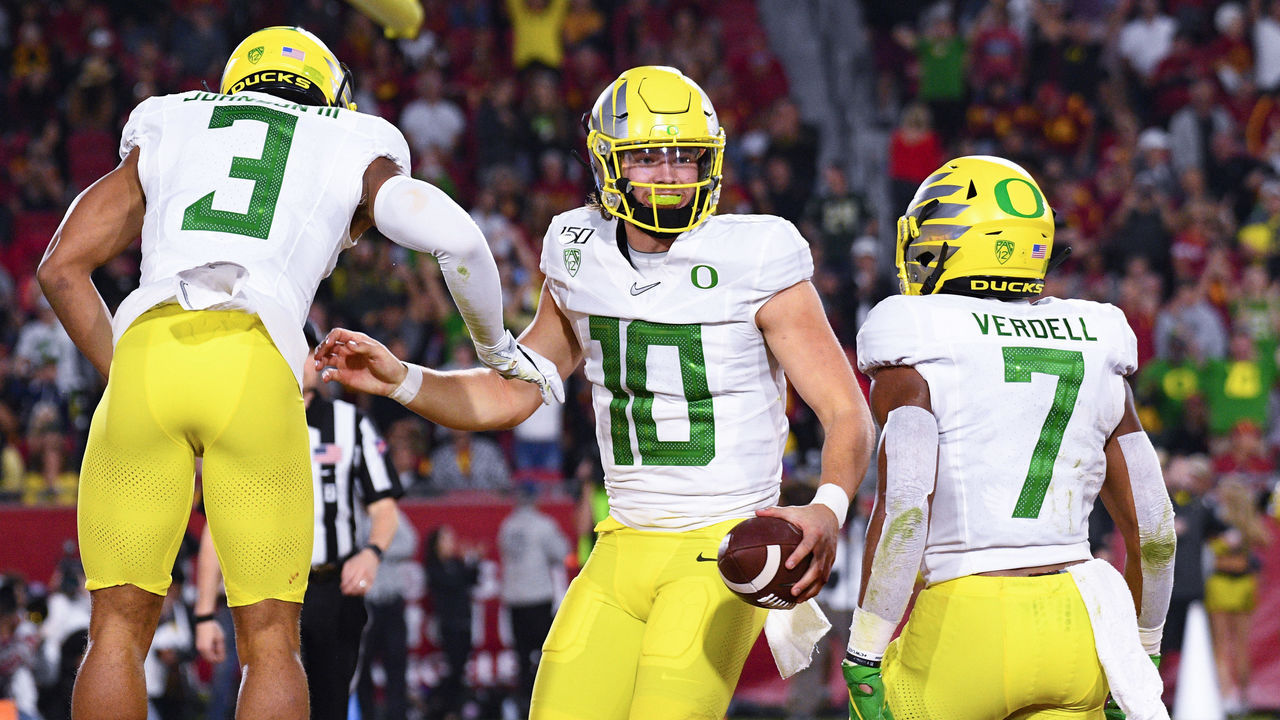 Oregon ➡️ Los Angeles Chargers
Chargers head coach Anthony Lynn said Tyrod Taylor will "probably" be the starter over sixth overall pick Herbert, citing the limited offseason work for the decision. Though Taylor will probably earn the job officially, teams are often forced to play their young quarterback sooner than they plan. Taylor knows that better than anyone after losing his job to then-rookie Mayfield with the Browns after just three starts in 2018.
Taylor will likely last longer than that this season, but it's hard to see him keeping Herbert on the bench for more than half of the campaign. When Herbert does take over, he'll arguably have better weapons at his disposal than either Burrow or Tagovailoa.
Keenan Allen might be the most underrated receiver in the league and is an outstanding route-runner, and Mike Williams dominates downfield in contested catch situations. In the backfield, he'll have an amazing security blanket in Austin Ekeler, who had 92 catches in 2019.
As is a running theme with potential rookie starters this year, the former Oregon standout will be working behind a questionable offensive line. However, even if Herbert has solid protection (as he did with the Ducks), he still needs to vastly improve his decision-making, pocket presence, and downfield accuracy.
Herbert has all the tools to be a good starter, but he'll go through a lot of growing pains as a rookie.
2020 stats prediction: 1,700 passing yards, 9 TDs, 13 INTs, 60% completion percentage, 6.7 YPA (9 games)