How to interpret the Patrick Mahomes megacontract
Jamie Squire / Getty Images
Patrick Mahomes earning a huge second contract from the Kansas City Chiefs was always a matter of when, not if.
At 24 years old, Mahomes has won a league MVP and a Super Bowl MVP; both he and the Chiefs had every incentive to do a deal before the start of the 2020 season. Getting it done allows the Chiefs to get out in front of a quarterback market that figures to get increasingly expensive in the years ahead, while Mahomes gets some serious money after being severely underpaid during his first three seasons thanks to the league's rookie pay scale.
The widely reported terms suggest Mahomes got an extension that adds 10 years to his existing rookie deal, which means it's a 12-year contract with a value of up to $503 million. It's indeed record-setting in terms of max value, but NFL contracts are always more complicated than they seem. Despite the complexity of this contract, it's not particularly ground-breaking, except for the full value of the deal. Let's take a closer look.
What's the complication here? The guy's getting paid.
This is going to sound crazy for a deal that could pay Mahomes up to a half-billion dollars, but bear with me. By agreeing to a 10-year extension, Mahomes is likely leaving money on the table. That kind of length is really unusual in today's NFL because it's typically been better for star players to get back to negotiating after just a few years. The salary cap, which is pegged to national TV revenues, has grown 65% since 2011. As a result, a top-of-the-market deal signed in 2020 might be nowhere near the top of the market by 2023 or 2024. As Danny Heifetz pointed out for The Ringer, no NFL player has signed a 10-year deal since Michael Vick in 2004, and of the five players since 2000 who did, none saw those deals reach their conclusion, for a variety of reasons.
Why not?
Because NFL contracts are not guaranteed. In a lot of cases, that five-year, $70-million deal you read about is really more like two years and $40 million. But this is where Mahomes' contract gets tricky.
How so?
The Scoop Hound-Industrial Complex has been throwing around the term "guarantee mechanisms," so let's explain what they are. They're basically triggers on certain dates throughout the contract in which future guarantees kick in. They're fairly common, in that they allow teams to go year to year on players while also locking in guarantees for injury or even full guarantees for the player. Todd Gurley had something like this worked into his Los Angeles Rams contract a few years ago. What's different about Mahomes' deal - and what's advantageous for him - is that these guarantees lock in two years in advance across the life of the contract.
Can you put that in plain English, please?
Tom Pelissero of NFL Media posted how this all breaks down on Twitter:
Now, let me explain. Mahomes is getting $63.1 million truly guaranteed at signing, which includes all of the compensation listed in that chart (excluding the annual incentives) through 2022. Then, on the third day of the 2021 league year next March, all of his 2023 compensation also becomes fully guaranteed. Without getting bogged down in the specifics, this "guarantee mechanism" continues for most of the salary and bonuses until the end of the deal. Pelissero also laid out how these guarantees add up as the years go by:
In addition, Mahomes is getting $141.5 million guaranteed for injury now - essentially his compensation through 2024 - which means if he were to sustain a serious, career-ending injury like Alex Smith between now and 2022, that's what he'd be able to collect.
What do those "guarantee mechanisms" mean for the Chiefs?
By guaranteeing Mahomes' compensation in full two years ahead of time, the Chiefs are locked into paying him and to having that money count against their cap. In short, if Mahomes were to suddenly morph into Ryan Leaf in the years ahead, it's going to be difficult for the Chiefs to cut him without taking on a massive dead-money charge.
Wait. Why is so much of Mahomes' compensation tied to those roster bonuses?
Two reasons. One is that it allows for the bulk of his earnings to be placed into those "guarantee mechanisms," which allows the Chiefs to evaluate where he stands with them on an annual basis, albeit by having to buck up no matter what for two more years.
The other reason is a quirk of the NFL's salary cap rules, which allows teams to convert salary to a signing bonus, the effect of which can be prorated against the cap for up to five years. You'll notice that beginning in 2027, Mahomes' base salary begins to climb substantially, while those roster bonuses begin to decrease. Essentially, if the Chiefs were to need $10 million of short-term cap relief in a given year, they could plausibly convert that much of Mahomes' compensation and have it count for just $2 million per year against their cap for up to five years, or through the end of the deal, whichever comes first.
Until the bulk of the money switches columns in 2027, the cap rules provide Mahomes with some roster security. If the Chiefs wanted to cut him before the start of the 2022 league year, for example, they'd still have to pay him $69.9 million because of the guarantees that vested for 2022 and 2023, and they'd also take on that much against the cap in dead money. For the next several seasons, in fact, it would cost the Chiefs upwards of $70 million to $80 million in cash and cap to release Mahomes.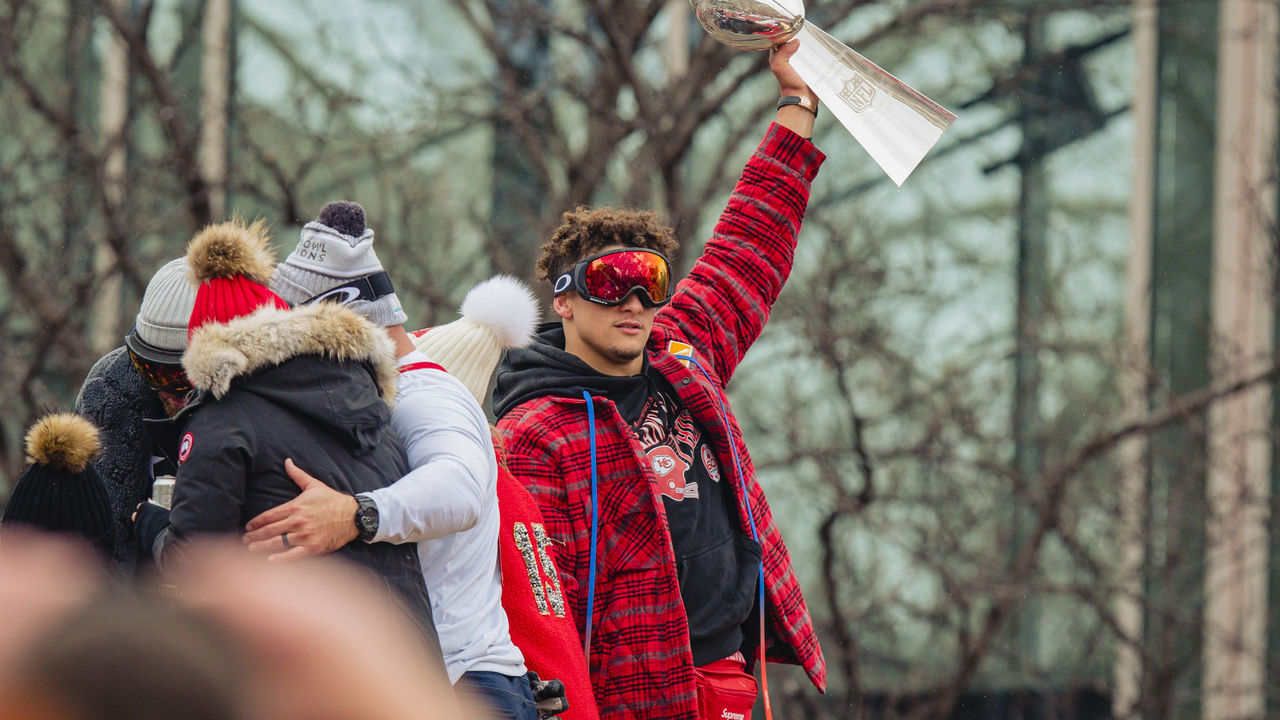 Anything else about the deal that isn't what it seems?
Well, Mahomes isn't getting much in the way of newly guaranteed money. J.I. Halsell, an agent who used to be Washington's cap analyst, pointed out that Mahomes had been scheduled to collect $27.6 million on his rookie deal in 2020 and 2021, including his fifth-year option. But he essentially traded that in to make $33.6 million in the same time frame - in exchange for an additional 10 years. In addition, the $63.1 million guaranteed at signing "only" provides for $35.4 million in new full guarantees right now. In the short term, it's a good deal for the Chiefs.
And the long term?
That, too, frankly. Yeah, that $45 million in average annual new money is $10 million above the $35 million Russell Wilson is now getting on average per year. But, as Mike Florio of Pro Football Talk noted, once the pandemic subsides and NFL business gets back to normal with new TV deals and gambling and streaming revenues rolling in, the cap is expected to keep rising, to the point where Mahomes' deal will indeed look like a bargain.
Huh.
Yeah. Mahomes had unique leverage, and his agents perhaps could have bargained for tying his compensation to a percentage of cap growth in the years ahead, or a fully guaranteed deal, like the one Kirk Cousins got from the Minnesota Vikings. But NFL teams famously do not like to set precedents when it comes to contracts, and a fully guaranteed deal likely would have had to be much shorter (Cousins' was for three years). In the end, Mahomes had his priorities, and he's certainly going to be well-compensated, but despite the record-setting numbers, this isn't a deal that's going to substantially change the way the NFL does business.
Dom Cosentino is a senior features writer at theScore.