In a five-part series, theScore's football editors give a verdict on whether 2019 breakout players will continue their success in 2020.
Next up are the running backs.
Kenyan Drake, Cardinals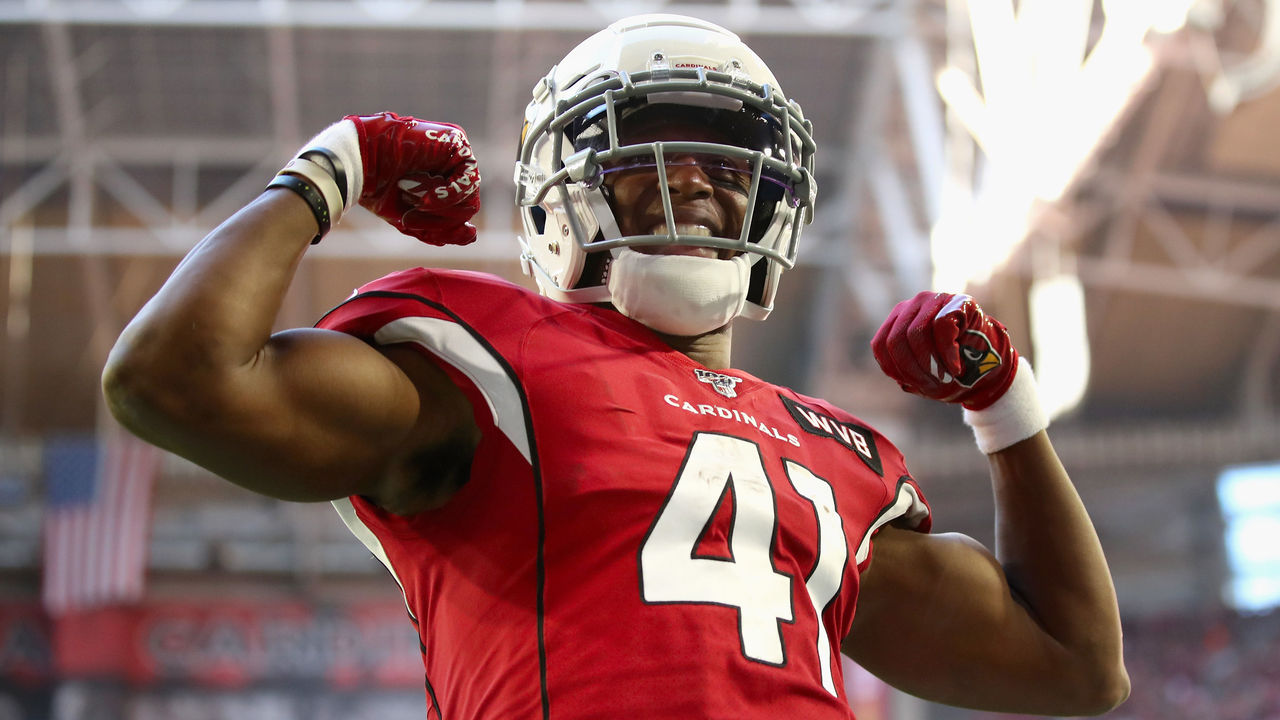 2019 stats: 170 carries, 817 yards, 8 TDs
Though he barely eclipsed 800 yards last season, it's understood that Drake experienced a breakout eight-game stint with the Cardinals. He recorded all eight of his touchdowns during that stretch and finished the year averaging 4.8 yards per carry, the fourth-highest mark in the league.
Drake did it on limited carries, too, averaging just 15 rushes per game with Arizona. Excluding a 35-yard performance against the Tampa Bay Buccaneers' top-ranked run defense, he averaged five yards per rush in the Cardinals' offense.
The 26-year-old Drake will be the unquestioned bell-cow back entering 2020 after the Cardinals placed an $8.4-million transition tag on him and traded David Johnson to Houston. It'll be the first time he'll have the keys to a backfield and he'll have a full offseason to familiarize himself with Kliff Kingsbury's offense.
With Kyler Murray spreading the ball to the likes of DeAndre Hopkins, Larry Fitzgerald, Christian Kirk, and Hakeem Butler in Arizona's Air Raid system, Drake won't have to do much more than what was asked of him in 2019.
He may never put up gaudy rushing totals, but Drake's career 4.9 yard-per-carry average suggests his efficiency in 2019 was no mirage.
Verdict: BREAKOUT
Austin Ekeler, Chargers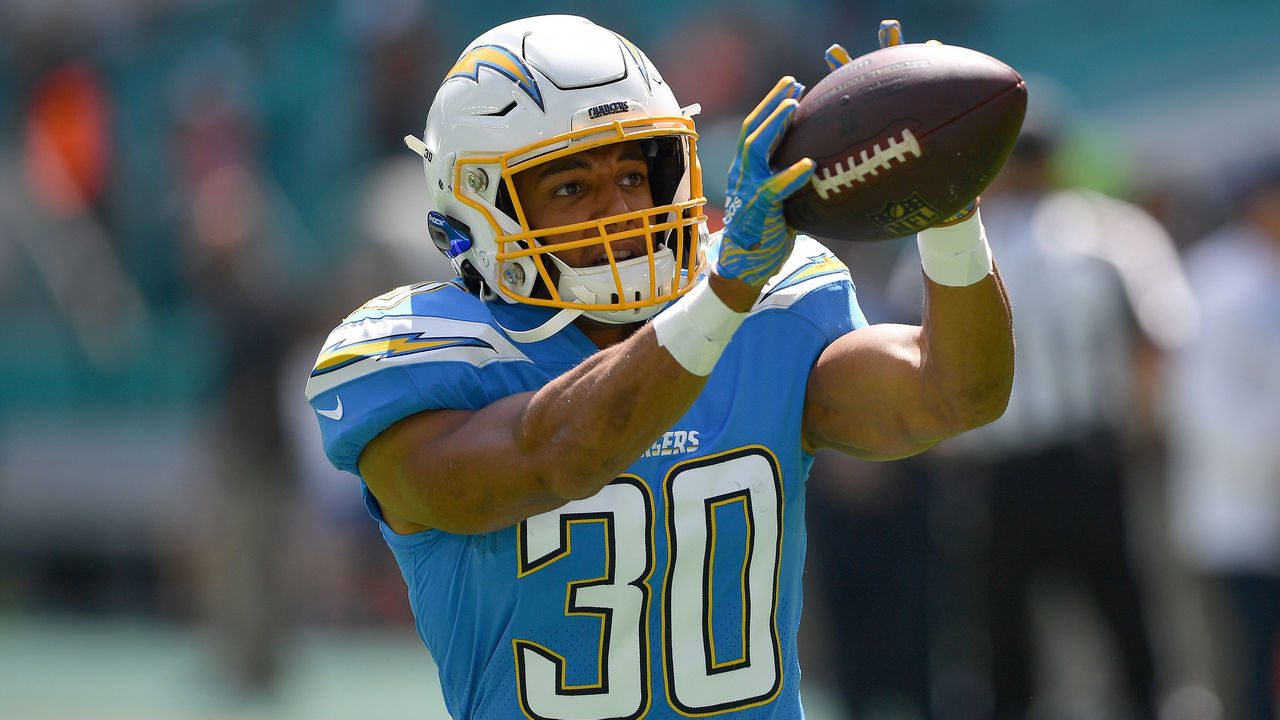 2019 stats: 132 carries, 557 yards, 3 TDs; 92 receptions, 993 yards, 8 TDs
Pressed into starting duty due to Melvin Gordon's holdout, Ekeler responded by putting together a career year in 2019. Though the 5-foot-10 back didn't explode as a rusher, he recorded eight touchdowns and nearly 1,000 yards as a receiver.
With Gordon gone, Ekeler will now front a committee that includes Justin Jackson and rookie Joshua Kelley. He may be the clear first option behind an improved offensive line, but that doesn't guarantee he'll replicate or exceed last year's numbers.
Ekeler averaged just 34.8 yards per game running the ball last season. He hit 100 yards on the ground just once, a Week 14 blowout of the Jaguars, and it happened to be the only game in which he surpassed 70 rushing yards.
The 25-year-old Ekeler makes his mark catching the ball out of the backfield, but his numbers could see a dip due to the departure of Philip Rivers, who averaged 36 pass attempts per game in 2019. With either Tyrod Taylor - who averaged 28 pass attempts per game in three years as a starter - or rookie Justin Herbert under center this season, it's likely the Chargers will lean heavily on their running game to protect their passer.
Also, if Taylor starts, he could cut into Ekeler's carries, as the mobile quarterback averaged six rushing attempts per game as a starter.
Expect a regression in Ekeler's numbers.
Verdict: FAKEOUT
Josh Jacobs, Raiders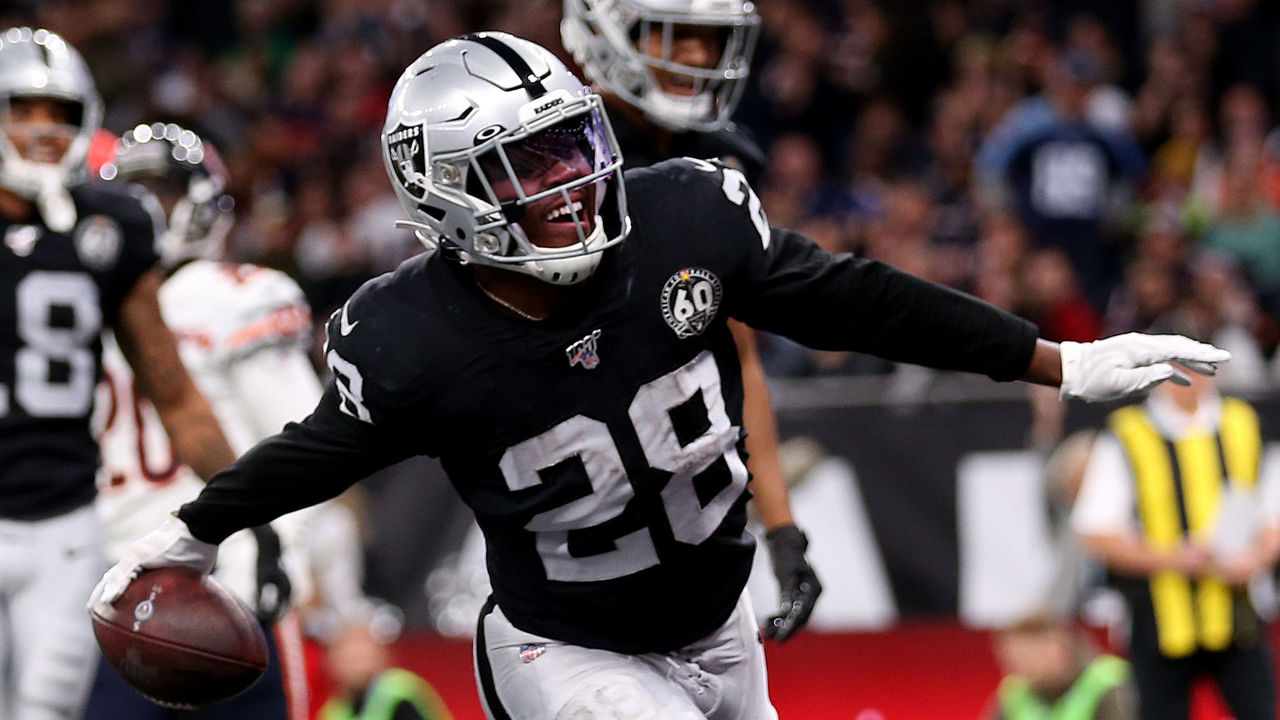 2019 stats: 242 carries, 1,150 yards, 7 TDs
The top running back taken in the 2019 draft, Jacobs' numbers last season should have come as no surprise. With little competition for touches and a stud offensive line blocking for him, Jacobs hit 1,150 rushing yards and seven touchdowns despite playing in just 13 games.
The Alabama product would have accomplished even more - and had an even stronger case for the Offensive Rookie of the Year award - had injuries not befallen him. Jacobs suffered a fractured shoulder blade in Week 7, eventually missing three of the Raiders' last four games.
Despite that, the Raiders star led the league in forced missed tackles, according to PFF.
Opposing teams will load up against the run this season, but Las Vegas spent the offseason adding weapons to its pass offense. The additions of Henry Ruggs III, Bryan Edwards, Lynn Bowden, Nelson Agholor, and Jason Witten will make it difficult for clubs to stack the box to slow Jacobs.
Only injuries slowed Jacobs last season, and with a full year under his belt and another offseason to learn Jon Gruden's offense, he should be even more of a handful in his sophomore season.
Verdict: BREAKOUT
Aaron Jones, Packers
2019 stats: 236 carries, 1,084 yards, 16 TDs; 49 receptions, 474 yards, 3 TDs
We'll open this section by stating the obvious: Nineteen total touchdowns is not sustainable.
However, what Jones accomplished during his first year in Matt LaFleur's offense was nothing short of a breakout season. Jones had been knocking on the door the two previous years but had to share the load with Jamaal Williams. The combination of earning the full-time starting job and LaFleur's more run-focused approach did wonders for Jones.
Jones was exceptional by almost every measure last season. He averaged 4.6 yards per carry overall and a stunning 5.6 yards per carry when he faced eight or more defenders in the box, according to ESPN's Matt Bowen. He was unstoppable in the red zone, where he recorded 14 of his 16 rushing touchdowns and scored on 42% of his carries from within the opponent's 20-yard line. Again, these numbers likely won't be replicated in 2020.
But the Packers rode an improved running game and defense, and the ever-efficient Aaron Rodgers, to a trip to the NFC title game, and it should be expected that they will take a similar approach in 2020.
Though many anticipated Green Bay would use its resources to add weapons to its passing game this offseason, Packers management veered from that approach. Instead - with the exception of the departure of longtime right tackle Bryan Bulaga - the Pack will have a similar roster entering 2020.
Although it's realistic to anticipate a dip in Jones' counting stats, he's proven to be a dynamic back in a familiar offense that sorely needed balance.
Verdict: BREAKOUT
Raheem Mostert, 49ers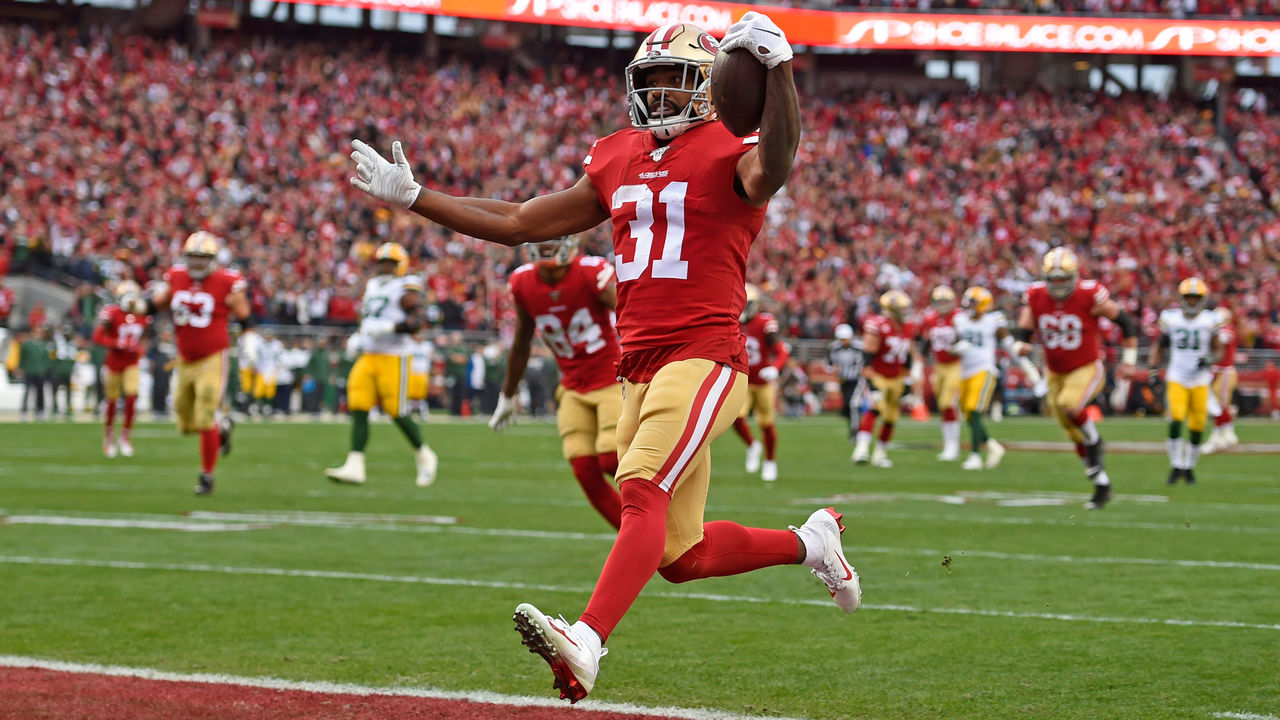 2019 stats: 137 carries, 772 yards, 8 TDs
Kyle Shanahan's offense can make a star out of just about anyone, and it was Mostert's turn by the end of last season.
Despite garnering the same amount of carries (137) as Tevin Coleman, Mostert recorded 228 more yards, 1.6 more yards per carry, and two more touchdowns. Mostert was the lead rusher on the NFL's No. 2 running game.
He scored a touchdown in every game from Week 12 to Week 17, then exploded for 220 yards and four touchdowns in the NFC Championship Game.
Mostert's breakout year made Matt Breida expendable, but that doesn't mean his hold on the top job is permanent. The 49ers still employ a quartet of starting-caliber backs, including Coleman, Jeff Wilson Jr., and Jerick McKinnon.
Shanahan figures to continue using a committee approach to his backfield, with Mostert getting the first crack. From there, the Niners will likely ride the hot hand.
But with a top-flight offensive line that recently swapped in Trent Williams for retired left tackle Joe Staley, the best blocking tight end in the game in George Kittle, and Shanahan's outside zone running scheme, San Francisco's backfield - particularly Mostert - is set up for success.
With more opportunity afforded to him in 2020 - he topped 14 carries in a game just once in 2019 - Mostert's stock should continue to rise.
Verdict: BREAKOUT
Damien Williams, Chiefs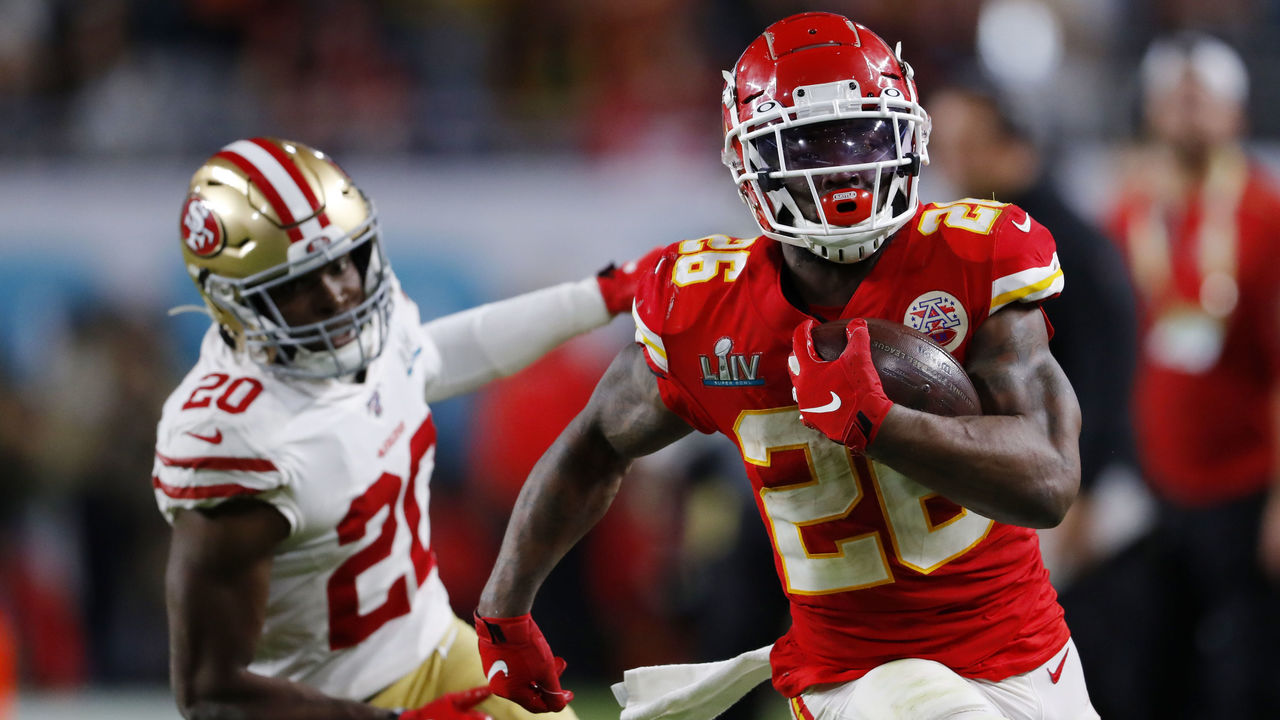 2019 stats: 111 carries, 498 yards, 5 TDs
In a crowded backfield complete with big names (LeSean McCoy) and unfamiliar ones (Darrel Williams, Darwin Thompson), Damien Williams emerged as the Chiefs' preferred option in 2019.
He appeared in 11 games and earned 10-plus carries in just four of them, but by the playoffs, it was Williams' name being called. He scored two touchdowns in Week 17, three in a divisional-round win over Houston, and another in the AFC title game against Tennessee. Many argue that Williams deserved Super Bowl MVP honors after he ran for 104 yards and scored two fourth-quarter touchdowns.
Such performances would have led many to believe the Chiefs would open the 2020 season with Williams as their starter, but, with the last pick on Night 1 of the NFL draft, Kansas City selected Clyde Edwards-Helaire, a dual-threat running back and an ideal fit for the Chiefs' dynamic offense.
After the pick, Chiefs general manager Brett Veach said the two backs would share the load, but he also referred to Edwards-Helaire as a franchise running back, according to Mike Florio of Pro Football Talk. The LSU star burst onto the scene during the Tigers' run to the college national championship and it's realistic to assume he'll be expected to make a similar impact for the defending Super Bowl champions once he gets up to speed with their offense.
Williams may not get the opportunities to prove 2019 was only a precursor.
Verdict: FAKEOUT