The contract squabble between the Dallas Cowboys and Dak Prescott became a thing last week, thanks in large part to a report about the quarterback's gargantuan demand that was quickly shot down by all the scoop hounds.
So what's the holdup on a new deal between the two sides? Mostly, it's about contract length, which is important for several reasons.
Let's begin by going over the basics. Prescott is not currently under contract, though he is still tethered to the Cowboys. They placed the exclusive franchise tag on him, which would pay out $31.4 million fully guaranteed. That would also be his 2020 cap charge if he were to sign his tender and play on the tag. Prescott has not signed his tender, and he and Dallas have until July 15 to come to terms on a long-term deal.
After that deadline, the two sides are prohibited from bargaining toward a long-term pact until after the season. At the same time, Prescott is free to stay away from training camp without incurring any sort of fine or punishment. Should he choose that route, he wouldn't begin losing any money until Week 1.
Next, let's talk Prescott's ability. He's a proven starter who's led Dallas to the playoffs twice in four seasons. He's also won a playoff game. Last year, Prescott led the league in Football Outsiders' Defense-Adjusted Yards Above Replacement (DYAR) metric and finished fourth in Total QBR. For those who think running back Ezekiel Elliott is more important to the Cowboys' offense, ESPN's John Parolin has noted that Prescott has a higher career QBR when Elliott is off the field (71.3) than on (70.3). Parolin also discovered that Prescott's career QBR of 33.6 when pressured is significantly higher than the league average (21.2) and that Prescott ranks seventh among QBs with at least 200 pass plays under pressure. This indicates Prescott isn't just the beneficiary of a good offensive line.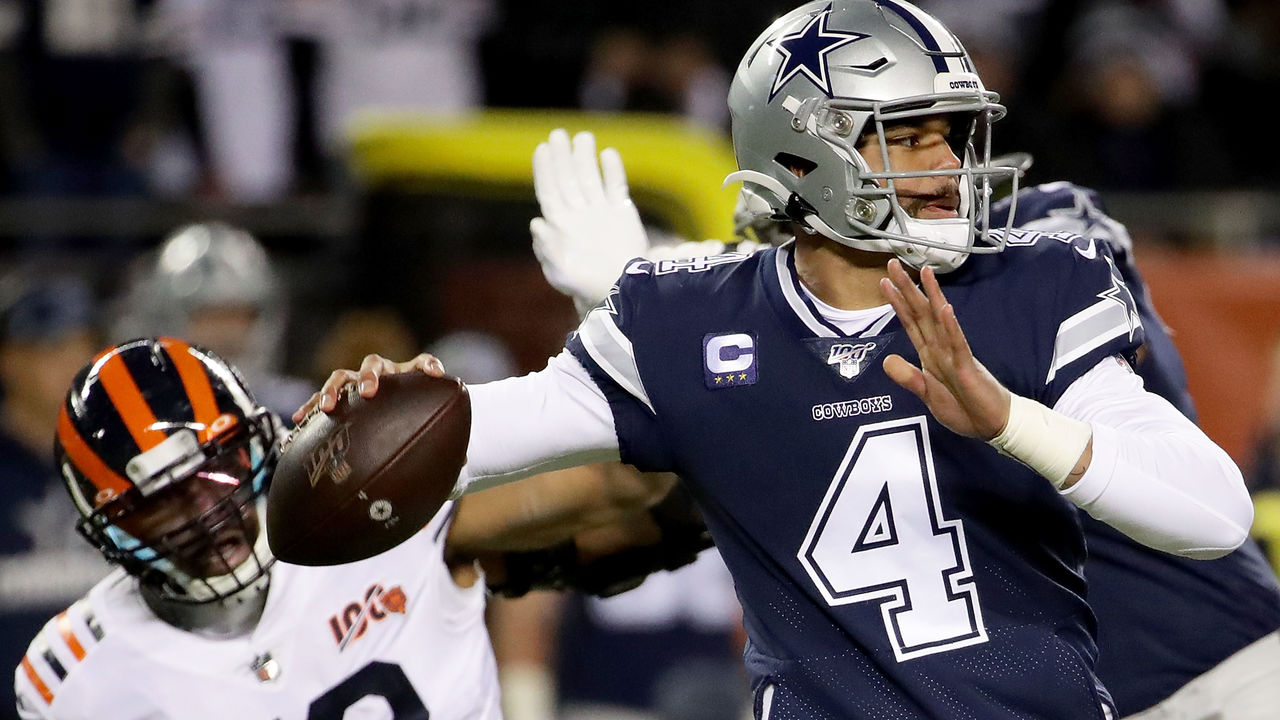 There's more. According to PFF, Prescott's 2019 passer rating on deep throws of more than 20 air yards (110.2) ranked seventh, and his adjusted completion percentage on deep throws, which factors in drops, was 52.6, which ranked second. Then there's this:
Nate Tice, a football analyst and the son of former Minnesota Vikings tight end and head coach Mike Tice, recently told "The Mina Kimes Show featuring Lenny" that Prescott "does everything well." Tice zeroed in on a particular detail from a game against the Vikings last season in which Prescott diagnosed and adjusted at the line of scrimmage based on what the defense was showing him.
"He's accurate, he can throw a deep ball, he can throw a quick game, he can throw outside, he can throw inside, he can run, he can create his own throws, and then he's also smart, and he's tough," Tice told Kimes. "That's a great combo."
All of this would seem to put Prescott in that tier of QBs capable of commanding top dollar. Remember, the NFL remains a league in which quality quarterback play is an extremely scarce commodity, which is why the top of the market for a proven starter jumped 42.3% in average annual value between June 2016 and April 2019, when the Seahawks' Russell Wilson set the bar at $35 million in AAV.
The Cowboys know this, and they know Prescott's value. That's why they applied the exclusive tag, which prohibits the signal-caller from negotiating with other teams. The Cowboys further signaled what Prescott means to them when COO Stephen Jones recently told Pro Football Talk's Mike Florio that they have no interest in rescinding the tag.
The ideal time for Dallas to have completed a deal with Prescott was last offseason, when he still had a year of cost control remaining. Instead, the Cowboys took care of Elliott, defensive end DeMarcus Lawrence, wideout Amari Cooper, linebacker Jaylon Smith, and right tackle La'el Collins. That's not to say they didn't try to get a contract done with their quarterback; Prescott just had significant leverage.
As the top end of the QB market and the salary cap continue to rise, there was no incentive for him to commit to anything that early. And this offseason, with both Patrick Mahomes and Deshaun Watson eligible for extensions, Prescott's smartest course was to wait out the Cowboys. This is not to suggest Prescott is on Mahomes' MVP and Super Bowl-winning level but rather a function of how the possibility of a Mahomes deal could raise the bar for all top QBs. Again, this is about scarcity at the position.
Jones also offered up some bluster about how paying a QB top-of-the-market money can limit a team's ability to spend elsewhere. But there are many ways around this. In addition, as one of the world's most recognizable sports brands, the Cowboys have created a kind of Texas Xanadu as a work-around to entice players into sticking around and even maybe taking less money.
But as a 2016 fourth-round pick, Prescott earned just $4 million total across the four-year span of his rookie deal - an insane bargain for the Cowboys. ESPN's Todd Archer pointed out that Prescott rakes in millions in endorsements, in part because he's the quarterback of the damn Dallas Cowboys. But Archer also noted that Prescott is likewise well-positioned to use that connection to maximize his contract status, which is completely independent of his off-field earning power.
As Jason Fitzgerald of Over The Cap recently said on his podcast, there are ways for the Cowboys to structure a deal with Prescott to front-load a significant portion of the cash in the first year or two while also spreading out the salary-cap hits. The deal that Wilson received last year from the Seahawks, for example, paid him $70 million in 2019, with $65 million of that coming in the form of a signing bonus that was pro-rated across five seasons.
What makes things a bit trickier is that Prescott has no current contract to extend, which means there's no chance for the Cowboys to add years onto his existing rookie deal and massage what it might cost them. This is why, as multiple reports have suggested, the length of the deal seems to be the biggest issue. The Cowboys want five years to maximize their ability to spread things out, while Prescott's agent wants four as a way of capitalizing on whatever new money Prescott can get, in addition to getting the opportunity to possibly bargain again sooner, given that the cap will presumably be much higher by 2023.
There's one final complicating factor: Prescott could choose to go the year-to-year route on the tag, the way Kirk Cousins did a few years ago with Washington. That approach could earn Prescott $69 million total in the next two years, with the likely opportunity to hit free agency and cash in again in 2022, since it's unlikely the Cowboys would tag him a third time at an estimated cost in cash and cap of more than $50 million. The year-to-year approach puts the risk of staying healthy and performing at a high level entirely on Prescott. But there's also an additional downside: With so much uncertainty surrounding the 2020 season because of the coronavirus pandemic, it's possible that the 2021 cap could be reduced substantially.
One factor to keep in mind as this all plays out is that July 15 deadline. Prescott and the Cowboys reportedly haven't bargained at all in recent weeks, but deadlines tend to force two sides to sit down and make something happen. So sit tight.
Dom Cosentino is a senior features writer at theScore.