In a five-part series, theScore's football editors give a verdict on whether 2019 breakout players will continue their success in 2020.
Next up are the wide receivers.
Categories
QB | RB | WR | TE | DEF
DeVante Parker, Dolphins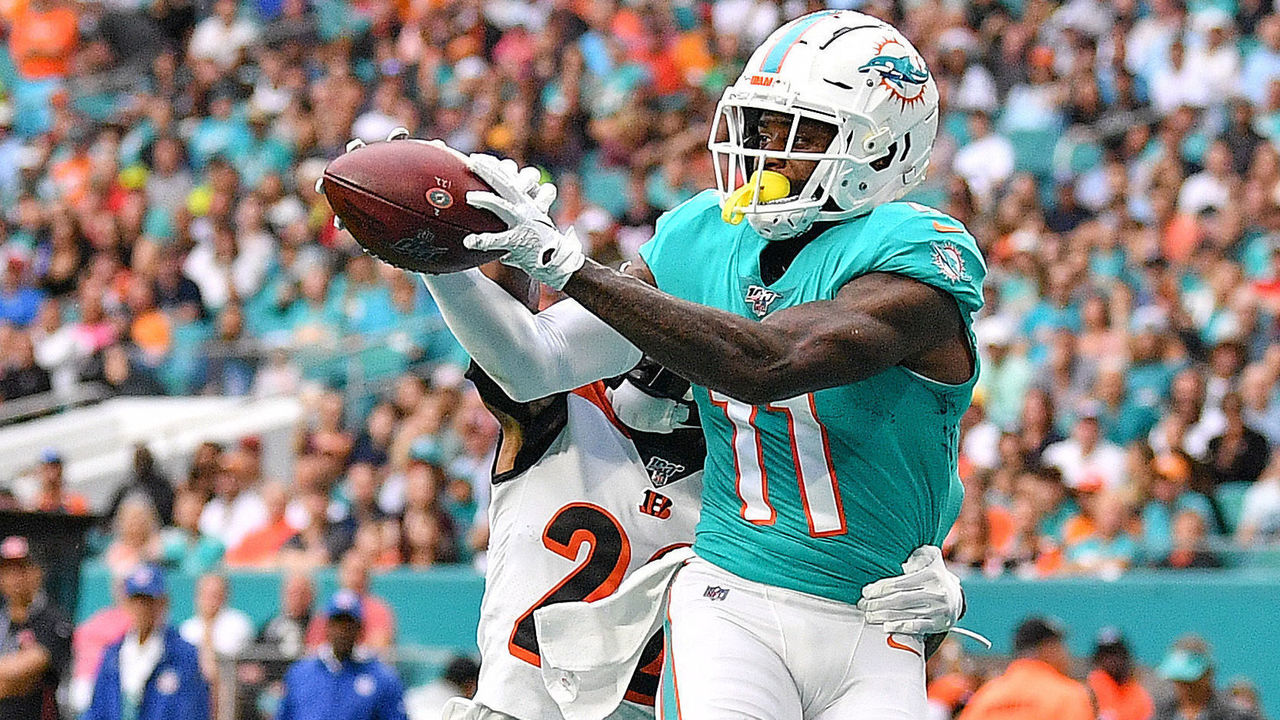 2019 stats: 1,202 yards, 72 catches, 9 TDs
Parker flashed potential throughout his first four seasons, but he finally established consistency in 2019. Two of his three biggest performances came against All-Pro cornerbacks Tre'Davious White (7 catches, 135 yards in Week 11) and Stephon Gilmore (8 catches, 137 yards in Week 17). He was the only wideout to catch four or more touchdowns on go routes, according to PFF - impressive considering the overall weakness of the Dolphins' offense.
Miami drafted a potential franchise quarterback this offseason, and that should only help Parker replicate his 2019 stats. Even if Tua Tagovailoa encounters a steep learning curve, he'll almost certainly be better than most of the quarterbacks Parker has played with: Ryan Tannehill, Matt Moore, Jay Cutler, Brock Osweiler, Josh Rosen, and Ryan Fitzpatrick.
Verdict: BREAKOUT
DJ Chark, Jaguars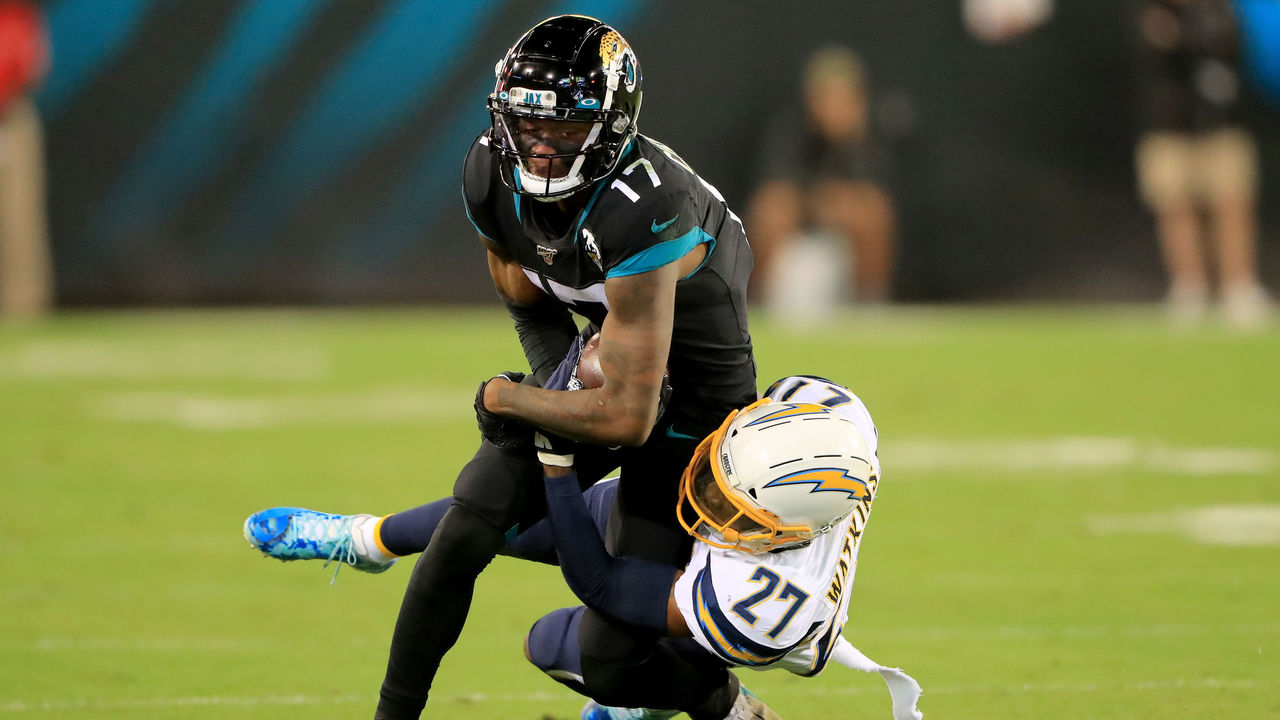 2019 stats: 1,008 yards, 73 catches, 8 TDs
The Jaguars have an odd history of one-year wonders at wide receiver. Over the last decade or so, Mike Sims-Walker, Allen Robinson, Allen Hurns, Cecil Shorts, and Marqise Lee have all knocked on the door of stardom, only to have their careers derailed for one reason or another. Robinson has managed to re-emerge with the Chicago Bears, but he's the only one who didn't sink into obscurity.
However, Chark appears different than the receivers who came before him. Whereas the others were hamstrung by a lack of size or athleticism, Chark has no concerns in either category. The 6-foot-4 wideout logged a 4.34-second 40-yard dash at the 2018 combine, leading all receivers. And with only one catch that went beyond 40 yards a season ago, there's reason to believe Chark still has untapped upside.
Verdict: BREAKOUT
Mike Williams, Chargers
2019 stats: 1,001 yards, 49 catches, 2 TDs
His yardage looked promising by the end of the season, but Williams still has holes in his game that could set him back. Without great speed or lateral agility, Williams has always relied on his ability to win 50-50 balls. Last year, it took 90 targets for him to reach 49 receptions - not what you would call a model of efficiency.
Williams averaged a league-best 20.4 yards per reception last season, but that number is too high to sustain. He'll also be playing with a new quarterback in 2020, and neither Tyrod Taylor nor Justin Herbert is skilled enough to consistently place the ball where Williams can use his size to high-point it. Unless he can start separating, Williams' numbers seem destined to dip.
Verdict: FAKEOUT
Michael Gallup, Cowboys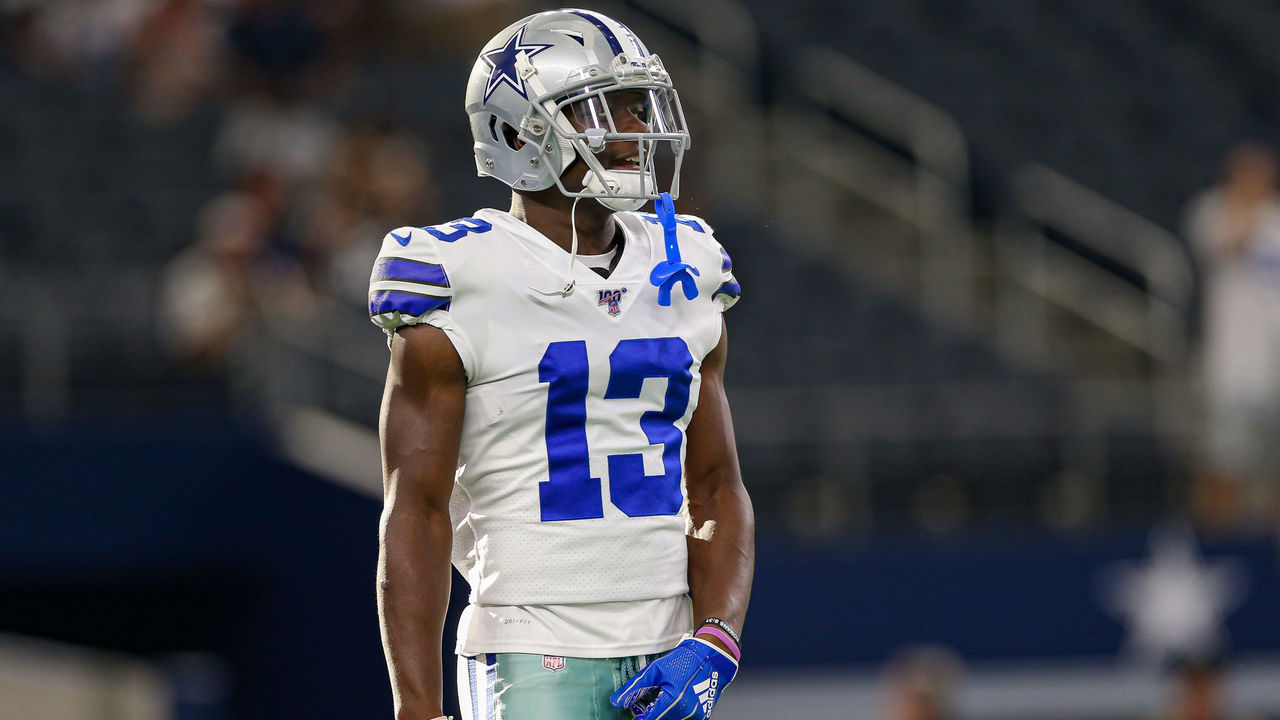 2019 stats: 1,107 yards, 66 catches, 6 TDs
Gallup more than doubled his production from his rookie to sophomore season, finishing last year only 82 yards shy of Amari Cooper - in two fewer games. While rookie CeeDee Lamb figures to emerge quickly, he's unlikely to attract more than the 83 targets that Randall Cobb occupied last year as the No. 3 receiver. In other words, Lamb's opportunities to assimilate into the offense won't come at the expense of Gallup.
Though he plays second fiddle to Cooper, Gallup appears to be an emerging star in his own right. He creates separation at every level of the field, thrives against man coverage, and comes down with a large share of contested catches. Even if he never completely erases the drops that sometimes plague him, Gallup is polished enough in every other facet to become a perennial 1,000-yard receiver.
Verdict: BREAKOUT
Chris Godwin, Buccaneers
2019 stats: 1,333 yards, 86 catches, 9 TDs
Those who watched Godwin over his first two seasons weren't surprised by the way his third panned out, as he challenged for the league lead in receiving before suffering a late-season injury. If not for being stuck behind Mike Evans and DeSean Jackson on the depth chart in 2017 and 2018, Godwin's breakout season likely would have occurred earlier.
A second-team All-Pro last year, Godwin possesses the rare combination of great hands, great feet, and great size. Throw that mix into Bruce Arians' receiver-friendly offense and great numbers will follow. Use him frequently in the slot where he can get free releases, and those numbers will continue to inflate. Now substitute Tom Brady for Jameis Winston, and even if the GOAT doesn't take many deep shots, his overall accuracy will help Godwin stay near the top of the receiving list.
Verdict: BREAKOUT
A.J. Brown, Titans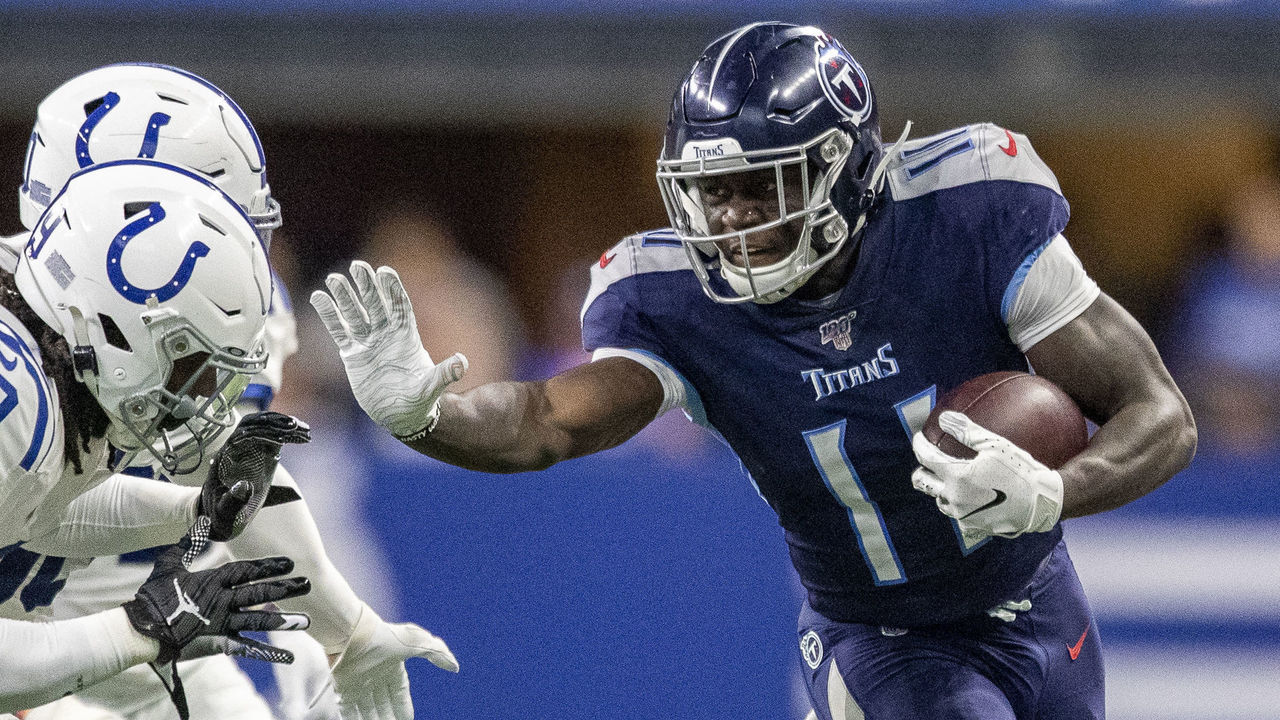 2019 stats: 1,051 yards, 52 catches, 8 TDs
Unlike last year when he took the NFL by storm, defenses will be ready for Brown the next time he steps onto the field. Coordinators will craft the coverage part of their game plans around him, while defensive backs will have spent an offseason dissecting his tape.
If Ryan Tannehill fails to replicate his unusually efficient campaign as a passer, Brown could suffer. Even if Tannehill stays hot, the Titans don't have another play-making receiver to take some of the pressure off Brown. Similar to Williams, Brown notched 20.2 yards per reception as a rookie. Between the two of them, Brown is more dynamic, but the extra attention he'll face in 2020 could push him into a sophomore slump.
Verdict: FAKEOUT
DJ Moore, Panthers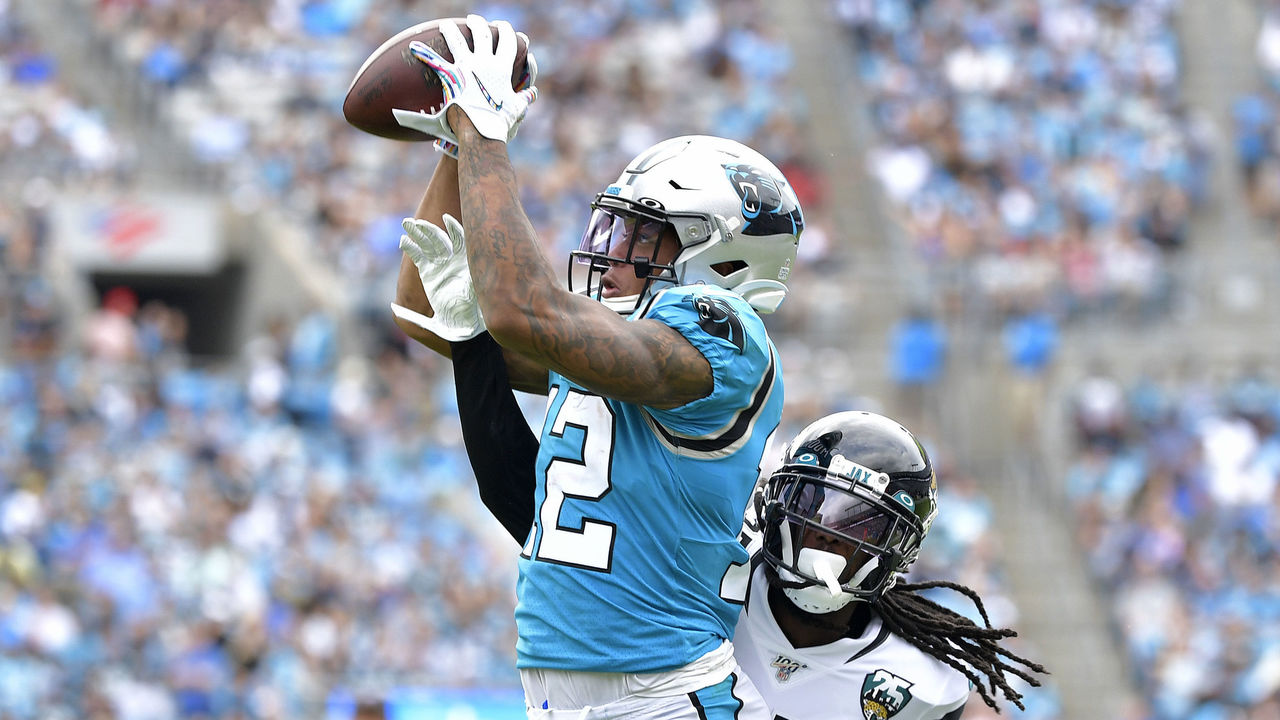 2019 stats: 1,175 yards, 87 catches, 4 TDs
Moore came into the league with a reputation for winning on short routes and gaining yards after the catch, but he has quickly evolved into a well-rounded player. Though he's still most comfortable as a possession receiver, the 23-year-old has proven he's got the speed and athleticism necessary to beat defenders deep.
The numbers Moore produced while playing most of last season with Kyle Allen at quarterback should provide plenty of optimism. Teddy Bridgewater is an upgrade, and while he isn't one to take many chances down the field, his conservative nature could actually play to Moore's greatest strengths.
Verdict: BREAKOUT