The Miami Dolphins hold the power to define the 2020 NFL Draft.
The AFC East club owns the fifth overall pick and two more first-round selections - No. 18 and No. 26 - after trading away safety Minkah Fitzpatrick, left tackle Laremy Tunsil, and receiver Kenny Stills last year.
How Miami decides to use such a vast treasure trove of assets - which also includes two second-rounders - will likely determine the franchise's path for the foreseeable future.
It was fun to watch veteran quarterback Ryan Fitzpatrick weave his vintage magic in back-to-back wins to close out the season, but it cost the Dolphins their pick of the class. General manager Chris Grier will need to be aggressive in order to find the long-term answer at the game's most important position, but he seems to have planned for this eventuality. In selling high on several young, Pro Bowl-caliber players, Grier gained what he surely hopes are the assets that will land the Dolphins the franchise quarterback they most desire at the right time.
With that in mind, here are four quarterback-centric plans for the Dolphins to maximize their draft resources:
Option 1: Complete the 'Tank for Tua'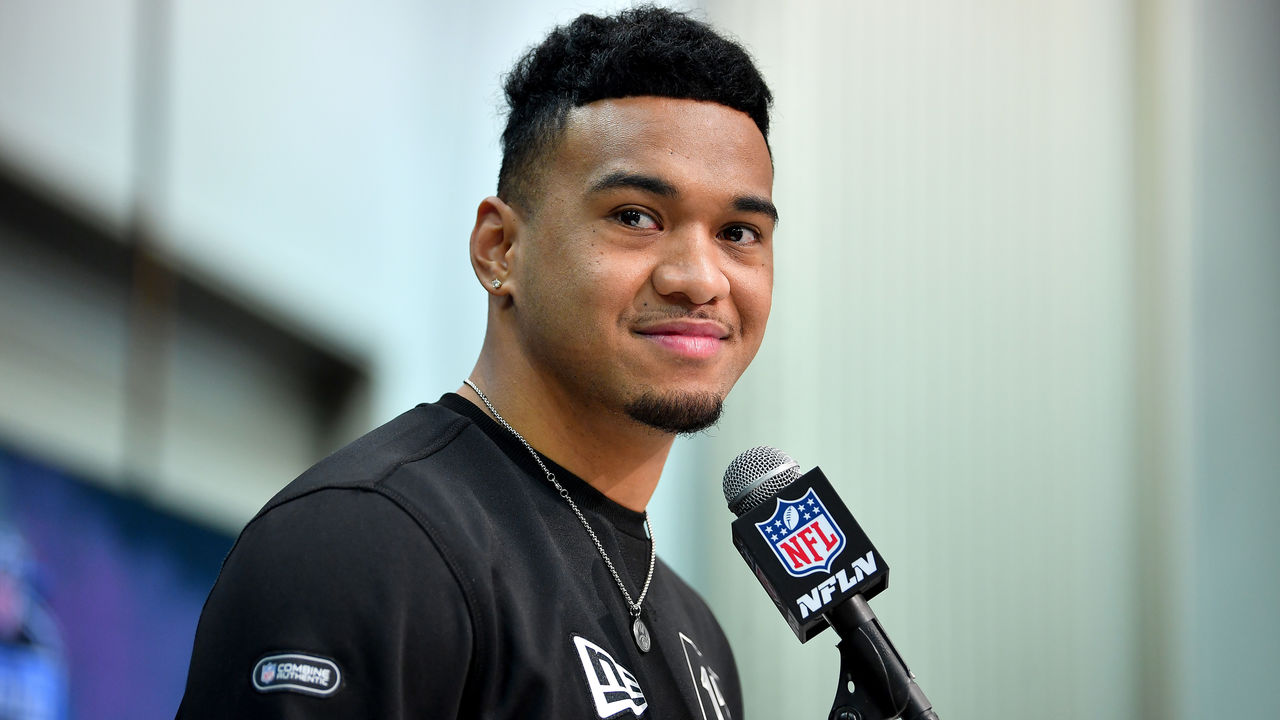 Prior to last season, many pegged Miami as the favorite to land the No. 1 overall pick after the team gutted its roster in an apparent attempt to force a poor campaign and land Tua Tagovailoa. But the potential partnership was thrown into doubt by the Dolphins' surprising competitiveness and a serious hip injury the Alabama star sustained in November.
Tagovailoa declared himself "100 percent" healthy last week, though, and said he's confident he can play as a rookie. While the inability to fully assess the quarterback's hip due to travel restrictions is a concern, the Dolphins should feel confident enough to make a blockbuster move to secure their guy.
Miami would need to move up to No. 2 overall, a spot currently occupied by the Washington Redskins, and the price to do so could be similar to what the New York Jets paid to land Sam Darnold in 2018. The Jets traded the No. 6 pick and three second-rounders (two in 2018 and one in 2019) to acquire the No. 3 overall selection from the Indianapolis Colts.
In the revised draft-value chart developed by Rich Hill of Pats Pulpit, the difference in value between No. 2 (717 points) and No. 5 (467) is 250 points. A bidding war for the second overall pick, should one develop, will likely require the Dolphins to overpay. In such a scenario, based on Hill's system, Miami could either pair No. 18 (287) with No. 5 or package both No. 26 (223) and No. 56 (98) with its highest selection.
With Tagovailoa secured, the Dolphins could then use whichever first-rounder they retained to draft a wide receiver or offensive tackle to immediately help their new franchise player.
Option 2: Take Herbert, trade up for star WR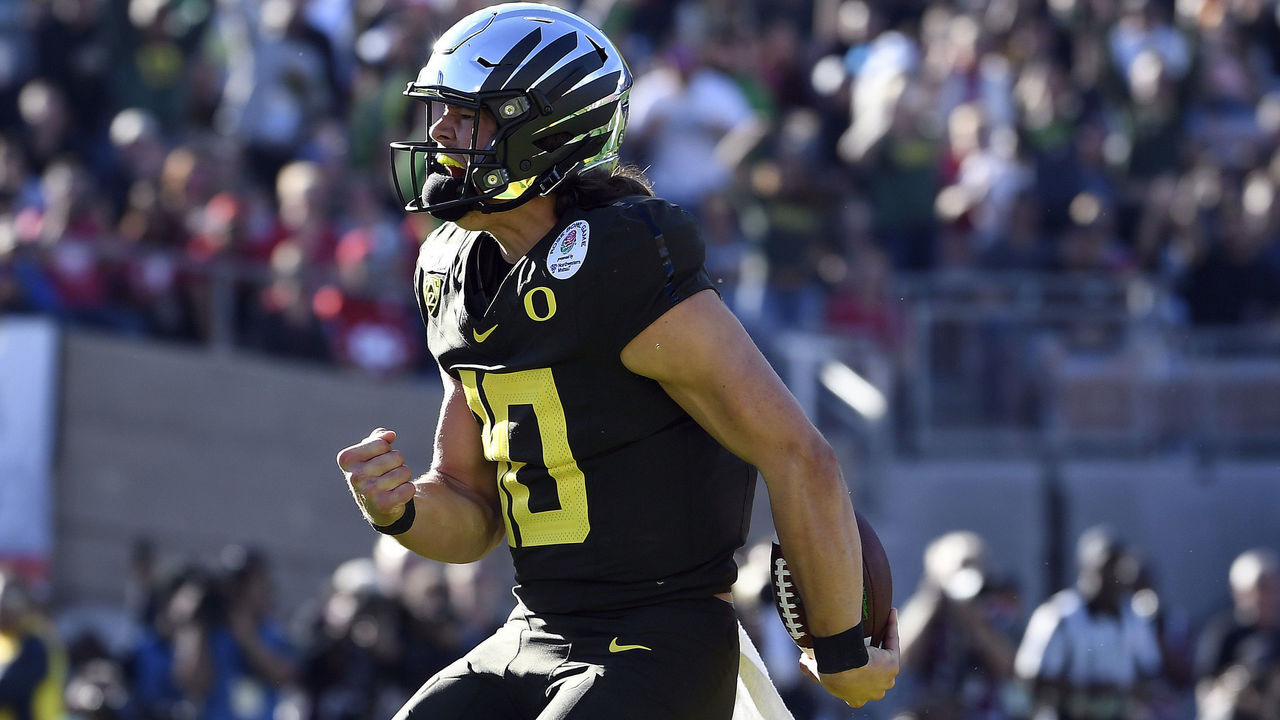 If the Dolphins don't trade up for Tagovailoa, it's likely another team will. Either way, the chances he's available at No. 5 are small. That means Miami could have to decide whether to stand pat and take Justin Herbert instead.
The Dolphins could actually prefer drafting Herbert, who's widely regarded as the third-best QB of the class, over a move for Tagovailoa. It was reported in February that Miami doesn't view Tagovailoa as a "slam dunk" near the top of the draft, while the club's opinion of the ex-Oregon standout has become "increasingly positive."
The Los Angeles Chargers and Carolina Panthers are slated to select sixth and seventh overall, respectively. Both need a long-term solution under center after the Chargers parted ways with Philip Rivers and the Panthers bid farewell to Cam Newton (Teddy Bridgewater's guaranteed money will be mostly paid out by the third year of his deal). Miami probably couldn't take the best player available at No. 5 and hope Herbert slides to No. 18.
Standing pat and taking Herbert fifth overall could also afford the Dolphins the flexibility to target another blue-chip prospect with their remaining assets. For example, Miami could try to package picks 26, 39, and 141 (a combined value of 390) for the Jacksonville Jaguars' No. 9 selection (value of 387) in order to snag a top receiver like CeeDee Lamb or Jerry Jeudy while still being free to reinforce the offensive line at No. 18.
Option 3: Shoot for Burrow
This is the dream scenario for Miami. It's highly unlikely the Cincinnati Bengals would pass on the chance to select Heisman-winning quarterback Joe Burrow at the top of the draft. Still, it would be malpractice by the Dolphins if they didn't at least try to test the Bengals' resolve.
Miami reportedly does intend to make an attempt to acquire the No. 1 overall pick, as owner Stephen Ross is apparently enamored with Burrow. It's easy to understand why. Though the QB only has one year of elite production under his belt and his arm strength won't wow anybody, his accuracy, decision-making, pocket presence, and leadership qualities are all rare. But even if the Bengals are willing to listen, the price will likely be as steep as it gets.
The difference in value between the No. 1 pick (1,000) and No. 5 (468) is 532 points, according to Hill's trade-value chart. The combined value of Miami's two others first-round selections is 510 points, so a trio of 2020 first-rounders wouldn't be enough - even before considering the likely need to make an offer that blows the Bengals away. The Dolphins did acquire the Houston Texans' 2021 first-rounder in the trade for Tunsil and Stills and own multiple second-rounders in this year's draft, so Miami does have the assets to sweeten the pot.
Is the talent gap between Burrow and Herbert so large that it's worth giving up so many hard-won assets? Perhaps, if the Dolphins believe Burrow is the only franchise-changing passer in the class. Everyone will have their own opinion, but it could be a price worth paying, especially considering the NFL success some young quarterbacks have enjoyed in recent years and the advantage of having an elite signal-caller on a rookie deal.
Option 4: Restock assets for 2021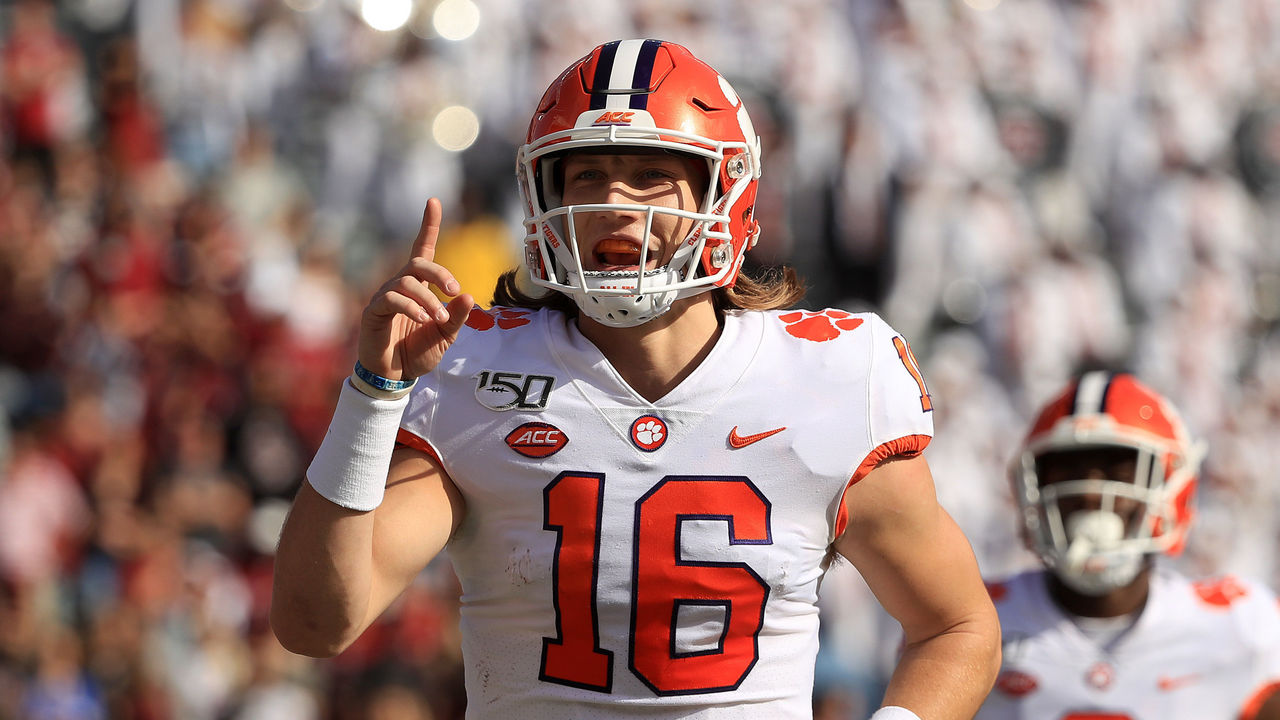 It feels like analysts predict next season's QB class will easily top the one that preceded it on an annual basis. Some of those lofty expectations can be attributed to the fatigue of evaluating the current class, as well as the allure of prospects who've yet to be picked apart in the draft process. As we saw with Burrow's meteoric ascent and Tagovailoa's injury, it can be foolish to try and project what a class will look like 12 months down the road.
That said, punting on the 2020 class could be the Dolphins' best move if they're unable to trade up for Burrow or Tagovailoa and don't believe Herbert is worthy of the No. 5 pick. The potential rewards? Clemson star Trevor Lawrence, who's billed as the best prospect since Andrew Luck after winning a national title as a freshman, or Ohio State standout Justin Fields, who was a 2019 Heisman nominee during his first year as a starter.
Miami already owns Houston's first- and second-round picks in 2021, and the team could add to those assets by moving back from No. 5 while insisting on receiving a 2021 first-rounder in exchange. The Dolphins will need those extra resources, as neither they nor the Texans are expected to land a top-five pick next year.
Of course, such a strategy comes with significant risk. Barring a catastrophic season or injury, neither Lawrence nor Fields is falling beyond the first two or three picks in 2021. Miami could find itself missing out on next year's top two QBs just as it could with Burrow and Tagovailoa. But betting on the wrong quarterback could set the franchise back years, and delaying the decision for another season could allow the Dolphins to manage expectations for 2020 as they continue to rebuild the roster.