Find positional rankings, additional analysis, and subscribe to push notifications in the NFL Fantasy News section.
Prospect Fantasy Outlooks
With the 2020 NFL Draft less than a month away, we've had time to go over prospects' game tape, analyze their athletic testing, watch interviews, and more, in order to project what their professional careers will look like.
As we wait to find out how NFL front offices value the incoming crop of rookies, the process of translating available information to help us make fantasy decisions can begin, though landing spots will have a major fantasy impact in terms of a player's opportunity, draft capital, the coaching he receives, and team culture.
The range of outcomes for college stars entering the pros is vast, especially running backs so dependent on volume, but let's take a look at the ball carriers with the best chance to become fantasy relevant at the next level.
Potential to be elite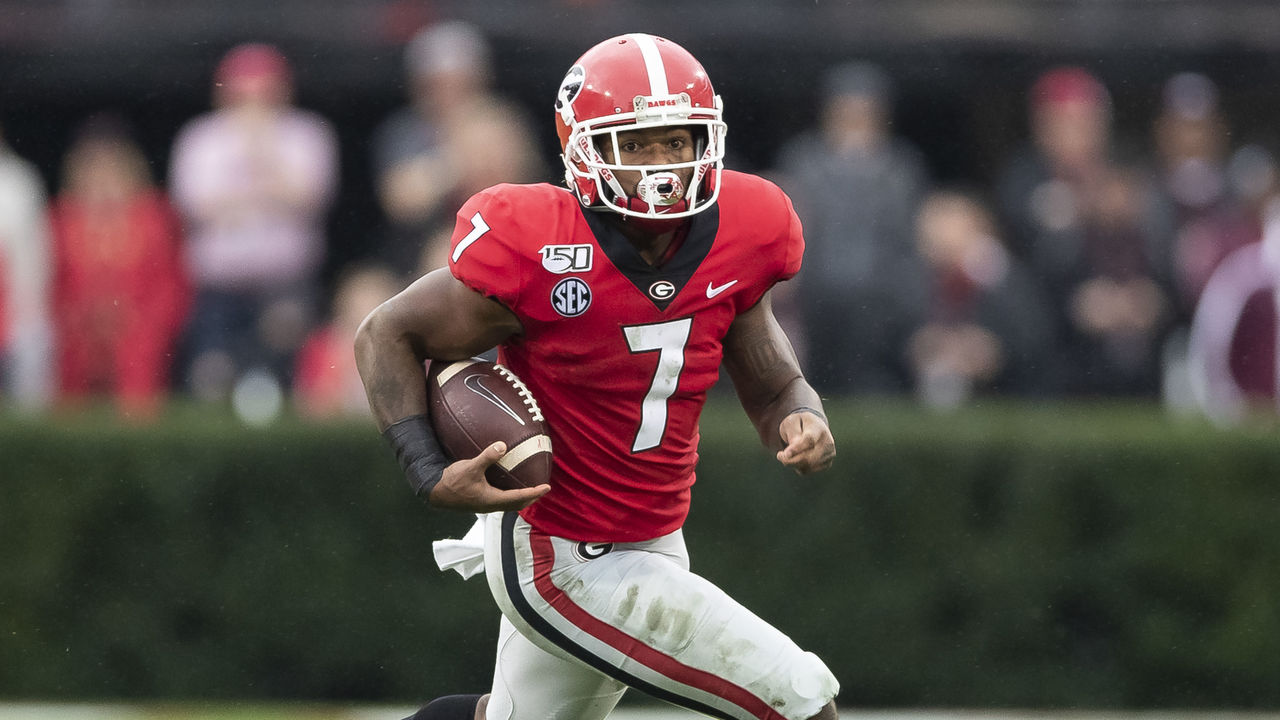 D'Andre Swift, Georgia
Jonathan Taylor, Wisconsin
As most NFL front offices have realized, running back isn't a position worth investing heavily in - financially or in terms of draft capital. So as in years past, it's possible we don't see a back selected in the first round. If one does hear his name called, it'll be either Swift or Taylor - by far the two highest-upside RB prospects in the class.
Swift is a complete package coming from a Georgia program that's groomed several top-end NFL rushers in recent years, including Nick Chubb, Todd Gurley, and Sony Michel. Competing against some of the best college football has to offer in the SEC, the 5-foot-8, 212-pounder exhibited outstanding patience, combined with a cutting ability that often left defenders grasping at air. Though not a powerful runner, he packs a punch and has impressive burst and breakaway speed when a hole opens up. The 21-year-old has a three-down skill set as a versatile weapon with good hands, who can even be deployed out wide as a receiver to create mismatches.
Taylor was the star of the NFL combine after a dominant career at Wisconsin, where he averaged more than 2,000 rushing yards per season over the last three years. At 226 pounds, Taylor ripped off a 4.39-second 40-yard time giving him an off-the-charts athletic profile for his size. Pair that with a very efficient downhill running style and you have the best pure runner in this year's crop. The main knock on Taylor is his lack of receiving production, something he set out to improve in 2019. To his credit, he didn't look out of place in the pass-catching opportunities he was given, but drops remained a problem. It's unclear whether NFL teams will trust him in a pass-catching role, which could restrict his workload at the next level.
Fantasy outlook: Swift is my No. 1 running back prospect and has a fantasy RB1 ceiling even as a rookie. His game has similarities to Alvin Kamara and Le'Veon Bell. If you're worried about his reduced volume at Georgia, remember that people said the same thing last year about Josh Jacobs, who went on to be a top-15 fantasy back on a points-per-game basis in his debut campaign with the Raiders.
The concerns about Taylor's future as a fantasy RB1 are more well-founded. He may be able to surprise as a pass-catcher if given the chance, which would put Ezekiel Elliott-type numbers in his range of outcomes, but it's more likely we see him get the Derrick Henry treatment as a one-dimensional threat in a committee backfield. As long as Taylor can secure the majority of his new team's carries, the 21-year-old will be in the fantasy RB2 conversation. Taylor also has a lot of mileage after accumulating the 35th-most rushing attempts all time in college, bringing his long-term outlook into question.
Strong starting options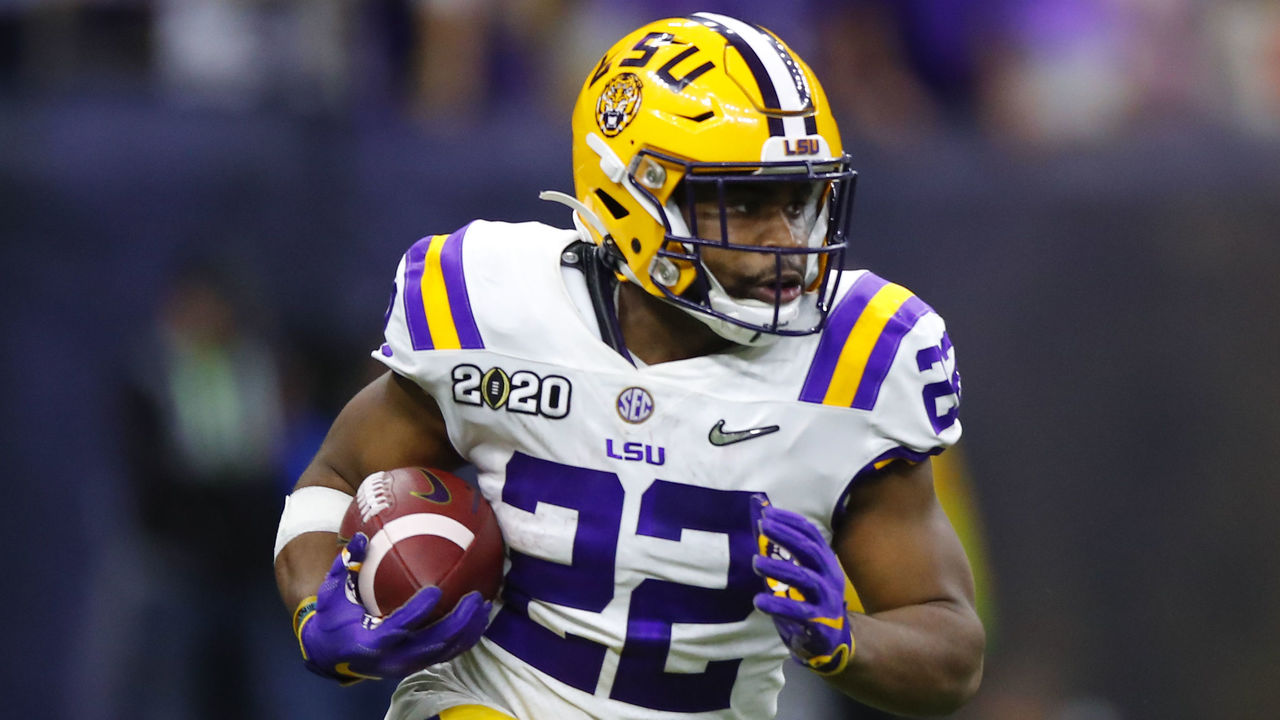 Clyde Edwards-Helaire, LSU
Cam Akers, Florida State
Edwards-Helaire doesn't have the elite upside Swift or Taylor possess if everything goes their way, but he's not far off. A tough rusher with excellent receiving chops, the LSU product broke out with 1,867 yards from scrimmage and 17 total touchdowns in a national-championship winning 2019. While he's shorter than most NFL backs at 5-foot-7, Edwards-Helaire has a low center of gravity and grinds out yards with his lower-body strength - he never gives up on a play. He's extremely quick and dynamic in space, so expect NFL clubs to take advantage of his skills as a route-runner. A three-down workload could be in the cards.
Akers is a fascinating prospect because he played behind a bad offensive line at Florida State. How much that influenced his production and habits is difficult to decipher. He's a hard worker who transformed from a dual-threat quarterback to a lead runner with an intriguing mix of vision, power, and pass-catching ability. His straight-line speed is more of an asset than his lateral agility and he can sometimes get a little sloppy in terms of his balance. Overall, he has enough tools to be an NFL starter from Day 1.
Fantasy outlook: Evaluations become more dependent on landing spot and draft capital the further we get down the list, but provided enough volume, Edwards-Helaire and Akers have the talent to be top-24 fantasy options in 2020. Best-case scenarios: Akers is reminiscent of a young Mark Ingram or Marlon Mack, players with underrated pass-catching skills who flourished in good situations behind quality lines. Meanwhile, CEH is a potential star in the mold of Devonta Freeman - another undersized, hard-nosed back who earned a full-time starting job early in his pro career.
Talented, but flawed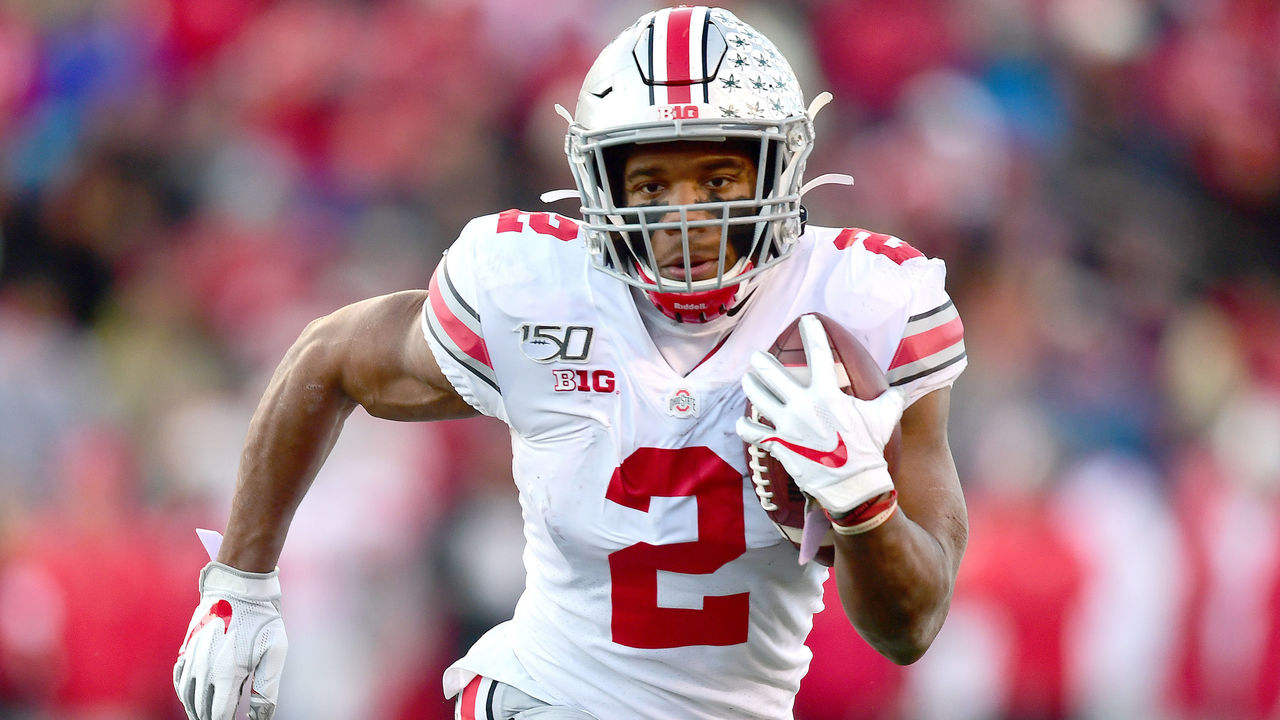 J.K. Dobbins, Ohio State
Zack Moss, Utah
Whenever my opinion on a player varies wildly from the majority of the draft community, I'm forced to go back and reconsider my evaluation. I've done that and it's still hard to understand what everyone sees in Dobbins. Some analysts have him as the top back in the class, while he's barely rounding out my top five.
Coming out of a quality program, Dobbins has an all-round skill set that positions him to be a potential workhorse at the next level. However, he benefited from playing behind Ohio State's offensive line, his running style is stiff at times, and he's not nearly as elusive or powerful as many give him credit. Add in the fact he didn't test at the combine and there's uncertainty whether he hits the athletic thresholds that are often telling for prospects. As far as measurables go, Dobbins has a thinner lower body and he weighed in lighter than expected - not ideal for the workhorse outlook.
Moss, though not as highly touted as Dobbins, may be the cautionary tale for why some players don't participate in the combine. After posting slow times and suffering a hamstring injury, his stock took a hit. Now with pro days canceled, he won't have a chance to improve on those times. His size and power are still alluring and he's more than capable of becoming a quality backup. Unfortunately, a lack of speed and quickness will make him a placeholder at best and not a long-term starting option.
Fantasy outlook: Most running backs who reach the NFL are talented enough to deliver when provided an opportunity, so it's possible Dobbins or Moss get the chance at some point. Based on my evaluations, they're closer to average talents and therefore have a higher risk of busting. They won't be players I'm investing in for 2020.
Don't overlook them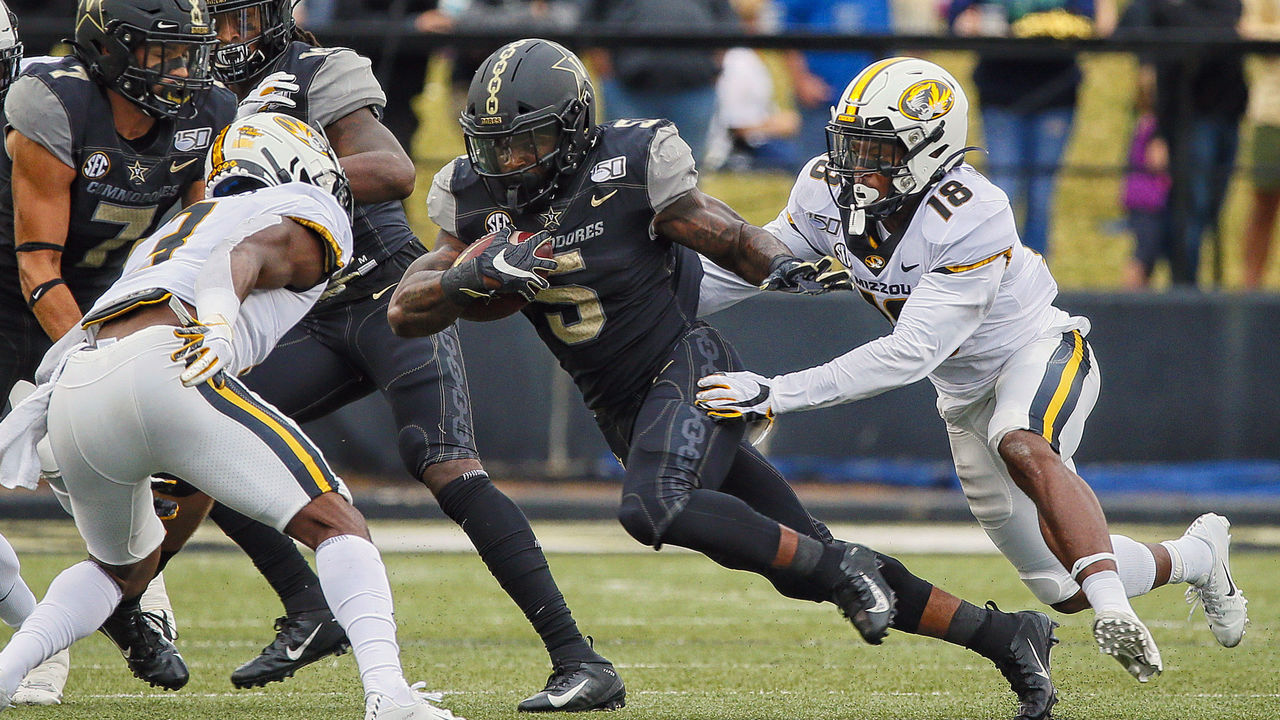 Ke'Shawn Vaughn, Vanderbilt
Anthony McFarland Jr., Maryland
AJ Dillon, Boston College
Now we get to have some fun, as we try to uncover talents being underrated heading into the draft. Vaughn is another older prospect at 22, but he had sneaky big-play ability behind a Vandy offensive line that didn't do him any favors. He has the speed to capitalize on holes inside or bounce to the edge and always seems to fall forward for positive yardage. He also showed well against top competition like LSU. One area he will need to develop if he's going to reach his peak as a pro is in the passing game - both as a receiver and a blocker.
McFarland Jr. stood out thanks to an extra gear that causes him to run with violence and scrap for every yard. He identifies defenses well and has the agility to change directions while maintaining his speed around the line of scrimmage. He isn't projected to be an NFL workhorse but he's very comfortable as a receiver out of the backfield and is dangerous when he gets some room to operate.
The 6-foot, 247-pound Dillon stunned with his impressive times at the combine, including a 4.53-second 40-yard dash. Dillon uses his speed and size at will, punishing defenders and always pushing the pile forward. Sadly, he lacks the refinement that could make him special. He wasn't used much as a pass-catcher, but showed some ability to expand that phase of his game. His future likely resides as an early-down hammer or short-yardage specialist.
Fantasy outlook: Vaughn jumped off the tape and is someone fantasy managers need to familiarize themselves with. Keep a close eye on where he's drafted because he has a shot to be a difference-maker with RB2 upside.
Mcfarland Jr. may be overlooked after playing through injuries in 2019, which hurt his production. He's destined to carve out a pass-catching role on an NFL offense, so don't be afraid to reach for him in Round 2 of your dynasty rookie drafts.
Dillon is a monster who could break out as a fantasy star if he develops his rushing skills. Sadly, we see a lot of size-speed freaks fail to evolve when they face tougher competition. It's a long shot, but hopefully he's more Derrick Henry than Alex Barnes.
Explosive weapons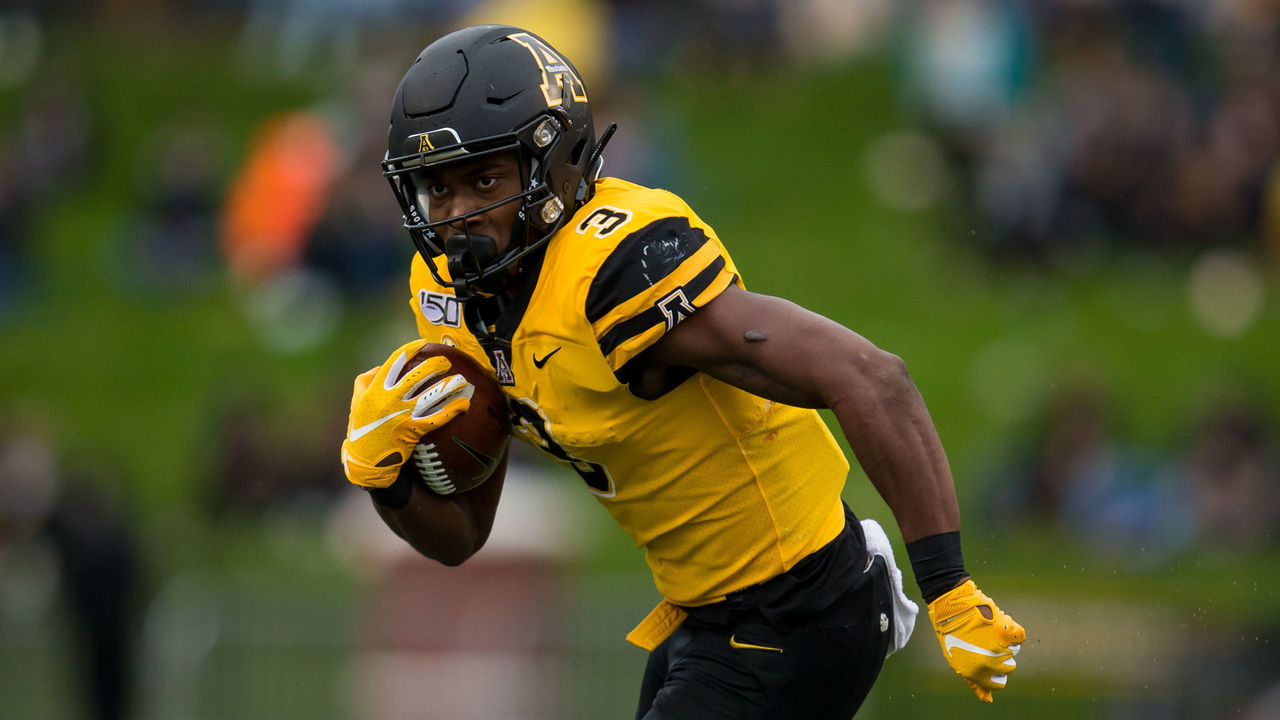 Darrynton Evans, Appalachian State
Antonio Gibson, Memphis
Evans is willing to run up the middle, but he wasn't overly effective in that part of the field in college. Since he doesn't break many tackles, it's a good thing he follows blocks well - a skill that allows him to hit pay dirt from anywhere on the field. He poses the biggest threat as a pass-catcher and should earn an immediate role as a passing-down specialist.
Gibson is a more raw prospect who was used at running back, receiver, and on special teams. He's not a fully developed ball carrier, still lacking the vision and instincts that come with experience at the position. He'll be an outstanding gadget player in the NFL with the size to perform as a running back, the skill to excel as a receiver, and a dangerous run-after-catch ability that defenses will struggle to contain.
Fantasy outlook: Gibson and Evans aren't foundation backs you draft to build an offense around. However, they can be devastating members of an RBBC due to their receiving skills and big-play buttons. While that reduces their high-end upside in fantasy, there's still a place for them on your roster, especially in PPR formats. More than any other backs on this list, we'll have to wait to see which teams value them on draft day before projecting what they can ultimately deliver in fantasy.
Day 3 sleepers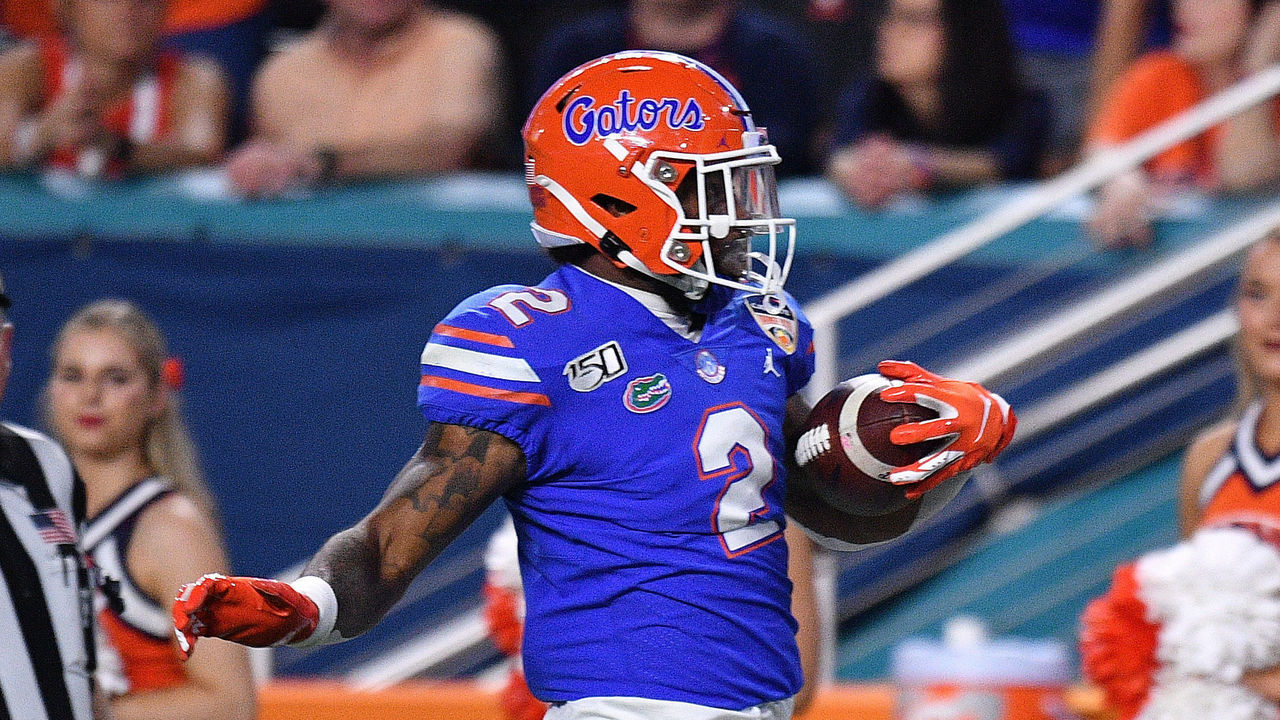 Lamical Perine, Florida
Eno Benjamin, Arizona State
Michael Warren II, Cincinnati
Darius Anderson, TCU
Joshua Kelley, UCLA
JaMycal Hasty, Baylor
DeeJay Dallas, Miami
We see running backs selected in the later rounds rise up and become fantasy relevant almost every year. Perine is my favorite of this bunch since he reminds me so much of Lamar Miller. You might not think much of Miller, but he had five straight seasons with at least 1,100 yards from scrimmage prior to missing 2019 due to injury. Perine has a similar skill set as a straight-line runner and decent pass-catcher who makes the most of his slightly above-average skills.
Benjamin may be further down this list than some would expect, but he's the definition of a pedestrian running back. Though he's passable at most aspects of the game, he adds very little to his touches and often looked completely out of place when the ball was thrown to him. It's unclear what he'll bring to an NFL club other than depth.
Warren's also average in most areas. However, he at least brings versatility: He's a powerful runner with decent wiggle for his size, and is competent as a pass-catcher. There could be upside here.
Anderson has a very upright running style and wasn't decisive enough with the ball in his hands, though he did generate quite a few missed tackles and a lot of yards after contact.
Kelley is another player who worked behind a bad offensive line in college and unfortunately wasn't able to create much on his own. Better blocking may help his cause.
The 23-year-old Hasty will need to earn a role early on as a pass-catcher or on special teams to afford him an opportunity to prove his worth. His receiving production was very consistent in college and he has the tools to line up out wide if needed.
Dallas is a developmental prospect who just moved to running back after playing quarterback and receiver, so there's plenty of room to grow. He runs hard and invites contact, we'll just need to see if he can learn the nuances of the position.
Fantasy outlook: We'll revisit this sleepers list after the draft to see whose fantasy stock profited the most from landing with the right club. The Buccaneers, Chiefs, and Dolphins have potent offenses and are in need of an infusion of running-back talent. If a member of this group can crack one of those rosters, he'll immediately become a fantasy sleeper.
Prospect Fantasy Outlooks