One of the biggest questions heading into the 2020 NFL season is how Tom Brady will fit with the Tampa Bay Buccaneers and head coach Bruce Arians.
Outside of Brady's magnum opus in 2007 when he played with Hall of Fame wide receiver Randy Moss, the quarterback hasn't been the type of downfield-minded passer Arians often works with.
The New England Patriots' offense was a malleable beast. Brady played in a run-heavy scheme, transitioned to a tight end-dominant system after Moss departed, and most recently thrived under the "death by 1,000 cuts" philosophy.
Arians, however, believes that's 999 cuts too many. The head coach's "no risk it, no biscuit" offensive scheme is based around aggressively and consistently attacking defenses deep.
Brady put together one of his worst-ever statistical campaigns last season, leaving many to doubt his ability to still throw downfield.
So, how will Brady and Arians fit in 2020? We looked at the head coach's history to see how successful he was with other signal-callers in Year 1:
*Indicates career high
Peyton Manning, 1998
| Comp. % | Yards | TD-INT | YPA | Sacks | Rating |
| --- | --- | --- | --- | --- | --- |
| 56.7 | 3739 | 26-28* | 6.5 | 22 | 71.2 |
Scoring offense rank: 19th
Team record: 3-13
Arians will coach Brady in the twilight of the QB's career. In a satisfying piece of symmetry, he was the positional coach for Manning, Brady's biggest rival, at the very start of his.
Manning's first NFL season with the Indianapolis Colts is mostly known for his 28 interceptions, a rookie record that still stands, much to the future Hall of Famer's chagrin. His ridiculous workload - an NFL-high 575 attempts - clearly hurt his efficiency, as seen by his yards per attempt and completion percentage.
This was a radically different era for passers, though, and it was Tom Moore's offensive scheme, not Arians' - it's noteworthy, however, that Manning is the only QB on this list who was among the best in the league at avoiding sacks.
Arians spent two further seasons in charge of Indy's QB room, during which Manning made the Pro Bowl twice and cut his interceptions to a combined 30.
Tim Couch, 2001
| Comp. % | Yards | TD-INT | YPA | Sacks | Rating |
| --- | --- | --- | --- | --- | --- |
| 59.9 | 3040* | 17-21* | 6.7 | 51 | 73.1 |
Scoring offense rank: 25th
Team record: 7-9
Poor Couch.
The former Cleveland Browns QB took a lot of damage during Arians' first stint as an offensive coordinator. But, as you'll soon see, those 51 sacks aren't significantly more than what others have taken with Arians as their coach.
Couch always had a bit of a knack for taking damage, too. He took 56 sacks as a rookie before missing more than half of 2000 due to injury, and he was out of the league by 2004, so his struggles against pressure can't be chalked up entirely to Arians' system.
Ben Roethlisberger, 2007
| Comp. % | Yards | TD-INT | YPA | Sacks | Rating |
| --- | --- | --- | --- | --- | --- |
| 65.3 | 3154 | 32-11 | 7.8 | 47 | 104.1* |
Scoring offense rank: 9th
Team record: 10-6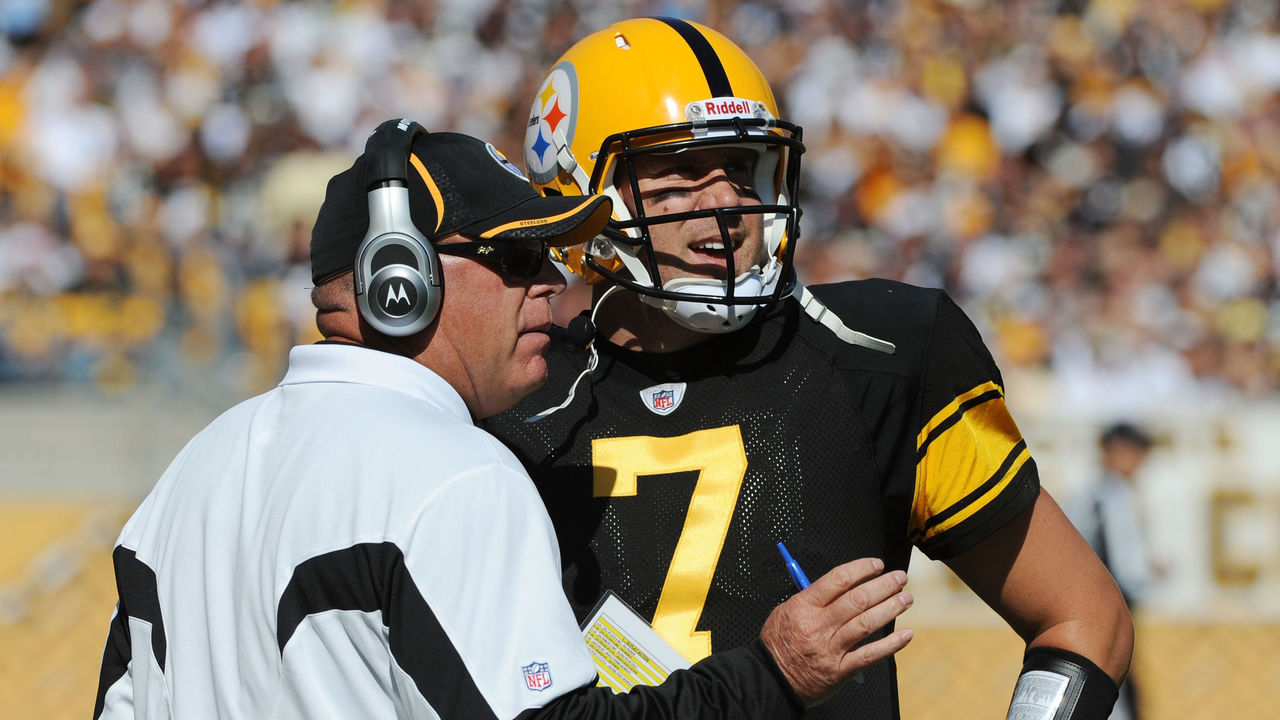 Arians was the Pittsburgh Steelers' wide receivers coach for three seasons before he was promoted to offensive coordinator and tasked with taking Roethlisberger's game to the next level.
Under Arians, Roethlisberger produced a career-best passer rating that he's come close to matching only once more, and almost doubled his touchdown total from the previous season, during which he also threw more than twice as many picks. His adjusted yards per attempt skyrocketed from 6.1 to 8.2.
Roethlisberger and Arians remained partners until 2011, throughout which the signal-caller consistently took a high number of sacks. From 2008 to 2011, defenses took Roethlisberger down an average of 43 times. That number dropped to 26.7 from 2012 to 2018.
Andrew Luck, 2012
| Comp. % | Yards | TD-INT | YPA | Sacks | Rating |
| --- | --- | --- | --- | --- | --- |
| 54.1 | 4374 | 23-18 | 7.0 | 41* | 76.5 |
Scoring offense rank: 18th
Team record: 11-5
It's fair to wonder whether Arians is OK with his quarterbacks taking excessive punishment to get the ball downfield.
Arians also obviously doesn't have a problem letting his freshman signal-callers sling the football at will. After a rookie Manning led the league in attempts, Luck threw 52 more times in his first year (627, fifth-most in the league) than his predecessor did.
And, once again, the excessive workload for such an inexperienced player produced mixed results. Only three players were sacked more in 2012 than Luck was, and his 18 interceptions tied for the third-worst mark. However, the latter is slightly less concerning when you consider his number of attempts - he was tied for the 10th-worst interception percentage.
Luck was asked to throw deep a lot (third in percentage of passes that went 20 yards or more, according to PFF), especially for a rookie whose main downfield weapons were Donnie Avery and a yet-to-develop T.Y. Hilton. On the plus side, he did manage seven game-winning drives.
Carson Palmer, 2013
| Comp. % | Yards | TD-INT | YPA | Sacks | Rating |
| --- | --- | --- | --- | --- | --- |
| 63.3 | 4274 | 24-22 | 7.5 | 41* | 83.9 |
Scoring offense rank: 16th
Team record: 10-6
This might be the most applicable example when wondering what to expect from Brady.
At 33 years old, Palmer was the oldest quarterback to work with Arians prior to his new partnership with Brady, and it took time for that duo to reach its full potential. Palmer finished third in interceptions and eighth in sacks in 2013, with both totals serving as career highs.
The partnership eventually paid dividends in spectacular fashion, though, with everything coming together in 2015 when Palmer was second in passing touchdowns and first in yards per attempt as a legitimate MVP contender.
Unfortunately, Brady doesn't have the luxury of time to flourish in Arians' scheme.
Jameis Winston, 2019
| Comp. % | Yards | TD-INT | YPA | Sacks | Rating |
| --- | --- | --- | --- | --- | --- |
| 60.7 | 5109* | 33*-30* | 8.2* | 47* | 84.3 |
Scoring offense rank: 3rd
Team record: 7-9
Winston's numbers last season encapsulated everything good and bad about an Arians-led passing attack.
The former No. 1 overall pick infamously became the founding member of the 30-touchdown, 30-interception club, and he also took the second-most sacks, threw the most passes (tied with Jared Goff with 626), and finished fifth in yards per attempt.
In Arians' defense, Winston has never been good at avoiding sacks or interceptions. However, his previous highs of 35 sacks and 18 picks - which came in 2016 - both pale in comparison to his 2019 totals.
The head coach certainly drew out some of Winston's best traits, but he also was unable to do so without exacerbating the passer's many flaws.
What do Arians and Brady need to do to succeed in 2020?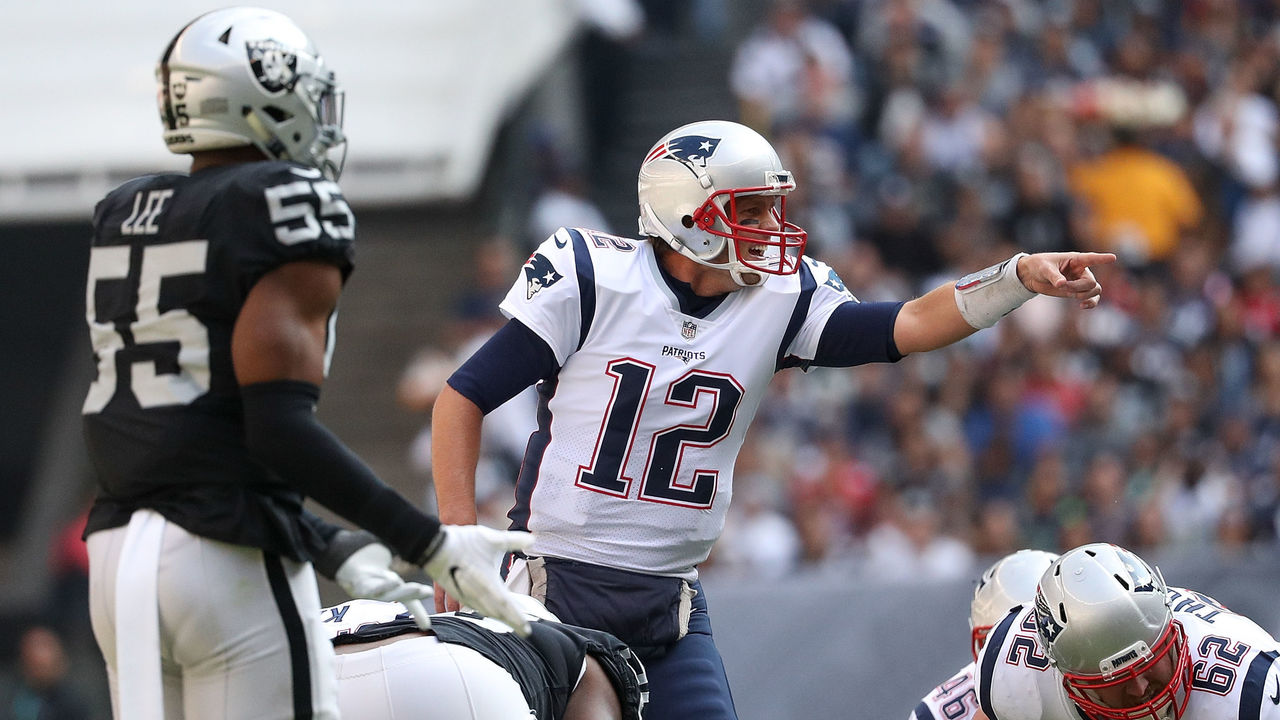 Arians doesn't believe the 42-year-old can only dink and dunk his way down the field.
"I think the perception is just wrong," he said, according to ESPN's Jenna Laine. "I thought his deep ball was outstanding last year. Through their play-action game, they hit a lot of deep balls. And our quarterback - I thought he put it as good as anybody - throw it to the guy who's open."
The numbers seem to back up Arians' opinion.
Brady didn't throw downfield a lot in 2019 - ranking 28th out of 39 QBs in average intended air yards, according to Next Gen Stats - but he threw his most touchdowns (seven) of 20-plus air yards since 2006 and completed 43% of such passes (seventh-best in the NFL and the third-highest mark of his career).
The biggest obstacle is protection. Almost every quarterback who played under Arians has taken a significant amount of punishment.
Brady, meanwhile, has been sacked more than 40 times in a season just twice, with one being his first year as a starter. He's taken an average of 25 sacks per season, and his best three seasons by passer rating (2007, 2010, and 2016) - two of which he won MVP in - all came when he received above-average protection relative to the rest of his career.
Arians' downfield system requires quarterbacks to withstand a greater amount of pressure in the pocket to give the necessary time for long-developing routes. Brady has made a career out of staring down incoming pass-rushers and delivering strikes, though his ability to do so appeared to decline last year.
After finishing first out of 29 qualified QBs under pressure in 2017, Brady slipped to 15th in 2018, according to PFF. Last season, with the Patriots' offensive line weakened by injuries, Brady fell all the way to second last out of 27 with a passer rating of 51.8, and his 36% completion percentage under pressure was the worst mark in the league.
Fortunately, for Brady, the Bucs' offensive line isn't as poor as last season's sack numbers suggest, as PFF ranked it seventh in pass protection and praised the strong play of the unit's interior.
Additionally, Brady and Arians have more combined experience than any other quarterback-head coach duo in the league, and the former's career has been defined by him defying expectations. If Tampa Bay prioritizes protecting Brady, perhaps the veteran can return to his 2017 level of play and match the heights of other elite Arians-led passing games.
Brady will want to prove he remains in that group of top-tier signal-callers. And while the fit is far from perfect, perhaps the six-time Super Bowl winner chose the Bucs to put to bed the theory that it was the Patriots' system, not Brady's own talents, that propelled New England during its unprecedented run of success.