Find positional rankings, additional analysis, and subscribe to push notifications in the NFL Fantasy News section.
Prospect Fantasy Outlooks
With the 2020 NFL Draft less than a month away, we've had time to go over prospects' game tape, analyze their athletic testing, watch interviews, and more, in order to project what their professional careers will look like.
As we wait to find out how NFL front offices value the incoming crop of rookies, the process of translating available information to help us make fantasy decisions can begin, though landing spots will have a major fantasy impact in terms of a player's opportunity, draft capital, the coaching he receives, and team culture.
The range of outcomes is vast, but let's start this series by looking at the quarterbacks most likely to become fantasy relevant at the next level.
Potential franchise-changer
Joe Burrow, LSU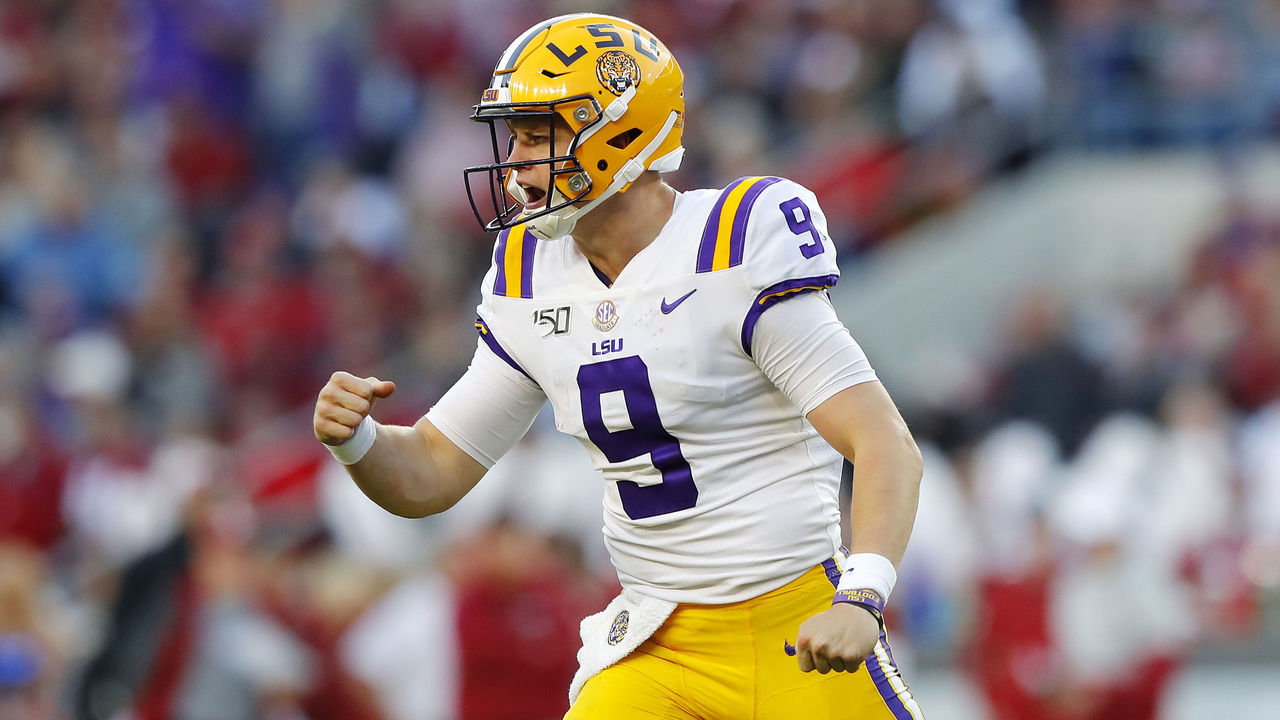 Coming off a fairy tale season that ended with a national championship, Burrow is a lock to be the first overall pick.
He may have logged just one year of elite production, but it was one of the best statistical campaigns we've ever seen from a college quarterback. Burrow set the FBS record for passing touchdowns (60), while also leading the nation in passing yards (5,671), completion percentage (76.3%), adjusted passing yards per attempt (12.5), and passing efficiency rating (202.0).
The Heisman Trophy winner profiles as a franchise quarterback who will make those around him better after shining against quality competition in 2019 and carrying himself with confidence while displaying a vast football IQ.
Though his arm strength isn't elite, Burrow possesses enough power to complete any throw. He's shown good accuracy and touch, often placing the ball where only his receiver can make a play.
Bengals fans worried about the team's offensive line impacting their new QB should take solace in the fact Burrow excels at sensing pressure and either stepping up, rolling out, or running. His ability to extend plays will be fun to watch as the 23-year-old tests himself against the sport's best defenders.
However, Burrow isn't without his flaws. He's at least a year older than most of the other quarterbacks in this class. By comparison, Sam Darnold is entering his age-23 season with two NFL campaigns already in the books. We're not talking about a Chris Weinke or Brandon Weeden situation, but Burrow's age is something to keep in mind, especially with just one year of success on his resume.
Overall, perhaps in part due to his age, Burrow seems extremely prepared to take the next step in his career.
Fantasy outlook: Unlike most prospects, we know with a degree of certainty where Burrow will be playing in the fall, and the Bengals are an underrated landing spot for his fantasy potential.
Cincy features an offensive-minded coach in Zac Taylor and a strong set of skill position players in A.J. Green, Tyler Boyd, and Joe Mixon. If tackle Jonah Williams, Cincinnati's first-round pick last year, can return to full health - accompanied by a couple of more upgrades on the line - Burrow will get a chance to deliver immediately.
He's not fast enough to be a true rushing threat in the pros. But he'll provide sufficient yardage on the ground to boost his fantasy value as a QB2 with some upside in Year 1, then develop into a possible QB1 down the road.
Injury questions
Tua Tagovailoa, Alabama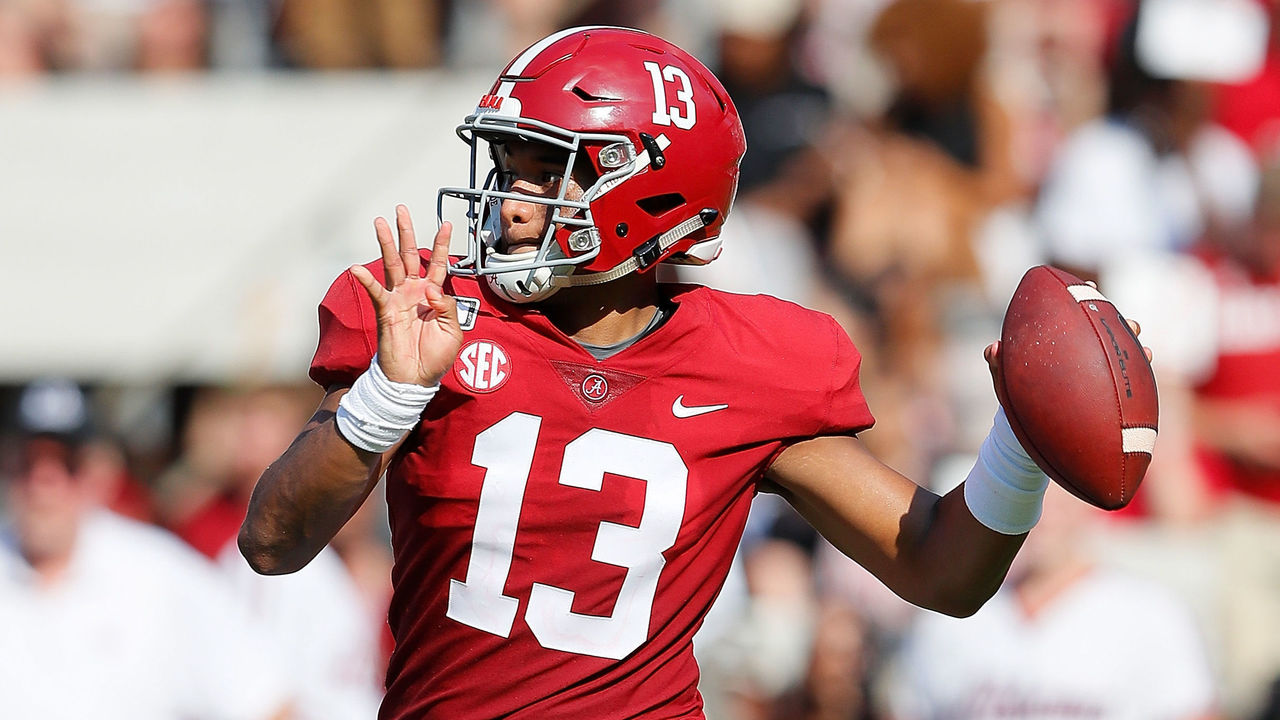 A healthy version of Tagovailoa would belong in the section above with Burrow. Unfortunately, his history of ankle surgeries and a very serious hip injury suffered last season make him a more volatile prospect. That's forcing interested teams to make a decision about his draft stock during an unorthodox offseason when private workouts and individual medical testing aren't permitted.
Tagovailoa continues to rehab, and he recently shared a clip of what appears to be very positive progress on social media:
Still likely to be taken among the top five picks, Tagovailoa projects as a solid NFL starter if he can get back to full health and stay there.
Though he benefitted from the talent and scheme at Alabama, Tagovailoa proved he can execute an offense with precise timing. His strength lies in accuracy and anticipation, even under duress. A calm demeanor after escaping the pocket allows him to keep his eyes downfield, and his quick release helps salvage many plays that go off script.
Even with his ability to buy time behind the line of scrimmage, Tagovailoa didn't rack up much yardage as a runner in college. With his injury concerns, it's unlikely his next team will want to put him at risk regularly.
Fantasy outlook: Until we know more about his recovery, it's hard to evaluate Tagovailoa's value in real life or fantasy.
NFL teams that fall in love with his ceiling need to be realistic about the downside of investing in an undersized quarterback returning from an ailment some initially believed could jeopardize Tagovailoa's career.
His limitations as a rusher could cap the 22-year-old's fantasy outlook since most top-10 quarterbacks run to enhance their numbers. Either way, the odds of Tagovailoa impacting his team significantly as a rookie are slim, especially if he lands with the Dolphins and their weak offensive line. Looking long term, he can become a QB1 if the signal-caller settles into the right system and overcomes the doubts about his durability.
Top-10 talent
Justin Herbert, Oregon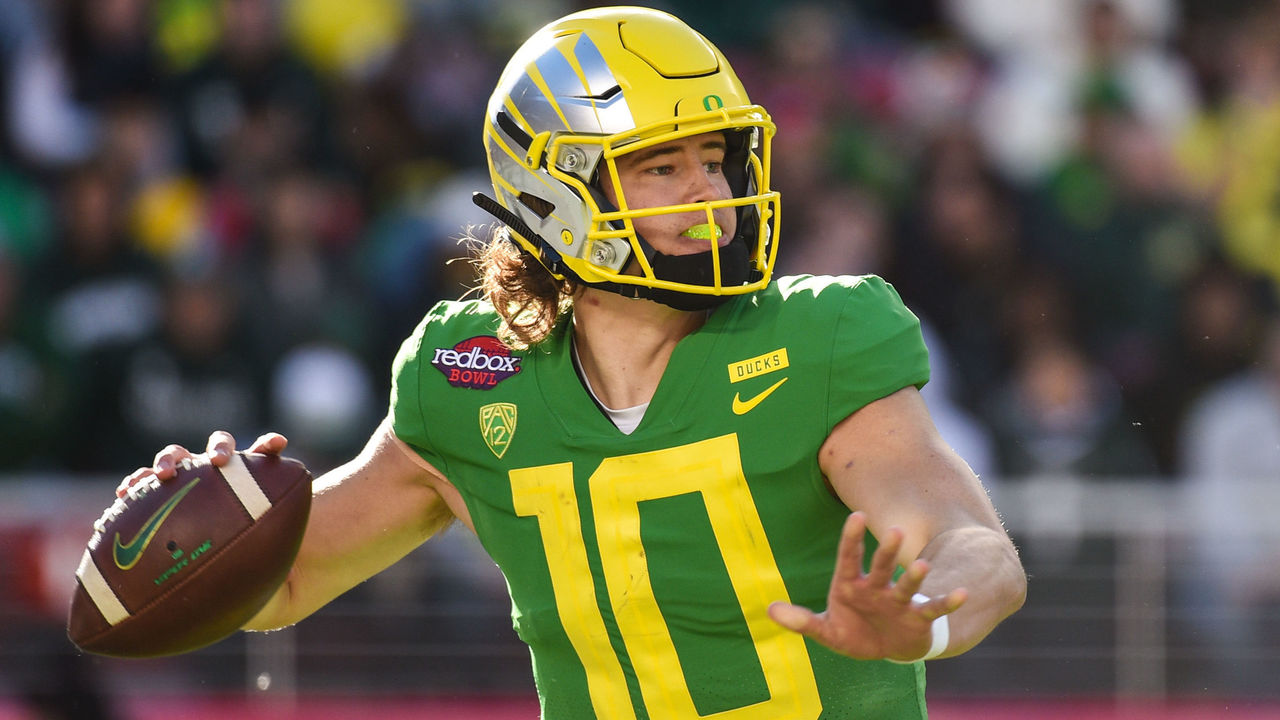 Burrow and Tagovailoa are the top prizes in this year's quarterback crop, and there's a notable drop off after them. There will be plenty of debate about who deserves to be the third passer selected, but Herbert has secured that spot in my rankings.
The Oregon product has the size and tools to earn a starting role early in his career in the same way Josh Allen exceeded expectations after the Bills moved up to draft him two years ago.
Herbert can launch the ball effortlessly downfield with his similarly strong arm, and he's able to challenge defenses on the ground with his 6-foot-6, 236-pound frame.
With the good comes the bad, and, like Allen, Herbert needs a lot of polish if he's going to evolve into an NFL star, as he lacks consistency in most areas. The accuracy, touch, and anticipation that make Burrow and Tagovailoa so enticing are hit and miss in Herbert's performances.
He doesn't possess the field awareness you want in a top-10 prospect, but as we've witnessed with Allen, a young passer with elite arm strength can be put in a position to succeed. However, if he doesn't learn to make better decisions under pressure, Herbert will quickly be relegated to clipboard duty.
Fantasy outlook: The NFL's thirst for QB talent will likely lead to Herbert being drafted as a top-10 pick. There are a couple of very intriguing teams in that range - most notably the Chargers, who are loaded offensively and desperately need a quarterback after ending a long marriage with Philip Rivers.
As we've seen during Allen's time in Buffalo, rushing production can supplement modest passing stats, turning a flawed passer into a fantasy starter. Herbert has that kind of upside, but so much will depend on which organization drafts him.
For now, be cautious with your rookie projections for him, knowing Herbert could produce future QB1 returns if he continues to develop.
Long-term projects
Jalen Hurts, Oklahoma
Jordan Love, Utah State
Jacob Eason, Washington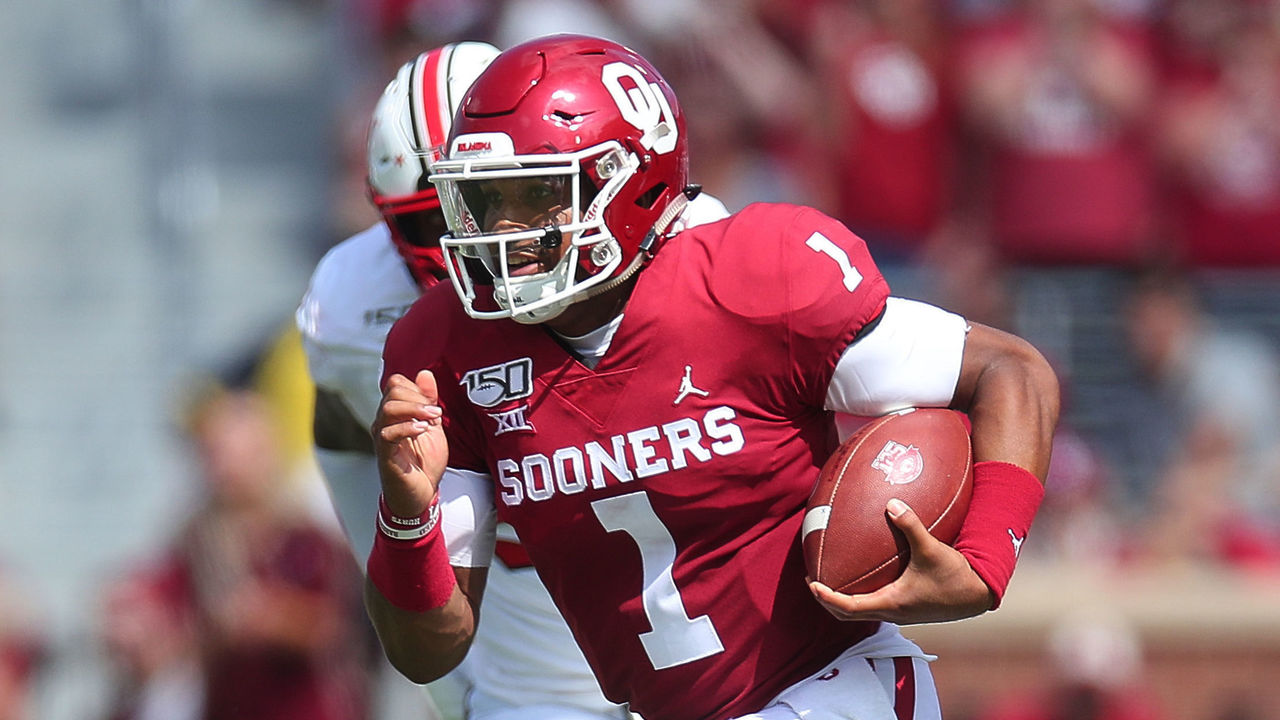 While the first three quarterbacks on this list are guaranteed first-rounders, this next trio will just be hoping to hear their names called on Day 1 of the draft. Whether that happens or not will have a big impact on their career projections.
Hurts is an intriguing prospect who needs a team to commit to him the way the Ravens built around Lamar Jackson. Though he doesn't possess Jackson's speed, Hurts has a unique skill set and can punish defenses on the ground. If a team tries to fit him into a more traditional mold, he'll struggle to climb the depth chart. Hurts will need to work on his big windup, spotty accuracy, and a tendency to wait until a receiver is open before releasing the ball if he's going to become a quality passer.
Love has received a lot of buzz as someone who could rise up teams' draft boards, likely due to his smooth throwing motion and fast release. The way he spins the ball is alluring, but there are more than enough hiccups in his decision-making to question whether he will be able to transition to a starting role in the NFL. Love struggles to process coverages, either not seeing or outright ignoring defenders underneath, leading to easy interceptions. He'll be a frustrating player to try and correct unless he can make strides with his field vision.
Eason is another project with an outstanding arm who's slow to progress through his reads. His default setting is to play it safe, which leads to far too many negative plays. He struggles under pressure and doesn't extend plays outside of the pocket. He'll be a long shot to achieve starter status.
Fantasy outlook: The truth is Eason, Love, and Hurts all face difficult paths to success. We mentioned the importance of draft capital because it's rare for quarterback prospects taken outside of the first round to emerge as long-term stars. Russell Wilson (third round) and Tom Brady (sixth round) are outliers.
Hurts has the best chance to thrive as a fantasy asset out of this group due to his work as a ball carrier. While Love and Eason's arm talent looks great in workouts, it's much harder to rewire the issues that ail them.
These guys would all benefit from sitting a year or two behind an established veteran.
Backup bound
Jake Fromm, Georgia
Anthony Gordon, Washington State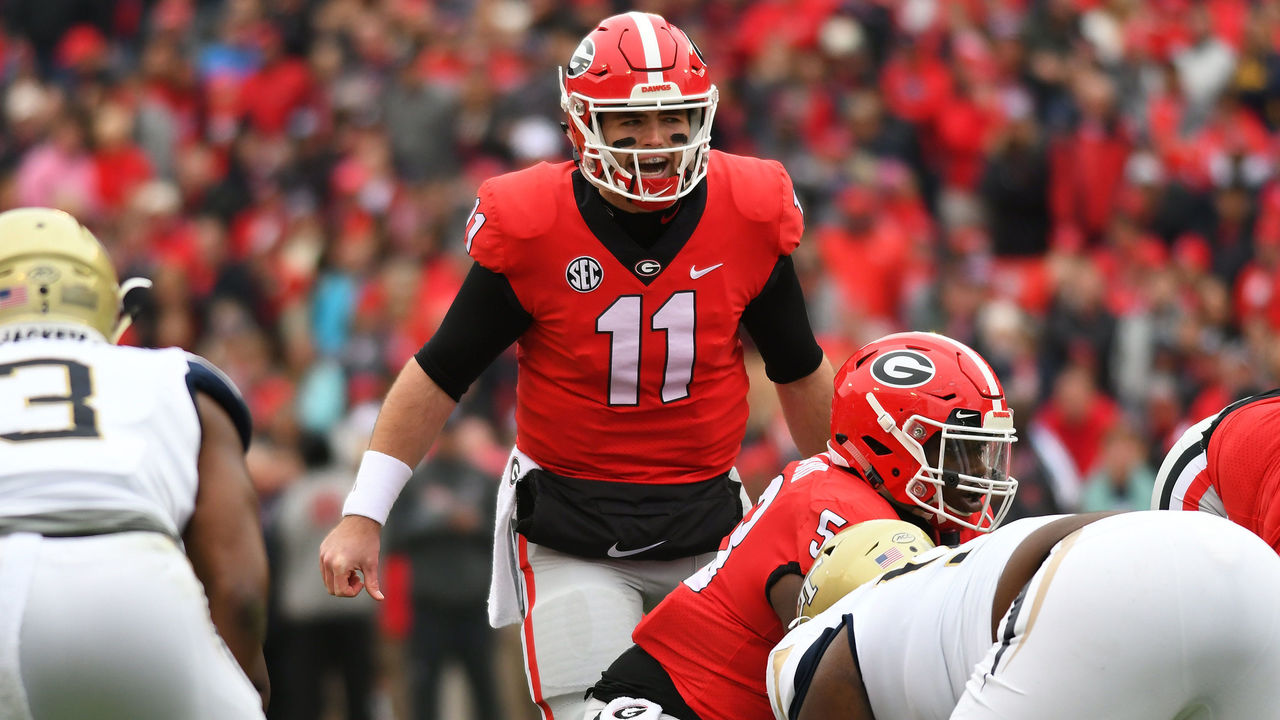 Fromm and Gordon can't be ruled out as possible starters, but they're both missing just enough talent to limit them at the next level.
Fromm is a field general, and a lack of top-end skill overshadows his command of an offense. Executing at a peak level despite a weak arm is far more challenging in the pros than in college. Add a lack of mobility to the mix, and it's tough to make a case for him as anything beyond a backup.
Gordon is a one-year starter who appears more comfortable freelancing than executing the play called. While he shares Fromm's average to below-average arm strength, Gordon has shown an incredibly quick release. Perhaps that will catch an optimistic QB coach's eye somewhere around the league. Regardless of where he lands, Gordon's first assignment will be hitting the weight room to add bulk to his 205-pound frame.
Fantasy outlook: The shift in fantasy toward passers who can pick up yards with their legs is undeniable. Each of the top eight fantasy quarterbacks in 2019 rushed for 200-plus yards. That puts both Fromm and Gordon in an uphill battle to generate usable fantasy stats if they ever sniff a start.
Prospect Fantasy Outlooks