theScore is offering fans the chance to win $5,000 USD with our Top 10 Draft Contest!* Correctly predict the first 10 draft picks in the order they're called to win.
theScore's Mike Alessandrini and Dan Wilkins break down the top quarterback prospects in the upcoming 2020 NFL Draft as part of a position-by-position series.
Top 50
QB | RB | WR | TE | OL
DL | EDGE | LB | CB | S
1. Joe Burrow
School: LSU
Height: 6-3
Weight: 221 lbs
Positives
Sublime accuracy and ball placement to all levels of the field
Excellent touch and trajectory on vertical throws
Extends plays within and outside the pocket with masterful improvisation
Maintains accuracy when throwing on the run
Poise to stand in and deliver with minimal impact against pressure
Reads the field well pre- and post-snap
Works through multiple progressions from the pocket
Historic season came against top competition
Negatives
Only one year of high-level production
Average arm strength
Below-average hand size
Older than most top prospects
Bottom line
Burrow is a fascinating prospect. Once a backup at Ohio State, nobody could have seen him going on to lead LSU to a national title with arguably the best season for a quarterback in college football history. He was that good. The relatively small sample of high-level productivity will give some evaluators pause, but this was no fluke. Burrow's brilliance from start to finish in 2019, improving when competition intensified against fellow SEC powerhouses and then Clemson in the national championship game, makes him one of the easiest quarterbacks to evaluate since Andrew Luck. Burrow is a shoo-in for the No. 1 pick in this year's draft.
Grade: Top 5
2. Tua Tagovailoa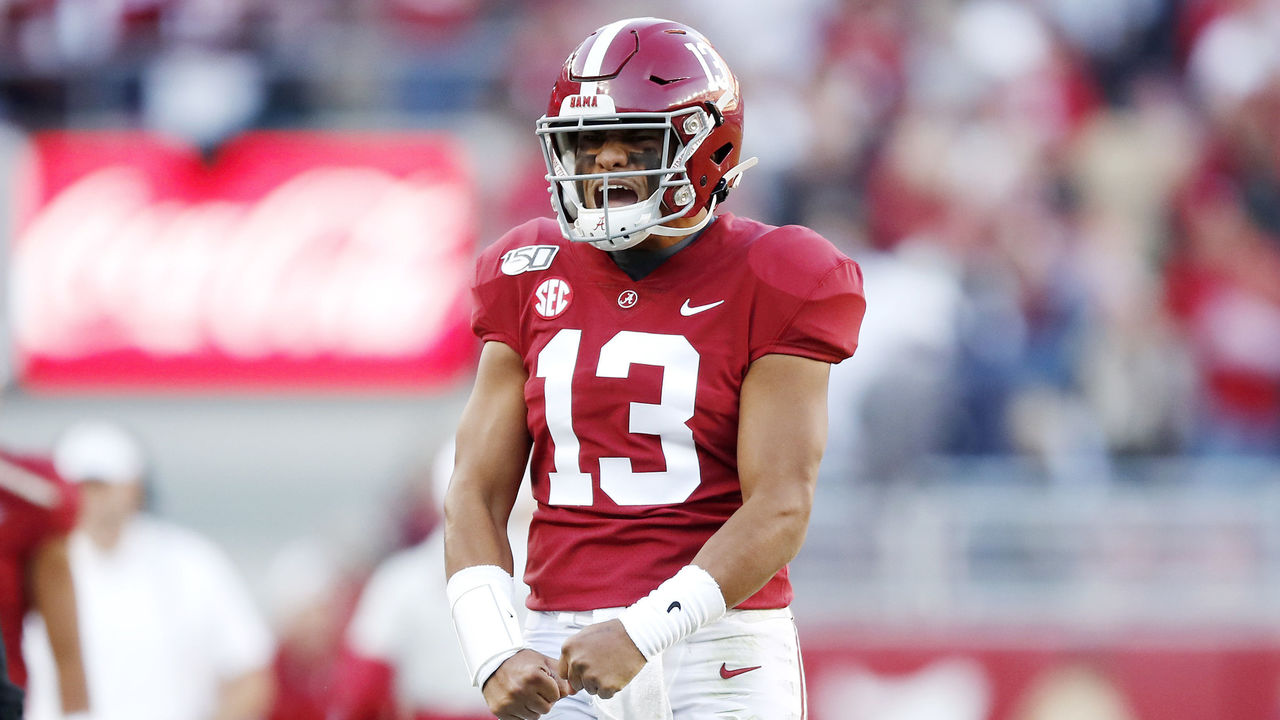 School: Alabama
Height: 6-0
Weight: 217 lbs
Positives
Excellent timing and ball placement at all levels of the field
Arm talent to drive the ball up the seam and to the far sideline
Throws receivers open with great anticipation
Efficiently works through reads and makes good decisions
Isn't fazed by pressure
Extends plays with quick movements in the pocket
Shows athleticism to escape and make plays on the run
Maintains eye level to look downfield while improvising
Two years of elite production in the SEC
Negatives
Recovering from a major hip injury
Dealt with other nagging lower-body ailments
Lacks an ideal frame for the position
Bottom line
Tagovailoa was supposed to be the prize of this draft, and he certainly could still be in the long term. He's had NFL teams eagerly awaiting his arrival ever since he stepped in on the biggest stage as a freshman and led Alabama to a national title win over Georgia. The superstar left-hander has the arm talent and accuracy to make and deliver on every throw on the field, and he's particularly lethal when attacking defenses vertically. His raw ability as a passer, intelligence, and athleticism make him an elite prospect and a fit for any NFL offense. Were it not for a major hip injury that ended his 2019 season, Tagovailoa could have been neck and neck for Burrow for the No. 1 spot, perhaps even holding the advantage due to a more extensive track record. He's still not far behind, as he's certainly a potential franchise quarterback.
Grade: Top 5
3. Justin Herbert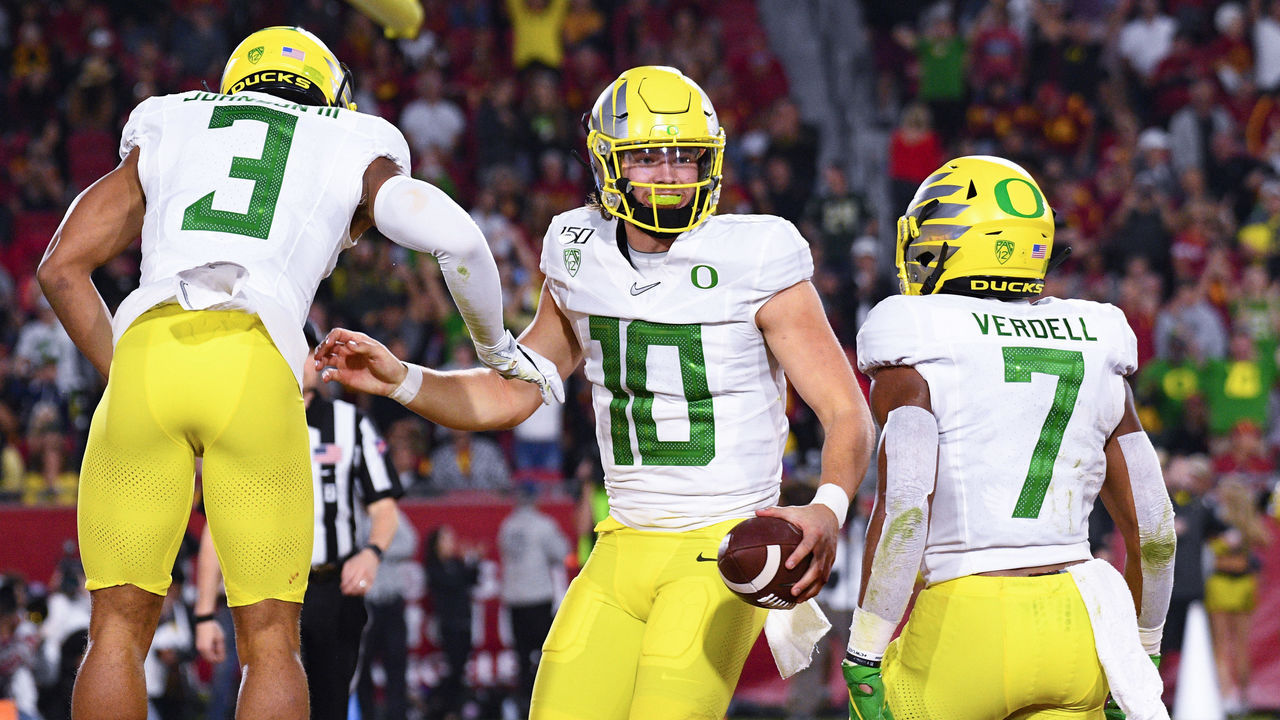 School: Oregon
Height: 6-6
Weight: 236 lbs
Positives
Ideal height and weight for the position
Big arm allows him to attack downfield and challenge tight windows
Athlete who can make plays as a runner by design or when the play breaks down
Accurate to short and intermediate levels
Proficient with pre-snap reads
Works through multiple progressions post-snap
Negatives
Often slow to make decisions in the pocket
Sails too many driven throws downfield
Doesn't throw with anticipation
Effectiveness drops significantly when facing pressure
Lack of production against top competition
Bottom line
Herbert is a highly touted prospect entering the NFL after returning to Oregon for his senior season. Scouts will be enamored with his frame, arm talent, and athleticism, as that combination gives him the upside of a solid starter at the next level. He remains a first-round prospect, as he would have been had he declared as a junior, though returning to school didn't do anything to boost his stock. He'll need to be brought along as a developmental quarterback early on in his pro career. The upside is there, but patience may be required before he's potentially able to make the most of his raw talents.
Grade: Rounds 1-2
4. Jalen Hurts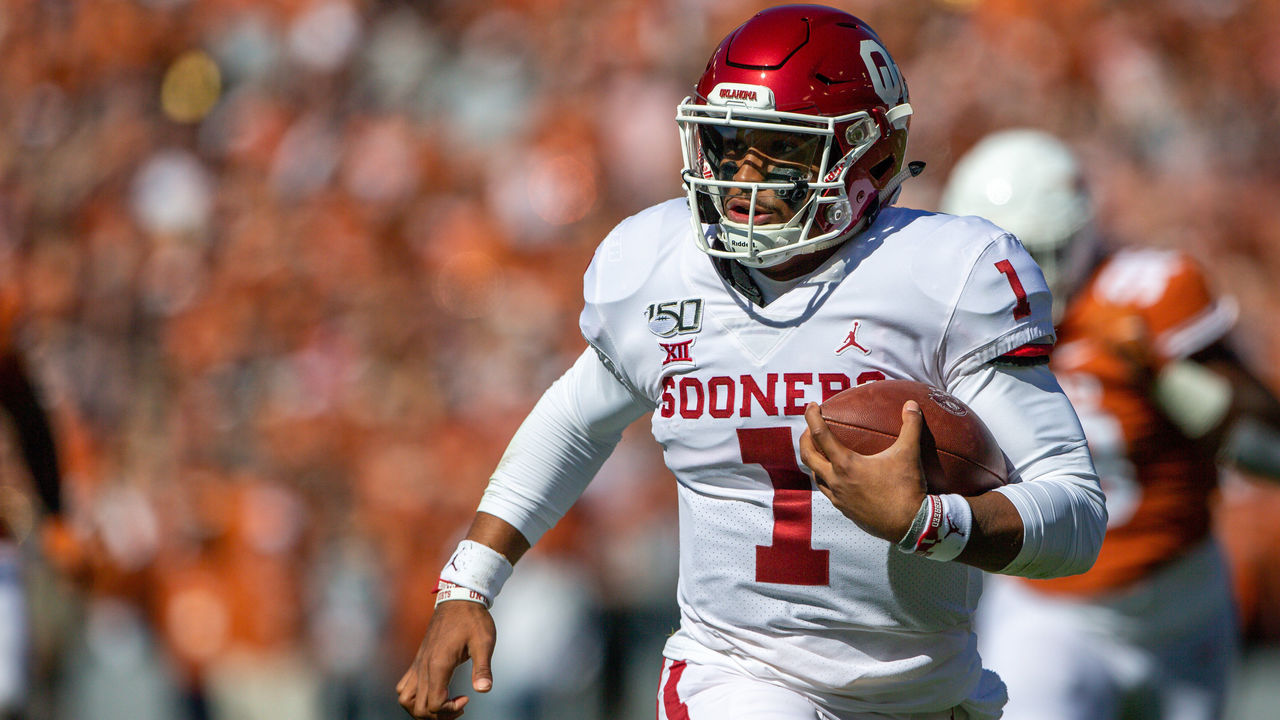 School: Oklahoma
Height: 6-1
Weight: 222 lbs
Positives
Generally accurate on short and intermediate throws
Improving touch and trajectory on vertical shots
Incredible sense for pressure and ability to extend plays by improvising
Maintains accuracy when throwing on the run
Turns into a running back with ability on designed runs
Powerful and shifty as a ball carrier
Rises to the occasion to make plays in big moments
Reputation as a great leader
Negatives
Long release
Too quick to pull it down and run
Spotty decision-making can lead to turnovers
Must continue to improve finer aspects of ball placement
Production suffered against top opponents
Only one year of consistent production as a passer
Bottom line
Hurts is far and away the most interesting name in the second tier of quarterbacks. He didn't seem to have much of an NFL future after failing to show much promise as a passer at Alabama and losing his starting job to Tagovailoa. Then came his transfer to Oklahoma, where Hurts' production went through the roof. It's fair to wonder just how much Lincoln Riley's offense propped him up considering the limitations he'd demonstrated beforehand, but Hurts made some major strides as a passer and now comes with a ton of upside. If some early-career development can help him to make quicker and better decisions with the football, he can be a solid starter at the next level. His ability to contribute as a high-volume runner and make off-script plays in the passing game makes him a particularly intriguing prospect in today's NFL.
Grade: 2nd round
5. Jordan Love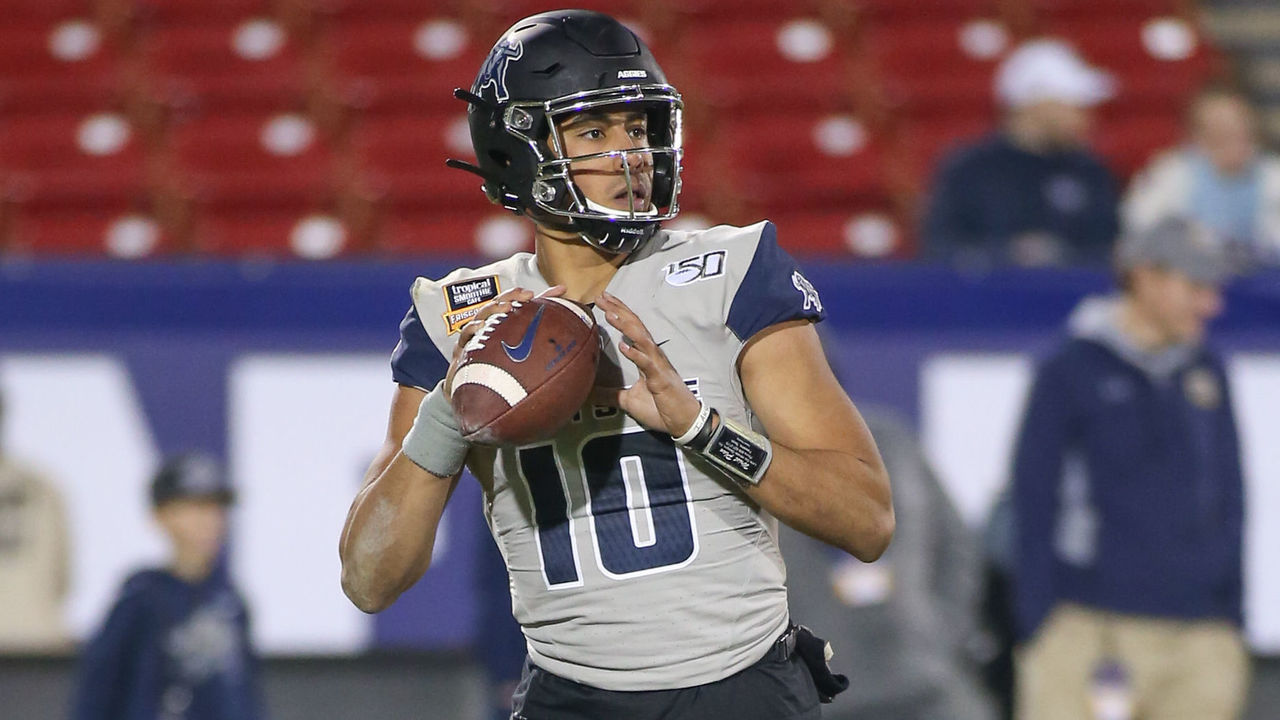 School: Utah State
Height: 6-4
Weight: 224 lbs
Positives
Big-time arm talent
Highly accurate when his mechanics are on point
Connects on wild off-platform throws
Extends and creates plays with his athleticism
Effective runner when the play breaks down
Negatives
Sloppy footwork leads to occasional accuracy issues
Inexcusable turnovers in his final college season
Constantly misses underneath defender in coverage
Doesn't read the field well or throw with anticipation
Drop-off from his sophomore season with a new supporting cast
Bottom line
Love is not Patrick Mahomes. You'll almost certainly hear the MVP's name mentioned in discussions about Love, but nobody is actually making a direct comparison. That said, it isn't difficult to see why Mahomes' name is brought up. Love is a project but the elite arm talent is impossible to miss. His turnover issues are where things get dicey. The good news here is that Love's strengths are rare and not teachable, while the more troublesome areas can be rectified. Mechanics and decision-making are things he can work to master with an NFL staff. While there's no guarantee he ever puts it all together, the upside is worth a gamble.
Grade: 2nd round
6. Jacob Eason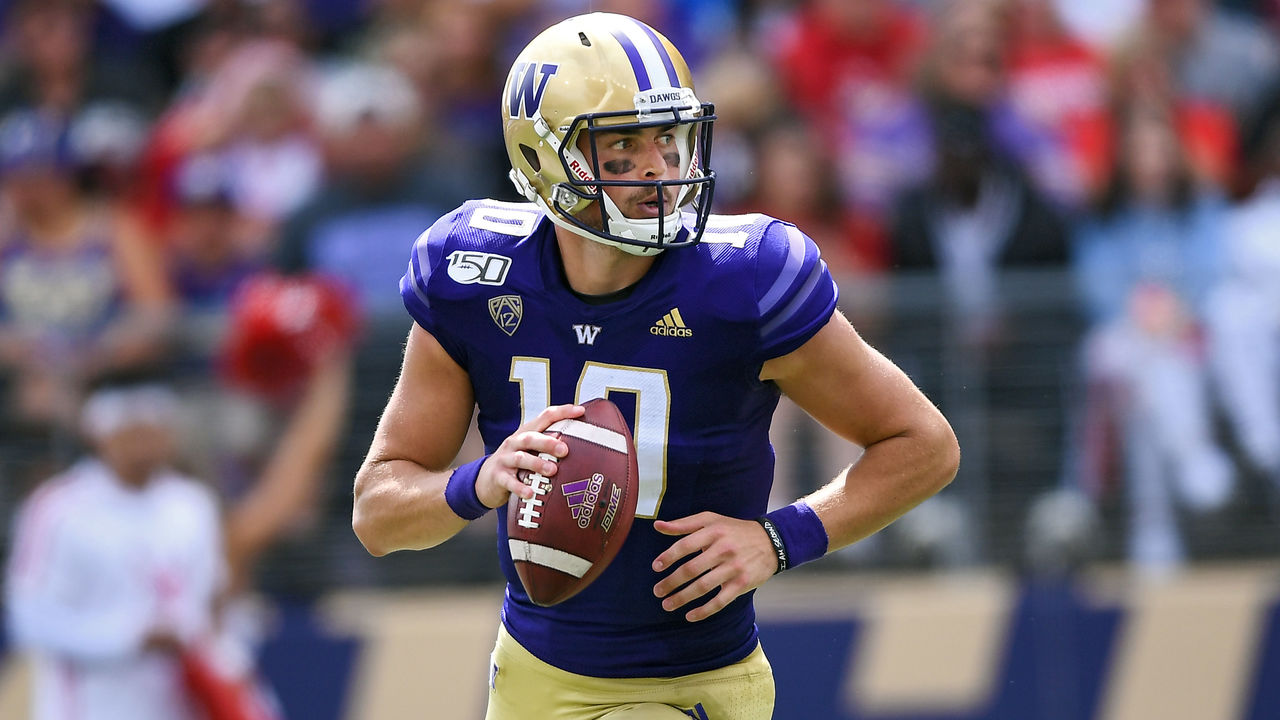 School: Washington
Height: 6-6
Weight: 231 lbs
Positives
Prototypical size and arm talent
Aggressive and successful in attacking all areas of the field
Good velocity to challenge tight windows
Accurate on intermediate and vertical throws from a clean pocket
Good trajectory and touch on deep balls
Negatives
Entire process falls apart against pressure
Bails from the pocket instead of stepping up and looking downfield
Throws off his back foot, leading to accuracy issues
Decision-making falters when under duress
Doesn't have the athleticism to extend plays
Takes too many sacks
Can be slow to process the defense in front of him
Bottom line
Eason looks like a first-round quarterback prospect when everything around him is clean. His arm talent and all-level accuracy could lead to a great future if he's fortunate enough to have a system and supporting cast that set him up for success. But he isn't a Day 1 quarterback because his effectiveness is so situational. Not gifted with athleticism to extend plays, Eason overcoming his issues in the future will depend on his ability to improve his movement within the pocket and remain composed in the face of a pass rush. The raw upside as a passer is there, and he's a particularly appealing option for teams that want to attack downfield, but it'll take either a perfect situation or some major strides in the more nuanced areas for him to tap into it.
Grade: 3rd round
7. Jake Fromm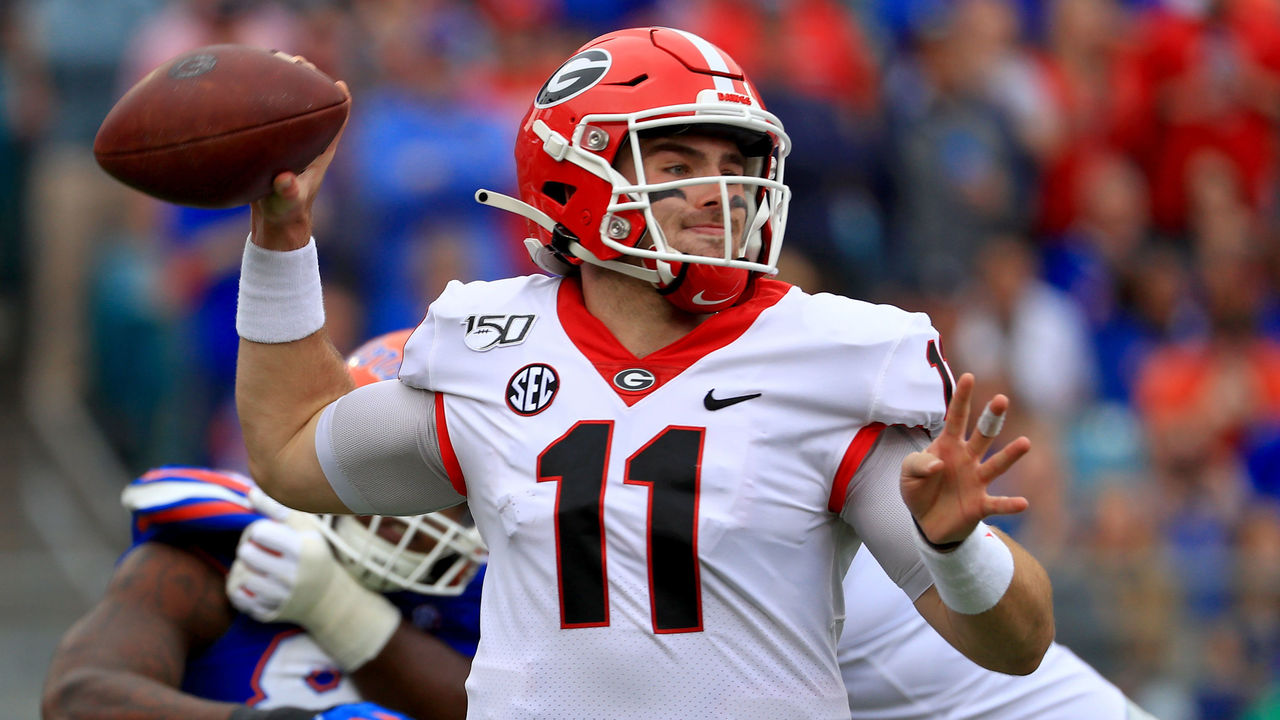 School: Georgia
Height: 6-2
Weight: 219 lbs
Positives
Moves well within the pocket
Makes good decisions with the ball and throws with anticipation
Accurate to short and intermediate areas
Works through full-field progressions
Remains poised under pressure
Negatives
Lacks the arm talent to drive the ball downfield
Can't challenge tight windows
Generally far too conservative
Isn't athletic enough to break the pocket
Bottom line
Fromm will make the jump to the NFL fresh off three productive seasons against SEC competition as Georgia's starting quarterback. He's an intelligent player who protects the ball and throws his receivers open with good ball placement and anticipation. His lack of natural arm talent limits him beyond that, though. Fromm has the potential to be a starter in a system built around a quick passing game that attacks defenses horizontally. Barring that perfect scheme fit, his ceiling may be that of a capable backup.
Grade: Rounds 4-5
8. Anthony Gordon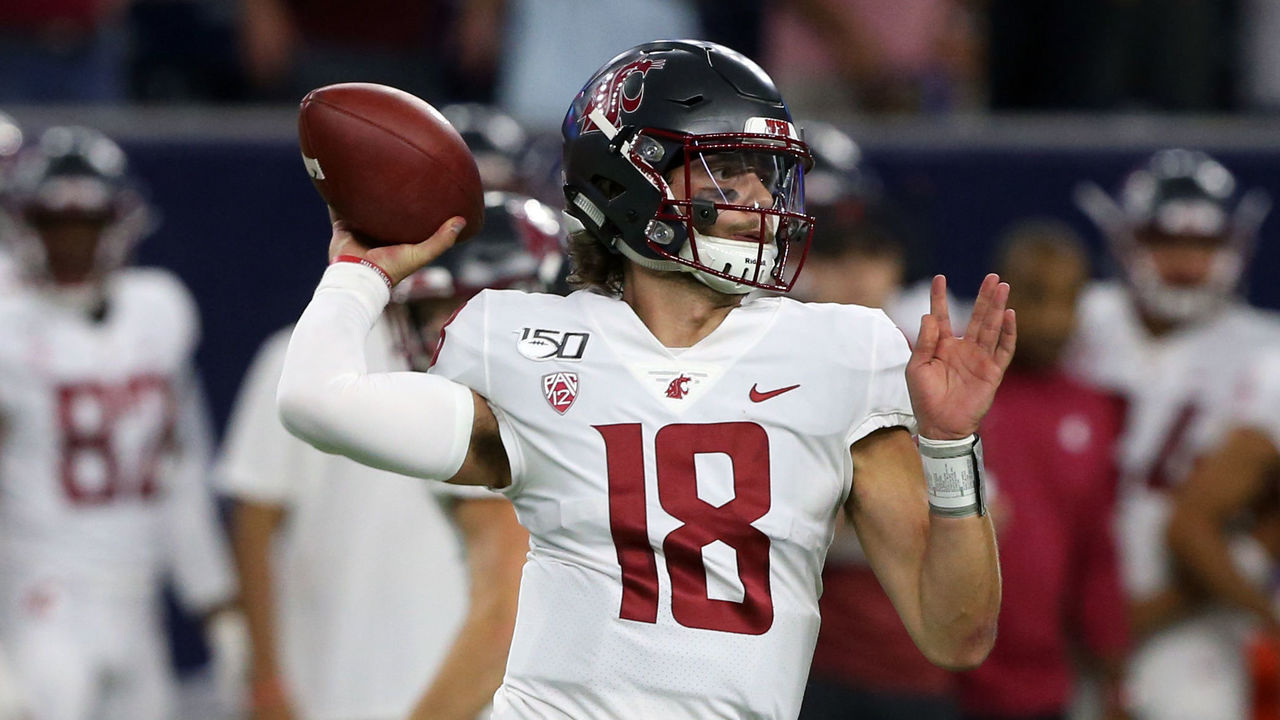 School: Washington State
Height: 6-2
Weight: 205 lbs
Positives
Quick, compact release
Accuracy and touch for consistently good ball placement
Enough arm strength to maintain accuracy downfield
Throws receivers open with anticipation
Patient making reads from the pocket
Stands in against pressure
Can become a runner when plays break down
Negatives
Slender frame
Content to stand flat-footed in the pocket
Telegraphs intentions by locking in on one receiver
Trusts his arm too much with throws into coverage
Needs to incorporate his lower half to generate better velocity.
Only one season as a starter
Bottom line
Gordon boasts a number of traits that make him an intriguing draft-and-develop option. He's a highly productive passer with a compact delivery who is accurate at all levels of the field. The arm strength isn't elite, but the precision he maintains in the vertical game suggests it's more than enough. He'll need work when it comes to going through progressions and refining his footwork. Gordon could be an excellent backup and perhaps more in the right system.
Grade: Rounds 5-6
9. James Morgan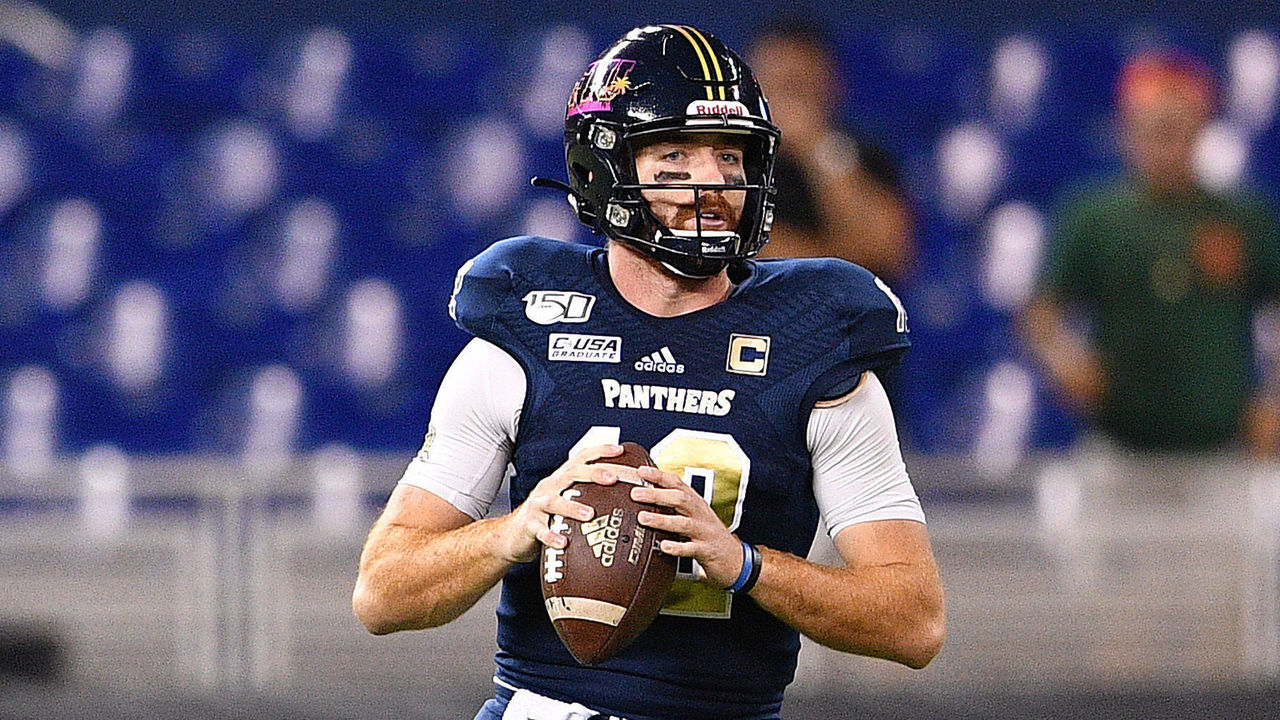 School: Florida International
Height: 6-4
Weight: 229 lbs
Positives
Natural arm talent
Can drive the ball to all areas
Flashes accuracy on vertical throws
Hangs tough against the pass rush to deliver
Attacking mindset leads to big plays
Negatives
Accuracy comes and goes due to mechanics
Focuses on one receiver rather than reading the whole field
Aggressiveness can hinder decision-making
Bottom line
Morgan is a developmental quarterback prospect. His raw arm talent jumps off the film. The accuracy is there in spurts and can be particularly impressive when he's driving the ball vertically, but undisciplined mechanics lead to far too much inconsistency in that regard. Morgan's natural gifts will certainly earn him a shot at the next level, and making improvements in the finer points of quarterback play could see him carve out a career as a backup.
Grade: Round 7/UDFA
10. Nate Stanley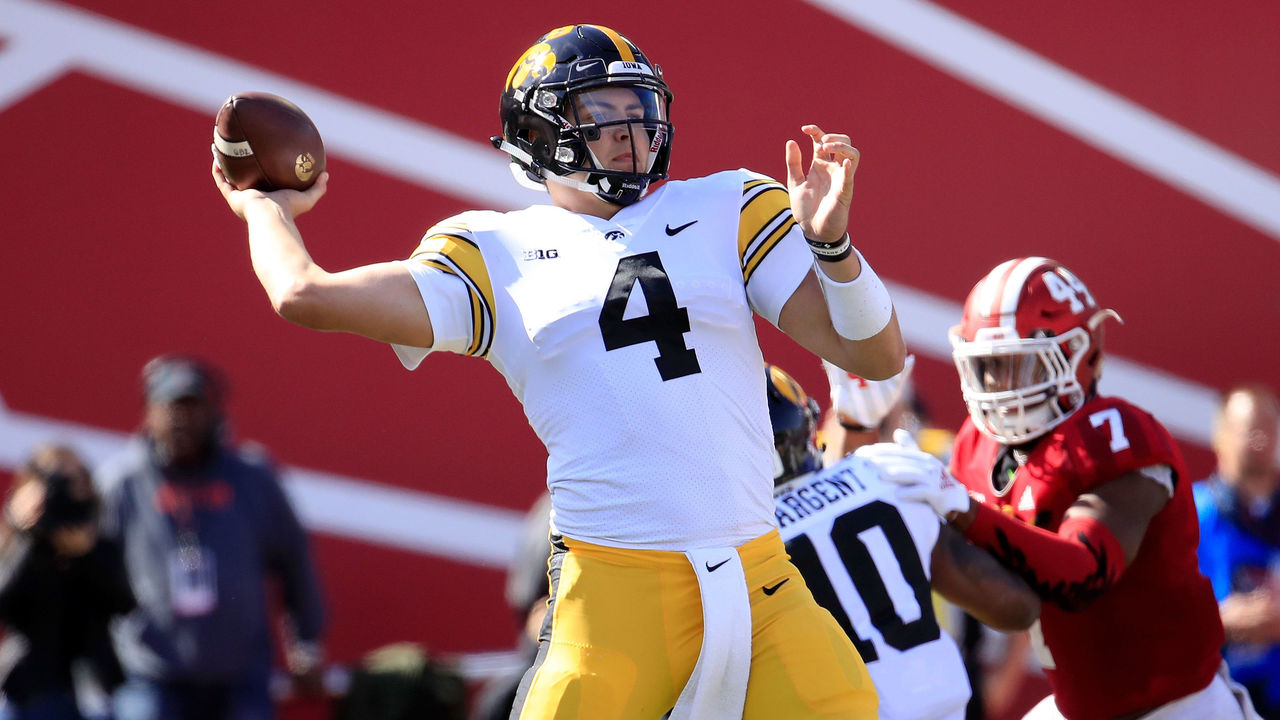 School: Iowa
Height: 6-4
Weight: 235 lbs
Positives
Arm talent to make every throw
Can drive into tight windows or throw over defenders
Great trajectory and accuracy on downfield throws
Good ball placement to maximize YAC
Takes care of the ball with good decisions
Negatives
Process falters when dealing with pressure
Gets stuck on one receiver instead of working through progressions
Largely conservative and quick to settle for an underneath option
Won't extend plays with athleticism
Underwhelming production
Bottom line
Stanley will be a developmental prospect who'll hope NFL coaching can help make the most of his size and natural arm talent. With a good combination of velocity and touch, Stanley can make every throw on the field from a clean pocket. Issues arise when he faces pressure, as he can be slow to process and ultimately take too many sacks. Stanley is a potential backup who could be effective in spurts as part of a quick passing game.
Grade: Round 7/UDFA
Other notable prospects
Steven Montez (Colorado)
Cole McDonald (Hawaii)
Brian Lewerke (Michigan State)
*Terms and conditions apply. Contest is open to legal residents of the United States (excluding Guam, U.S. Virgin Islands, and Puerto Rico) and Canada (excluding Quebec) who are of legal age. Void where prohibited. For official contest rules, visit https://thesco.re/Top10Draft2.