What else does Tom Brady have to achieve, as he enters his age-43 season with the (come on LOL this can't be real get out of here) Tampa Bay Buccaneers? How about the chance to show what he can do without Bill Belichick.
The Brady-Belichick partnership, it's safe to say, was the greatest player-coach pairing in sports history. But it couldn't last forever. It's nice to imagine a happier ending was possible - Brady coming back on one last team-friendly contract to guide the Patriots to one more title - but, in hindsight, it was never going to work out that way. Consider who we're talking about here.
Brady believes he can play forever (or at least until he's 45), while Belichick never allows nostalgia to dictate his bargaining position. After months of speculation, the deadline for the two sides to get something done finally arrived this week and … not much happened.
One report said there wasn't really a negotiation, while another said the Pats simply made an offer and Brady refused it. So here we are, with Brady headed to the Gulf Coast of Florida, where at least he'll be spared from having to wear those awful digital clock uniforms, while Belichick, who turns 68 in April, is tasked with the most difficult personnel decision in the sport: finding a replacement at the game's most consequential position. For the rest of us, it's going to take some getting used to.
To be fair, Brady had no more challenges in New England. You know the story by now: Brady was a sixth-round pick in 2000 who took over for Drew Bledsoe in Week 2 of his second season and wound up winning the Super Bowl. All told, he's won three NFL MVP awards, four Super Bowl MVPs, and six Super Bowl rings. He's also been to the Super Bowl nine times.
In Brady's 19 seasons as a starter, the Pats won the AFC East an astounding 17 times. Granted, the Bills, Dolphins, and Jets have largely spent this century jamming fingers into one another's eyes like helmeted versions of Moe, Larry, and Curly. But still: The last time the Pats didn't win the division was the season Brady tore his ACL in the opener. That was 12 years ago.
All the while, Brady had Belichick to master the art of roster-building by maximizing the salary cap and emphasizing depth; to set the trend of using the entire field in the passing game, particularly with the interchangeable deployment of slot receivers, multiple running backs, and tight ends; to dramatically adapt the game plan from week-to-week to keep opponents off guard. Also, Belichick coaches hard, and Brady accepts hard coaching. They were a perfect tandem.
The Pats won their first three Super Bowls in Brady's first four seasons as a starter; they won their next three after he had turned 37 years old. But how does he now fit with the Bucs, a woebegone franchise whose lone Super Bowl title 17 years ago is completely anomalous to their 40-plus-year history of shit-brained futility?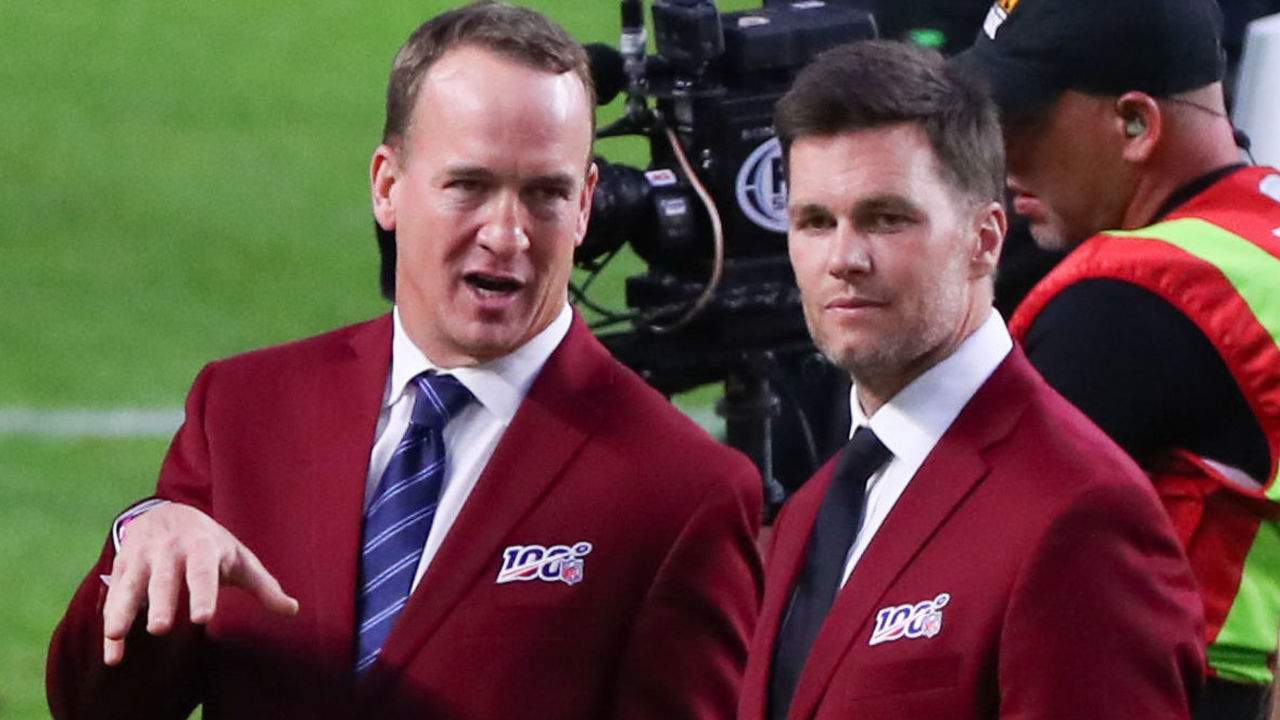 Bucs head coach Bruce Arians has long prized big-armed quarterbacks who can take deep drops in the pocket while also being capable of heaving the ball downfield. Some of his most famous charges include Ben Roethlisberger, from his time as the offensive coordinator of the Steelers; late-stage Carson Palmer, from his years as head coach of the Cardinals; and Jameis Winston, who last year was the first NFL QB to throw 30 touchdowns and 30 interceptions in the same season.
At first glance, this style would seem to be a poor match for Brady, who owes his career longevity in part to Belichick's and offensive coordinator Josh McDaniels' understanding that it was necessary to limit the punishment he'd take as he got older. A hallmark of Brady's game as he aged was his ability to frequently get rid of the ball quickly, before he'd have to take so many hits. But that never meant Brady was simply a check-down artist.
As Timo Riske noted at PFF, Brady "has proven multiple times during his career he will adjust his style to the weapons at his disposal." Yes, per Riske, Brady's adjusted depth of target last season was just 8.4 yards. But as recently as 2017, when he had a burner like Brandin Cooks at his disposal, Brady's aDoT was 10.2 yards.
Remember: Last year, Brady certainly seemed to be a bit washed. But after Rob Gronkowski retired and Belichick's experiments with Josh Gordon and Antonio Brown blew up, Brady also had no proven pass-catchers other than Julian Edelman. With the Bucs, Brady will have the chance to throw to Mike Evans and Chris Godwin, two of the game's best young receivers, plus O.J. Howard, one of its top tight ends. The Bucs also have an up-and-coming defense.
Still, it's not a given that Brady and the Bucs will thrive together. After all, Brady will be in a new setting, with a different group of coaches and teammates, with what for him will be an unknown set of standards and responses to adversity. He also can't outrun the realities of age forever.
The Brady-Belichick partnership was renowned for its ability to adjust, to move on, to keep winning with clinical precision. Brady is now removed from that dynamic. Can he succeed without Belichick? It's pretty much the only thing in the NFL he hasn't accomplished.
Dom Cosentino is a senior features writer at theScore.