The window for NFL teams to assign the franchise and transition tags begins Feb. 25 and ends at 3:59 p.m. ET on March 10.
In most years, clubs can use one tag or the other. This offseason, though, organizations may utilize both, as it's the final season of the collective bargaining agreement.
The franchise tag restricts a player's rights in free agency while offering them a one-year contract worth no less than the average of the top five salaries at their respective position. The player can sign the tender at any time and has until July 15 to negotiate a multi-year extension. The player has no obligation to fulfill any team duties until inking the tender.
The transition tag allows a player to test free agency while giving his incumbent team the right to match any offer. It's presented as a one-year contract worth the average of the top 10 salaries at the player's respective position. Historically, the transition tender hasn't been used nearly as frequently as the franchise one.
Stars such as Tom Brady and Jadeveon Clowney have clauses that forbid their teams from tagging them, but several other impending free agents are candidates for a tender, barring extensions.
No-brainers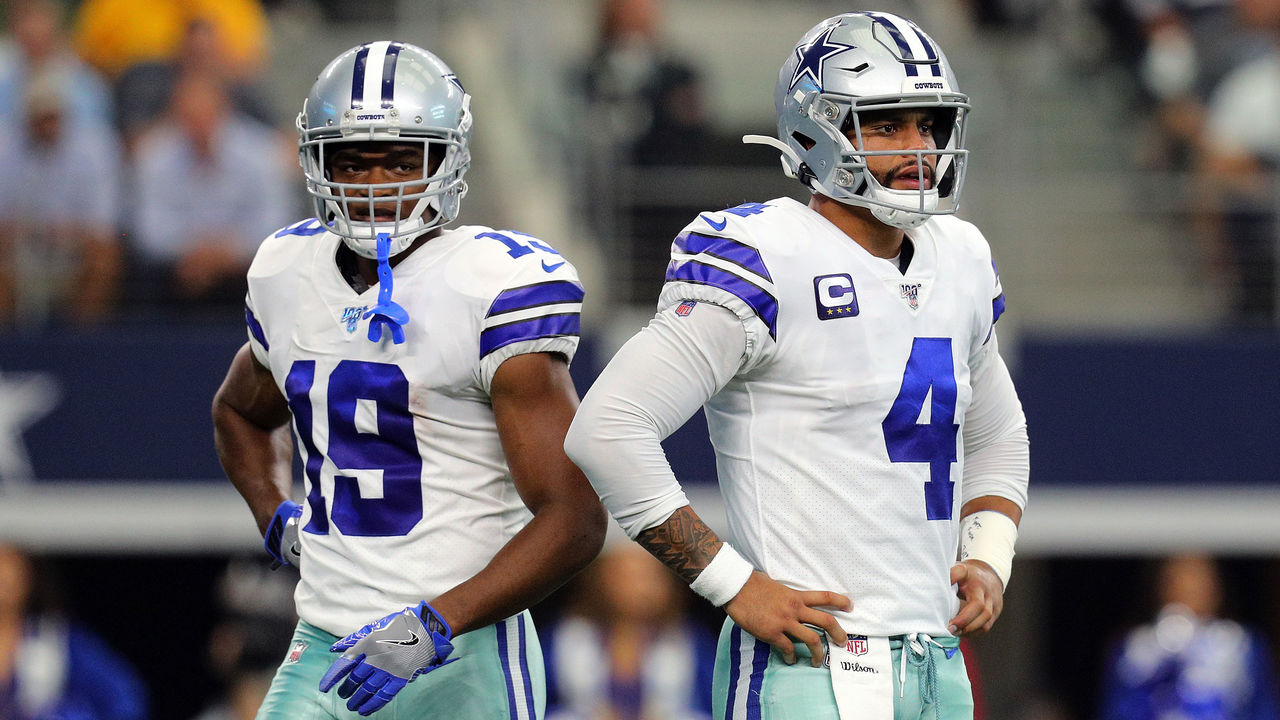 Dak Prescott, QB, Cowboys
Projected franchise tag salary: $26.895M
There is no chance Dallas Cowboys owner Jerry Jones lets his franchise quarterback even sniff the open market. However, Dallas must find a way to satisfy both Prescott and the next man on our list.
Amari Cooper, WR, Cowboys
Projected franchise/transition tag salary: $18.491M/$15.926M
Cooper will almost certainly receive the transition tag if Dallas is forced to franchise Prescott, or the franchise tag if a Prescott extension gets done in time. Either way, the Cowboys can't risk letting Cooper wiggle away less than two years after trading a first-round pick for him.
Ryan Tannehill, QB, Titans
Projected franchise tag salary: $26.895M
Teams rarely switch quarterbacks after reaching the conference title game, and the Tennessee Titans typically aren't ones to set new trends. Tannehill played well in 2019, but the sample size could be too small for Tennessee to commit major dollars to him beyond one year.
Likely to be tagged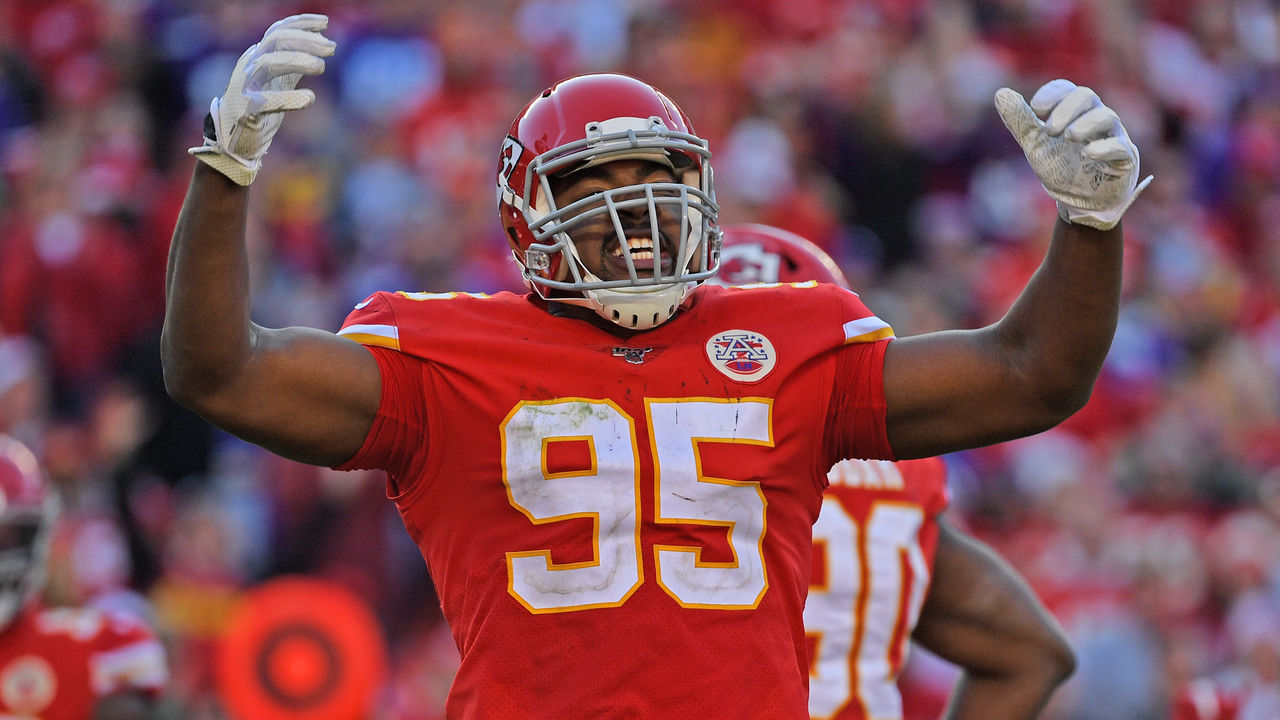 Chris Jones, DT, Chiefs
Projected franchise tag salary: $15.5M
Jones is arguably the best defensive player on a Kansas City Chiefs team not looking to take a step back after winning Super Bowl LIV. Kansas City would love to lock up Jones long term, but an eventual Patrick Mahomes extension and the contracts of several other veterans could make it tough.
A.J. Green, WR, Bengals
Projected franchise tag salary: $18.491M
Green wants a long-term deal from the Cincinnati Bengals, but they could be hesitant to cooperate following a year in which he didn't play because of ankle problems. The receiver has missed 29 games over the last four seasons and will turn 32 in July. That's not a recipe for a lucrative extension.
Derrick Henry, RB, Titans
Projected franchise/transition tag salary: $12.474M/$10.189M
Tennessee is a strong candidate to use both tags, as Henry could get the transition if Tannehill receives the franchise. Regardless, the Titans don't want to let Henry leave town immediately after he won the rushing title and powered them to an extended playoff run.
Justin Simmons, S, Broncos
Projected franchise tag salary: $12.474M
With plenty of cap room, the Denver Broncos can afford to pay Simmons long term or franchise him without putting themselves in a financial bind. Simmons broke through in 2019 after three years of mixed results. He's also said he's open to playing on the franchise tag in 2020.
Could be tagged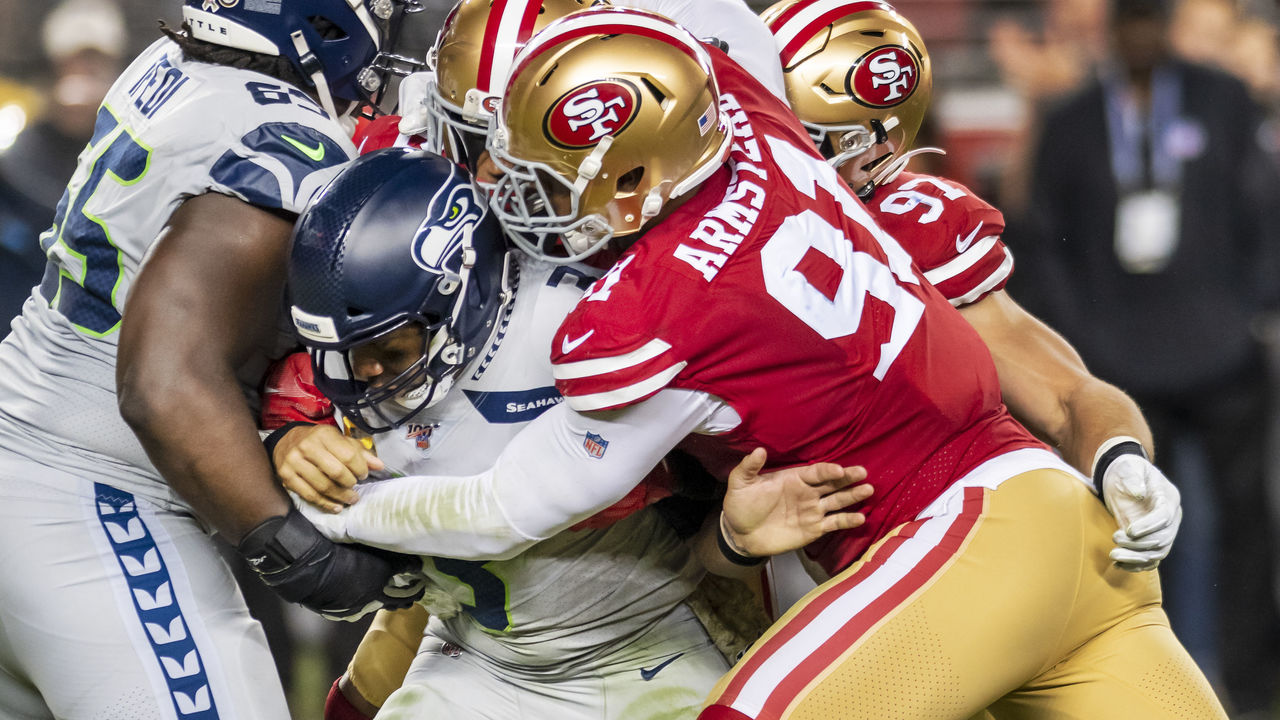 Arik Armstead, DE, 49ers
Projected franchise tag salary: $19.316M
Surely, the San Francisco 49ers want to keep their vaunted defensive line intact, but John Lynch and Co. may not be ready to dish out a long-term deal for a potential one-year wonder in Armstead. The former first-round pick had 10 sacks in 2019, more than he had the previous four years combined.
Shaquil Barrett, LB, Buccaneers
Projected franchise tag salary: $16.266M
The Tampa Bay Buccaneers found a diamond in the rough last offseason when they signed Barrett for one year and $4 million, and they won't want to see him jump ship after he produced 19.5 sacks. Barrett indicated he's willing to take a discount to stay in Tampa Bay, where state income tax doesn't exist, but will still want to capitalize on his breakout year. An agreement could take time.
Jameis Winston, QB, Buccaneers
Projected franchise/transition tag salary: $26.895M/$24.373M
This one comes down to whether the Buccaneers think they can find anyone better. Winston is exciting to watch, but nothing during the last five years suggests Tampa Bay can win big with him at quarterback. The Bucs could transition him, allowing themselves to seek a better option while preserving Winston as a fallback plan.
Matthew Judon, LB, Ravens
Projected franchise tag salary: $16.266M
Judon probably isn't atop the Baltimore Ravens' priority list, but they could franchise him to facilitate a deal. The 28-year-old had a career-best 9.5 sacks in 2019 and is reportedly expected to draw trade interest if he's kept from the open market. Three marquee pass-rushers were traded after being tagged last offseason.
Austin Hooper, TE, Falcons
Projected franchise tag salary: $11.076M
By not moving him at the trade deadline, the Atlanta Falcons appeared confident they would re-sign their ascending tight end. But Atlanta is tight on cap space and needs to invest resources on defense following a disappointing 7-9 campaign.
Yannick Ngakoue, DE, Jaguars
Projected franchise tag salary: $19.316M
The Jacksonville Jaguars must get creative to create the cap space necessary to keep Ngakoue - even on a one-year tag - but they sound determined to do so. His numbers tapered off slightly during the last couple of seasons, but he's only 24 and has never produced fewer than eight sacks.
Bud Dupree, LB, Steelers
Projected franchise tag salary: $16.266M
Pittsburgh Steelers owner Art Rooney and head coach Mike Tomlin both labeled Dupree a priority, though he's more of a luxury than a necessity off the edge given the presence of T.J. Watt. Dupree finally lived up to draft expectations in 2019 with 11.5 sacks and four forced fumbles.
Brandon Scherff, OL, Redskins
Projected franchise tag salary: $16.102M
The Washington Redskins tried to extend Scherff in the past, but that was under a different regime. His future in Washington will be determined, largely, by what Ron Rivera thinks of him and how much he values a good - if unspectacular - guard.
(Salary projections courtesy: OverTheCap)