Tom Brady left his future open-ended after he and the New England Patriots went down 20-13 to the Tennessee Titans on Wild Card Weekend, but it won't stay that way forever.
Five teams offer logical landing spots for Brady if the 42-year-old walks away from the Patriots in free agency after a historic 20-year run with the franchise:
Chargers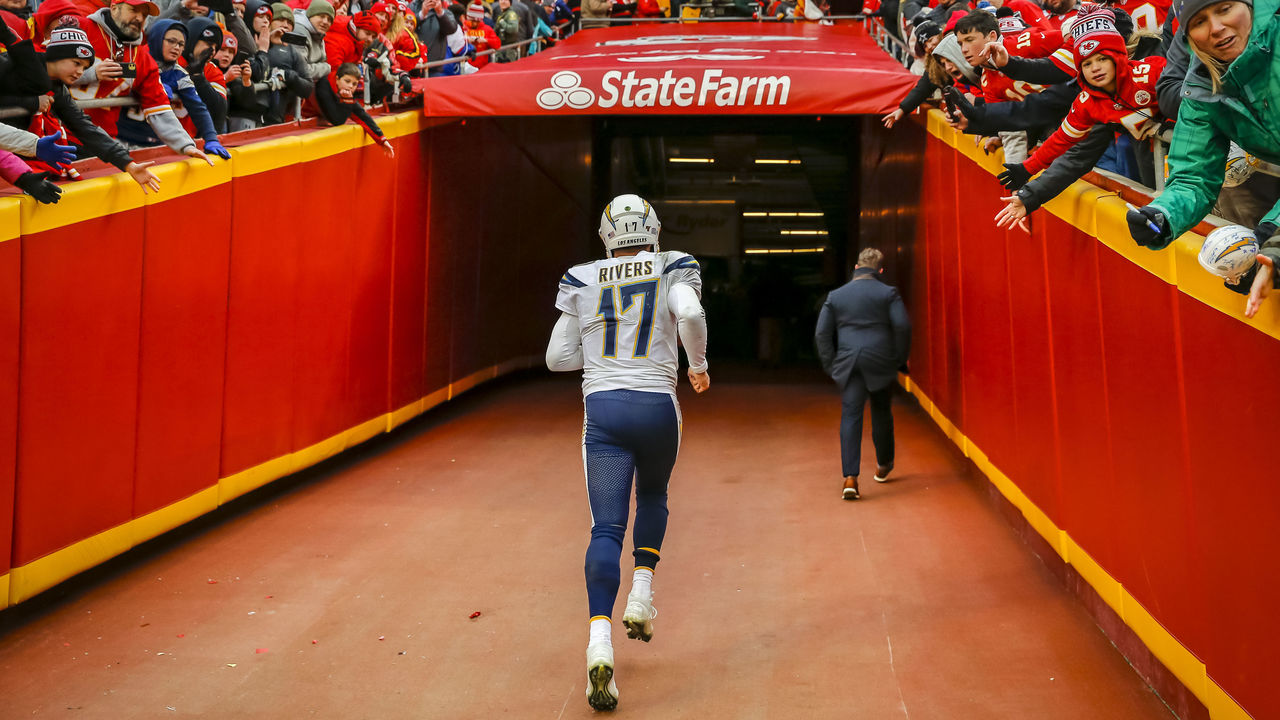 Philip Rivers' future in Los Angeles is firmly up in the air with the quarterback set to hit free agency in March. The 38-year-old finally showed significant signs of age this season, throwing the third-most interceptions (20) in the league and finishing 21st in ESPN's QBR metric.
If the Chargers do move on from Rivers, Brady could be a natural replacement for a number of reasons. While the team's offensive line would need to be upgraded, few squads could offer Brady an arsenal as strong as wide receivers Keenan Allen and Mike Williams, tight end Hunter Henry (assuming he doesn't leave in free agency), and running back Austin Ekeler.
Aside from the on-field benefits of adding Brady, the impact off of it could be greater for the AFC West team than any other suitor. In their first three seasons in L.A., the Chargers have failed to gain a significant foothold. They routinely struggled to fill their temporary stadium and will move into their new shared home with the Rams with a palpable absence of excitement.
How better to get bums in seats than signing the NFL's golden boy? Even in his advanced state, Brady's star is more than bright enough to draw eyes away from the likes of LeBron James and Kawhi Leonard.
Raiders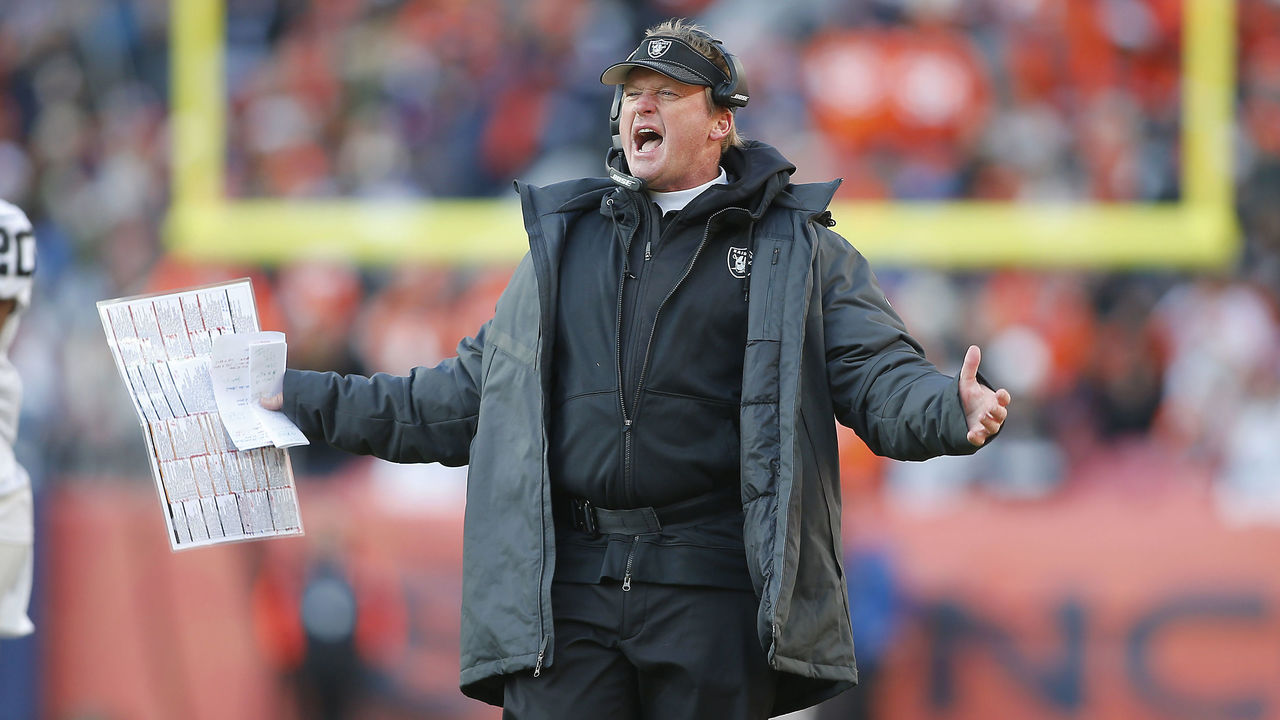 Everyone knows Raiders head coach Jon Gruden loves to have a veteran quarterback under center, the kind of field general who can understand all the nuances of his system and run it to perfection. No one fits that description better than Brady.
With a move to Las Vegas on the horizon, there have been whispers that Derek Carr might not be along for the migration despite producing the best statistical year of his career in 2019. The Raiders can cut Carr and save $16.5 million of his $21.5-million cap hit, or even try to explore a trade for the 28-year-old.
The Raiders lack weapons on offense, and this season has proven Brady can no longer play at an elite level without significant help. Though few would describe their roster as being championship-ready, the Raiders have the resources (sixth-most cap space with $75.75 million, per Over The Cap) to go all-in on a two- or a three-year stint with Brady.
Just like the Chargers, the Raiders need to find a way to get people more invested in their first season in Sin City considering they've only made the playoffs once since 2002. Brady in black and silver would make Las Vegas the epicenter of the NFL world.
Colts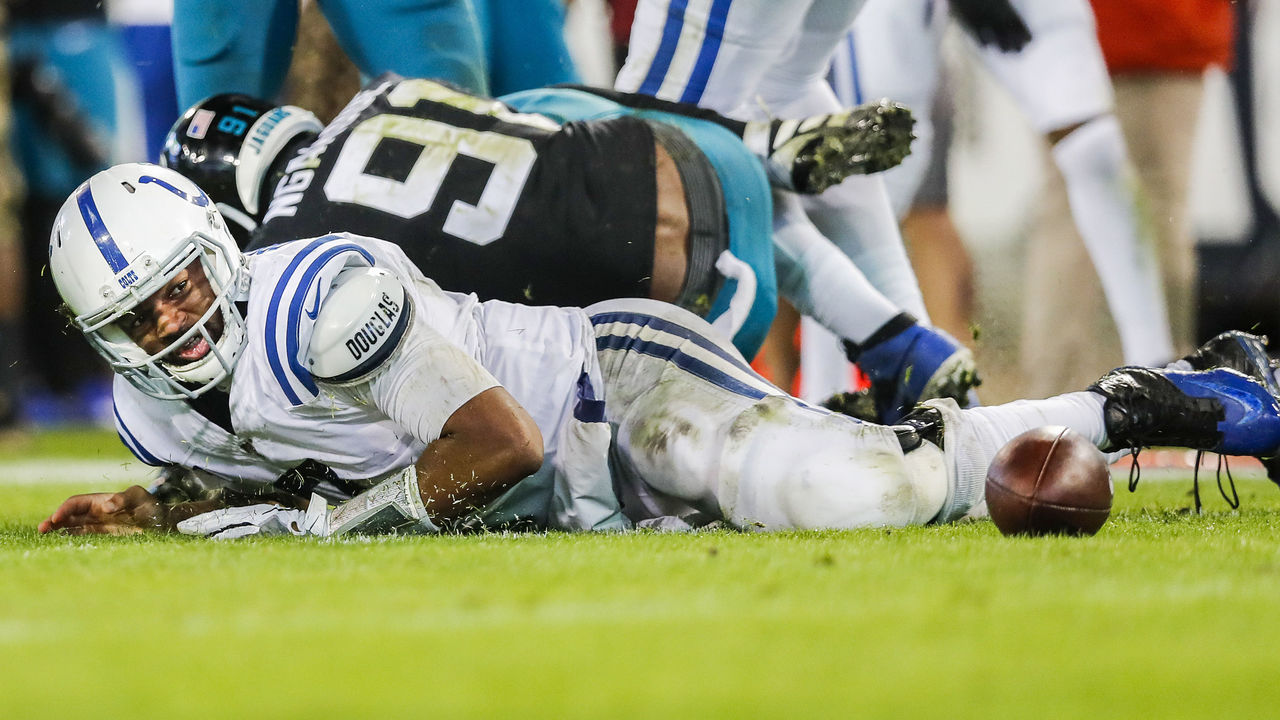 The idea of Brady donning a Colts jersey is likely unthinkable for people in Indianapolis after nearly two decades of the quarterback serving as the state's public enemy No. 1. But in the wake of Indy's disappointing season, and with an Andrew Luck-sized hole still in the fan base's heart, maybe Colts faithful could be convinced.
Brady's former backup, Jacoby Brissett, is currently the main man in Indy - emphasis on "currently." Brissett initially looked capable of being a solid starter after replacing Luck but fell apart down the stretch.
| Brissett's 2019 splits | Cmp% | YDS | TDs | INTs | Rating |
| --- | --- | --- | --- | --- | --- |
| First 8 games | 64.6% | 1797 | 15 | 4 | 97.5 |
| Final 7 games | 56.4% | 1293 | 4 | 3 | 75.0 |
While the former backup did suffer a midseason knee injury, general manager Chris Ballard hinted that he knows his team needs an upgrade at the position, saying the "jury is still out" on Brissett.
For Brady, two big factors could also tempt him to join his longtime rival. First, the Colts own one of the best offensive lines in the league, which is equally dominant in pass protection and run blocking. Second, head coach Frank Reich runs a quick-hit scheme that Brady would be very comfortable in, and the bench boss is widely recognized as one of the NFL's premier offensive play-callers.
There are issues with the potential partnership for both sides. Indy was pegged as a Super Bowl challenger before Luck's retirement, but several parts of its roster were exposed without its franchise player. Outside of T.Y. Hilton and Jack Doyle, the Colts don't have any reliable pass-catchers. The defense, while containing talented players like linebacker Darius Leonard and cornerback Kenny Moore, remains a work in progress.
Even with Brady, the Colts are far from being a slam-dunk contender. The future Hall of Famer is obviously better than Brissett, but Ballard could see Brady's short shelf and the prospect of more turmoil at the position as less enticing than finding a long-term option in the draft.
Bears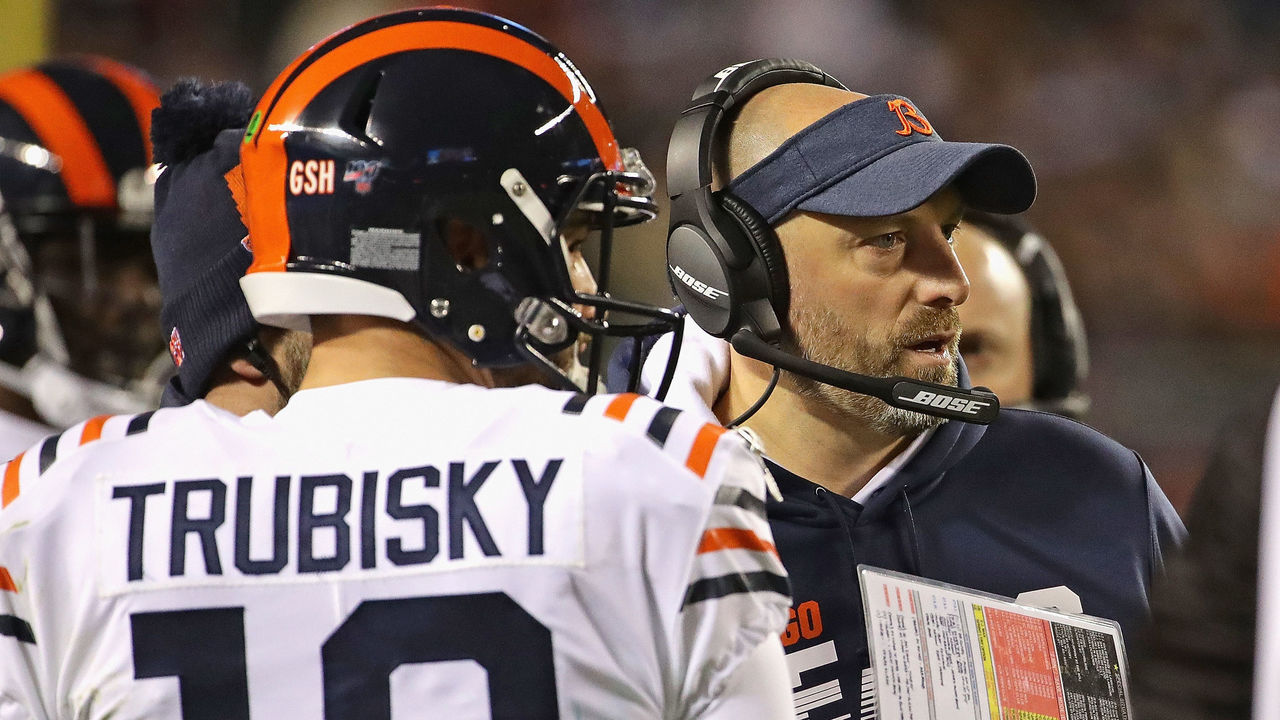 The Chicago Bears made the bold decision to declare Mitchell Trubisky, who struggled for much of his third season, their unquestioned starter for the 2020 season. But that stance is unlikely to stick if Brady becomes available.
The Bears finished the season at 8-8, but it's easy to see why Brady could view them as a possible contender with him under center. While Chicago's defense didn't play at the historic level it did in 2018, it finished fourth in scoring defense (18.6 points per game) and will retain the vast majority of the unit for 2020.
On the other side of the ball, Chicago owns an underrated group of talent that's been held back by Trubisky. Allen Robinson is a legitimate No. 1 receiver and Taylor Gabriel and Anthony Miller are solid secondary options. Running back David Montgomery shouldn't be written off after an uneven rookie year, and Tarik Cohen is the kind of pass-catching back that would thrive with Brady.
When Peyton Manning left the Colts, he opted to stay in the conference he knew inside and out. Brady could do the same, especially if revenge is on his mind. But his ultra-competitive nature could motivate him to seek a new challenge in the strong NFC. If Brady leaves the AFC, the Bears would be his most logical landing spot.
Titans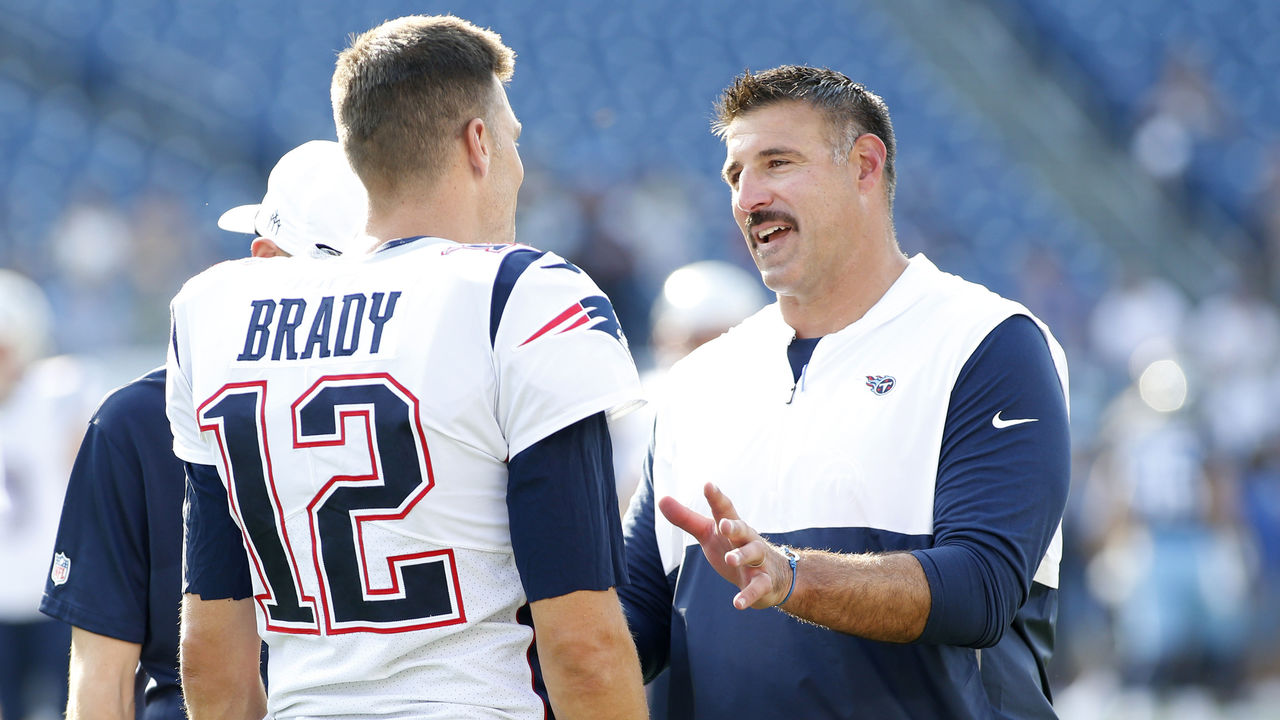 Brady got a close look at the Titans' underrated group of talent during Saturday's shocking wild-card loss.
Of course, Ryan Tannehill has more than earned his starting spot with Tennessee. But Tannehill is also a free agent, and his price is going up with every game. If the Titans don't feel comfortable breaking the bank for the former Miami Dolphins quarterback based on a season that was great but also an outlier, Brady could make sense for them.
If Brady is looking to join a team with people he trusts, the Titans are an obvious choice. Head coach Mike Vrabel won three Super Bowls alongside Brady and general manager Jon Robinson spent 12 years climbing the front-office ladder in New England before taking the top job in Tennessee.
In terms of an on-field fit, Brady isn't a like-for-like replacement for Tannehill, who was among the NFL's most prolific downfield passers in 2019. In fact, Brady averaged three fewer yards than Tannehill (9.6 to 6.6). But Derrick Henry, the 2019 rushing champion, showed why he's arguably the most intimidating running back in the league during the wild-card win.
Brady could sit back, let Henry carry the load, and take advantage of a talented young receiving group that's headlined by breakout rookie A.J. Brown.