NFL training camps are all about competition. It's the first time players are truly allowed to go full tilt in the offseason, and with livelihoods on the line, no one wants to ease up.
Let's examine the seven most interesting camp battles and predict who will emerge as the winners.
Josh Rosen vs. Ryan Fitzpatrick
There's a disappointing lack of quarterback competitions at camps this season, but the battle set to take place between Rosen and Fitzpatrick appears to be a true coin flip.
Some Miami Dolphins fans are already daydreaming about how Tua Tagovailoa would look in aqua green. First, however, the team needs to see what it has in Rosen, having acquired him for pennies on the dollar just a year after the Arizona Cardinals drafted him 10th overall.
Rosen was nothing short of terrible as a rookie. He struggled hugely under pressure (he posted a passer rating of 38.1; the NFL average was 67.1), and only Josh Allen and Lamar Jackson had worse adjusted completion percentages, per Pro Football Focus. But few quarterbacks, let alone rookies, could've succeeded behind the Cardinals' terrible line and in an offense that changed coordinators midseason.
Meanwhile, Fitzpatrick enjoyed somewhat of a renaissance in 2018, storming out of the gate with Jameis Winston suspended to start the season. After throwing eight touchdowns in the first two games - a reminder of the heights he can reach, even if he's never able to stay there - Fitzpatrick cooled off and was eventually benched for Winston.
That's the story of the journeyman's career. Even though he's a guaranteed roller coaster, a team comes down with Fitzmagic fever seemingly every season. And the Dolphins are already showing symptoms:
Miami faces the classic conundrum of trying to balance short-term competitiveness with putting a team in the best position to win long term.
Do the Dolphins roll with the wily veteran, knowing he likely wouldn't produce enough of his trademark improbable wins for a playoff push but could wreck their reported plan to draft a top quarterback in 2020? Or should they throw a beat-up, second-year passer straight back into the fire, knowing the lack of surrounding talent could doom him to repeat his rookie season and torpedo whatever value he still has?
The media in Miami pegged Fitzpatrick as the clear leader after minicamps, and he'll need to maintain a significant gap between him and Rosen, as youth is often the deciding factor in close QB battles.
With a first-year head coach in Brian Flores, Miami will lean toward the experienced option. Given Fitzpatrick's history and the importance of evaluating Rosen before next year's draft, however, expect the veteran's short leash to be yanked sooner rather than later.
Predicted winner: Ryan Fitzpatrick
Donte Moncrief vs. James Washington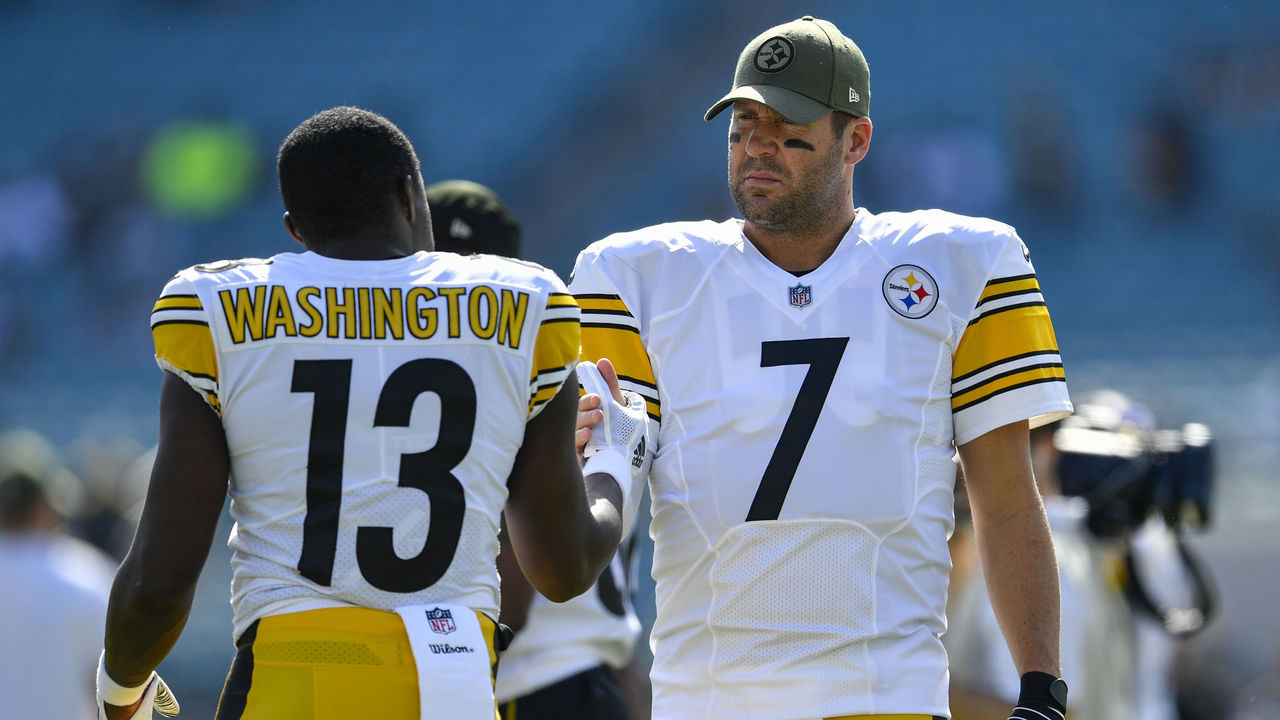 Antonio Brown's messy departure leaves an enormous hole in the Pittsburgh Steelers' passing attack. How enormous? Well, Brown's averaged 171 targets, 114 catches, 1,524 yards, and 11 touchdowns per season since his breakout 2014 campaign, according to Pro Football Reference. That's a career year for some Hall of Fame wideouts, which highlights just how difficult it will be to replace Brown.
Emerging star JuJu Smith-Schuster will, of course, step into the No. 1 role after a 111-catch, 1,426-yard sophomore season. Even if he can take a third of Brown's average intended passes, Ben Roethlisberger needs another receiver capable of taking on 100-plus targets.
The leading contenders to start alongside Smith-Schuster are Moncrief and Washington, though it's not out of the realm of possibility that third-round pick Diontae Johnson will force his way into the conversation in training camp.
Moncrief looked set to emerge as the Indianapolis Colts' No. 2 weapon after racking up 733 yards in 2015, but he has failed to exceed that mark since. In fairness, Andrew Luck was banged up for most of the remainder of Moncrief's time in Indy and the Jacksonville Jaguars' passing game was barely functional last season (and he still put up 668 yards).
Washington, meanwhile, was a relative disappointment as a rookie. We've come to expect great things from any highly drafted Steelers wideout, and Washington's 42.1 percent catch rate last season is worrisome. Still, not everyone can be Smith-Schuster right out of the gate.
Despite spending less time in Pittsburgh's system, Moncrief was the "slam-dunk No. 2" over Washington in offseason workouts, according to The Athletic's Mark Kaboly.
The Steelers need both Washington and Moncrief to step up if the team is going to make it back to the playoffs, but it will be the former Colt who emerges in camp thanks to his greater experience and potential as a red-zone weapon.
Predicted winner: Donte Moncrief
Geronimo Allison vs. Equanimeous St. Brown vs. Marquez Valdes-Scantling
Even though Davante Adams finished second in targets to Julio Jones last season, Aaron Rodgers said in June that he wants to throw to his No. 1 wideout even more.
That's partly due to Adams' elite skill set, but it's also because the Green Bay Packers lack a clear-cut No. 2 option. Gone are the days when deciding whether to focus on Jordy Nelson, Randall Cobb, or Adams gave opposing defenses fits, as the receivers who replaced the two veterans have yet to establish much chemistry with their quarterback.
Last season, injuries to Cobb and Allison forced then-rookies Valdes-Scantling and St. Brown into prominent roles. Valdes-Scantling had 581 yards in 16 appearances but caught just over half of his targets, and St. Brown had 328 yards in 12 games but went missing for large parts of the year (183 of his yards came in Weeks 5 and 16). The Packers' offense was almost unrecognizable without a genuine secondary receiving threat.
Head coach Matt LaFleur needs at least one of Valdes-Scantling, St. Brown, and Allison to make a big leap in order to get the offense back on track. Allison appeared to be on that path in 2018 before his injury. In the first four games, he caught 19 passes for 289 yards and two touchdowns, which equates to 76 catches and 1,156 yards, and eight scores over 16 games.
But the 6-foot-2 Allison has spent more time lining up in the slot so far this offseason, and as Zach Kruse of Packers Wire highlighted, LaFleur's offense prefers slot receivers with unconventional size, such as Mohamed Sanu and Cooper Kupp.
Rodgers also made a point of talking up Valdes-Scantling, saying he "had a fantastic spring and really stepped up as a guy who can be an every-down player," according to The Associated Press.
The two-time MVP doesn't give out praise lightly, and with Valdes-Scantling's main competition more likely to line up inside, it would take a lot for St. Brown - or a long-shot candidate like J'Mon Moore or Jake Kumerow - to unseat him.
Predicted winner: Marquez Valdes-Scantling
Dwayne Haskins vs. Case Keenum vs. Colt McCoy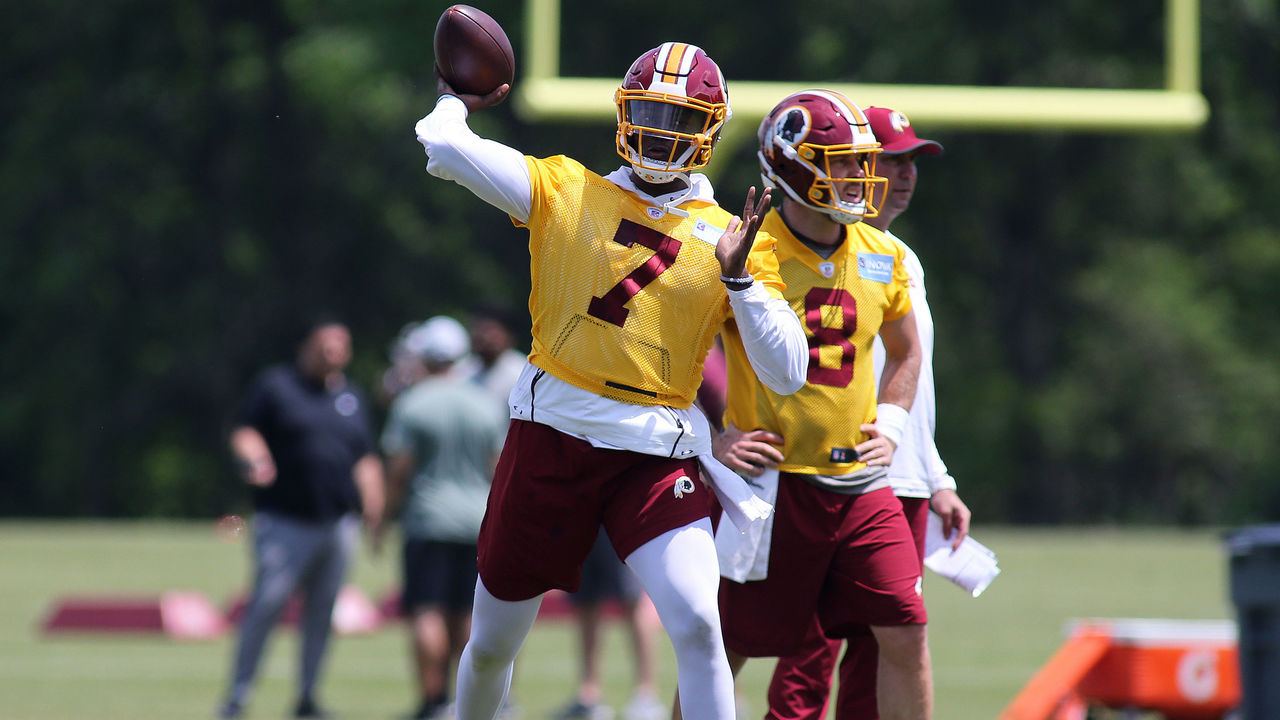 After minicamp, Washington Redskins head coach Jay Gruden said Haskins "deserves a shot" at the starting job, calling the rookie "the wild card" after he flashed the arm talent that made him a star at Ohio State.
"I don't know quite what he can do in the NFL in this system because it's new to him, but his ability warrants the fact that, hey, let's take a peek at this big son of a b----," said Gruden, according to ESPN's John Keim.
It isn't hard to see why the Redskins are leaving the door ajar for the rocket-armed first-round pick. He's easily the most physically gifted passer on the roster and wowed onlookers at workouts with tight-window throws.
On the flip side, the 22-year-old is vastly inexperienced, having only started 14 games in college. The NFL presents a steep learning curve for every first-year passer, but two of the main knocks on Haskins coming out of Ohio State were that he often struggled to read coverages and was inconsistent going through his progressions.
If Gruden starts Haskins before he's ready and the rest of the team can't compensate for the rookie's growing pains, the head coach could pay for it with his job.
His other options, though, aren't exactly guaranteed to produce wins. Remove Keenum's one season throwing to Adam Thielen and Stefon Diggs and his career numbers are wholly unremarkable (26-28 record, 64 touchdowns to 42 interceptions, and a passer rating of 84.5). Keenum's subpar play with the Denver Broncos last season is evidence that his standout 2017 campaign had far more to do with his supporting pieces than his individual talent.
McCoy has gone 1-5 for the Redskins as a spot starter (7-20 in his nine NFL seasons), owns a career passer rating of 78.9, and is recovering from a third procedure on his left leg following a season-ending injury in December.
Gruden's West Coast scheme is predicated on precision, timing, and the quarterback's ability to quickly process information given by defenses. That means it's vital for Haskins to show in training camp that he won't be overwhelmed by NFL speed.
With Gruden's job on the line, however, he'll look at Washington's underwhelming veteran options and decide it's best to go out with a "big son of a b----" swing rather than wonder what could've been.
Predicted winner: Dwayne Haskins
Jerick McKinnon vs. Tevin Coleman vs. Matt Breida
The San Francisco 49ers have a potential three-headed monster in their backfield. McKinnon, Coleman, and Breida will likely all be used in varying roles, but it's not clear who will be the group's de-facto leader.
Coleman, who signed a two-year, $10-million deal in free agency, is the top candidate thanks to his history with head coach Kyle Shanahan, who was his offensive coordinator with the Atlanta Falcons from 2015-16.
As the backup to Devonta Freeman, Coleman was a key part of the Shanahan-led 2016 offense that topped the NFL in scoring, racking up nearly 1,000 scrimmage yards and 11 touchdowns. While the veteran might not be a high-caliber starter, he's capable of handling an expanded workload. Across the 20 games where Coleman has received 10 carries or more, he's produced 1,410 yards and 10 touchdowns.
Coleman likely wouldn't be in San Francisco if McKinnon hadn't torn his ACL just before last season. Shanahan handpicked McKinnon to be the focal point of the ground game, but the 49ers' prized free-agent pickup from the 2018 offseason is now fighting for his place on the roster.
The man who benefited most from McKinnon's absence was Breida. Despite fighting through ankle issues for the majority of the campaign, he still had over 1,000 combined rushing and receiving yards and averaged 5.3 yards per tote.
Though Breida and McKinnon are both expected to be ready for the start of camp, they face an uphill battle to catch up to Coleman after sitting out offseason workouts while recovering from their injuries.
Predicted winner: Tevin Coleman
Eddy Pineiro vs. Elliott Fry vs. the field
It has been six months since Cody Parkey's double-doink miss ended the Chicago Bears' season in the wild-card round, and the kick is still casting a shadow over the reigning NFC North champions.
The Bears released Parkey this offseason, and despite bringing in eight potential replacements during May's rookie minicamp, they are no closer to an answer. In an attempt to exorcise his team's demons, head coach Matt Nagy had all eight kickers attempt a field goal from the same distance Parkey missed from. Only two were successful.
In June, Fry, Pineiro, and Chris Blewitt attempted 42-yard kicks, and Nagy was almost at a loss for words when all three shanked them. "Whatever went through your mind went through my mind," said Nagy afterward, according to Rich Campell of the Chicago Tribune.
49ers kicker Robbie Gould asked for a trade to Chicago to be closer to his family, but the Bears' hopes that he could save the day were dashed when his contract stalemate with San Francisco ended right before the franchise-tag deadline.
At this point, Nagy might be planning to go for two after every touchdown.
Ahead of camp, the Bears' options were cut down to just Fry and Pineiro. The former most recently played in the AFF and went 14 for 14 on field goals, and the latter set accuracy records in two seasons at Florida and was acquired from the Oakland Raiders in May after missing his rookie campaign due to injury.
Chicago has paid a high price to get its roster to a Super Bowl level, and the franchise can't risk its championship window on two kickers who've yet to an attempt a field goal in an NFL game.
Whether it's through a trade, a veteran pickup like Matt Bryant or Phil Dawson, or the waiver wire, the Bears will ultimately put their fate on the leg of someone who's not with the team yet.
Predicted winner: The field
Peyton Barber vs. Ronald Jones
The Tampa Bay Buccaneers' running game finished 31st in average yards per attempt (3.9) in 2018. Somehow, the team's longest run of the season was 28 yards. But the NFC South franchise enters the 2019 campaign with virtually the same backfield (Andre Ellington is the only new face).
While many expected Tampa Bay to pursue Le'Veon Bell or one of free agency's cheaper options like Mark Ingram, new head coach Bruce Arians is apparently a member of the Running Backs Don't Matter club.
"I like our backfield. I think it's (an) OK backfield," said Arians. "There's not a David Johnson or a Todd Gurley. But you don't need one." The Bucs might not need an All-Pro, but their top two tailbacks - Barber and Jones - have yet to prove they're even starting-caliber players.
Although Barber rushed for 871 yards in 2018, his physical limitations were highlighted by his 3.7-yard average per rush and his 92 receiving yards from 20 catches. But the veteran's numbers don't seem that bad when compared to Jones' production. The 2018 second-round pick had just 44 yards and one touchdown on 23 carries as a rookie.
Jones has spent the offseason attempting to rebuild his reputation, bulking up from 208 lbs to 221 lbs after many attributed his struggles to being undersized. However, Barber has maintained the inside track to the starting job with a solid spring.
Arians is an offensive mastermind whose specialty is the passing game. For him, the ground attack is a complementary piece; in four of the coach's five seasons in Arizona, his offense finished between 20th and 24th in rushing attempts.
Though Barber is rightfully the favorite for the job, his lack of speed could potentially hold back the Bucs' talented offense. Jones' rookie season made people question his standout career at USC, but he was a big-play weapon in college. That could be a huge factor if Arians continues to look for production out of limited touches in his backfield.
Jones isn't the first player to severely underestimate how much work it takes to succeed in the NFL compared to college, and he won't be the last. We're betting that the second-year pro pulls off the upset to get his career back on track.
Predicted winner: Ronald Jones