When Tony Isabella looks at old photos of his eldest son, he notices things. For instance, in so many of those childhood photos, Andy Isabella is holding a football.
"Most kids sleep with stuffed animals when they're really little," Tony said. "Andy slept with a football and one stuffed animal. That football was with him all the time."
These days, with Isabella less than two weeks away from becoming an NFL draft pick, those signs from his childhood are still everywhere in the family's Mayfield, Ohio, home just outside of Cleveland. They still have a binder full of Isabella's stick-figure drawings - early attempts to diagram football plays, his father said. And one day last week, Isabella and his mother, Susan, found school papers from when he was 8 years old.
One, a questionnaire, asked: What is your dream job?
To play in the NFL, the young Isabella wrote.
What do you like to do?
Football.
That passion for the game has driven Isabella to where he stands now. At 5-foot-9, he's spent his entire football career fighting for respect. Overlooked by the majority of college programs four years ago, he turned an 11th-hour scholarship offer from UMass into a prolific career, capped by a 102-catch, 1,698-yard senior season in 2018 that earned him a place as a Biletnikoff Award finalist as one of the top three receivers in the country.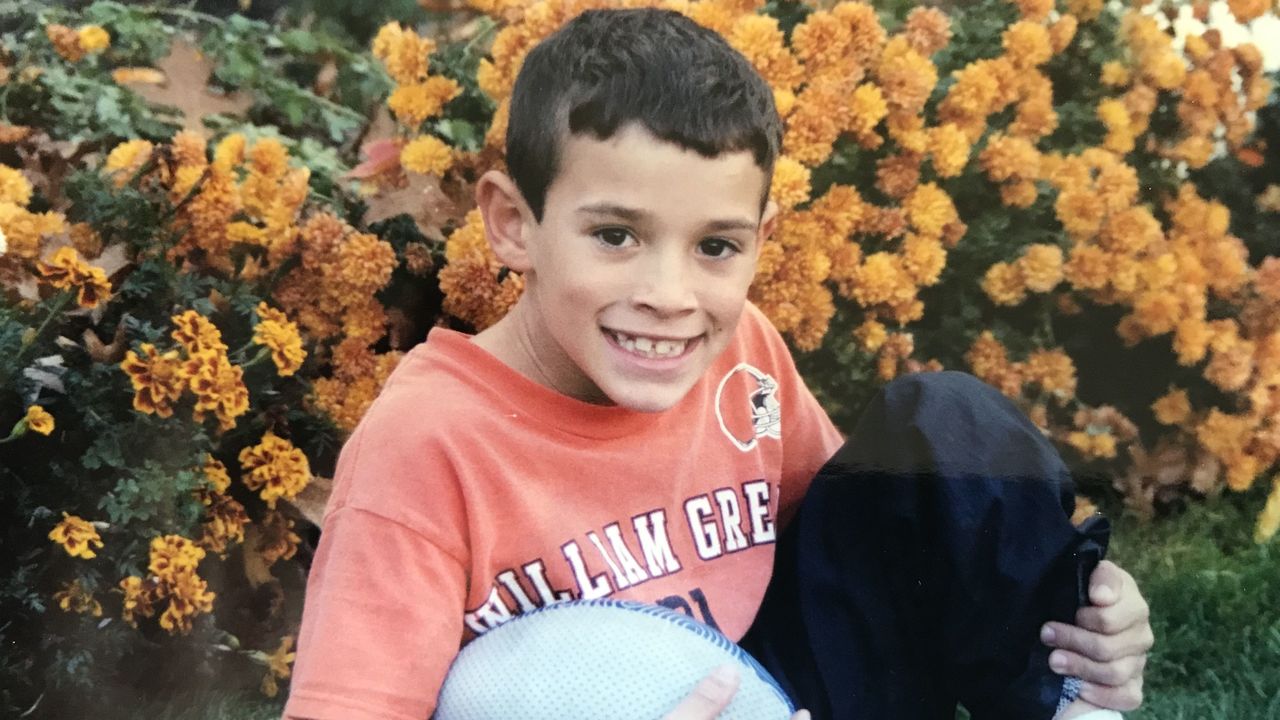 Next, after running a 4.31-second 40-yard dash at the NFL Scouting Combine, he's projected to be a second- or third-round pick in next week's draft.
"Isabella has the feet and fakes to uncover in a hallway closet, and the former high school sprint champion proved to Georgia that his ability to win deep should not be underestimated," draft analyst Lance Zierlein wrote for NFL.com. "Isabella could become a menace on option routes with the ability to add vertical routes from the slot, but he must improve his pass-catching consistency and smoothness into his breaks in order to transition all that speed to the NFL."
There may be room for improvement, but that Isabella will be drafted at all is plenty impressive. He typically wasn't granted many opportunities each time he moved to the next step in his youth football career.
For example, when he first began playing in the sixth grade, Isabella spent most of the year watching from the sideline.
Late in that season, his dad asked one of the coaches, "Could you possibly just give him the ball one time? Make his year."
Isabella promptly took a handoff to the outside and burst a run more than 60 yards downfield for a touchdown.
Later, he joined the freshman team at Mayfield High School as a running back. However, another back transferred in and became the starter.
"They thought he was going to be the guy, so I was back on the bench and had to work my way to basically be the starter there," Isabella said. "He actually got hurt, and I came in and had a five-touchdown game the next game and then I started from there on out."
Next, despite being a decorated track athlete - he once beat current Cleveland Browns cornerback Denzel Ward in a 100-meter race - Isabella wanted to play football in college.
The problem? No FBS programs noticed. He had interest from Air Force, and also took a visit to Lafayette, an FCS program in Pennsylvania.
But it wasn't what he wanted.
"I could tell Andy was just disconnected," Tony said of the visit. "Kind of down. The ride home was quiet. I was worried about him."
Tony added that Michigan State and Oklahoma State expressed interest in his son as a backup option ("If this guy doesn't sign, we'll take you").
Finally, just two days before National Signing Day in 2015, then-UMass coach Mark Whipple came through with an offer. Isabella quickly committed without ever visiting the Amherst, Massachusetts, campus.
Had that UMass offer not arrived, he said, "I don't think I was going to sign anywhere. I just think I was going to go on, maybe walk on to some track school, try to do something track-wise. I really had no plan. I didn't know what I was going to do."
2018 statistics for top NFL WR prospects
| Player | Team | Receptions | Yards | TD |
| --- | --- | --- | --- | --- |
| Andy Isabella | UMass | 102 | 1698 | 13 |
| D.K. Metcalf | Ole Miss |   26 |   569 |   5 |
| Marquise Brown | Oklahoma |   75 | 1318 | 10 |
| A.J. Brown | Ole Miss |   85 | 1320 |   6 |
| N'Keal Harry | Arizona State |   73 | 1088 |   9 |
UMass, which doesn't play in a conference for football, was hardly in the headlines over the last four seasons. The Minutemen went just 13-35 in Isabella's four years and never qualified for a bowl game. Whipple was fired after the 2018 campaign.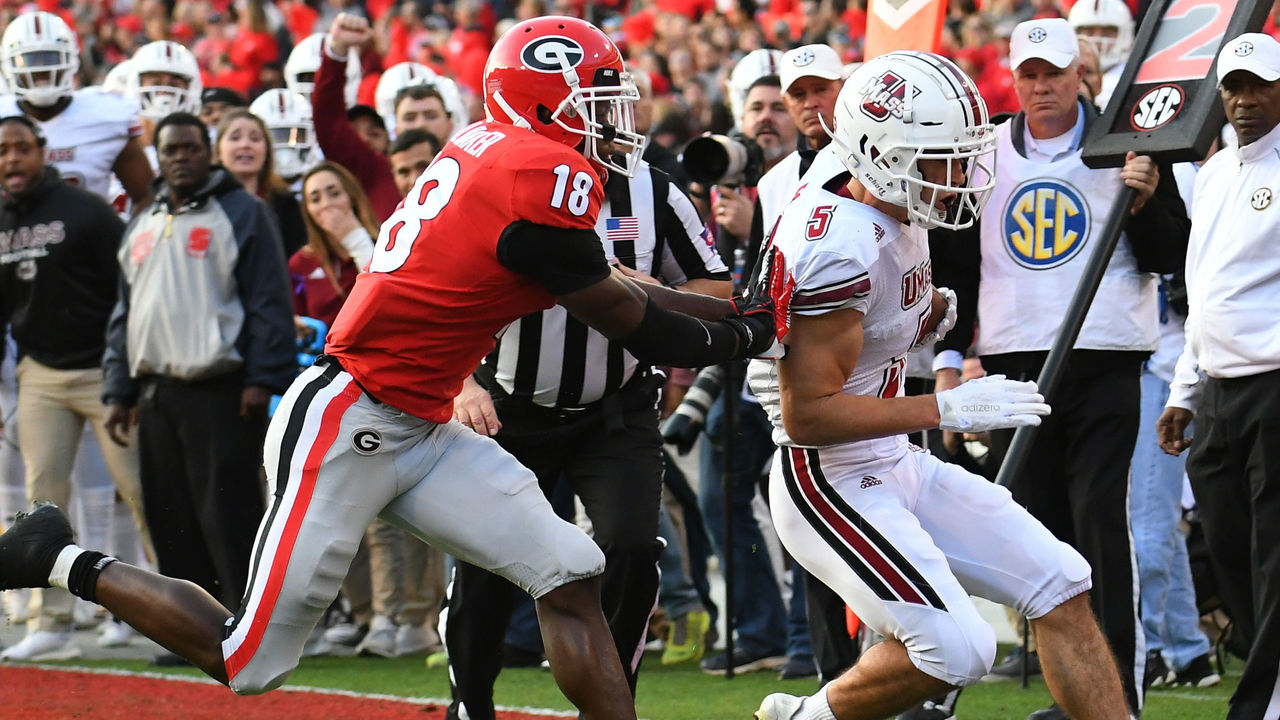 Still, Isabella put UMass on the national radar with his video-game numbers.
As a junior in 2017, he accumulated 158 receiving yards against a ranked Mississippi State team in Starkville. During 2018, he broke Victor Cruz's school record with a 303-yard explosion in an overtime win over Liberty despite popping the bursa sac in one of his knees during the game.
And in the final appearance of his college career, on Nov. 17 against Georgia, Isabella posted 15 catches, 219 yards, and two touchdowns. That performance was significant for a couple of reasons: Georgia's defense featured DeAndre Baker, a possible first-round pick at cornerback, and the 15 receptions were the most by any opponent in the 89-year history of Georgia's Sanford Stadium.
UMass lost 66-27, but the game was yet another proving ground for Isabella and his potential NFL future.
"I think a lot of people, if you don't love it that much and you get beat down, I think a lot of people give up," he said.
"Like anything in life, they give up on something just because they're not given a shot they think they deserve. Really, no one deserves anything. I think you have to work for everything you get, but it's made me appreciate everything, I think, a lot more."
Mark Cooper is theScore's NCAA writer.