Find positional rankings, additional analysis, and subscribe to push notifications in the NFL Fantasy News section.
Prospect Fantasy Outlooks
With the 2019 NFL Draft just over a week away, we've had time to go over prospects' game tape, analyze their athletic testing, watch interviews, and assemble as many puzzle pieces as possible to project what their professional careers will look like.
As we wait to find out how NFL front offices value the incoming crop of rookies, we can begin to translate available information to help us make fantasy decisions in the future.
Landing spots will have a major impact, not only in terms of a player's opportunity and draft capital but also coaching and team culture. A promising athlete drafted into a positive environment has an opening to reach his full potential, while the same player selected by the wrong team may never overcome his situation.
The range of outcomes for college stars entering the pros is vast, but let's take a look at the tight ends with the best chance to become fantasy relevant at the next level.
Elite teammates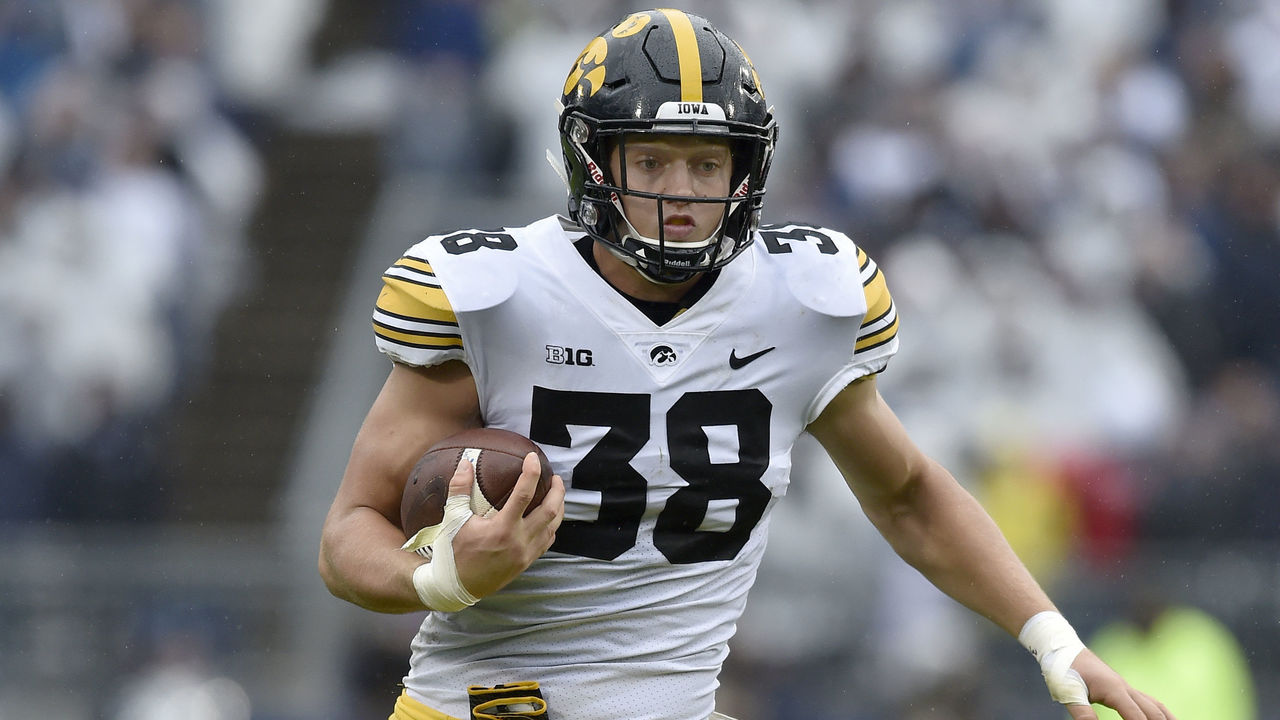 T.J. Hockenson, Iowa
Noah Fant, Iowa
There are three tight end prospects who stand above the rest in this year's class, but these two Hawkeyes teammates deserve their own section. Both are projected to be first-round picks and that draft pedigree normally ensures playing time early on.
Hockenson is one of the few incoming talents who will enter the league without any real weaknesses in his game. You'll rarely see him drop a ball and he brings a physicality in the receiving game by holding onto passes despite heavy contact. A relentless competitor, the 6-foot-5, 251-pounder is a devastating blocker with several highlights in that area alone. Hockenson also finished with the second-best SPARQ score among 2019 tight end prospects, according to Three Sigma Athlete.
The only tight end with a better SPARQ number was Fant, who was in the 98th percentile. Though his measurements - 6-foot-4, 247 lbs - are similar to Hockenson, Fant is a vastly different player. His speed will challenge defensive coordinators from the moment he steps on a pro field - as long as he can clean up his drops. Fant isn't going to impress as a blocker, but he'll be a dangerous pass-catching weapon if deployed properly.
Fantasy outlook: Rookie tight ends normally take a couple of years to become fantasy relevant; they require an incubation period to learn the nuances of being both a receiver and a blocker in the NFL. Hockenson is well versed in both, which should guarantee him early snaps and give him top-12 fantasy upside even as a rookie. Though it sounds like hyperbole, Hockenson has the college resume of a future pro Hall of Famer.
Fant draws comparisons to Evan Engram and he's just as capable of producing in his debut season as the Giants star was in 2017. When Odell Beckham Jr. went down with an injury that year, Engram saw significant volume, turning him into an immediate TE1. If Fant lands in a favorable situation, he'll be a sneaky late-round selection in fantasy.
Almost elite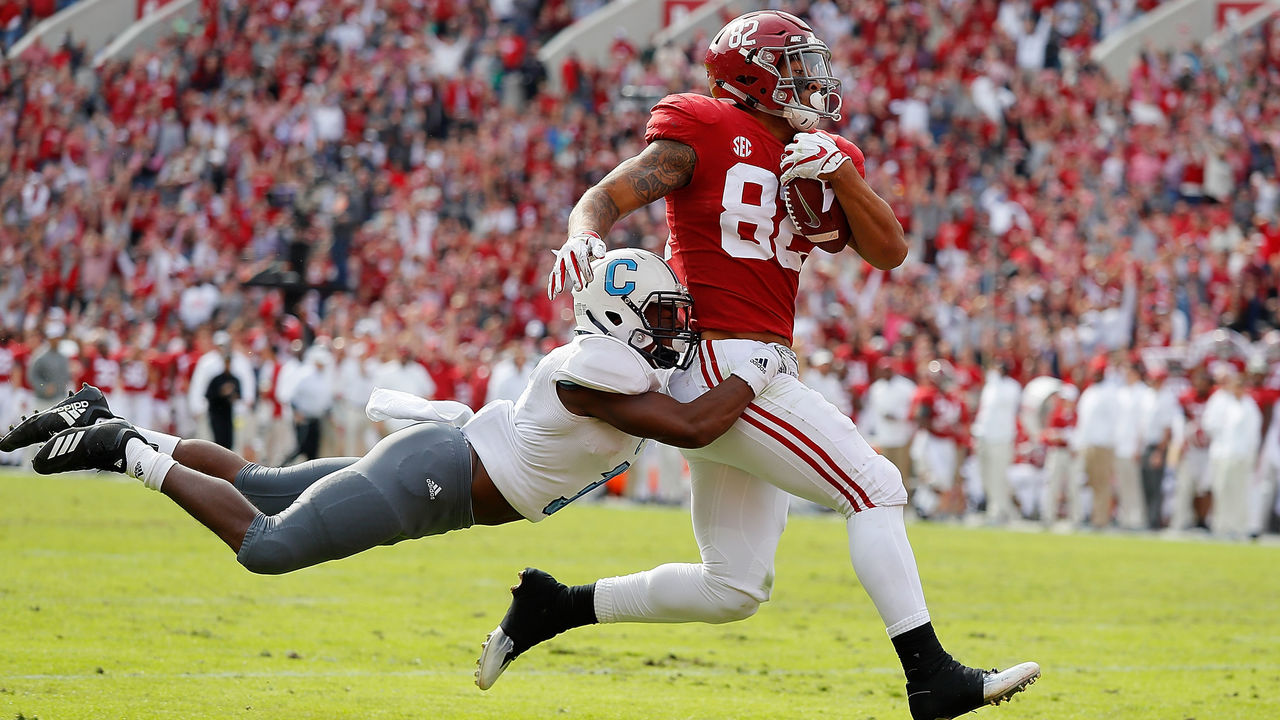 Irv Smith Jr., Alabama
Smith isn't far behind the Iowa duo and should hear his name called in the second round. He's a quality receiver and what he lacks in route running he makes up for with his ability to get yards after the catch. His willingness as a blocker is admirable and he should improve his technique with the help of NFL coaching.
Fantasy outlook: Smith can sometimes be a little awkward in his movements and lacks the fluidity of an athlete like Fant. His versatility will appeal to teams searching for a tight end they can line up anywhere in the formation and will be his key to securing a full-time role. Fantasy owners who are patient with Smith will be rewarded, it just may take longer than expected to see results.
Star potential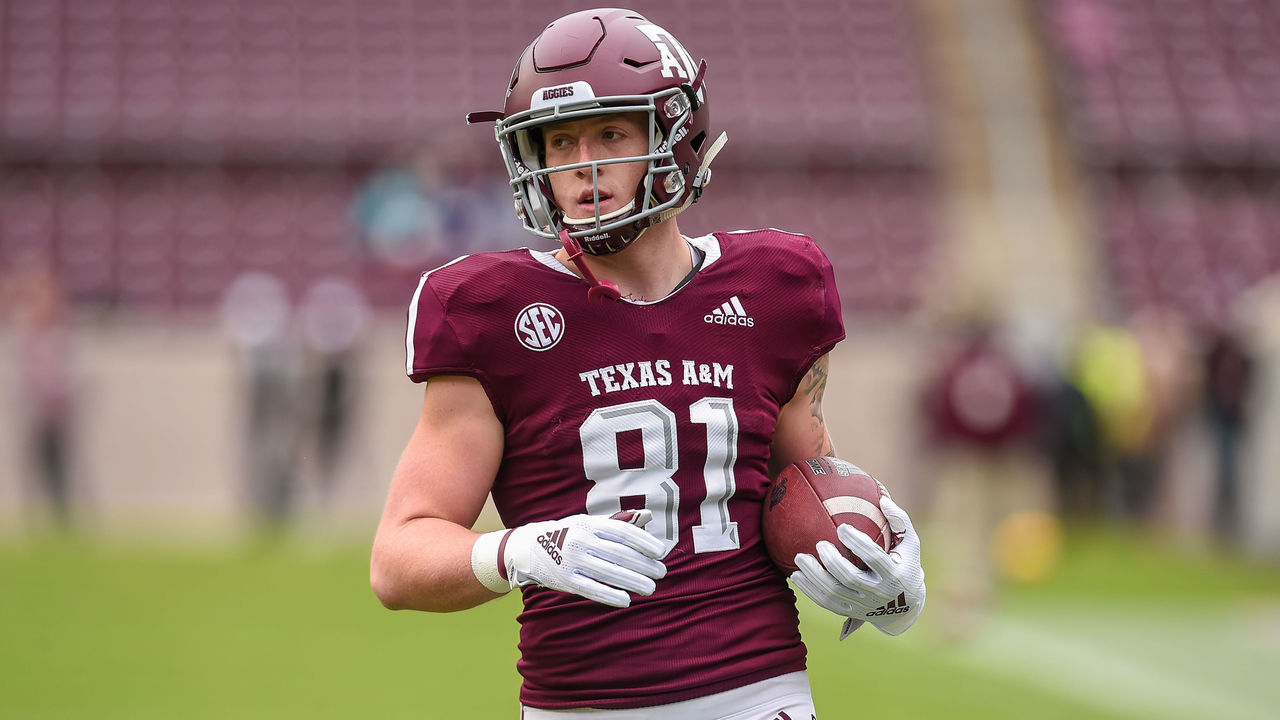 Jace Sternberger, Texas A&M
Dawson Knox, Mississippi
Beyond the top three, Sternberger is the most intriguing tight end available in this year's draft. His smooth routes down the seam were noticeable at Texas A&M and his next offensive coordinator would be wise to take advantage of those skills as soon as possible. Once he has the ball in his hands, Sternberger is quick to turn into a runner, which leads to a ton of additional yards. For fantasy purposes, we don't want to keep discussing blocking, but it's a big part of a young tight end's evolution. Sternberger doesn't engage defenders long enough and it's something he'll need to address.
Knox's college production was limited because Ole Miss' loaded offense featured several top prospects including A.J. Brown and D.K. Metcalf. That lack of usage means he enters the draft as an underdeveloped pass-catcher. He's an outstanding athlete and has the potential to become an NFL starter. Unfortunately, he's going to be a project for whichever team drafts him.
Fantasy outlook: At this point, we're already looking at tight ends who won't be fantasy factors for a couple of years. Sternberger and Knox should be viewed as possible TE2s with outside shots to reach their TE1 ceilings.
Part-time weapons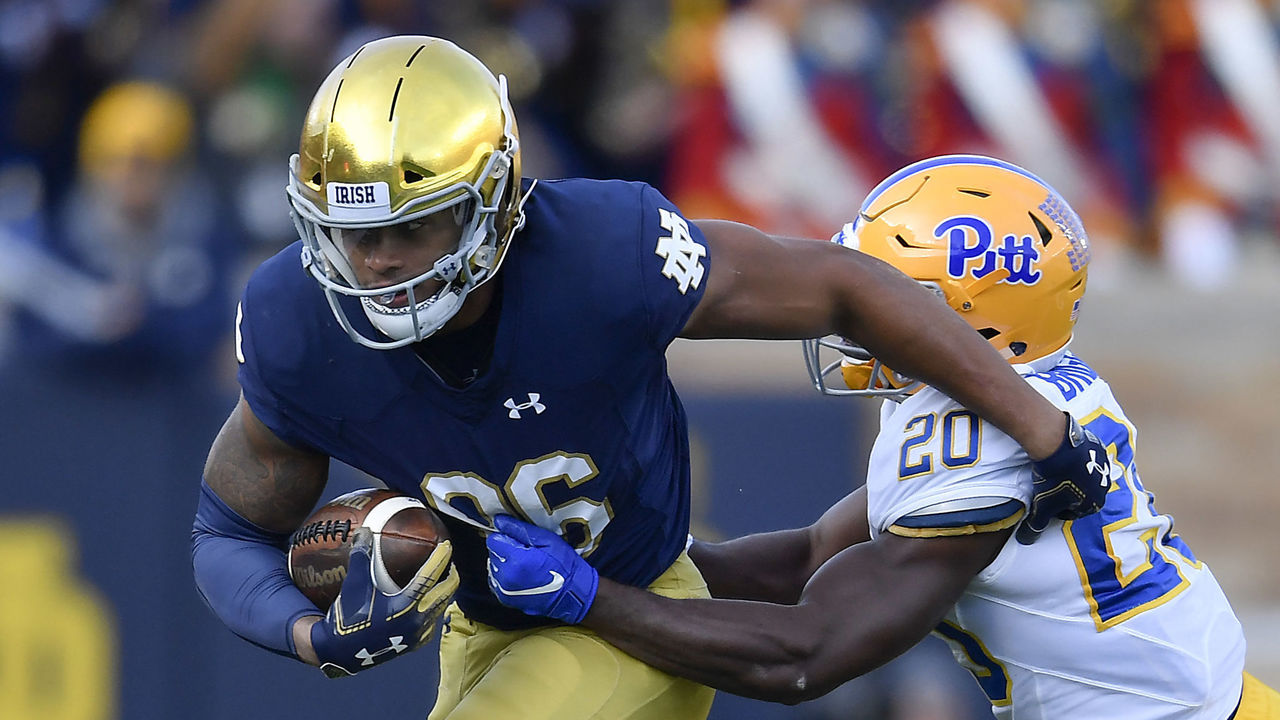 Alize Mack, Notre Dame
Josh Oliver, San Jose State
Mack is a receiver in a tight end's body. In fact, he moves so well it's easy to forget you're watching a tight end. His short-area quickness helps him get open and will give him a chance to be a pass-catching threat in the right NFL offense. Just don't ask him to block.
Oliver is a solid athlete who makes intuitive adjustments to the ball and will win a good number of his contested-catch battles. Like Mack, he's equipped to serve as a rotational receiving weapon.
Fantasy outlook: Barring a string of injuries on their eventual depth charts, it's doubtful either of these guys becomes a regular contributor on Sundays. Only consider them in dynasty leagues with sizable benches.
Deep sleepers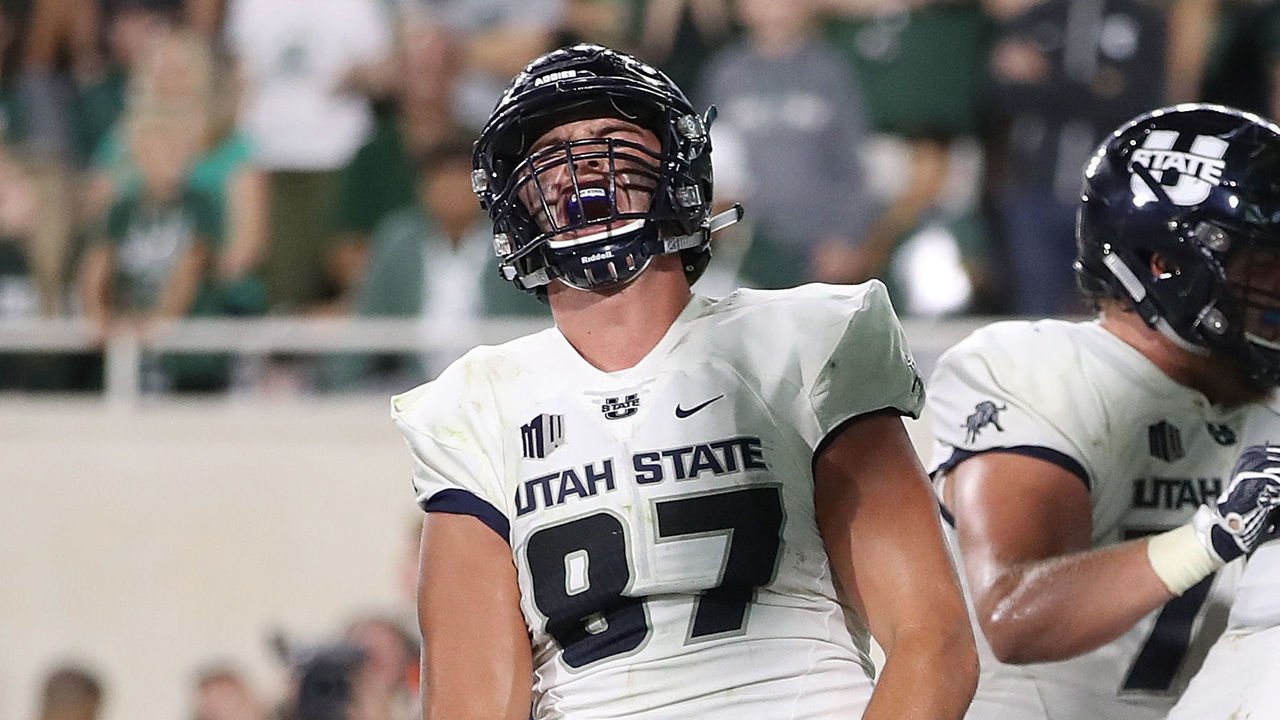 Dax Raymond, Utah State
Kahale Warring, San Diego State
If you're still reading, congratulations on being a hardcore fantasy owner. Hopefully, you'll be rewarded by Raymond or Warring maturing into a star. Raymond turns 24 years old this year, so the clock is ticking. That's an advanced age for a tight end prospect, but it's hard not to like his combination of reliable hands, fluid movement, and ability to maintain speed through the catch.
Warring's a natural athlete but he has a tough task ahead of him if he's going to achieve greatness. Though his athleticism is evident on the field, he'll need to make big strides in his route running and receiving if he hopes to stick on an NFL roster.
Fantasy outlook: When a tight end prospect is this far down the page, there's a reason he's been overlooked. Keep Raymond and Warring on your watchlist and monitor their progress over the next season or two.