Can Jimmy Garoppolo succeed as the Patriots' early-season starter?
Matt Williamson is a former scout for the Cleveland Browns, and spent the last 10 years at ESPN as a scout and co-host of "The Football Today Podcast."
We now know the Patriots will be without Tom Brady for the first four games of the 2016 season. While I think New England is the best team in football and Brady is due for a huge season once he returns, the Patriots will have to make some changes to the offense while the future Hall of Famer watches from the press box and Jimmy Garoppolo runs the offense.
Brady is neither an elite physical specimen or a great passer of the football, but what he has done better than just about anyone who has ever played the position is command every facet of the offense in the huddle, at the line of scrimmage, and once the play starts after the defense tells him even more about its intentions.
He's also a true master at putting his team in the best possible play before the snap to exploit what the defense gives him, as well as manipulating the defense like a surgeon once the play begins. He then gets the ball out of his hands quickly and to the proper teammate, who often has a mismatch very much in his favor. Brady is a virtuoso.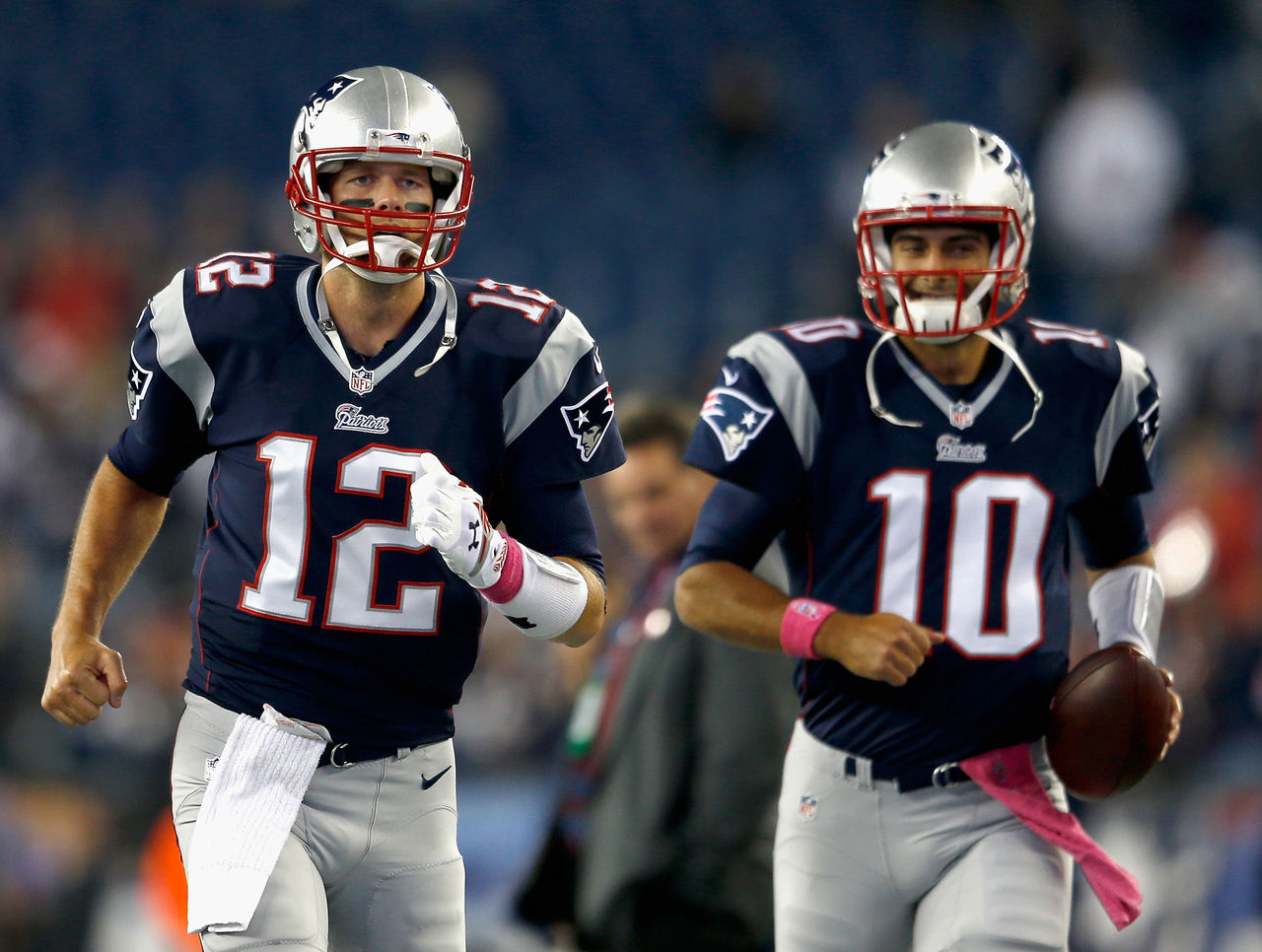 Garoppolo, by all accounts, is doing fine from a mental perspective. But there's no way around it: There is no chance Garoppolo can come close to competing with Brady in the areas of quarterback play listed above.
The fact is, we really don't know what Garoppolo is as a starting quarterback. He has yet to start a game in his career, but still has more NFL game experience than any other Patriots quarterback on the roster besides Brady. But with Brady possibly facing a suspension a year ago, Garoppolo got a ton of work in last year's preseason, and he fared well, but wasn't very consistent. Still, applying what he's learned in the classroom and what he saw last preseason and this upcoming preseason is a far cry from what he'll have to decipher in the first month of the regular season.
Garoppolo doesn't have a great arm, but he's certainly a more mobile player than Brady, and we should expect New England to incorporate more designed quarterback movement with bootlegs and whatnot to utilize those skills. Also, rolling him out will give him more defined half-field reads. He might also tuck it and run from time to time, which is certainly a change from the Patriots' norm.
Garoppolo should be aided greatly by a very good Patriots defense, and a solid special teams unit, as Bill Belichick-coached teams always are.
New England's offensive line should also be drastically better than the one we saw Brady getting pummeled behind to finish last season. Legendary line coach Dante Scarnecchia is back, the tackles are healthy now, and there are a lot of options on the interior, including Jonathan Cooper, which should give Scarnecchia plenty of options for assembling the best front five possible.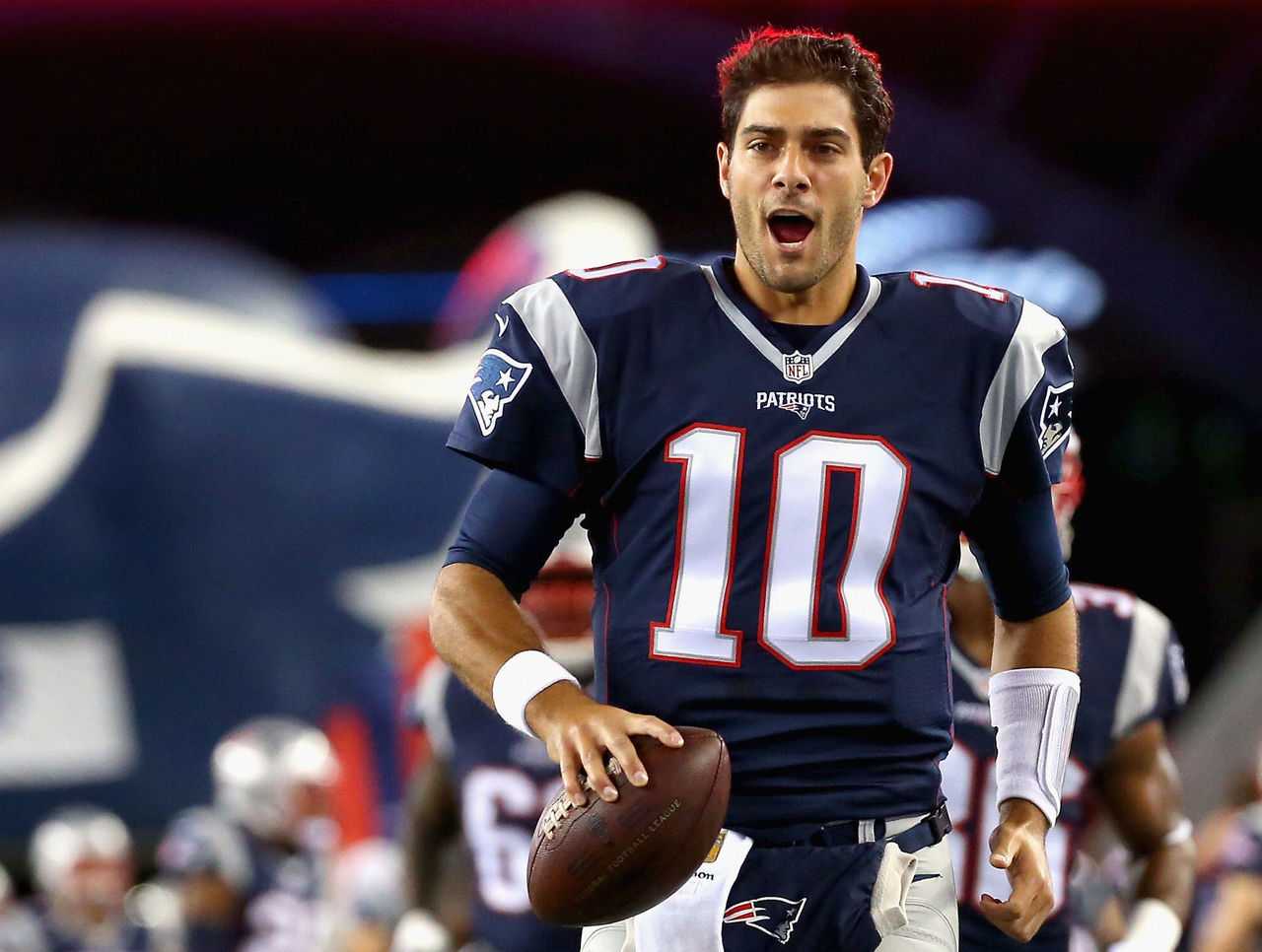 In the Patriots' first four games, they head to Arizona to open the Sunday Night Football slate, then host the Dolphins, Texans, and Bills. Playing three out of four games at home is certainly fortuitous for Garoppolo, but an opening-week game in Arizona would be brutal for any quarterback, Brady included.
The Cardinals' defense looks much improved, and they throw a lot at opposing quarterbacks, utilizing a lot of speed and defensive backs on the field, as well as blitzing a ton. Plus, Chandler Jones might have a little something extra for his former team. Maybe the Patriots' best route to victory is employing very heavy offensive personnel and trying to bludgeon this defense, doing their best to keep Arizona's very frightening offense off the field. No matter what, this is an extremely difficult game that the Cardinals deserve to be favored in. Belichick has been scheming all offseason for this opener, though, so you never know.
The Dolphins' defense looks extremely beatable, and it could be a liability for Miami all season. However, what Ndamukong Suh can do as an interior penetrator is daunting. In fact, Miami brought Suh to town exactly for this reason, but with Brady in mind. If New England can keep Suh somewhat under wraps, they have a lot of ways to attack this defense, and have quite a few personnel advantages across the board.
Houston's defense could be even more menacing than Arizona's. Of course, it's led by J.J. Watt, the game's best player, but Romeo Crennel has also done a great job with this group, and can throw a lot at opposing quarterbacks. The Texans have a great pass rush, and are very strong at cornerback. Plus, Crennel and Bill O'Brien are extremely familiar with New England's offensive scheme. But in Week 3, the Houston offense, which is loaded with new parts, including an unproven quarterback, could be a long way from gelling and maximizing its potential. This should be a tight, low-scoring affair, which could favor the home team.
Lastly, the Bills, led by Rex Ryan, also throw a ton at quarterbacks. They have excellent cornerbacks that enable them to play a lot of man coverage and disrupt New England's highly timing-based passing game while bringing pressure from all over the field. This could be a huge game for Rob Gronkowski and Martellus Bennett, though, as the Bills just don't have the middle-of-the-field pass defenders to keep up with these two. Obviously that's more pronounced for Gronkowski.
New England is traditionally a slow-starting team (well, by their standards, as they still have the best winning percentage in September in the NFL over the past 10 years) that seems to treat the first month of the season as an extended preseason, before inevitably becoming one of the most difficult teams to beat in the NFL when it matters most.
Expect much of the same this year, but Garoppolo, with three games at home, should be expected to get the Patriots to .500 (or better) before Brady returns with fire in his eyes. The Pats will be just fine.
Comments
✕
Can Jimmy Garoppolo succeed as the Patriots' early-season starter?
  Got something to say? Leave a comment below!