VIDEO: Kings, Ducks renew acquaintances with line brawl
Jake Roth / USA TODAY Sports
Tensions were high when the Los Angeles Kings and Anaheim Ducks took to the ice Saturday.
Less than seven minutes into the game and before the first goal was scored, the Pacific Division foes engaged in a full-out line brawl, much to the delight of the Staples Center crowd.
Here's a look at the penalty breakdown after the dust settled.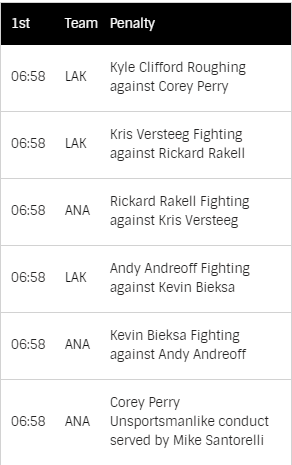 (Courtesy: NHL.com)
And on top of that, both Kevin Bieksa and Andy Andreoff were handed game misconducts for their roles in the action. Bieksa's absence forced the Ducks to play the rest of the game with only five defensemen.
We think it's safe to say this rivalry is alive and well.