2016 NFL Mock Draft 2.0: Picks 11-20
Chris Chambers / Getty Images Sport / Getty
11. Chicago Bears - Ronnie Stanley, OT, Notre Dame
Jay Cutler played some of his best football to date in 2015, effectively putting to rest any questions about his future in Chicago. Though the defense needs plenty of work, protecting their star quarterback should be the Bears' top priority. Stanley falling this far should be considered a dream scenario.
12. New Orleans Saints - Sheldon Rankins, DT, Louisville
The Saints need difference makers on the defensive side of the ball. Rankins gives the team just that from the three-technique spot, possessing the explosiveness and quickness to give opposing guards fits. The dominance Aaron Donald has enjoyed as a result of similar traits should be enough to squash concerns about Rankins' size.
13. Philadelphia Eagles - Laquon Treadwell, WR, Ole Miss
Philadelphia taking a receiver in the first round last year shouldn't preclude the team from capitalizing on Treadwell's minor slide. After making a new commitment to Sam Bradford as the starting quarterback, the Eagles are best suited to ensure he has the necessary weapons to succeed. Treadwell would have the chance to emerge as Bradford's top receiver immediately.
14. Oakland Raiders - Ezekiel Elliott, RB, Ohio State
Flush with salary-cap space, the Raiders are expected to go a spending spree in free agency. Given that doing so could address more pressing needs at cornerback, safety, and linebacker, Oakland shouldn't hesitate to take the best player on the board. Elliott joining Derek Carr and Amari Cooper would give this team an incredibly impressive foundation on offense.
15. Los Angeles Rams - Paxton Lynch, QB, Memphis
This is the rare draft in which at least one of several quarterbacks earning consideration as a top pick will almost certainly be in for a slide to the middle of the opening round. Desperately in need of a fresh start under center, the Rams will benefit from this more than any other team. With a strong running game and defense, Lynch could start from day one and learn on the fly.
16. Detroit Lions - Taylor Decker, OT, Ohio State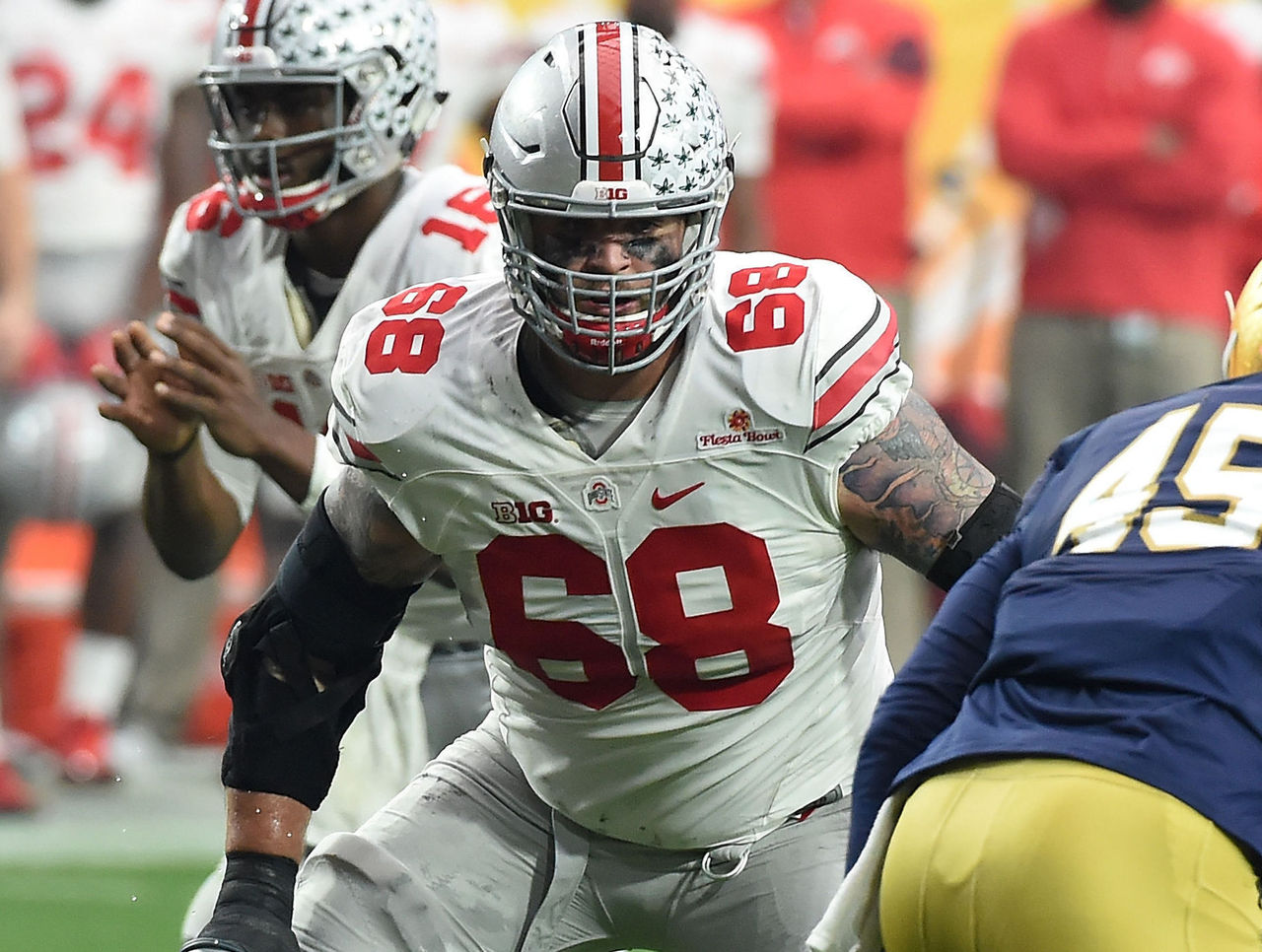 Having allowed more than 40 sacks in each of the past two seasons, the Lions still have a clear need on the offensive front. Whether he challenges Riley Rieff for the starting job at left tackle, or immediately steps in on the right side, Decker fills a substantial need for Detroit. His physicality as a run-blocker will also bolster a unit that ranked last in 2015.
17. Atlanta Falcons - Kevin Dodd, DE, Clemson
Dodd slots in as the strong-side defensive end opposite 2015 first-round pick Vic Beasley, giving Atlanta a pair of Clemson pass-rushers to build around long term. Dodd's draft stock went through the roof after a 12.5-sack redshirt junior season that included three sacks in the National Championship Game against Alabama.
18. Indianapolis Colts - Reggie Ragland, LB, Alabama
Ragland isn't a jaw-dropping athletic specimen like Jack, but he's the definition of a complete linebacker. He'll have an opportunity to emerge as a three-down player early on in his career, if not from Week 1 of his rookie season. Ragland's impact against the run should be most attractive to a Colts team that allowed 122 rushing yards per game last season.
19. Buffalo Bills - Noah Spence, OLB, Eastern Kentucky
Finding an edge-rusher after parting ways with Mario Williams is easily one of Buffalo's top offseason priorities. Spence is a far more suitable fit for Rex Ryan's scheme, and his explosiveness off the edge would help the defense to take the next step. Were it not for some off-field concerns, Spence would be long gone by this point in the first round.
20. New York Jets - Leonard Floyd, OLB, Georgia
Dating back to his time in Arizona, Todd Bowles' defenses have consistently gone without a game-changer on the edge. Floyd could be the much-needed speed-rush addition to a Jets defensive front that's arguably the league's most stout on the inside.
Comments
✕
2016 NFL Mock Draft 2.0: Picks 11-20
  Got something to say? Leave a comment below!