Yzerman's tough decisions in coming months will shape Lightning for years
Kim Klement-USA TODAY Sports
You can forgive Tampa Bay Lightning general manager Steve Yzerman if he has a headache.
With this team three points out of a playoff spot in the Atlantic Division, and two points out of a wild-card spot, Yzerman's got his hands full. His club's been ravaged by injury, it can't score after leading the NHL in goals last season, Steven Stamkos appears destined for unrestricted free agency, and yet another fire broke out Sunday: Jonathan Drouin's agent went public with a trade request he made on behalf of his client in November, one day after Drouin was sent to the American Hockey League.
So, what now?
Stick to the plan, if Yzerman is to be believed.
"We have a reason for (sending Drouin to the minors), and I believe in the reasons for doing it," Yzerman said, according to the Tampa Bay Times' Joe Smith. "Jonathan expressed to me he understands the reasons for it. So again, we want our players to succeed, and we want them to play well and put them in (the) best position to succeed. And I believe this helps that."
No panic
Yzerman's not going to panic. He's calm, cool, and collected under pressure. He proved that in his playing days, and as a GM whose team went to the Stanley Cup Final. He's known about Drouin's trade request since November, and could have dealt the 20-year-old to help offset the club's injury troubles.
Yzerman's not going to trade Drouin for the sake of trading him, or because Drouin wants out. Yzerman's going to do what's best for the Lightning. But his job became a lot more difficult Sunday morning.
Tied to Cooper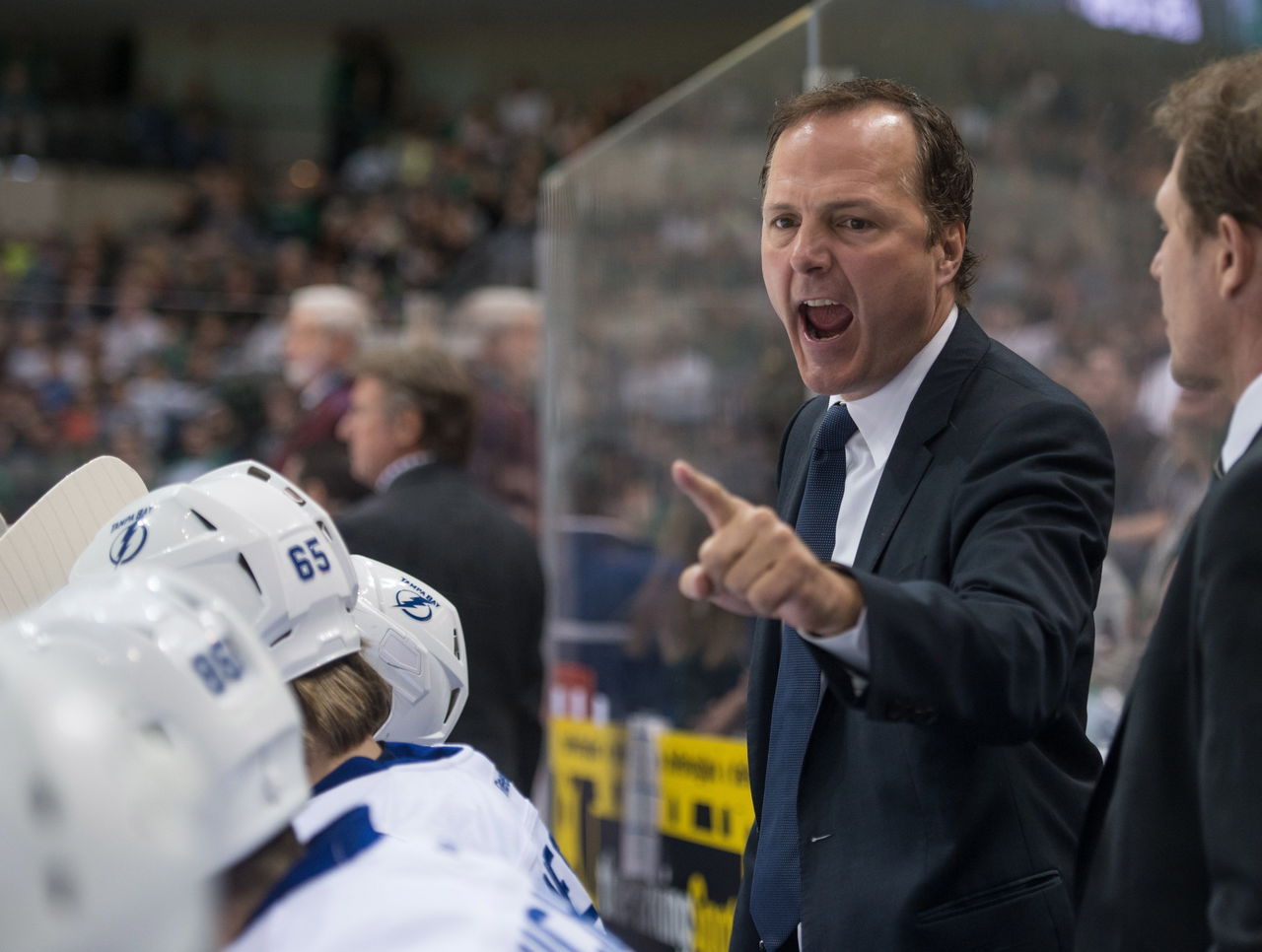 Drouin played 70 games last season, his rookie year, scoring four goals and adding 28 assists. He averaged 13:14 in ice time, and watched most of the Lightning's playoff run from the press box. Head coach Jon Cooper doesn't trust him. Yet.
This season, Drouin has two goals and six assists in 19 games, averaging 14:07 a night. He's been a part Tampa's injury parade, playing only four games in November and five in December. His inability to stay healthy was one of the reasons Yzerman cited in discussing his demotion - he wants Drouin healthy and playing in the minors before Tampa Bay.
Drouin's ice time yo-yo'd under Cooper last season. He played 16, 20, and 19 minutes in games two, three, and four of his career, before dropping to 12 and 10 minutes in games five and six. He played 20 minutes one night in December 2014, before playing four games under 10 minutes in March 2015. He played over 10 minutes in only two of the six playoff games he dressed in. It was all over the place.
But Cooper's the man in Tampa Bay behind the bench - Yzerman signed him to a multi-year extension in early December. If Yzerman believes no player is bigger than the coach, Drouin's done in Tampa Bay. Period. If Stamkos, rumored to not see eye-to-eye with Cooper, isn't bigger than the coach, there's certainly no way Drouin is.
But if Cooper's one of the reasons why Stamkos leaves in free agency, and one of the reasons why Drouin wants out, Yzerman's going to eventually have to ask himself some more tough questions, despite Cooper's Jack Adams Award, and last year's Stanley Cup Final berth.
Earning his keep
Yzerman's about to earn his salary.
Stamkos is playing out his contract. The list of pending restricted free agents is long, and includes leading scorer Nikita Kucherov, J.T. Brown, Cedric Paquette, and Vladislav Namestnikov. There's more: Tyler Johnson and Ondrej Palat will be restricted free agents in July 2017, while Ben Bishop and Victor Hedman are slated for unrestricted free agency at that time.
The Lightning are facing multiple forks in the road, and the route Yzerman takes will shape the franchise for the next decade.
Drouin's still got a year left on his entry-level deal, and based on his production, his next contract won't cost much. If playing time's an issue this year, depending on what happens this coming offseason, it may not be next year.
If Stamkos leaves, or if he's traded, a possibility Yzerman must entertain as he chases a playoff spot, the Lightning become Drouin's team. The talented forward had to have been considered the insurance policy in case Stamkos bolted.
Well, it's clear Drouin doesn't want to help. And Yzerman now has to look at the return the New York Islanders got for Nino Niederreiter, and the Arizona Coyotes got for Kyle Turris. Those are the comparables.
Yzerman's got myriad brutal decisions to make in the coming months. We learned about yet another one Sunday, one that's probably the second-most important after Stamkos' future in Florida.
It's going to be a fascinating few months in Tampa Bay.
Comments
✕
Yzerman's tough decisions in coming months will shape Lightning for years
  Got something to say? Leave a comment below!