Klay Thompson's agent: No concussion, 'No problems with how this was handled'
Kelley L Cox-USA TODAY Sports
Golden State Warriors shooting guard Klay Thompson may have been woozy and vomiting after leaving Game 5 of the Western Conference Finals due to a knee to the head, but his agent said Thursday he did not suffer a concussion.
"My understanding is that it was negative," Thompson's agent, Bill Duffy, told Sam Amick of USA Today of his client's concussion testing. "There were no issues."
Amick added that Thompson's final diagnosis will come on Friday, when the player is scheduled to see a neurologist. He will be kept out of practice through Sunday, per the league's concussion protocol. The NBA Finals start next Thursday.
For the time being, Amick reports the Warriors are considering the injury a contusion. A right ear laceration which was the initial diagnosis after Thompson left during the fourth quarter Wednesday after taking an inadvertent knee from Houston's Trevor Ariza.
He did not return to the game, although the Warriors led comfortably enough to not require their second-leading scorer. Thompson was later seen with blood coming from his right ear.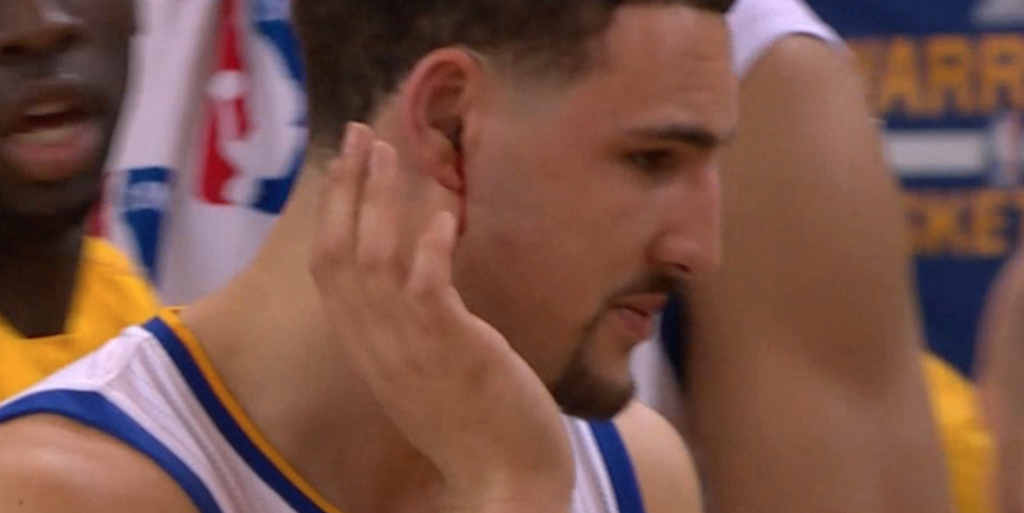 Earlier on Thursday, Thompson's father - former NBA player Mychal Thompson - told ESPN that his son was "woozy" when he drove him home and that he "threw up a lot" once he got there.
"That's what you feel like when you have a concussion," Mychal said. "I had a few of those when I played back in the stone age of the NBA. We used to just play through them. But now the NBA is really careful with them."
The senior Thompson's last sentence could be considered a topic of scrutiny by some. The Warriors organization has been questioned over the last few years for incidents where players may have been allowed to play through possible concussion symptoms.
In the 2013 playoffs, forward Harrison Barnes landed on his head in a game and returned to the contest after passing a baseline test. Then on Monday, Stephen Curry returned to a Game 4 loss to the Houston Rockets after a scary landing that included the back of his head striking the hardwood. Curry also returned to the game after undergoing concussion protocol.
Duffy stressed to Amick that he is happy how the Warriors have handled the situation.
I have absolutely no problems with how this was handled. I think Klay was communicated with. There was no pressure whatsoever. It's absolute that this was handled the right way, with communication between the team and us, so I see no issue whatsoever, or no need for scrutiny. ... To me, it's a non-issue as to how it was handled.