Perpetual roster shuffle has 76ers and Celtics flush with picks, flexibility
Bob DeChiara-USA TODAY Sports
Fans of the Boston Celtics and Philadelphia 76ers may be hard-pressed to name every player on the roster at this point in the season.
Over the course of the season, the Celtics have undergone an enormous face-lift, with general manager Danny Ainge making 11 trades since the start of July. It's been a notorious multi-year tear-down-and-kind-of-build-but-also-keep-tearing-down in Philly, where general manager Sam Hinkie continues to trade even youthful present-day assets for future ones.
The strategies aren't the same, but the results are, to a degree.
In Boston, Ainge is stockpiling first-round picks and capable players while shedding salary where he can. He'll use the picks if he keeps them, but Ainge values flexibility and a deep war chest, knowing better than anyone that it's paramount to be flush with assets in the event a difference-making player hits the market.
Hinkie is playing a longer game, embracing risk in order to improve the high-percentile projections for the club's long-term outlook. Not even recent lottery picks and Rookie of the Year winners are safe if it means getting an asset with a slightly higher expected value.
In either case, the teams find themselves with a few intriguing players, salary cap flexibility and a veritable trove of draft picks.
Celtics
Players
Cap Situation
The Celtics will enter the offseason with $40.4 million committed to nine players, leaving them plenty of room to fortify their rotation with a big-name player or two. They have just $14.9 million in guaranteed commitments for 2016-17, when the cap is expected to sky-rocket.
Picks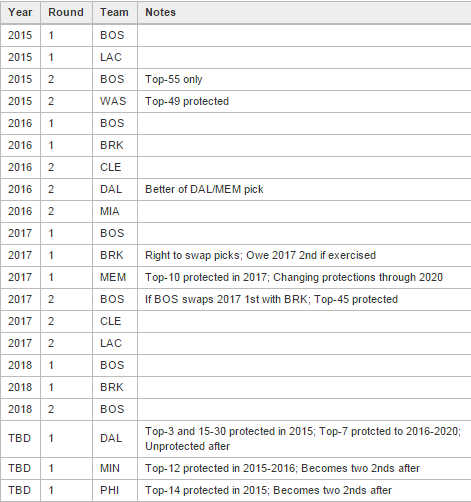 76ers
Players
Nerlens Noel, 20, the No. 6 pick in 2013 and an emerging defensive presence at center who has shown flashes of playmaking ability.
Joel Embiid, 20, the No. 3 overall pick this year who has sat out the season due to injury and who was thought to have the highest upside in a loaded 2014 class.
Dario Saric, 20, a Croatian prospect and two-time FIBA Europe Young Men's Player of the Year who could make his way to the NBA within the next two seasons.
Cap Situation
Hardly above the salary cap floor this season, the 76ers have only $26.7 million in salary committed for next season and a whopping $0 in the potential salary cap bonanza of 2016. That's how you stay ready for anything.
Picks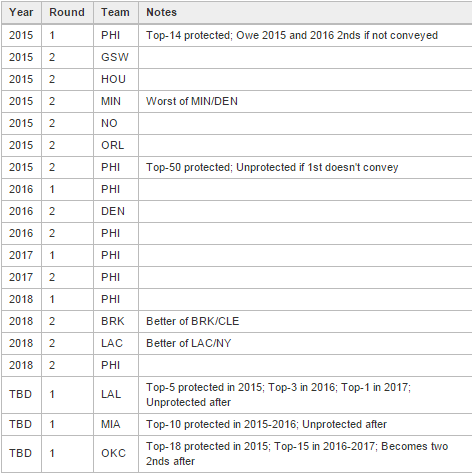 *They're also owed two second-round picks in 2019 and another in 2020.
Comments
✕
Perpetual roster shuffle has 76ers and Celtics flush with picks, flexibility
  Got something to say? Leave a comment below!