Scotty Hopson, Alonzo Gee, and a summer as human currency
When the Cleveland Cavaliers signed Scotty Hopson in late March last season, they paid him an amount far beyond the league minimum. 
His $1.3 million salary was nearly triple the allowable minimum, but it allowed the Cavaliers to tack on a $1.45 million, non-guaranteed salary for 2014-15. While Hopson was actually an NBA basketball player for the final month of the season, the Cavaliers paid him the premium so that he'd become a trade chip this summer, with that non-guaranteed amount standing as a de facto trade exception.
The prorated amount Hopson was paid is real money in his pocket, but it's led to quite a tumultuous offseason for the newly-minted piece of human basketball currency.
Four trades and a waive goodbye
Hopson was signed to be an offseason trade chip, not to contribute to the Cavaliers' cause on a basketball court. As it turned out, Hopson was able to help a lot of teams' causes, as he ended up facilitating four different trades.
June 26: The Cavaliers make a draft-night trade to acquire Dwight Powell and Brendan Haywood, and it comes out on July 12 that Hopson was the return to Charlotte. Interestingly, Haywood is acquired largely for the same reason Hopson was signed, as he carries an unguaranteed $10.5 million salary into next summer. Powell is later flipped in a package for Keith Bogans, who has an unguaranteed $5.5 million salary in 2015-16, meaning Hopson's $1.45 million salary for 2014-15 helped the Cavs land $16 million in highly-tradeable salary for next offseason.
July 13: The Hornets prove they didn't actually want Hopson and were just looking to unload Haywood's salary, flipping Hopson to New Orleans for an undisclosed amount of cash.
July 13: Hey, that's why the Pelicans wanted Hopson! In a three-team deal, the Pelicans land Omer Asik from Houston along with Omri Casspi and cash, with Hopson heading to the Rockets with Trevor Ariza (from Washington), Alonzo Gee, and a 2015 first-round pick.
Aug. 31: Hopson is once again on the move, in a deal that would be confirmed in mid-September. The Rockets sent Hopson, with new best friend Gee, to Sacramento for Jason Terry, helping the Kings unload salary and acquire a trade exception, and helping the Rockets shore up their guard depth.
Sept. 24: Hopson is waived by the Kings.
In all, Hopson made the following theoretical offseason trek:

That's a grant total of 3,509 miles, stadium-to-stadium, but at least the NBA had the decency to trade him north-south and then east-west so he didn't have to cover any ground twice. If we make some rough assumptions and guess that Hopson would only be moving enough to fill a one-bedroom apartment, Hopson's estimated moving cost would have been $8,868 (though we're fairly certain he didn't actually make these moves).
That's a stressful offseason. And worst of all, Hopson is now without a job, and there have been no reports that he's landed a training camp invite anywhere.
Joined by Gee
As noted, Gee and his $3 million in unguaranteed salary joined Hopson for the last few legs of his non-trip around the league. While Gee had settled in with the Cavaliers over the past three-plus seasons, playing 250 games with the team and starting 166 of them, he, too, was expendable in a busy offseason.
Gee was dealt to the Pelicans in mid-July for unspecified future draft considerations, and then joined Hopson in the trade to Houston, and later to Sacramento. Together, they made up $4.45 million in unguaranteed salary, an appreciably effective pair as far as currency is concerned.
At least for Gee, it seems fairly likely he can land a camp invite, considering he's proven himself a capable NBA player.
Relating to Richardson
You think four trades in one summer is a lot to deal with? Hopson should hit up Quentin Richardson to debrief.
In the 2009 offseason, Richardson also found himself dealt four times, going from the Knicks to the Grizzlies to the Clippers to the Timberwolves to the Heat. Richardson would be dealt again in 2013, returning to Toronto where he first began his career as an unfertilized draft pick.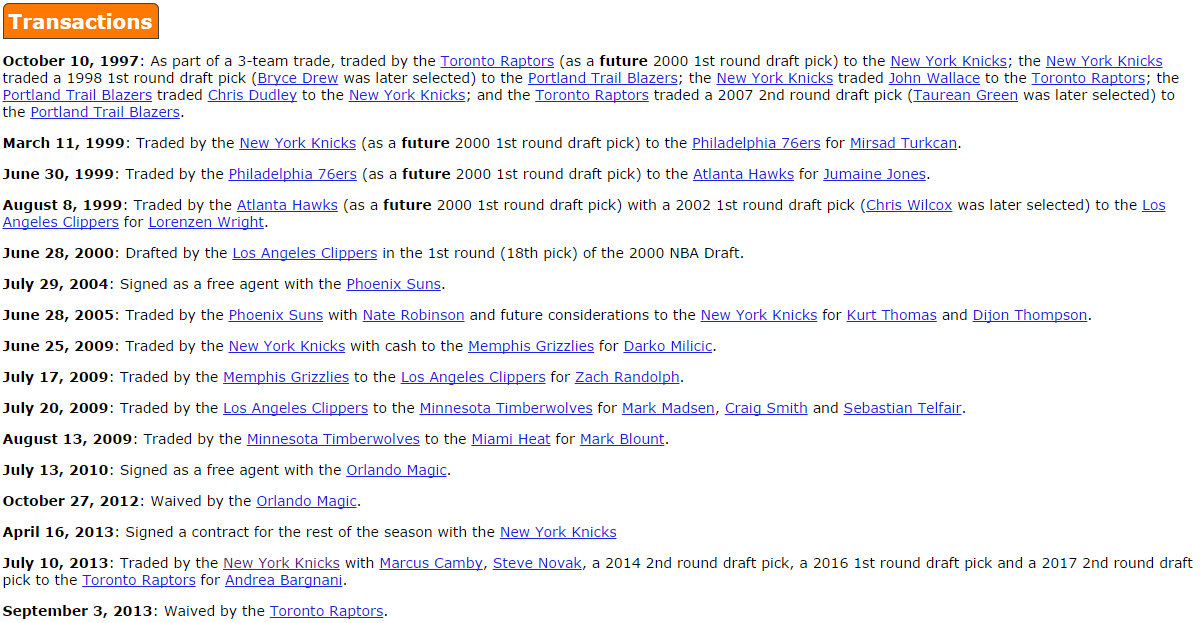 At least Richardson had basketball value, playing 182 games over four seasons after his insane summer. He also made an estimated $63 million as a pro, so Hopson is probably far more deserving of your sympathies.
Comments
✕
Scotty Hopson, Alonzo Gee, and a summer as human currency
  Got something to say? Leave a comment below!