What is P.K. Subban worth?
With his much anticipated player-elected salary arbitration hearing scheduled for Friday, Montreal Canadiens defenseman P.K. Subban - and his representatives, led by Don Meehan of Newports Sports Agency - are working towards a long-term contract extension. 
The two sides are over $3 million apart in their salary arbitration asks, with Subban seeking an $8.5-million reward that would make him the third-highest paid defender in the NHL. The Canadiens have countered with a $5.25-million valuation. 
Those numbers serve as a range for negotiations, but actual discussions between Subban's camp and the Canadiens contingent on a possible long-term deal exist in "a different venue", as Meehan put it. 
"When you get down to an arbitration process this becomes really in many respects a statistical analysis, and it can be different than a negotiation that you're having with a club," Meehan explained during an appearance on Toronto's Sportsnet 590 The Fan on Wednesday evening.
So let's deal with the two "venues" separately, beginning with arbitration.
What is Subban worth at arbitration?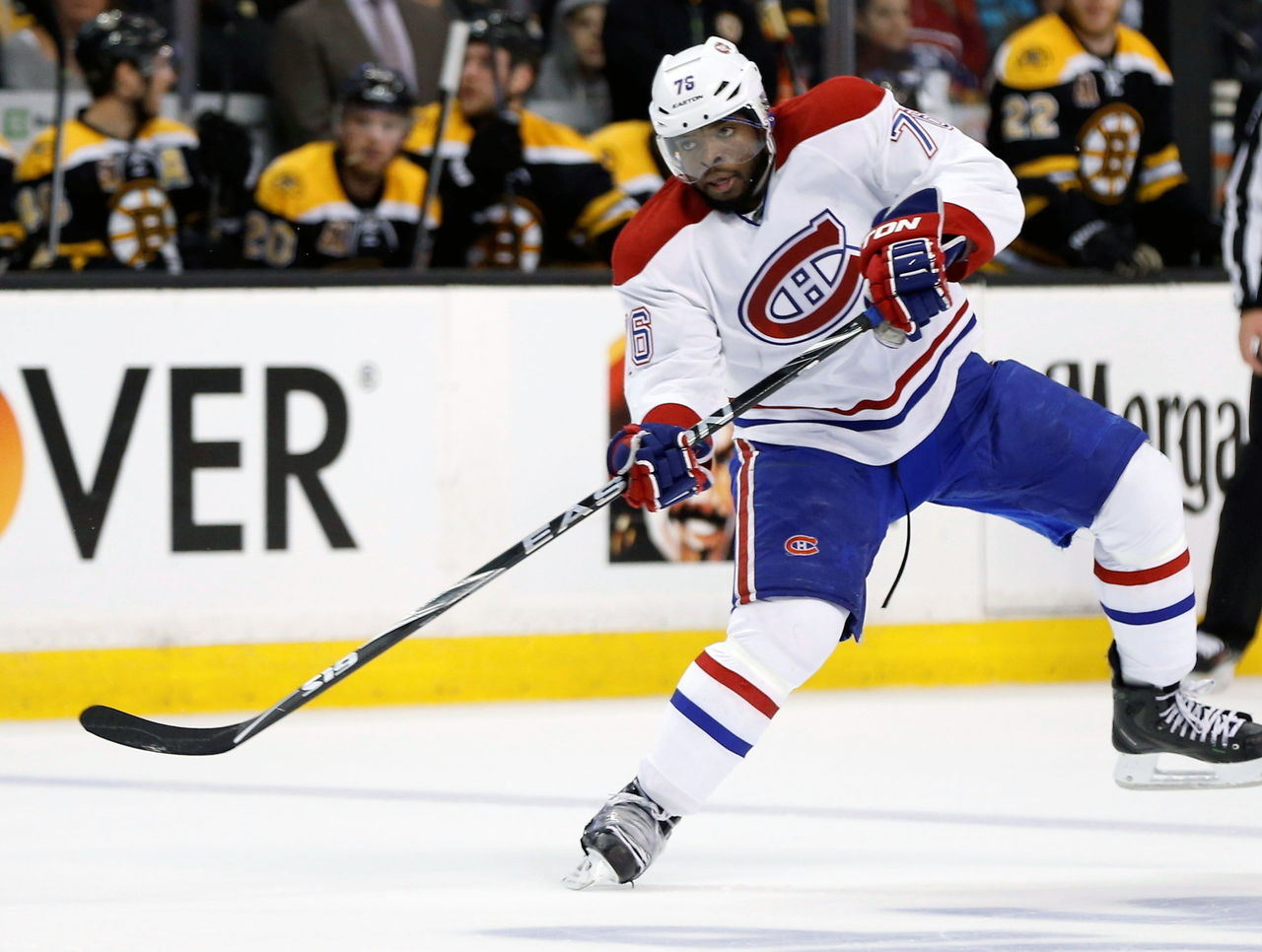 If Subban and the Canadiens actually have an arbitration hearing in Toronto on Friday morning, they'll become the first parties to actually go to salary since 2011 (not counting KHL-bound Vladimir Sobotka, whose salary was decided by an arbitrator in July, but who is listed on the NHLPA website as a settlement). Recent history would suggest that a hearing is unlikely.
Read more about the NHL's salary arbitration process
In the admittedly unlikely event that Subban does face the "statistical analysis" of salary arbitration, he probably has the strongest case in recent history. 
In terms of what type of evidence is permissible, the 25-year-old defender has:
Amassed five years of service time with the Canadiens
Never missed a significant length of time due to injury 
Arguably the most important player contributing "to the competitive success" of his club last season
Has all of the "special qualities of [...] public appeal"
Is essentially peerless in terms of his circumstance and performance. 
In theory, players and clubs are able to use any Group 2 restricted free agent player's contract as an "alleged comparable" at an arbitration hearing. In practice, only arbitration eligible Group 2 players are generally presented as comparable players. This puts both sides in a tough spot because, the fact is, very few players of Subban's caliber get to this point. 
Historically, the comparable salary arbitration case that sticks out is Shea Weber's, who was awarded an NHL-record $7.5-million in the summer of 2011. Here's where things get a bit dicey for Canadiens brass: In 2013-14, Subban outproduced 2010-11 Weber, his club went further in the postseason, and he clearly has more "special qualities" of "public appeal."
Anything can happen at arbitration, but if this process gets there, it seems like Subban is poised to break Weber's record award. 
What is Subban worth on a long-term contract?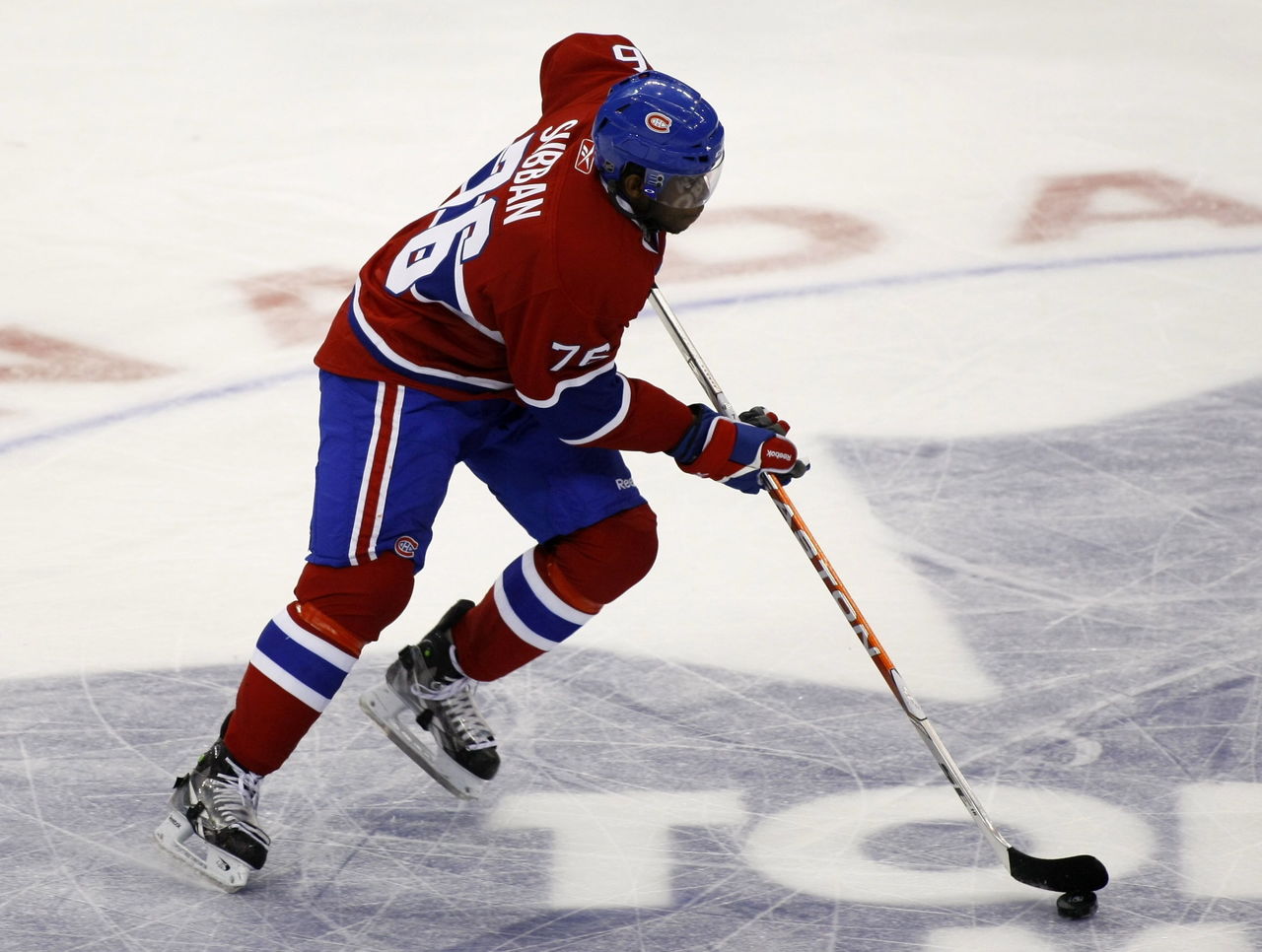 If you make a list of Subban's active peers - legitimate top-pairing defenders who are roughly 25 years old - you might include Erik Karlsson, Alex Pietrangelo and Drew Doughty. 
Now, all of those players signed their current, lucrative, long-term contract extensions immediately following the expiry of their entry-level contracts. Subban, on the other hand, was signed to a two-year bridge contract worth $5.75 million total for the 2012-13 and 2013-14 seasons. 
What does that mean in terms of practical earnings? Let's look at how much Subban earned in his pre-arbitration eligible Group 2 seasons, in comparison with what Karlsson, Pietrangelo, Doughty took home:
| Player | Pre-arb. earnings |
| --- | --- |
| Alex Pietrangelo | $10.5 million |
| Erik Karlsson | $10.5 million |
| Drew Doughty | $12.5 million |
| PK Subban | $5.75 million |
It's a massive disparity.
This is how long-term deals with star Group 2 players generally work though, the player receives short-term security in exchange for giving up some UFA seasons, while the club gets an excellent player on a deal with a lower averaged annual value (or cap-hit). 
It's worth remembering that when the Canadiens signed Subban to a bridge deal in January of 2012, they changed the dynamics of the incentives at play and burned some of their ability to lower Subban's salary cap-hit on a long-term contract 
The contract structure of Karlsson, Doughty and Pietrangelo's deals all reflect the increased value of a player's arbitration eligible RFA seasons. For all three defenders, their two arbitration eligible RFA seasons are valued at an average salary between $6.75 and $6.85 million per. 
The Canadiens are unlikely to receive that type of discount on a long-term extension with Subban though, and considering the defender's popularity and performance - he's won a Norris Trophy, he's remained healthy, and he's lead all NHL defenseman in point production since signing his bridge deal - (not to mention the Weber comparison), a valuation of his arbitration eligible RFA seasons at $7.25 to $7.75 million seems about right. 
As for the value of Subban's UFA seasons - the Canadiens would look to buy six on a maximum-term (eight-year) contract - those should come in at $9-$10 million per as a baseline, based on what the only bona fide superstar defender in recent memory to hit unrestricted free-agency (Ryan Suter) signed for.
Put it together, and you probably have a range of reasonable outcomes that falls somewhere between $70.5-$75.5 million over eight years. If the Canadiens and Subban avoid arbitration with a maximum-term contract, the defenseman's cap-hit will exceed $8 million per season with ease. 
The Canadiens will have to pay to keep a star like Subban in the fold and the price is going to be steep. Canadiens brass understands this - there's a reason they've kept $11.5 million in cap space available this summer. 
Comments
✕
What is P.K. Subban worth?
  Got something to say? Leave a comment below!