Fun fact: Roberto Luongo could be a bigger loser than Marty Brodeur
To set records for cumulative failures at the top level of professional sports you have to be an exceptional talent. You'll find names like Brett Favre, Peyton Manning, John Elway and Dan Marino among the 20 quarterbacks who've tossed up the most interceptions. Nobody missed more free throws than Wilt Chamberlain. Nobody struck out more than Reggie Jackson.
The obvious reason for this is you have to be judged as damn good to be put in the situations necessary to fail so often that you can accumulate those totals. Those same names above hold countless other positive records to go along with what may be perceived as dubious distinctions.
The NHL is no different - Martin Brodeur has pulled away in the NHL's "most losses by a goaltender" category by 42 at this point (regular season), a record he earned by being good enough to start for decades.
Usually these sort of records stand for a decent amount of time given the longevity necessary to pile up the totals, but in this case, it may not be too long before Martin Brodeur is left in the "most losses" dust by another great goaltender.
That man? Roberto Luongo.
As things currently stand, Roberto Luongo is 13th all-time in NHL losses with 312 through 803 games. (Just three above him sits Patrick Roy, who lost a mere 315 times through 1,029 games.)
It's easy to understand how Luongo has ascended this list. He made his debut some 15 years and 14 seasons ago for the New York Islanders who...weren't very good. Then he started for those rough Florida Panthers teams of the early 2000s, before winding up on a mediocre Canucks team in 2007-08. That's a sizeable swath of seasons eating losses before getting to some real winning in British Columbia.
The crazy thing is, Luongo now only needs 41 losses to have the second-most of any NHL goaltender ever. 40 would put him in a dead heat for the number two spot with Curtis Joseph (943 games) and Gump Worsley (861 games). Gilles Meloche is one behind those cats in a scant 788 games. (Full list at the bottom of this post.)
Brodeur owns 42 more losses than the two men in second, meaning Luongo is 82 total losses behind him. While the 42-year-old tender is keeping his hat in the ring to play somewhere again this upcoming season, any gig will come with measured starts, meaning he won't be piling up the L's. It's also looking more and more like he'll be sitting on his couch, and his loss total will stay where it's at.
The just-35 year old Luongo is under contract until 2022 - that's eight more seasons - and once again plays for the not-often-great Florida Panthers. If he starts for the next three or four seasons (and you could see him being the guy for longer than that) and the Panthers miss playoffs a few times, he almost certainly catches Brodeur. We all think he'll retire before the end of the contract, sure, but he doesn't need to use it all, if half, to get there.
It may not be the coolest NHL record to hold, but there's still something sort of flattering about it. To lose as often as the guys below, you usually have to be a winner.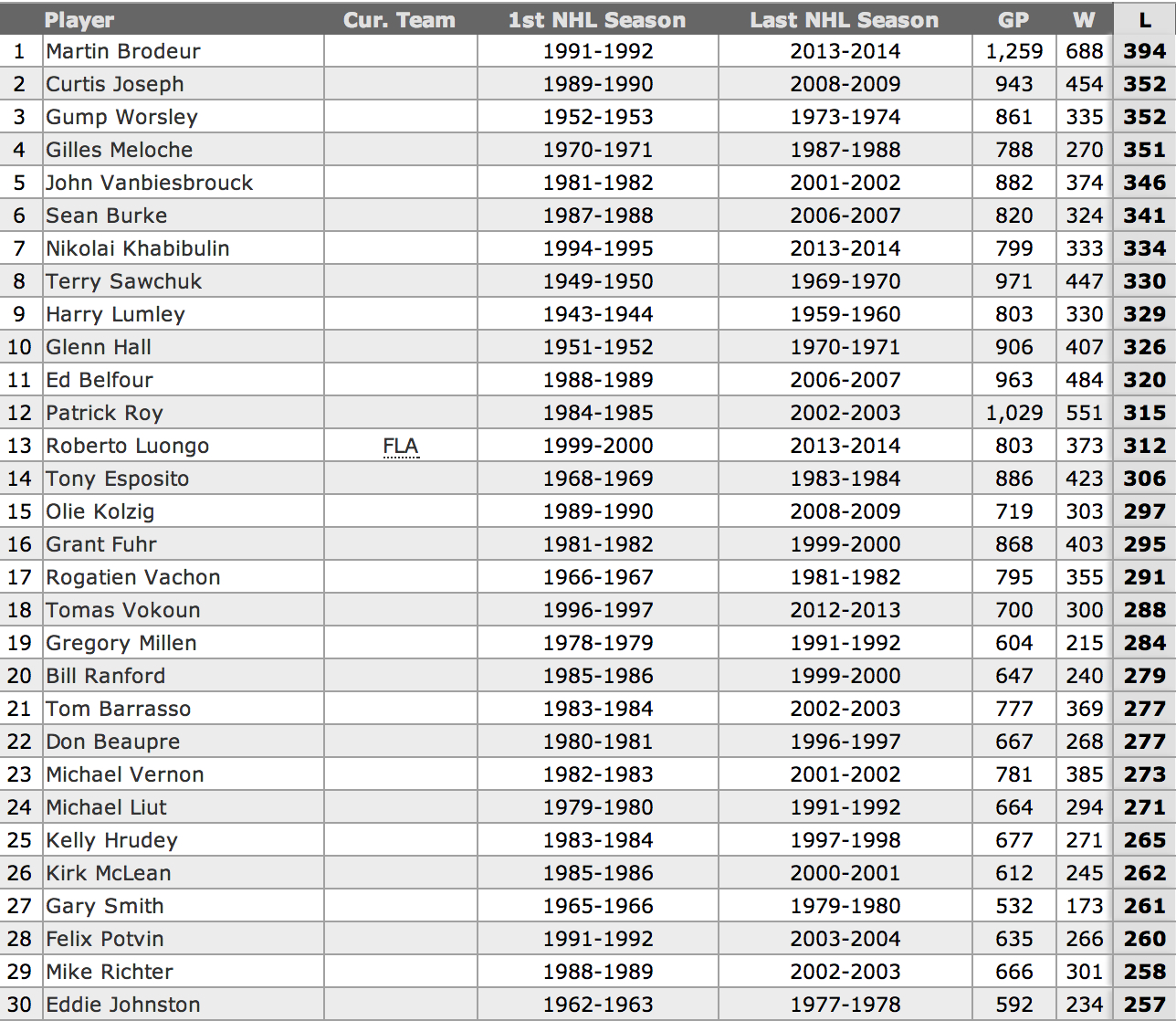 Comments
✕
Fun fact: Roberto Luongo could be a bigger loser than Marty Brodeur
  Got something to say? Leave a comment below!