Warrior's gender-motivated tweets spark outrage
Corporate Twitter accounts make mistakes from time to time, and this was certainly one of them.
Warrior, an apparel and sporting goods company that makes lacrosse, soccer and hockey gear, tweeted the following on Thursday night.

A World Cup of Softball game between the women's teams from the United States and Canada aired on ESPN, while a men's World Lacrosse Championship game between those same countries aired on ESPN2.
Warrior was clearly suggesting that Title IX, the landmark amendment signed into law in 1972 that promotes equal opportunity regardless of gender, was to blame for the company's principal sport (lacrosse) being shown on ESPN's secondary network rather than the primary one.
Predictably, the company was attacked on Twitter for that assessment, which led to this response.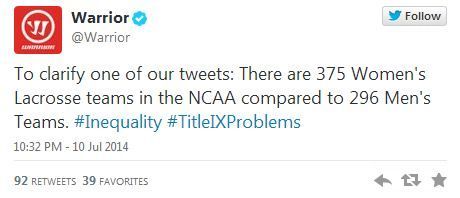 That...didn't help.
There were many, many more where those came from, but it quickly became clear that this wasn't an isolated incident.
This isn't even the first time the company has dropped the ball on social media. 
To make matters worse, more questionable Warrior content was unearthed in the aftermath:
In case you can't see the fine print in question, it reads: 
You do realize we don't sell women's gear, right? But if you want some great ideas for sick threads, tight kicks and killer equipment your boyfriend will like, sign up here for e-mail updates.
There was this, too:
Comments
✕
Warrior's gender-motivated tweets spark outrage
  Got something to say? Leave a comment below!