How Tiger Woods ended dominance on the PGA Tour
Andrew Weber / USA TODAY Sports
This wasn't the way it was supposed to work out.
Tiger Woods wanted to rewrite the history books as the greatest golfer to ever live. However, as time has gone by, the 18 majors he had in his cross hairs have moved further out of range.
We all know the story. Woods took the PGA Tour by storm in his rookie year, and the tour was ready for its next star.
There was something different about Woods. He didn't carry around extra weight of most touring pros -  he was slim and became sculpted as his career took shape. He was a different breed. In a matter of time the link between his physique and success was obvious.
Woods picked up where Gary "Mr. Fitness" Player left off. Player was smaller than his toughest competitors in Jack Nicklaus and Arnold Palmer. Fitness was taboo in the 50s and 60s for golfers due to a notion that weightlifting would ruin your game. Player knew he could gain an edge on Nicklaus and Palmer by being resilient.
"I realized that due to my small stature, my only hope of gaining an edge was to outwork them," Player said. "So I became obsessed with exercise and diet. I was going to be sure that my body would not let me down." 
Player and Woods went against the grain and opened up windows previously closed to further their careers.
Golf is no longer for the middle-aged, rich, and retired. It turned a corner after Woods ripped through course after course with a gym membership in his pocket and youth on his side. Somebody was challenging how the sport was played and that turned heads.
Woods changed the way courses were built, the driving distances of tour pros, and the competition level across the board. What he has done for golf has moved the game further than he could have if he eclipsed Nicklaus' record of 18 majors. He did it by dominating the field and pummeling courses with his strength.
Woods welcomed a new era of golf to the tour that was just waiting to be tapped into.
What the wrinkle of fitness added to a tour player's game was power, longevity, and the status of athlete. The sport was respected in terms of difficulty, but recognized as a hobby. This notion was turned around when Woods raised the bar to a place only he could clear. His approach rewarded him with success.
Athleticism finds its place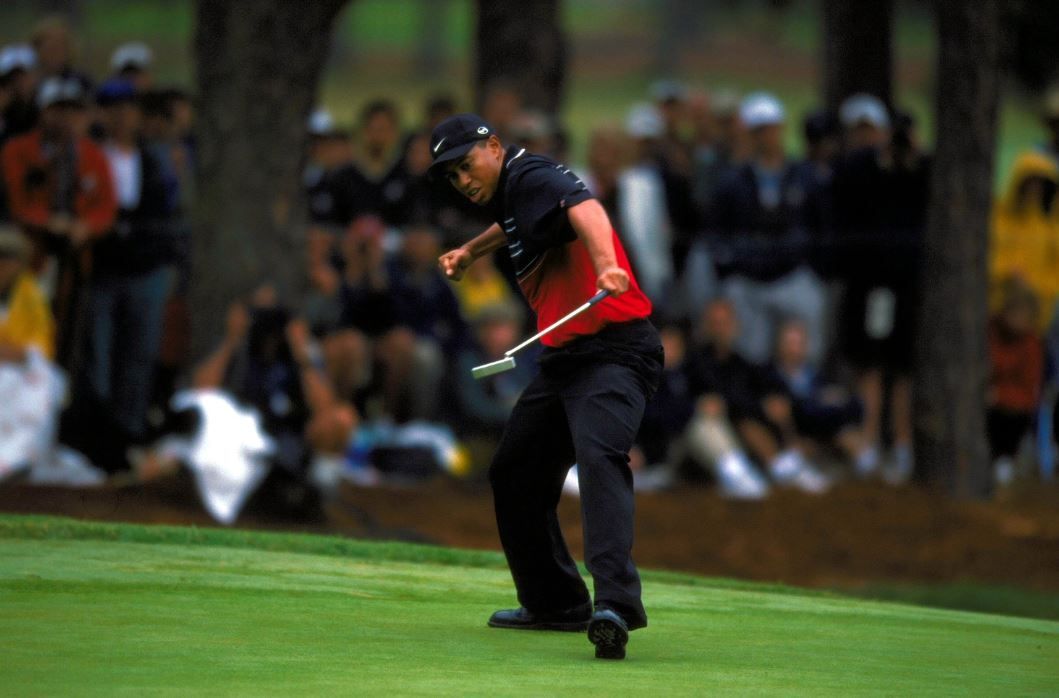 He was born to golf but that didn't stop Woods from working through every facet of his game as if he wasn't. "I let other people treat it like a hobby," he said. "It would be asinine for someone not to work out and go play football. It doesn't make sense for golf, either."
As the son of a lieutenant colonel with two tours of duty in Vietnam, Woods was taught discipline from an early age. If you do something, you put everything you have into it. He brought those teachings to the course.
"I view fitness as a long-term strategy for building and maintaining endurance, strength and agility. It's a continuous cycle of training and recovery," Woods said. 
A similar statement came from Greg Norman when he was on Golf Channel's "Playing Lessons" with Holly Sonders. "Strength and flexibility is the key," he said.
Only two tour players keyed in on fitness after Player and Norman. Woods and Vijay Singh managed their success by setting the pace. 
"When I first came out here no one worked out, it was just me and Vijay," Woods said. "We'd be in the same gyms and it would only be us. Now you see everybody, that's neat."
Woods didn't win 24 tournaments in his first five years on tour because of talent alone. He made his living off striking a ball, chasing it down, and sinking it in the heart of the cup. It's not a game, it's his profession.
Natural talent and ability coupled with dedication to fitness took Woods' game from above average to unsurpassable. Rory McIlroy has seen what fitness can do to a golfer's game.
"Guys like Dustin Johnson, and Gary Woodland are so athletic and make powerful moves at the ball and if you want to beat them you have to try and match them or better them in some way."
McIlroy gushed about his childhood favorite. "[Woods] transformed the image of golf, made it a younger sport, got younger people into it, I guess gave it a more athletic image as well."
If you wanted to beat Woods in his prime, it would take the best four rounds of your life. Or for Woods to be absent. "Hopefully he gets sick … hopefully he's not on his best," Bubba Watson once told CNN.
With Woods' stranglehold on the tour firmly in place, his domination led to new ventures. In July 1997, during his first full schedule on tour, Woods took the No. 1 ranking away from Norman on June 15. He held the spot for a week before snatching it back from Norman on July 6 for nine weeks.
Nike and friends take on golf
Major sports companies realized golf was in demand and being taken seriously as a professional sport played by athletes.
It's difficult to imagine now, but when Nike first signed Woods to an endorsement deal, they didn't have clubs, shoes, tees, balls, or even golf apparel. That would all change drastically when Woods put an exclamation mark on their sponsorship deal, winning the 1997 Masters by 12 strokes.
Woods signed a five-year extension with Nike in 2000 worth a reported $105 million - the most by an athlete in professional sports at that time. With Nike on board, others followed, including American Express, General Motors' Buick, EA Sports, and Tag Heuer watches. Nike Golf was born thanks to the success of Woods' approach.
Nike raked in the cash from fans wanting to golf like Woods and share in a fraction of his success on their home course. If the same equipment Woods used was available to the public, it would change the game of the average golfer. At least that's how the average golfer hoped Nike's products would work.
Big brands want their name trotted around 72 holes every week in front of big TV audiences. If it wasn't Nike or adidas (which acquired TaylorMade and Adams), another company was capitalizing on the opportunity.
Bridgestone is Matt Kuchar's main sponsor. The company best known for manufacturing auto parts launched their golf business the same year they launched their automotive business. Kuchar pointed to the "B" on his hat and asked his young children, "What do they do?" They answered, "Pay the bills." Sponsorships were not only a financial backing but an identifier.
Puma got in on the action as well. When Rickie Fowler wears orange on Sunday, his Puma hat is front and center. Jordan Spieth has one logo on his shirts, hats and shoes: Under Armour.
Every sports apparel company has taken an interest in golf and catered to the sport because of the success Nike experienced with Woods. Tiger made that shift happen. He created a brand that appealed to all ages, and equipment that everyone wanted to have.
Just as sponsors were investing their money and brands into new territory, the PGA Tour would get on board with a new way to compare and analyze players.
Statistics come into play
As golf progressed, 1997 marked the year the PGA Tour compiled stats other than wins, losses, cuts made, and total earnings. Instead of a foggy glimpse into a golfer's game, you were given a clear overview of their tendencies, strengths, and weaknesses.
With a new source of power to draw from, the below, average, and above were separated and labelled for everyone to see.
Driving distance, driving accuracy, greens in regulation, strokes gained while putting, scrambling. Everything can be counted, extracted, put into a formula and digested like other major sports. Golf has athletes walking 18 holes, trying to drive farther, approach with pin-point accuracy, and drain putts on the first attempt.
Woods' statistics helped separate the athletes from the men making a career out of a hobby. The one tool missing from the golf world's arsenal when likening one golfer to the next was the ability to compare what the naked eye couldn't see.
Athleticism, statistics, younger golfers on the rise. Golf has never been so accessible and consumable.
Dominance is a thing of the past
Golf changed not because of the history Woods was trying to make, but how he went about making it.
If you weren't going to get into shape, you weren't going to beat Woods. He would continue to dominate if nothing changed. Athletes don't take kindly to striving for second place week after week. It wasn't easy for Woods to dictate pace all those years; it shows how hard he worked to be there. Now the rest of the field has caught up.
"The Next Tiger Woods" is a term slapped unfairly on young, successful golfers. It's a title that has been given to McIlory, Anthony Kim, and Spieth.
Kim injured his Achilles and disappeared, and there's no certainty he will return to the tour. McIlroy struggled mightily after his most successful season in 2012, when he won four tournaments. Spieth has been in contention tournament after tournament. He makes some of his hardest shots look easy. He has one tournament win to his name at 20 years old after five career second-place finishes through 39 events.
Though three talented golfers with leaner and younger bodies burst onto the scene, none of them asserted themselves as a true threat to Woods' No. 1 ranking. Furthermore, they put pressure on Woods to keep raising the bar until there was nowhere left to go.
What Woods did was bring the competition level to a place where not even he could dominate. As more and more players adopted his maniacal work ethic, it became harder and harder to conquer the tour as Tiger once did.
There is no "next Tiger Woods"
Woods isn't at the U.S. Open, missing his second major in a row. His world No. 1 ranking went to Australian Adam Scott earlier this year. Woods continued to miss tournaments due to scandal and injury yet nobody took his place as "the guy to beat" on tour.
When Tiger Woods claimed his first tour victories, aging stars like Ernie Els and Greg Norman were leading the way. Woods was the up-and-coming golfer taking their place as the face of the game. He was supposed to control the tour and, improbably, exceeded even the wildest expectations. Kim, McIlroy, Spieth - they've all been given the nod as the next ones.
Spieth isn't a flash in the pan like Kim; he plays with the poise of a veteran. McIlroy is finding his stride and coming back into form after a couple of tough years. None have been able to reach a level of consistency associated with that of Woods'. To his detriment, ascendancy will never appear on tour like it did with Nicklaus.
Woods has time, the career of a golfer is a long one. It's very possible he wins four majors in the next 12 years. All he has to do is stay healthy, a growing problem that started in his knees and worked its way up to his back. He's made it significantly harder on himself to keep up with the pace he set. He's never had to chase this way before.
Woods opened doors on tour that were unlocked and waiting not just to be opened, but knocked down. As an athlete, he challenged his opponents to better themselves and in turn their game. He gave golf a new identity, an era celebrating the deepest field in a decade and an end to dominance on the PGA Tour.
References
DiCarlo, Lisa. "Six Degrees Of Tiger Woods." Forbes. Forbes Magazine, 18 Mar. 2004. Web. 9 June 2014.
Johnson, Roy S. "Men's Fitness: Tiger Reveals Demanding Workout Regimen." ESPN.com. N.p., 2 July 2007. Web. 6 June 2014.
Kelley, Brent. "Tiger Woods Workout." About.com Golf. N.p., n.d. Web. 6 June 2014.
Murphy, Jen. "A Golf Great Works to Stay Fit, Well Over 50." The Wall Street Journal. Dow Jones & Company, 2 Aug. 2011. Web. 10 June 2014.
"Rory and Tiger Close Up." Interview by Shane O'Donoghue. Living Golf. CNN, 9 Nov. 2012. Web.
Watson, Bubba. "Piers Morgan Live." Interview by Piers Morgan. CNN. N.p., 2 Apr. 2013. Web.
Comments
✕
How Tiger Woods ended dominance on the PGA Tour
  Got something to say? Leave a comment below!