Systems Analyst: How Drew Doughty found himself in position to tie Game 1
Richard Mackson / Action Images
Presented by

In looking at Wednesday's OT winner by Justin Williams, I didn't see a ton of teaching points to breakdown. The Kings were changing, the Rangers saw an opportunity to transition up ice and create a scoring chance...and they got a bad bounce at a bad time.
Maybe Ryan McDonagh should've been more cautious and hung back with Dan Girardi, but when one of a guy's strengths lies in creating offense from the back-end, it's hard to hold activating offensively against him. Benoit Pouliot probably coulda shoulda hung lower in support of Girardi, but it really did look like things were about to cleanly transition up-ice, so we'll give him a half-a-pass or so on that.
It was a bad bounce, and the Kings capitalized. Game over.
What WASN'T luck, was the goal that tied the game at two in the second period. That's the one that interests me.
There was a lot going on — Justin Williams made a great play, the Rangers largely defended well, Drew Doughty went And1 Mixtape Tour...there was a lot going on.
Lets dive in, shall we?
***
The play starts with Williams stretching up the far side, and Clifford doing what more and more players are doing these days. He fires him a pass in the air. It lowers the risk of it getting picked off, and as it's said, you can't give a good player a bad pass. Williams just catches it and sets it down, NBD.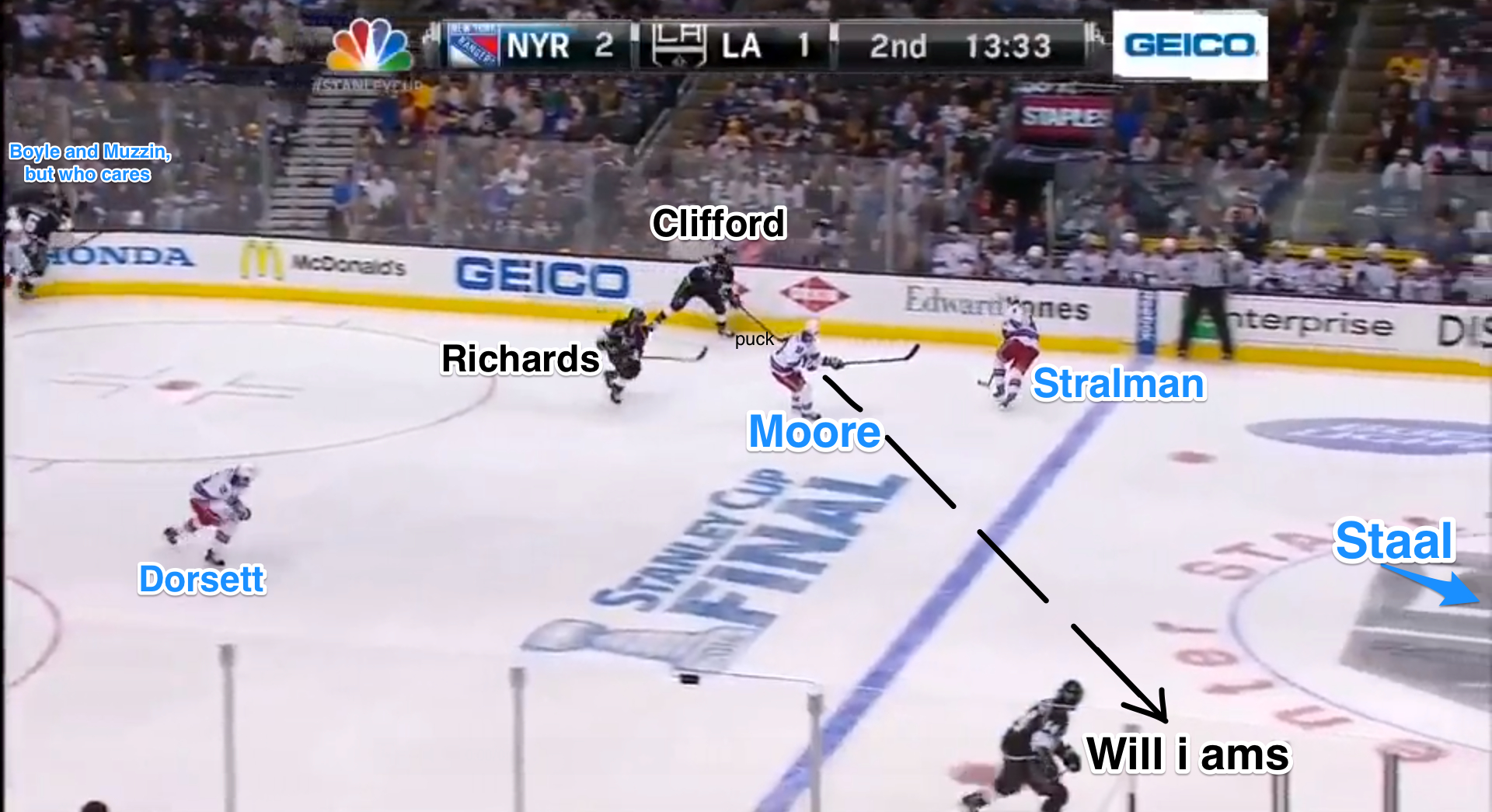 (I can't emphasize enough how much pro players today talk about this, how much coaches like it, and how easy it is. "Just shoot it at me, man." If you're athletic enough to play hockey at a high level, there's a good chance you can catch something going 50 miles per hour.)
ANYWAY, the pass puts Williams in a one-on-one with Marc Staal, who defends him reasonably well. He gives up the blueline, but as the last man back you can't be too aggressive, so that's fine. He angles him from the inside out, and pushes him to the boards.
Williams, having gained the blue and having run out of room, makes a really smart play, as Williams is wont to do — he escapes, and buys time for his teammates to catch up and offer him support.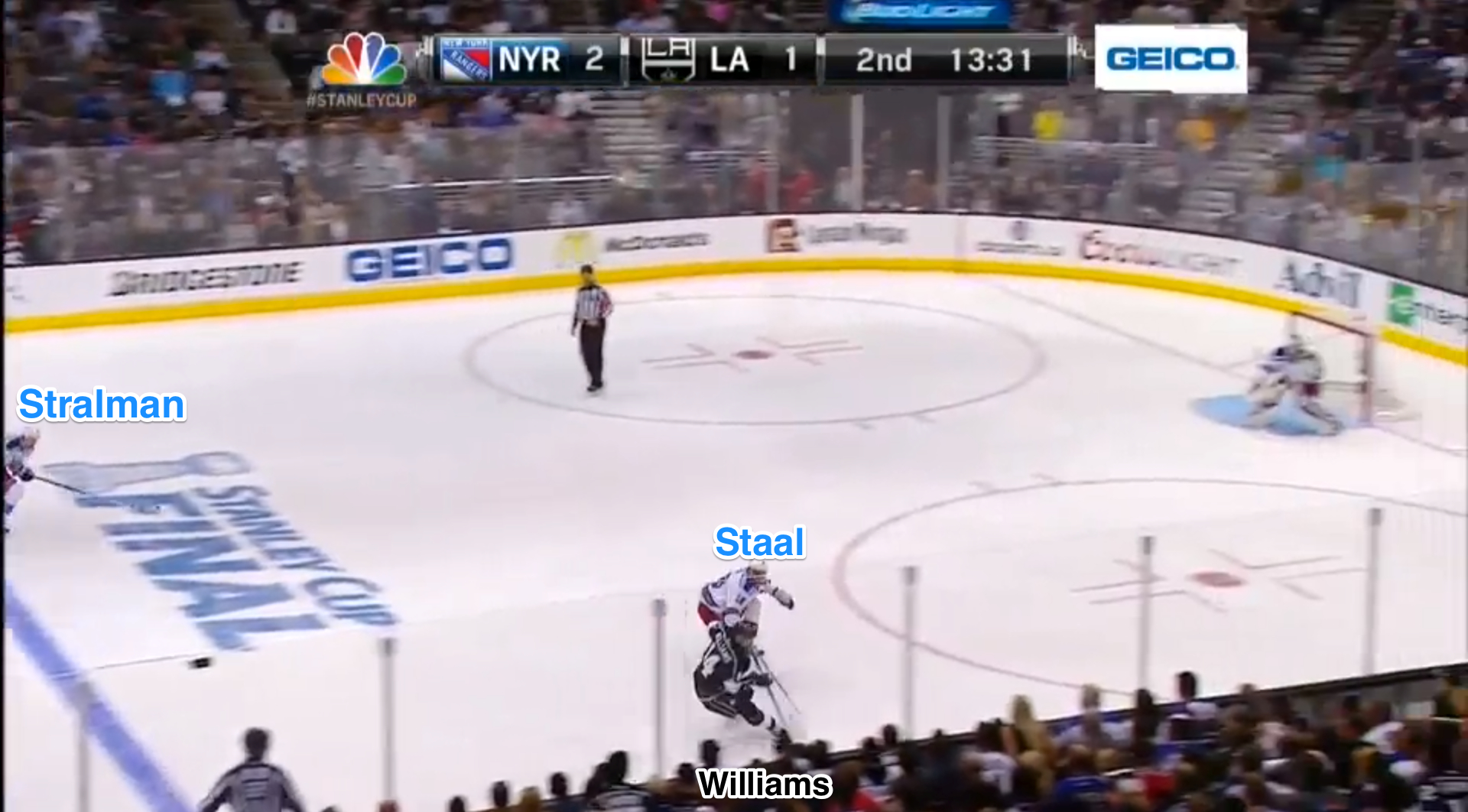 Here's why coaches run so many drills that involve back-checking: player identification is key. Who ya got? That has to be the first thing on your mind as you head back to your own zone. You obviously can't have your check ahead of you, and if he's behind, you better figure out if he's making an offensive push or sagging back. Are you defending a rush, or simply heading to your spot on the ice?
So off the delay, here's what we've got.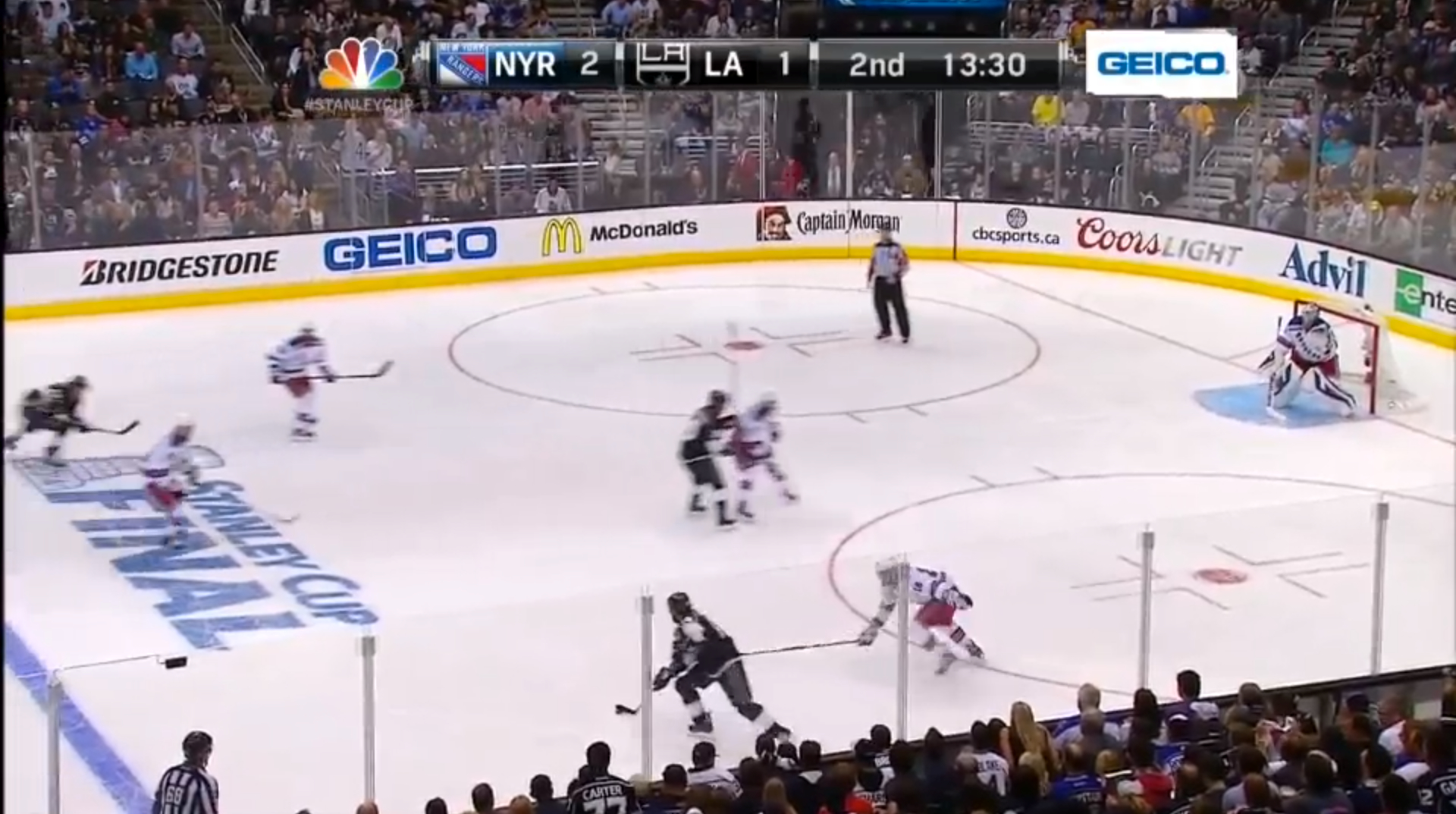 Looks a bit chaotic from that angle, let's try another.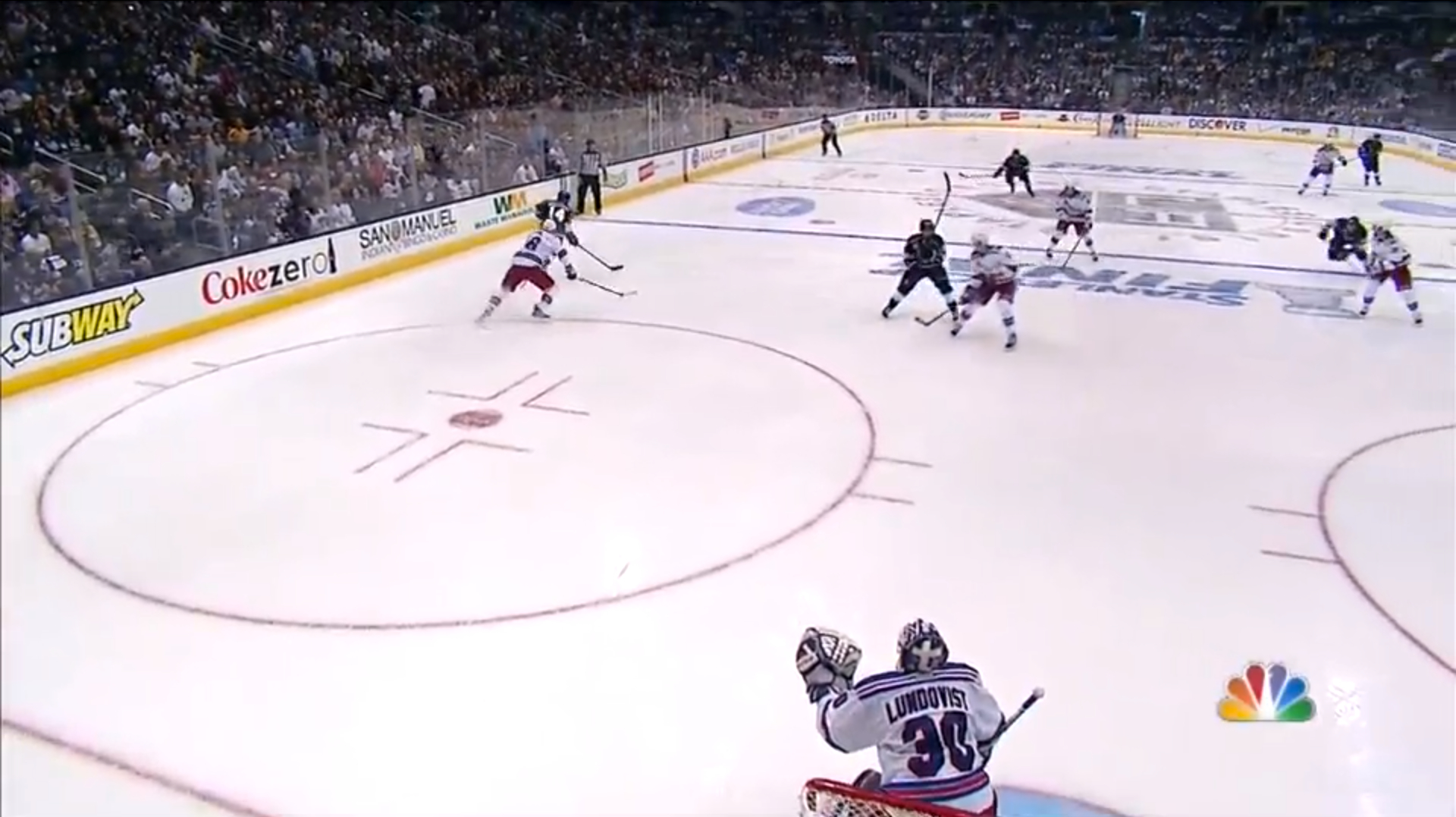 Clearer. You probably see what's obviously happening here - the Rangers are F, I, N, E, FINE. Guys have body position, guys seem to have paired off nicely.
Even clearer: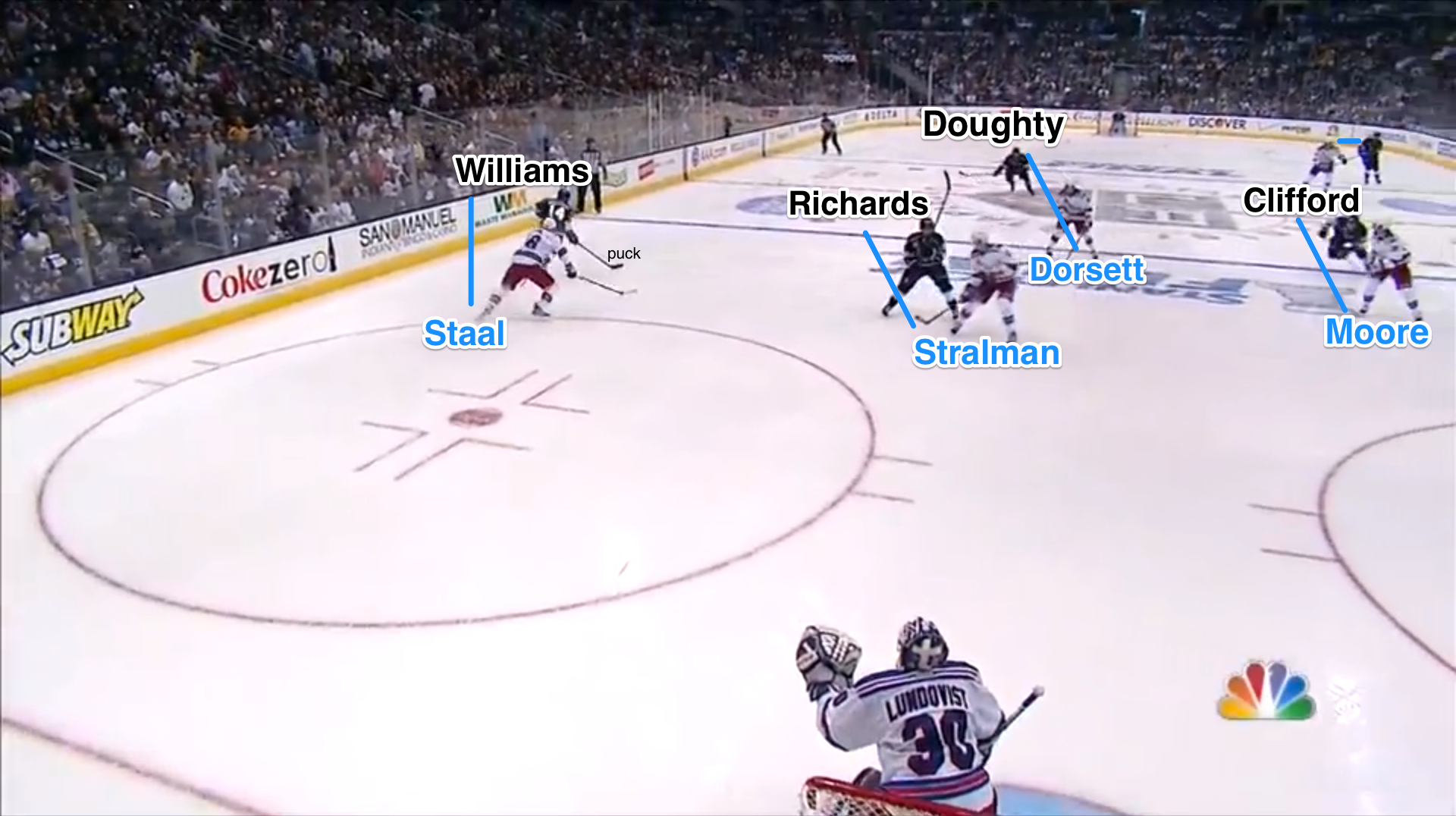 I included the first picture with the not-so-great angle because you can see where Derek Dorsett is looking - at the puck.
Oh, no no no. Don't look at the puck. Who ya got? Is your job the covered guy with the puck? You know it isn't. Don't do this, Derek.
If you look closely (you can click on all these pictures to embiggen, if you so desire) Doughty is starting to turn the neutral zone into raw material for snowcones. He's churning.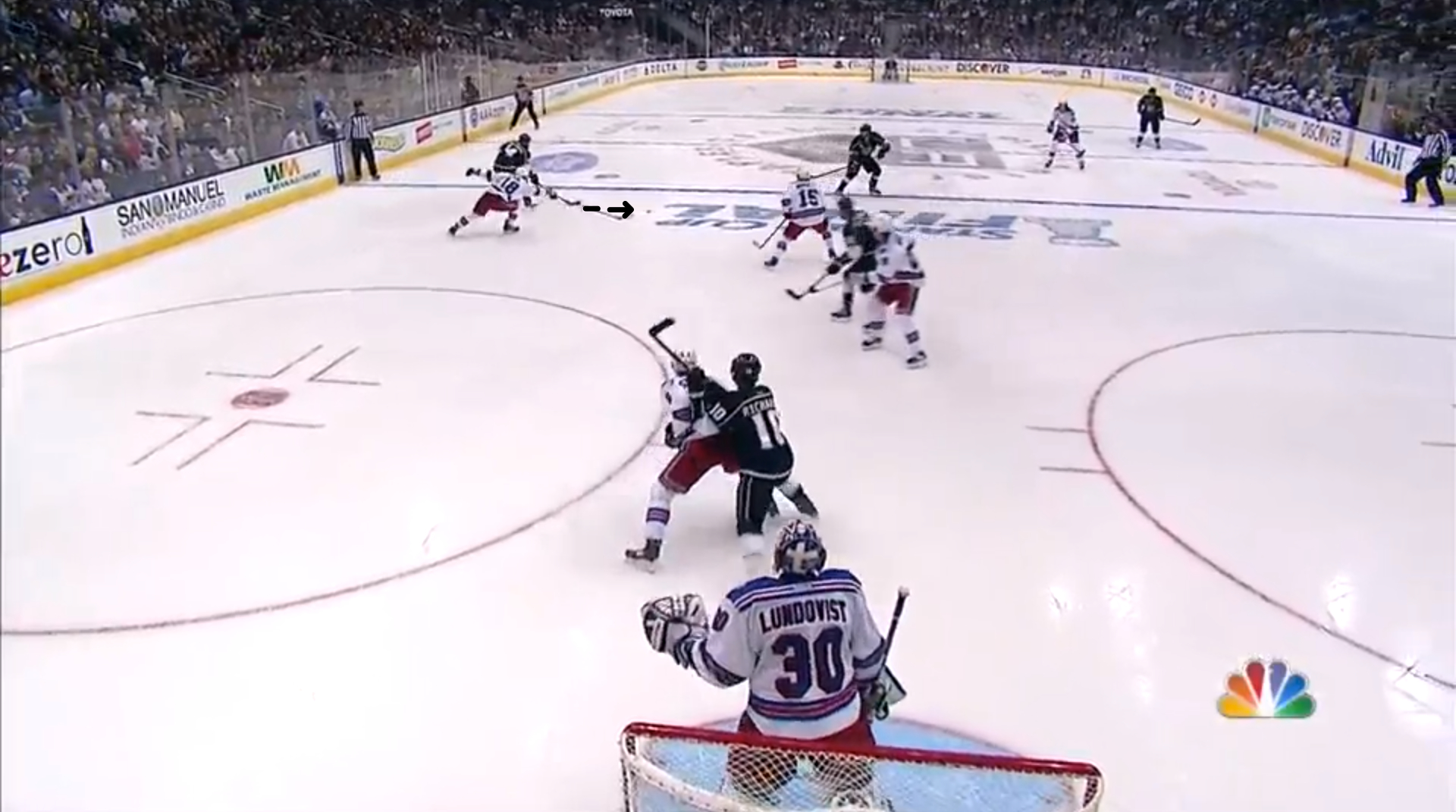 Every player on the Kings does something well offensively. Richards busts up-ice from his own zone and drives the net, which brings Stralman back with him and creates space high. Clifford moves the puck up the ice and heads to the net as well. Williams buys time to create a chance, makes a good read and pass, and finds himself high in case anything goes wrong. And, Doughty does what makes him special - he creates offense from the back.
Derek Dorsett finally does what he was supposed to do - he turns, and gets his skates pointed up-ice, and tries to find his guy … but it's already too late. Doughty has built up a head of steam.
The pass narrowly misses Dorsett's desperation poke, and Doughty's going to get a touch on it. He makes a slick play to pull it through his legs so he can pick it up on the other side.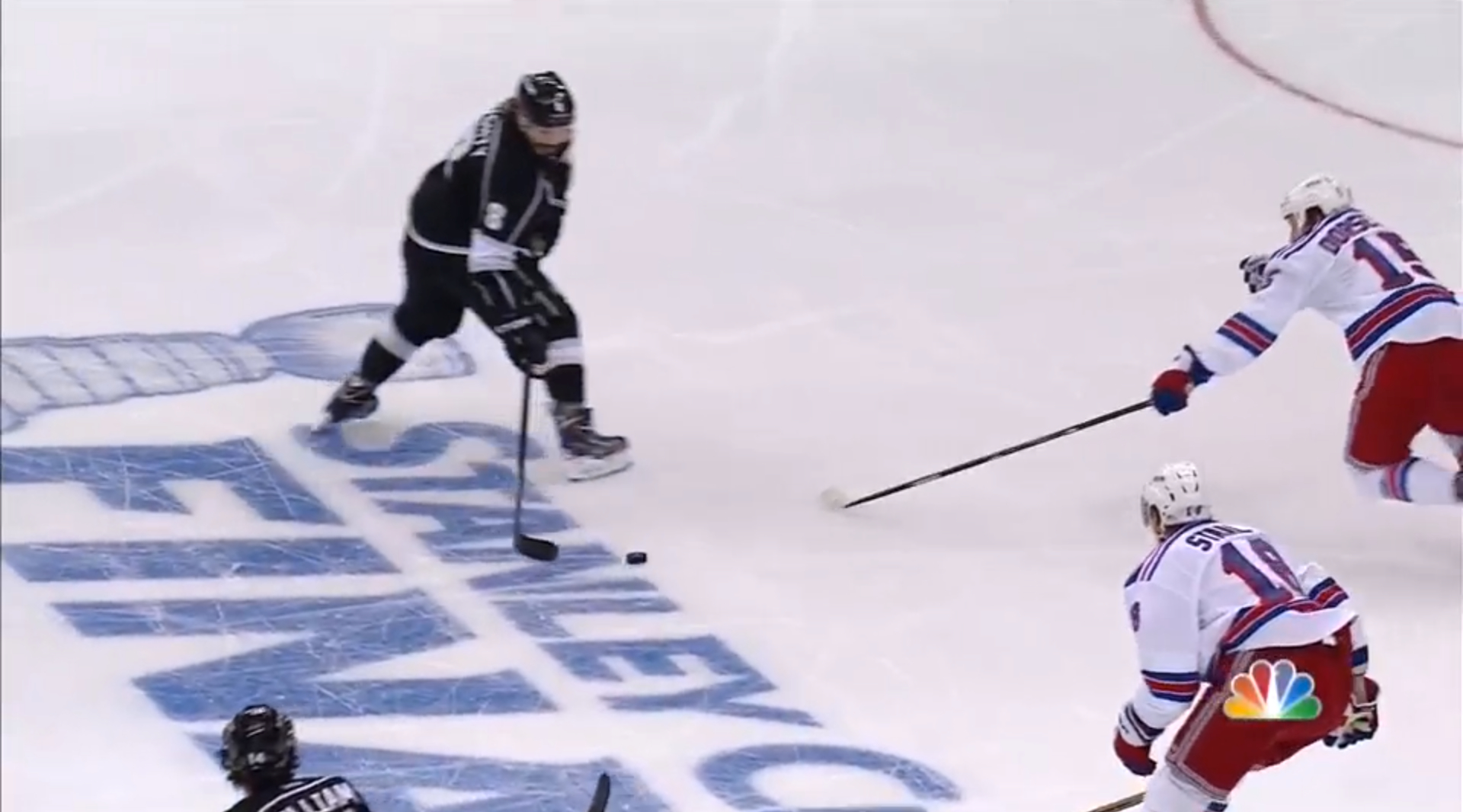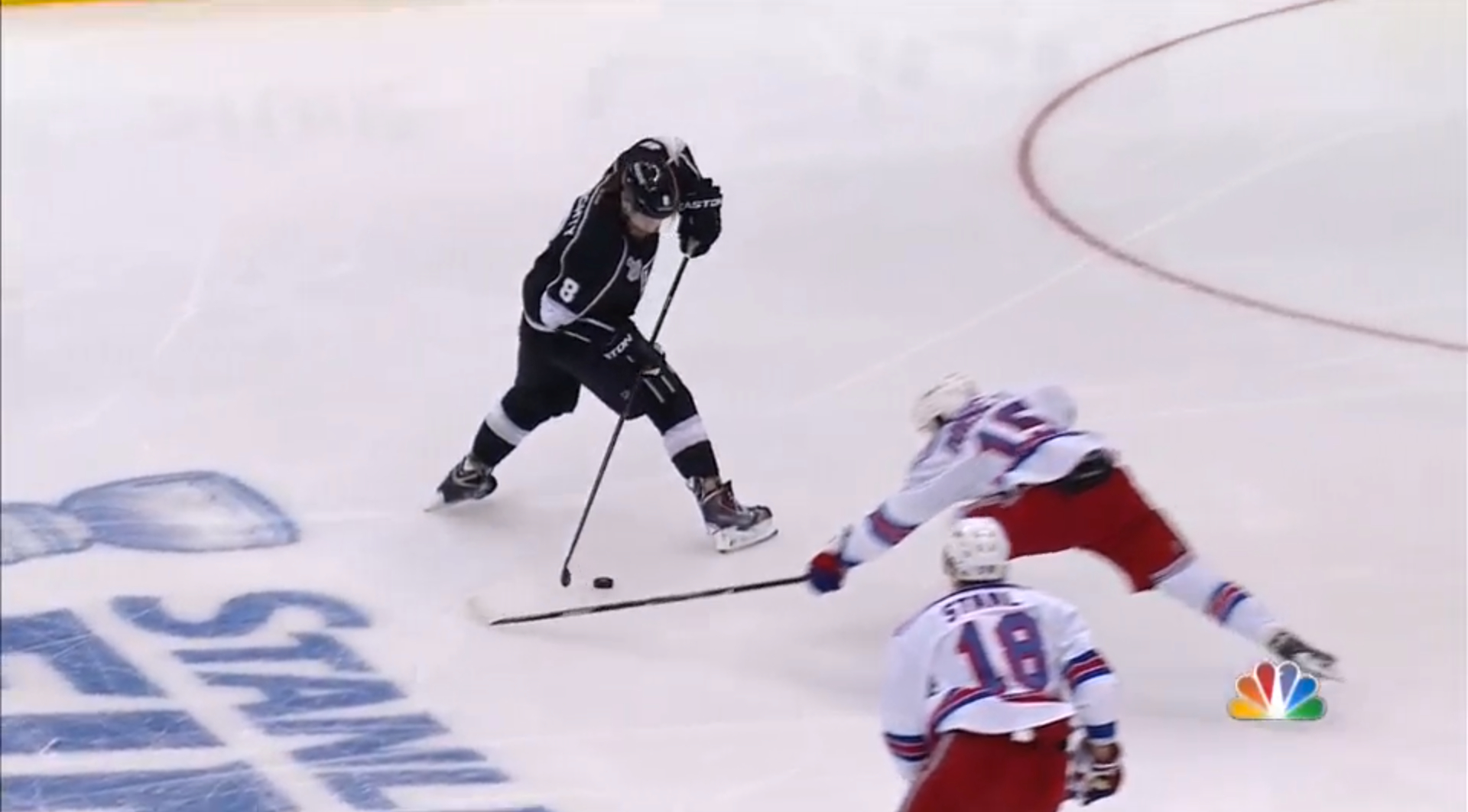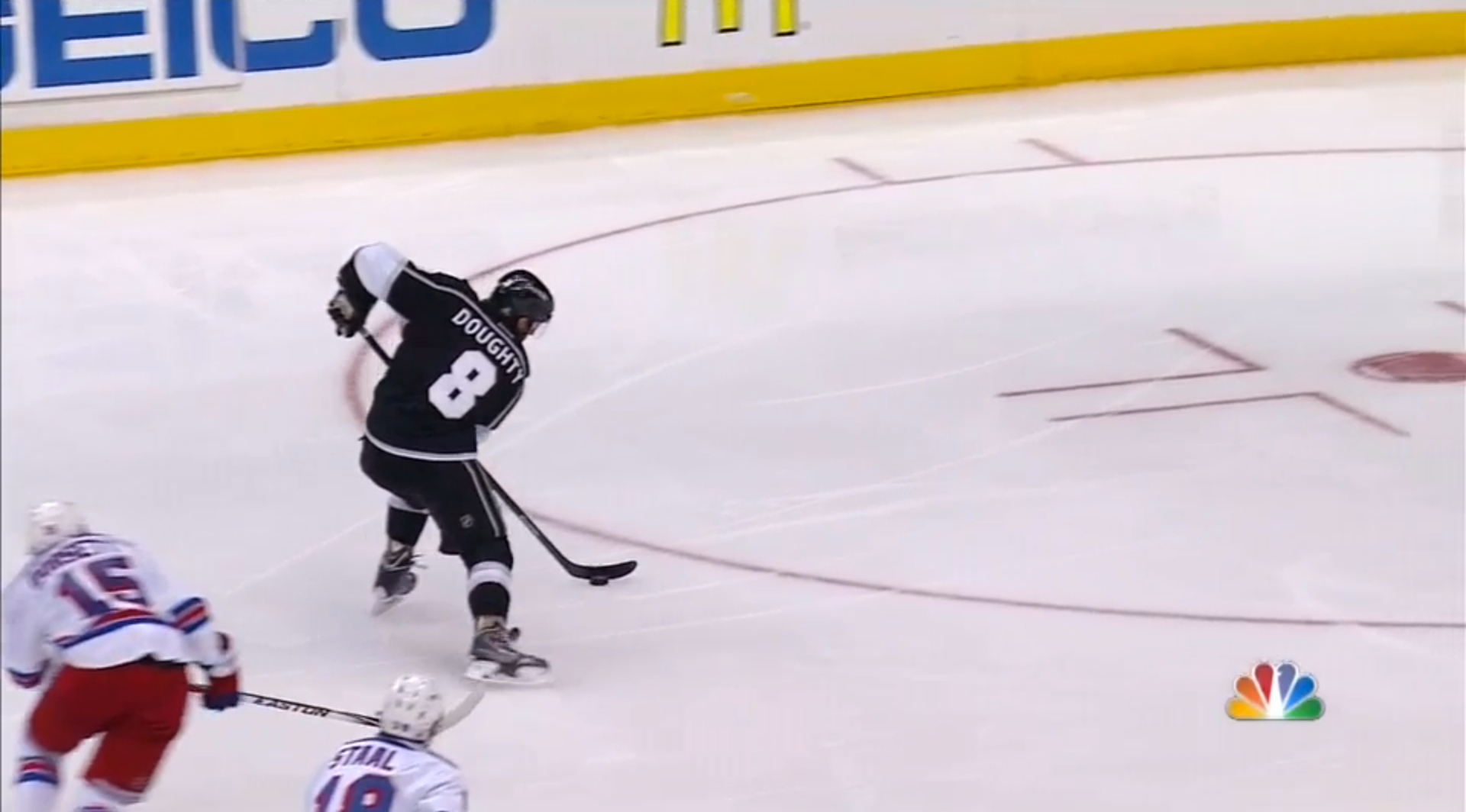 Buh-bye.
Three players defended well, one didn't do his job, and the whole thing went to pot.
From there, the two Kings forwards are tying up the attention of the two Rangers back (Moore and Stralman), and Doughty is going to get a shot.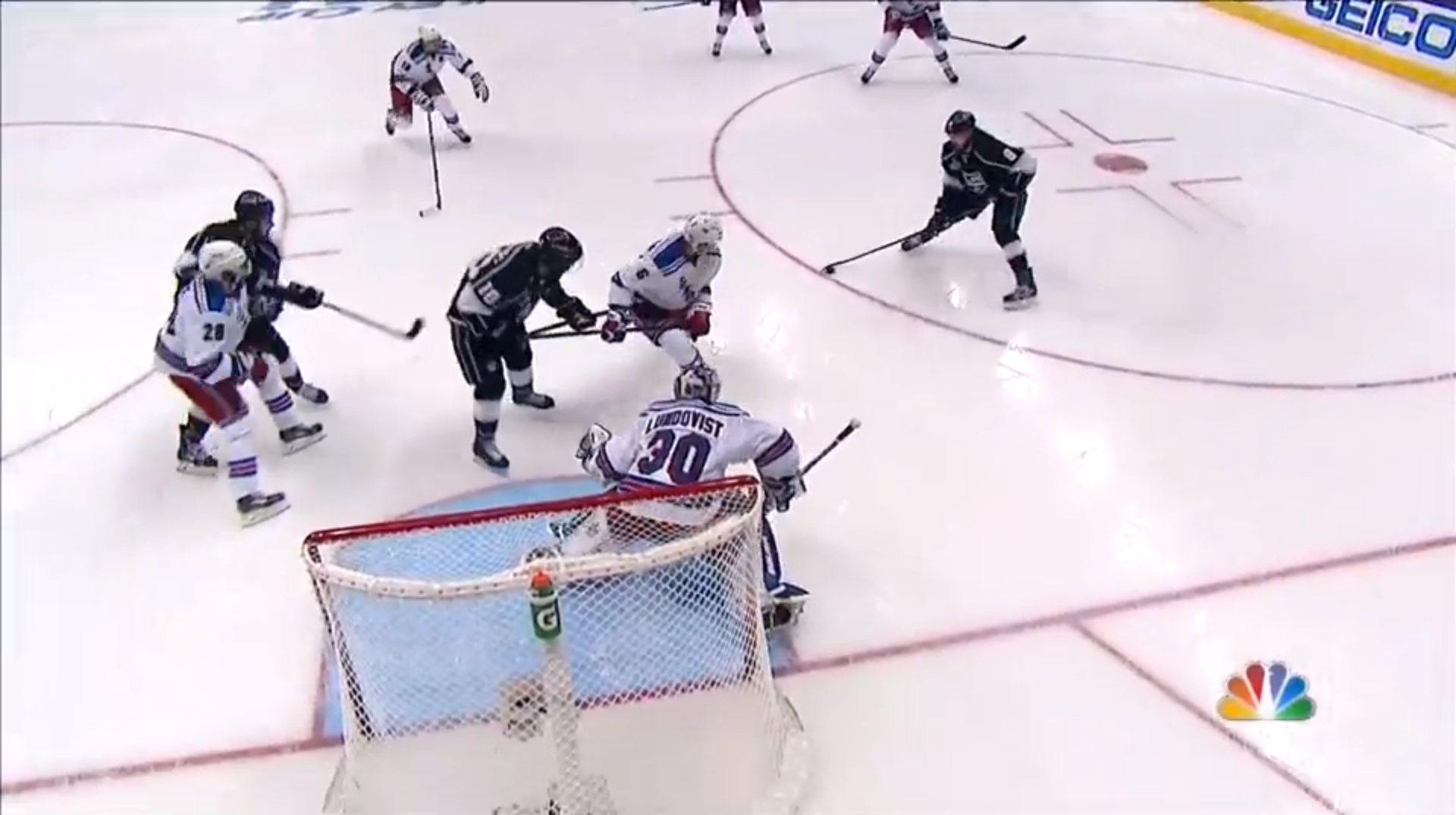 Lundqvist does everything perfectly, and in this guy's opinion, Doughty skates himself in too deep, particularly on a goalie who sits deeper in his crease. It forces Doughty to make a half-shot of sorts, like he doesn't really have anywhere to go, but just figures he'll shoot low blocker and hope. … Good call.
He just misses Lundqvist's chest…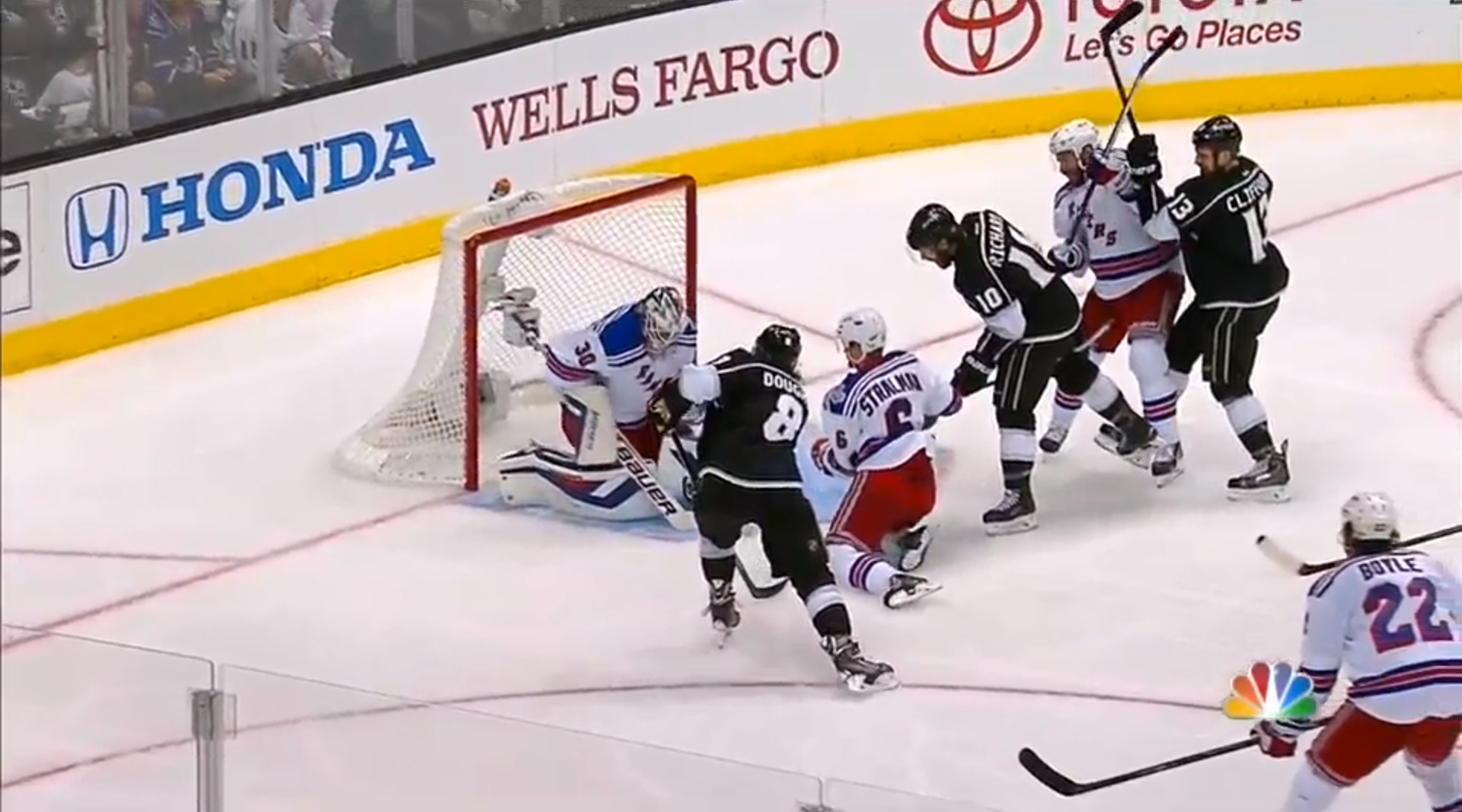 But hey, get enough shots from a spot like that and sometimes they'll squeak through odd places, like say, the ol' underarm seven hole.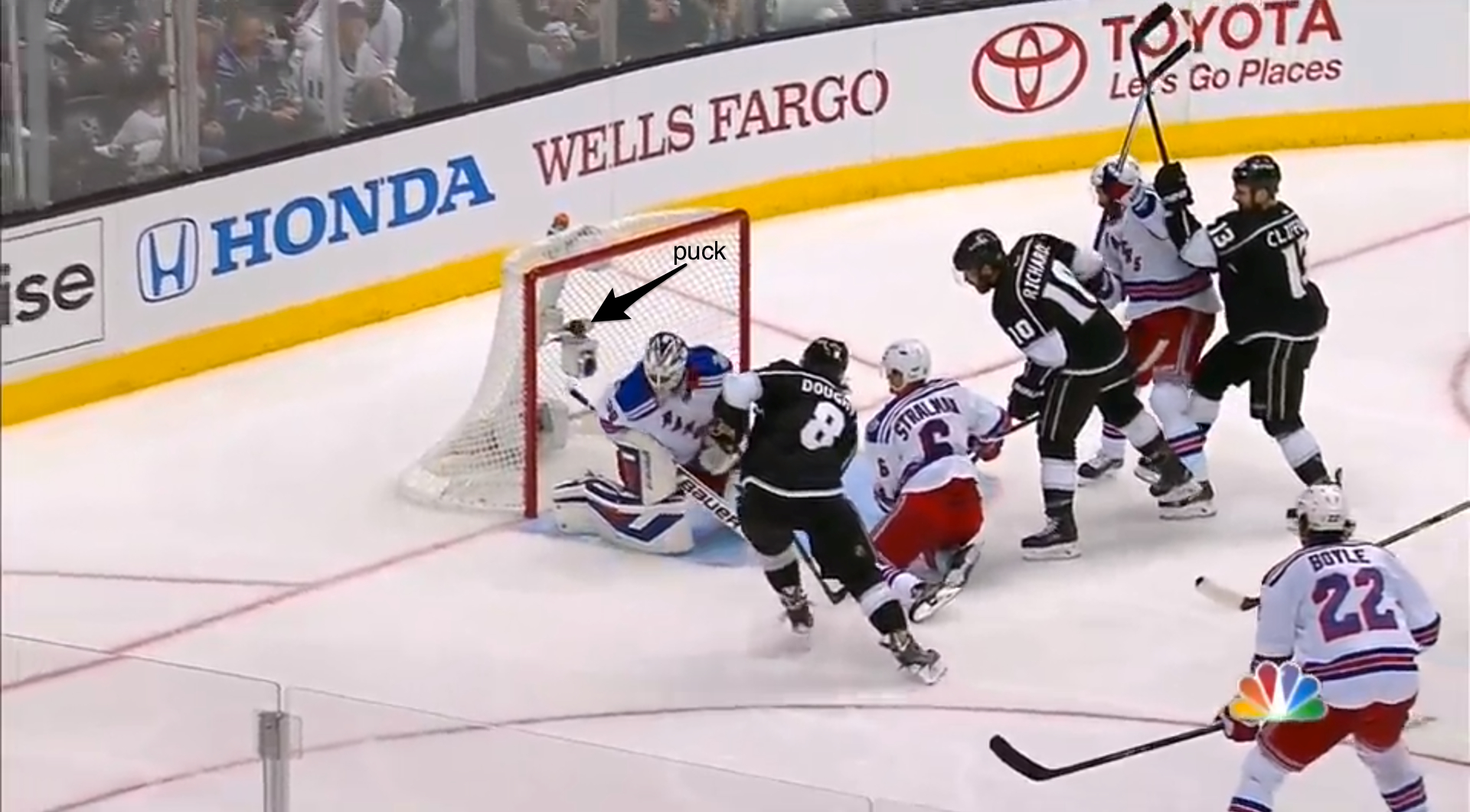 Doughty is an elite game-breaker that can make elite game-breaking plays. For as many NHL D-men who could pick up passes and pull them through their legs as he did, few have the confidence, let alone the permission from their coach to try.
If you're Derek Dorsett and you're the fourth player back into your d-zone, it's real, real easy to glance and find your guy - you'll immediately know whether you're going to be settling into D-zone winger mode, or if you're defending a rush.
He got sucked in by the siren song of the puck, and got roasted by a nice move because his puck-session left him flat-footed.
Doughty may have made a gaffe that cost the Kings a goal in the first period, but when you live and die by the sword, you can't put it back in your sheath after a play gone wrong.
Comments
✕
Systems Analyst: How Drew Doughty found himself in position to tie Game 1
  Got something to say? Leave a comment below!