St. Louis scores overtime winner in Game 4 as Rangers take 3-1 lead
Brad Penner-USA TODAY Sports
For the second straight game, the Montreal Canadiens and New York Rangers required overtime to settle an Eastern Conference final game. 
This time, however, the Rangers came out on top. The Canadiens largely controlled possession in overtime, but Martin St. Louis ended the festivities by firing a wrist shot past Dustin Tokarski to give New York a 3-1 series lead.
The two teams traded goals over the course of regulation - which ended with the score tied at two - with Carl Hagelin opening the scoring with the lone first period goal and P.K. Subban forcing overtime with a power-play marker early in the final frame. 
The Rangers held a 26-24 shot advantage after 60 minutes, while the teams were equal in unblocked shot attempts with 36 each.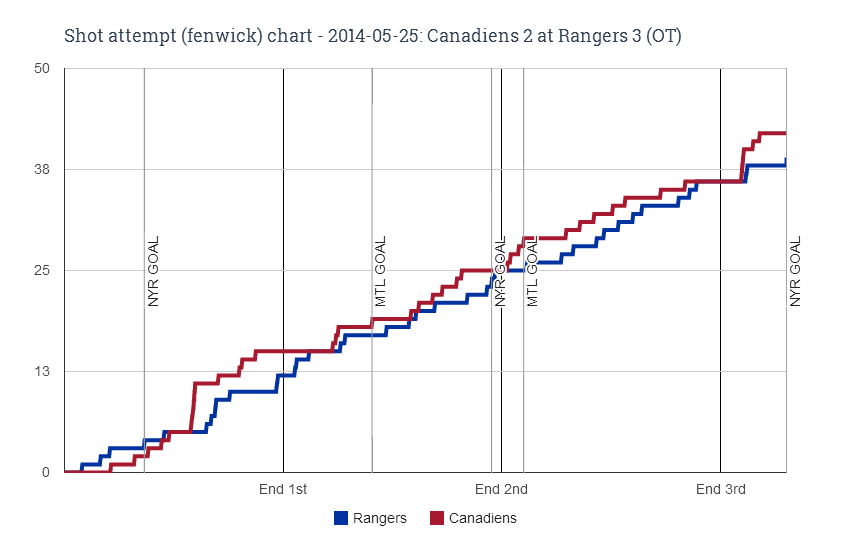 [Courtesy Extra Skater]
Star performer
St. Louis, overtime hero. 
The 38-year-old beat Dustin Tokarski at 6:02 of the extra frame and added an additional four shots on goal in the winning effort.
Honorable mention goes to Henrik Lundqvist, who made 27 saves for the win.
Turning point
Overtime almost wasn't required, but Lundqvist just got enough of this Alex Galchenyuk shot to redirect it to the crossbar, preserving the 2-2 tie.
Highlight reel
Tokarski stopped 26 of 29 shots in the win, and faced a number of breakaways along the way. 
Hagelin got the best of him on this opportunity in the first period.
[Courtesy NHL.com​]
The young goaltender, however, managed to thwart St. Louis earlier in the game with this flashy glove save.
[Courtesy NHL.com]
Quote of the night
Hagelin described St. Louis' game-winning goal in typical hockey player fashion.
Indeed.
Series Recap
Game 1: Rangers 7, Canadiens 2 (Rangers lead 1-0)
Game 2: Rangers 3, Canadiens 1 (Rangers lead 2-0)
Game 3: Canadiens 3, Rangers 2 (OT) (Rangers lead 2-1)
Game 4: Rangers 3, Canadiens 2 (OT) (Rangers lead 3-1)
Game 5*: Tuesday, May 27 - 8:00 p.m. ET
Game 6*: Thursday, May 29 - 8:00 p.m. ET
Game 7*: Saturday, May 31 - 8:00 p.m. ET
Comments
✕
St. Louis scores overtime winner in Game 4 as Rangers take 3-1 lead
  Got something to say? Leave a comment below!