Schultz: 10 breakout wide receivers to watch
Here are 10 receivers to keep tabs on heading into the season.
Christian Watson, Packers
Size, power, speed: Watson's the whole package. While we can expect a learning curve shifting from Aaron Rodgers to Jordan Love, I tend to think the former North Dakota State star will put together an even more prolific sophomore campaign. The beauty of Watson's game is versatility. Because of his 6-4, 208-pound frame, 4.36 speed, and 38.5-inch vertical, he can play the classic "X." But then we see the end-around game and the ability to manipulate his usage. I'd like to see even more of that, and I think we will. Love has a cannon, but his is a tall task taking over for one of the NFL's all-time greats. Expect a flurry of the short and intermediate games - especially early on next season - with Watson seeing upwards of 115 targets as a result. Here's a guy who scored seven touchdowns on 17 touches; he's that talented and efficient. In fact, Watson's eight trips to pay dirt over only four games tied the immortal Randy Moss for the NFL's all-time rookie record. One more note: I was fortunate enough to be on the same podcast panel as Watson during Super Bowl week in Phoenix and couldn't believe his sheer size; the man is a monster!
Jahan Dotson, Commanders
There's a helluva lot to like about Dotson, a 2022 first-round pick who amassed seven TDs in 12 games as a rookie. Already an advanced route-runner, Dotson's overall feel for the position makes him an enticing breakout candidate alongside Pro Bowler Terry McLaurin. Despite his youth, he possesses tremendous feel for the position - when to sit down in a zone, how to set up corners, how to sharply snap off a route. Then, there's the hands - those beautiful hands!
Of course, much of the onus will fall on first-year starter Sam Howell, but as Dotson told me, the former Tar Heel has the goods. I understand Carolina's a hoops school, but it's pretty impressive that Howell owns literally every significant record in program history.
George Pickens, Steelers
Pickens checks every box. What really stands out is his elusiveness and body control - a pair of assets coveted by all receivers, but often hard to come by. Pickens shouldn't be able to do what he does, in other words - not at 6-3, 200. Remember his video game-like catch against the Browns last season? Plus, I love the confidence in the young man. "Year two goals are Pro Bowl, and I feel like last year ... I got snubbed, because there wasn't a lot of guys in there at the Pro Bowl that excited me," Pickens told college2pro.com.
A big play waiting to happen, the 22-year-old averaged 15.4 yards per catch as a rookie, good enough for fifth in the AFC. Better yet, his 9.5 yards per target slotted him 13th in football. Perhaps most importantly, QBs Kenny Pickett and Mitchell Trubisky boasted a ridiculous 109.3 passer rating when they targeted the former Georgia Bulldog. With Pickett entering year two and now firmly entrenched as Pittsburgh's starter, expect this offense to finally open up, and for the silky-smooth Pickens to reap the benefits.
Kadarius Toney, Skyy Moore
Chiefs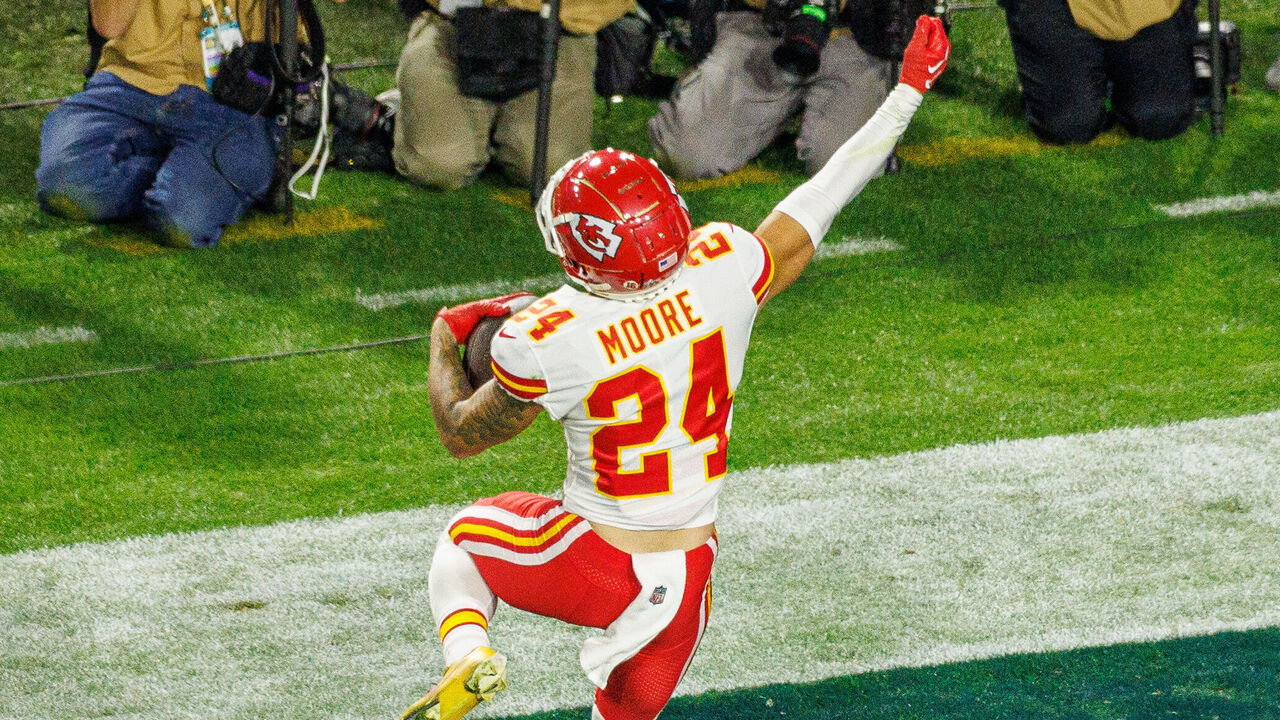 Two-for-one here. Both Toney and Moore made massive contributions during the Chiefs' 38-35 Super Bowl victory over Philly, showcasing their dynamic playmaking ability (Moore caught a TD and Toney flipped the game as a punt returner). The truth is, I loved Moore as a three-time All-MAC pick out of Western Michigan. He's the ideal weapon for Patrick Mahomes because of how easily you can move him around. He can play the slot, he can play outside, and he can line up in the backfield. And I can say the same for Toney, whose prowess at stopping on a dime can make even the league's best defenders look silly. With JuJu Smith-Schuster and Mecole Hardman Jr. departing in free agency, Kansas City would love for one of these young receivers to assume a larger role in 2023, and I believe both will.
Elijah Moore, Browns
Moore's getting a dramatic QB upgrade from Zach Wilson to Deshaun Watson, so expect big things from the third-year pro and former Jet. Flanking four-time Pro Bowler Amari Cooper, Moore's capacity to play inside and execute bubbles - plus his sensational short-area quickness - provide the Browns with a new skill set that I fully expect head coach Kevin Stefanski and offensive coordinator Alex Van Pelt to take advantage of. Candidly: I love the fit. Cleveland's a blue-collar town and the AFC North matches that ethos. Moore's a tough, rugged dude who plays bigger than he is. Simply put, his football mentality fits in perfectly here. As Watson looks to return to his Pro Bowl form of 2018-2020, the former Ole Miss receiver should have a terrific and immediate impact on the Dawg Pound.
Wan'Dale Robinson, Parris Campbell
Giants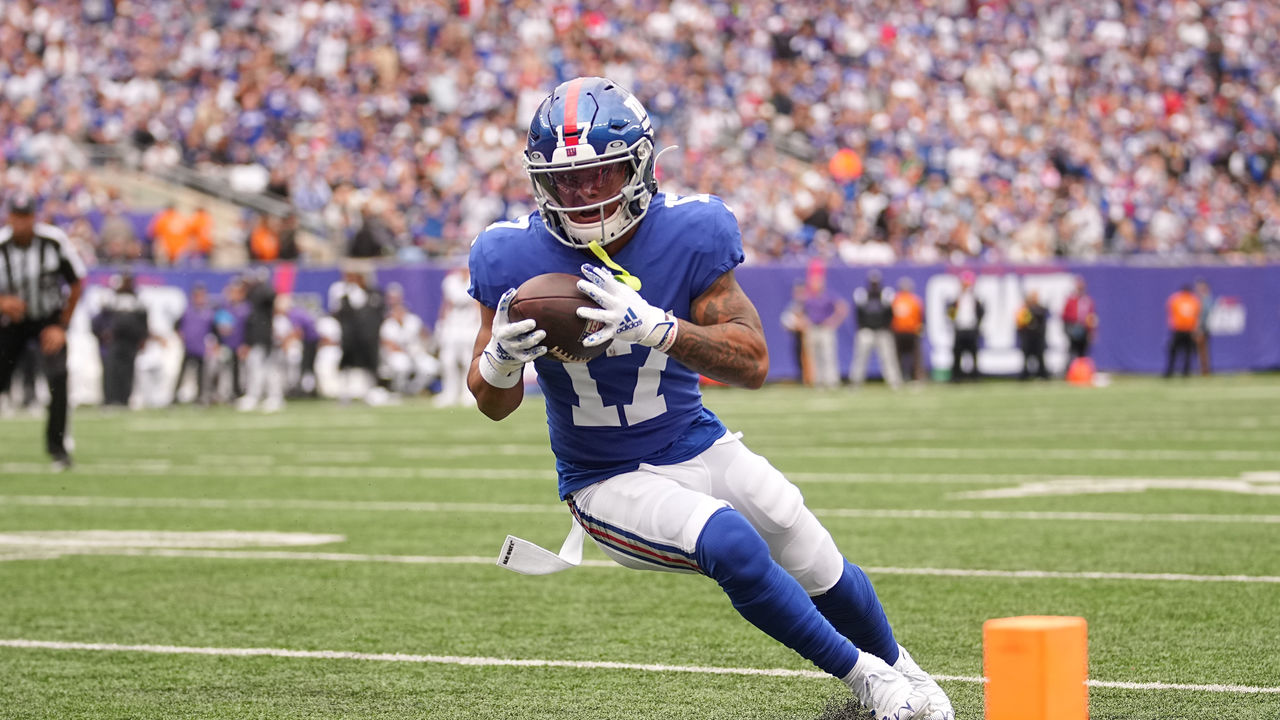 Lateral quickness is paramount for Robinson, who's coming off a torn ACL but is expected to be all systems go Week 1. We saw Robinson's arsenal on full display when he lit up Detroit for 100 yards on nine catches in Week 10 last year. What I love most about him is how tough he plays inside the hashes - you can't teach that. Nor can you teach his equally impressive football acumen, a la the aforementioned Dotson. I've been fortunate to spend time around Robinson and I can tell you he's very smart - he processes information on the field at a rate that contradicts his age and lack of experience. You get a special prospect when you combine Robinson's intelligence with his capacity to make defenders miss, a trait that will serve him well for Daniel Jones' quick, accurate release (along with the Giants' rapidly improving offense, as a whole).
Campbell, the former Buckeyes' star, was the perfect addition for Big Blue. He's a 4.3 guy with tons of untapped potential, and he's also young and motivated. Jones will love having him deployed on quick hitters - like drags, bubble screens, and slants - where few guys can make more out of nothing. Campbell's massive pre-snap movement threat causes defenses to become unbalanced, which will only help once he gets his touches on the perimeter.
Drake London, Falcons
London's a walking mismatch, and the towering 6-4, 213-pounder uses his basketball prowess - he was an All-State pick in high school who also suited up for the Trojans' basketball team - to post up helpless corners in the end zone. As London continues to develop a rapport with Desmond Ridder, we can assume he'll expand on what was a solid rookie year (72-866-4), which was even more impressive considering how much Atlanta loves to run the football. That's the staple of head coach Arthur Smith. In fact, with Ridder under center, the Falcons ran it a league-high 32 times per game. With the uber-talented Bijan Robinson now in the fold, expect more of the same, with London and Kyle Pitts dominating on play-action and seam routes as a result. If the final third of London's rookie year was any indication, the former top-10 pick and the first receiver drafted in 2022 is poised for a significant breakout in 2023; he racked up 428 receiving yards in Weeks 13-18, after all.
Treylon Burks, Titans
Burks is a rare breed in that he possesses lightning speed to go along with a stout and physical frame (6-2, 225 pounds) - not dissimilar from former Titan and current Eagles All-Pro A.J. Brown. I think we're going to see an unlocked version of Burks in his second season; the 18th overall pick in 2022 and former three-time All-SEC receiver out of Arkansas is reportedly in fantastic shape.
His gifts are so immense that Burks simply needs adequate QB play and opportunity (veteran Robert Woods was released) to highlight his attributes. Is that Ryan Tannehill? I don't know, to be totally honest. Will Levis is there now, as is Malik Willis. Burks, to his credit, inflicts a ton of damage on quick hitters, as well. I'd actually like to see him used even more in the backfield, because it's an easy way to get the football into his hands, and I think that'll happen under new OC Tim Kelly. Either way, Burks' robust talent commands touches, and in turn, commands your attention.
Jordan Schultz is theScore's NFL insider. Follow him on Twitter, Instagram, and TikTok.