John Herdman's way has lifted Canadian soccer to unprecedented heights
Getty Images / Photo illustration by theScore
The email was unexpected and mysterious; Karakostas' dad warned him it might be a scam. An in-person meeting dispelled that concern and Karakostas said he'd get the job done in weeks. He worked late nights in his shop to temper in oil, hand-sand, and sharpen the steel. He engraved "Qatar 2022" on the sword's handguard and a Latin mantra on the lightweight blade - "nihil timendum est": fear nothing.
Karakostas handed the sword to a contact of Herdman's one day last October, right before the manager and team flew to Mexico for a pivotal qualifying match. The Canadians carried it as they beat opponent after CONCACAF opponent, vaulting to the top of the region. It was seized at Costa Rican customs en route to a rare loss, but the sword was on site when Canada thumped Jamaica at home in March to end the country's 36-year World Cup wait.
Karakostas isn't a sports fan. But he celebrated the breakthrough - "Besides my daughter being born, it was the best day of my life," he said - and understood his creation's symbolic worth.
"No one fights with swords anymore. The athletes are pretty much the new-age warriors, besides soldiers, obviously. It's a battle for them. They're giving it their all," Karakostas said.
"If anything could give them an extra push, it's good to believe that my sword had even a small part in that - along with Herdman's coaching style."
Herdman, the Englishman who changed Canadian soccer, owned Olympic medals from the women's side of the game when he took command of the men's program four years ago. He promised that Canada would play in the World Cup, team history be damned, and followed through. His words are bold and his methods are inventive.
"Anybody who's going to have a sword made for a team to get them to this position that they're in, it's for one reason. It was obviously to hype them up," Karakostas said. "The sword is primal. It's going to unlock something in you. When you hold it, you feel different."
Soccer in Canada has looked different since Herdman arrived. He pointed the women's program toward Olympic glory and imbued the men's team with confidence and swagger, prerequisites to frustrating powerhouse opponents like Belgium and Croatia and conjuring offense when the World Cup kicks off.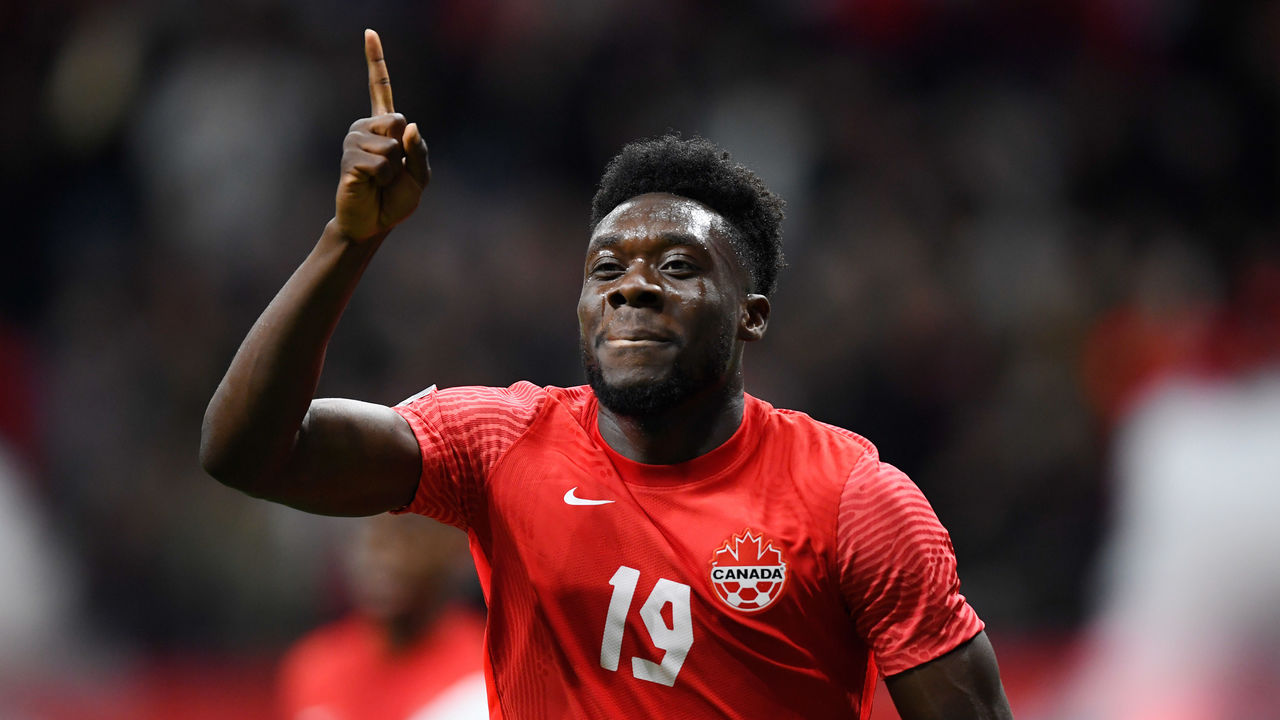 Canada boasts elite talent. Bayern Munich superstar Alphonso Davies bosses the ball wherever he's deployed on the pitch. Cyle Larin and Jonathan David, the pure finishers up front, combined to net 11 goals in the decisive qualifying round. Midfield sage Atiba Hutchinson is on track to earn his record 100th cap during the group stage. Born in southern Ontario but raised in Portugal, Porto playmaker Stephen Eustaquio committed to represent Canada after Herdman's hiring.
Their praise for Herdman is effusive. Davies said he'd run through a wall for him. Christine Sinclair, the women's captain and legendary striker, once called Herdman the best coach she's played for. Speaking to theScore the month that Canada qualified, Terry Dunfield, the OneSoccer broadcast analyst and retired Canada international, described him as a transformative leader who convinces teams "the impossible is possible."
"Nothing can get in this guy's way. He's so determined. Perfects everything down to the last detail. It's this persistence to keep going and get to the top. I haven't seen many people have this will to do the unthinkable," Canada midfielder Mark-Anthony Kaye told theScore in a recent interview.
"Alphonso's right: He makes you want to run through a wall because he ignites the passion inside yourself. He ignites the belief inside all of us. And because he comes across so confident and so sure of what we're capable of doing, it gives you so much power out on the field."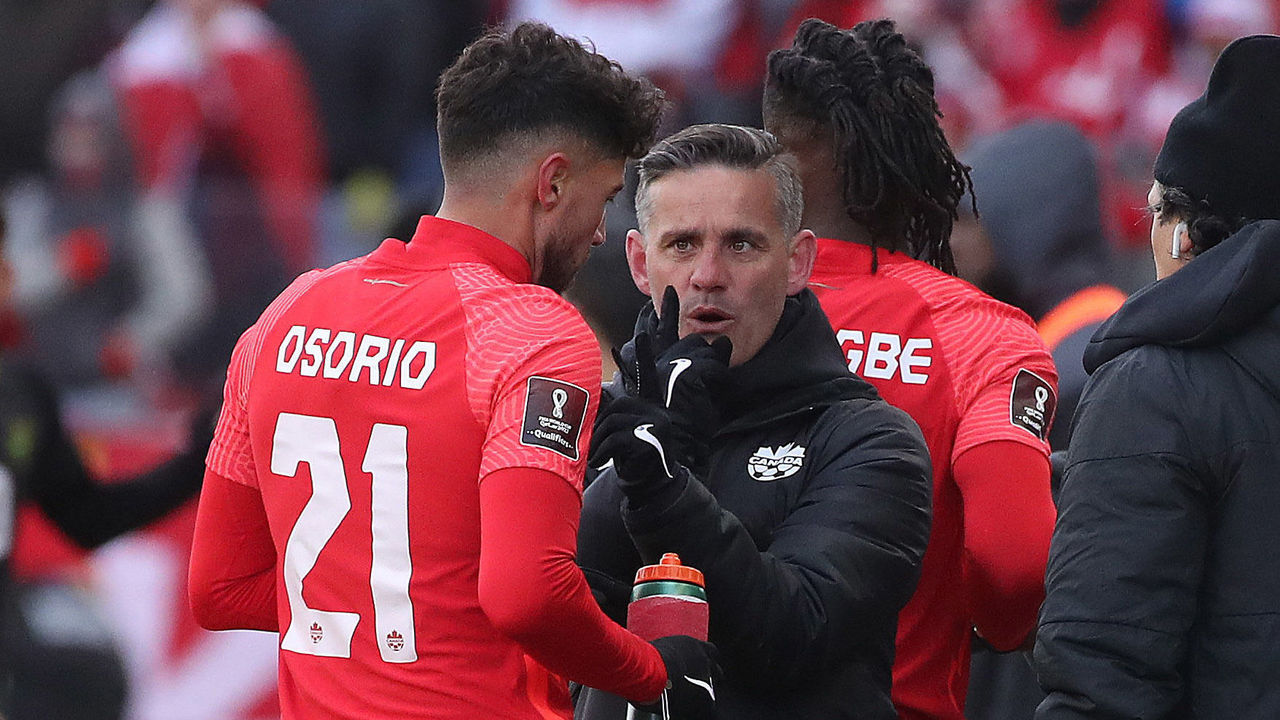 Herdman is 47 years old, stands 5-foot-6, and never played professionally, a rarity for a World Cup manager. Then again, no coach before him ever led teams to a women's and men's World Cup.
"He's constantly pushing the boundaries of what's to be expected from a football team or a football manager," Canada defender Alistair Johnston said. "I really think he can be an X-factor for us in the World Cup."
Here are some reasons to believe that's true.
He's a creative motivator. Herdman believes in visualizing a goal and speaking it into existence. He showed his players footage of the match in Newfoundland where Canada qualified for the 1986 World Cup. He got the Toronto Star to design a mock front page six months in advance that celebrated Canada's Qatar berth. Before different home qualifiers, he brought his team inside the Edmonton Oilers and Toronto Raptors dressing rooms, in the latter case to see the digs of the 2019 NBA champions.
"John tried to get us to understand: We have an opportunity to be a great team that can unite this country like the Raptors did," Kaye said. "John is always trying to make us understand what we're capable of doing."
He's a master storyteller. Retired Canada fullback Rhian Wilkinson is a polar exploration buff, which inspired one speech Herdman gave to the women's team. He told the story of Roald Amundsen, the Norwegian expeditioner who studied Inuit survival techniques and hired sled dogs to outrace Robert Falcon Scott to the South Pole in 1911. The lesson was that preparation begets success in any sort of quest.
"Straight away when he came in with the men, he created a story for them - a storyline about David and Goliath, probably," Wilkinson said. "No one expects anything from us, so we get to deliver everything."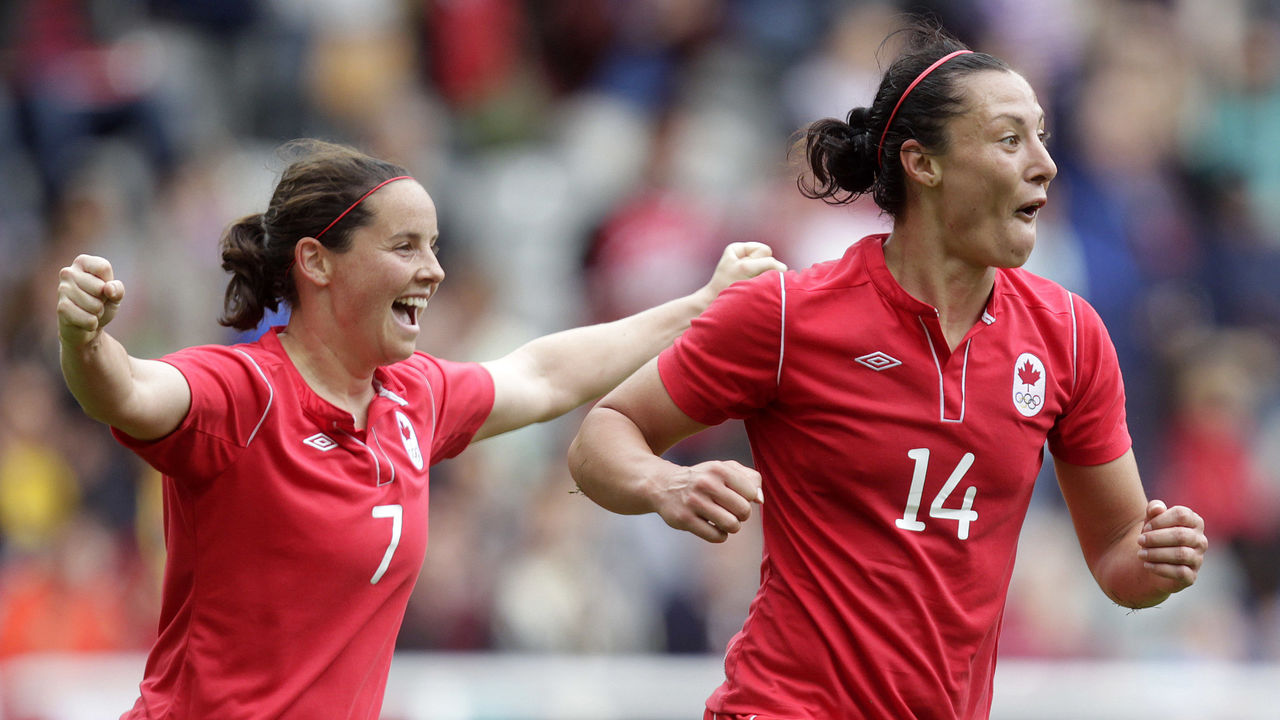 He's an astute tactician. The lineups that Herdman constructs around Davies, a world-class gamebreaker, are fast, physical, versatile, and resilient. The Canadians erased a deficit to tie Mexico at the hostile Estadio Azteca and wore down Mexico and the United States in wintry home settings. They adapt to the challenges that different matches pose. To Johnston, Herdman's open-mindedness makes that possible.
"We're doing things that not a lot of teams do in the world. We change formation midgame," Johnston said. "As soon as a minute changes, boom. All of a sudden, we're switching, and not a little switch where you're going to two strikers from one. We're fully switching from a back four to a back five."
He's infectiously energetic. Herdman modulates his intensity behind closed doors, Kaye said: He can be calm, but gets fiery when focus lags in training. He paces, bounces, gesticulates, and hollers on the sideline in games. Herdman "exudes passion," said Canada and Houston Dash midfielder Sophie Schmidt, who saw him coach the women's team for seven years as if he wished he were on the field, "right beside you, fighting with you."
"For such a little man, he has such a big voice. I mean that with all the respect and admiration," said Bex Smith, who captained New Zealand when Herdman managed that women's national team from 2006-11.
"For a time in the very beginning, we didn't have the tactics (to succeed as a team). The girls hadn't grown up being coached with clear tactics and different formations and what happens during the game," Smith said. "He would tell players where to move. He was really hands-on during games. And he imposed his presence onto the pitch."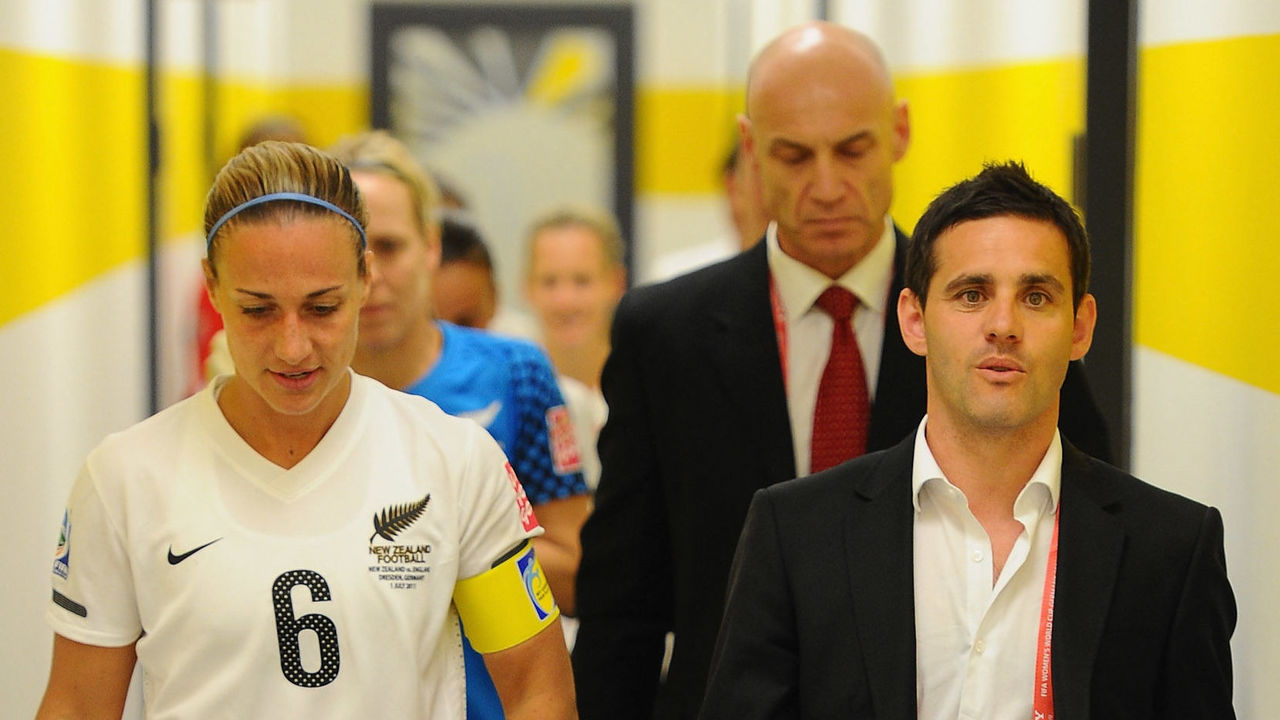 Players rave about Herdman's tirelessness behind the scenes. His Canada staff studies upcoming opponents in minute detail, tracking movement patterns on the pitch to pinpoint tendencies and find holes to exploit. Herdman, synthesizing the intel, brings the players up to speed during international windows.
"He knows exactly what needs to be done and knows exactly how to execute that plan to get all those things checked off," Johnston said. "It's difficult to get everyone on the same page coming from all over the world. He's a great man-manager in that aspect. He understands all of us really well."
He foresaw that the Canadian men could win, despite the lowlights that abounded between the 1986 World Cup appearance and Herdman's hiring. Defeats on away goals and in penalty kicks ended back-to-back qualification campaigns in the '90s. Destroyed 8-1 by Honduras to crash out of qualifying for 2014, Canada in the aftermath failed to score in nine straight friendlies or Gold Cup fixtures.
The program ranked No. 94 worldwide when Herdman became its 10th manager this century. That didn't deter him from pledging at a news conference in 2019 that Canada would reach Qatar.
The guarantee came true. Canada outscored CONCACAF minnows 31-1 in last year's early qualifying rounds, then surged to the semifinals of the 2021 Gold Cup, the program's best result in 14 years. When World Cup qualifying resumed, sights like Davies activating the jets to stupefy Panama signaled that the turnaround was complete.
Herdman introduced Karakostas' sword to his players before the draw at Mexico, where Jonathan Osorio, slipping between defenders at the 18-yard-line, took a pass from Davies and buried Canada's first goal in the Azteca in four decades. The symbol worked as intended.
"It was his way of symbolizing to us what we have in our arsenal," Kaye said. "Listen, guys: It's not about defending yourself anymore. It's about going out there and dominating and attacking other teams."
Herdman was born in 1975 in Consett, a few towns over from Newcastle and Sunderland in the north of England. His steelworker grandfather boxed professionally and, when the local mill closed, protested for Margaret Thatcher's ouster as prime minister, The Globe and Mail once wrote. Herdman lived in public housing, supported Newcastle United, and played central midfield before he started coaching youth teams.
He dreamed of leaving Consett. Unemployment spiked there when the steelworks closed. Herdman's parents divorced and his father struggled with severe mental illness. Herdman fought a lot, often by the taxi stand outside pubs on Friday nights, The Athletic once reported.
"I've never had anything handed to me … I've had to fight for everything, every opportunity, and you had to fight to keep it," Herdman told ESPN earlier this year, describing how his upbringing shaped his managerial approach.
"That fight is something I tried to manifest in the environments you work in. It starts with that. There's a human will to go on and get somewhere better."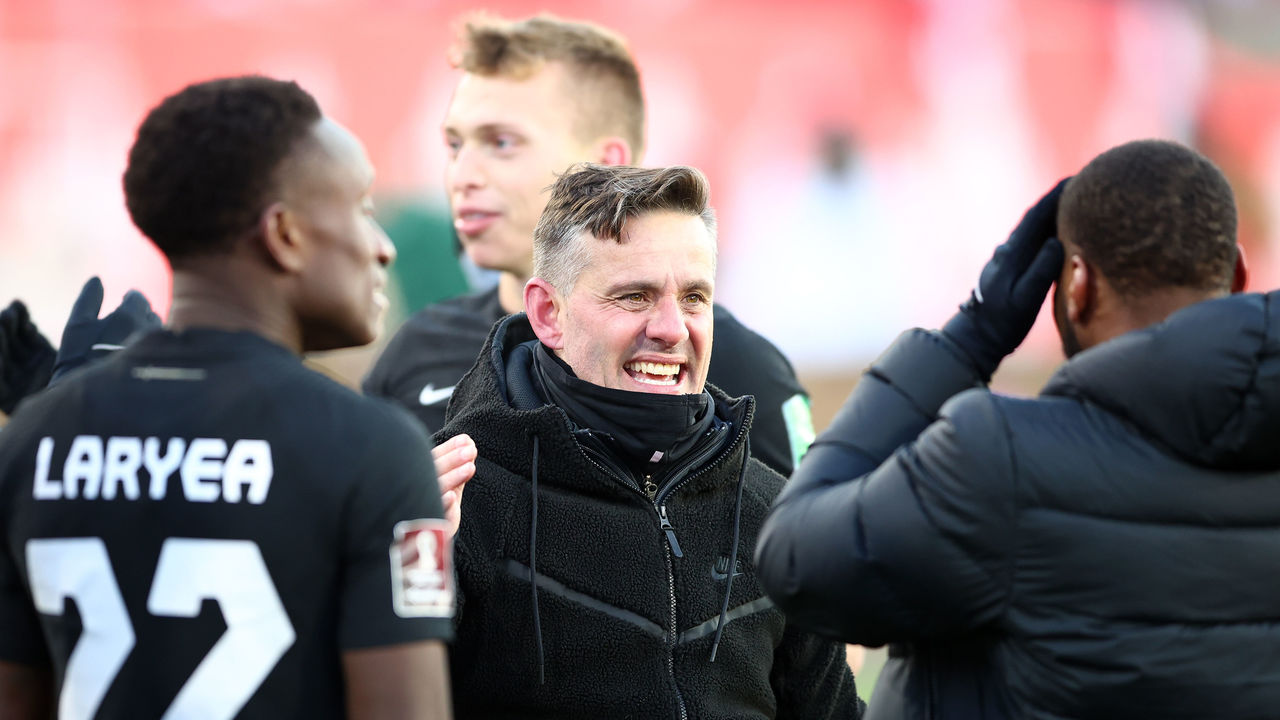 Rejected from the British military in his youth, Herdman got a sports science degree, taught phys ed in his hometown, and ran futsal training sessions in the evening. When Sunderland brought him aboard as a development coach, he'd sometimes jog from the academy to his day job as a Northumbria University sports science lecturer.
Herdman's Northumbria boss moved to New Zealand and helped bridge his transition to that national federation. The playing inexperience that marred his resume in England - Herdman peaked with Prudhoe Town in the 10th-tier Northern League - no longer cost him coaching opportunities. He rose in five years from a gig in regional soccer development to manager of the Football Ferns.
New Zealand hadn't qualified for three straight Women's World Cups when Herdman took charge of a disheartened squad. Smith said he professionalized the program, locking in the funding, the psychological support, and the challenging friendlies needed to raise the performance ceiling. He led the Ferns to the 2007 and 2011 World Cups, mustering one draw from six group-stage matches but convincing the players they could captivate a rugby nation.
"It was kind of a clean slate. We didn't have anything good at the time (Herdman was hired) going for us, except we had some great players," Smith said.
"Was it an environment that he could take and mold and shape it to his own culture, strategy, investment, and long-term plan? I think that must be exciting for someone like John, who's a big thinker. He wants that responsibility."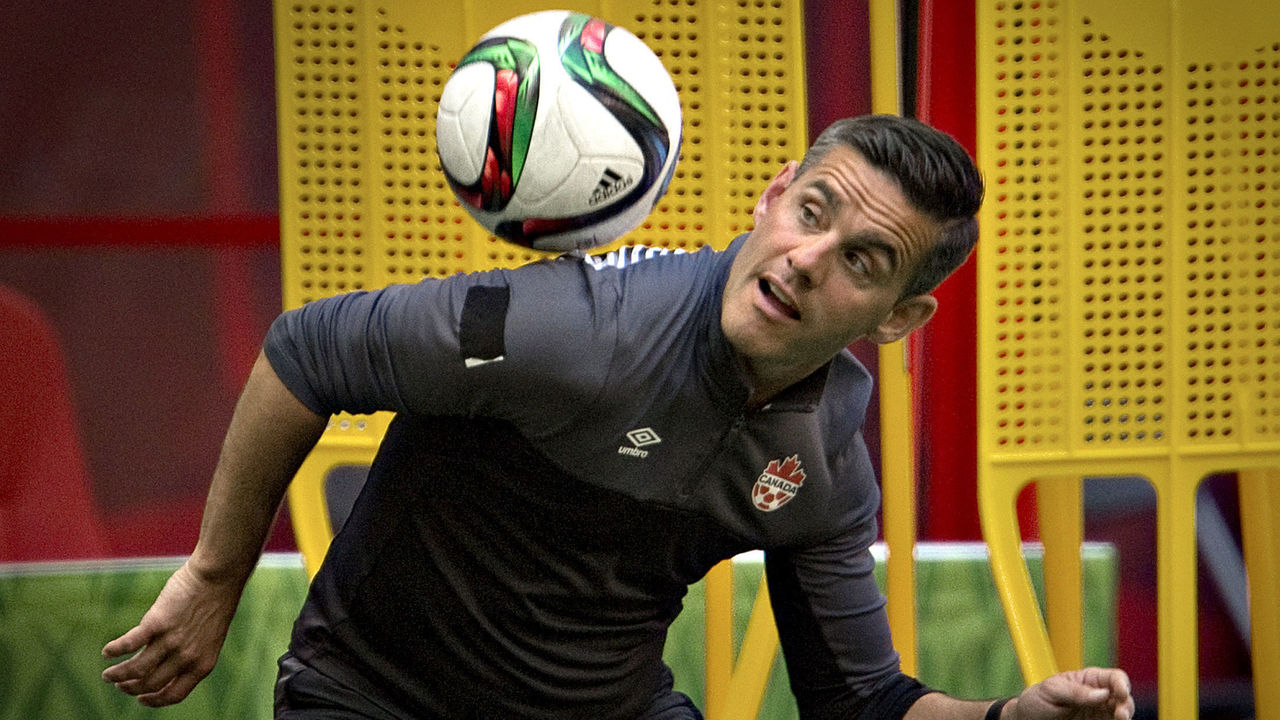 Herdman's record on the field improved when Canada tapped him as manager late in 2011. The women won Olympic bronze at London 2012, a national first, and placed third again at Rio in 2016. Players rallied behind his vision for the national team: play for each other, win, and inspire the next generation.
"His greatest strength is that he's a unifier. People say he's a motivator. He is a motivator, but you can only motivate when people believe you," said Wilkinson, the retired defender who just won a National Women's Soccer League title as Portland Thorns coach.
"He creates a culture and a strength of unity that means technical and tactical areas are secondary to wanting to do everything for your teammate."
Canada needed that spark. Medaling in London demanded that the program rebound from its "all-time low," as Schmidt puts it - cratering out of the 2011 World Cup group stage with three defeats. Herdman inherited a broken, unsupportive group that didn't hold itself accountable, Wilkinson said: "We were perennial underachievers, and I think he took away excuses."
He gave them energy and purpose, then deferred in London to Sinclair, who reminded the Canadians as they processed their scandalous semifinal loss to the U.S. that a medal was still attainable. France pinged the crossbar and post in the third-place match, had another strike cleared off the line, and held Canada to one shot on target, but Diana Matheson finished that chance to break a scoreless deadlock in the 92nd minute.
"We never quit on one another. We kept in the fight," Wilkinson said. "It wasn't talent that won. It wasn't a completely different team from '11 to '12. It was this belief, that what-if. Why would you stay in a game when you're outplayed like that? What are you fighting for? That's what he mines down to the very core of you."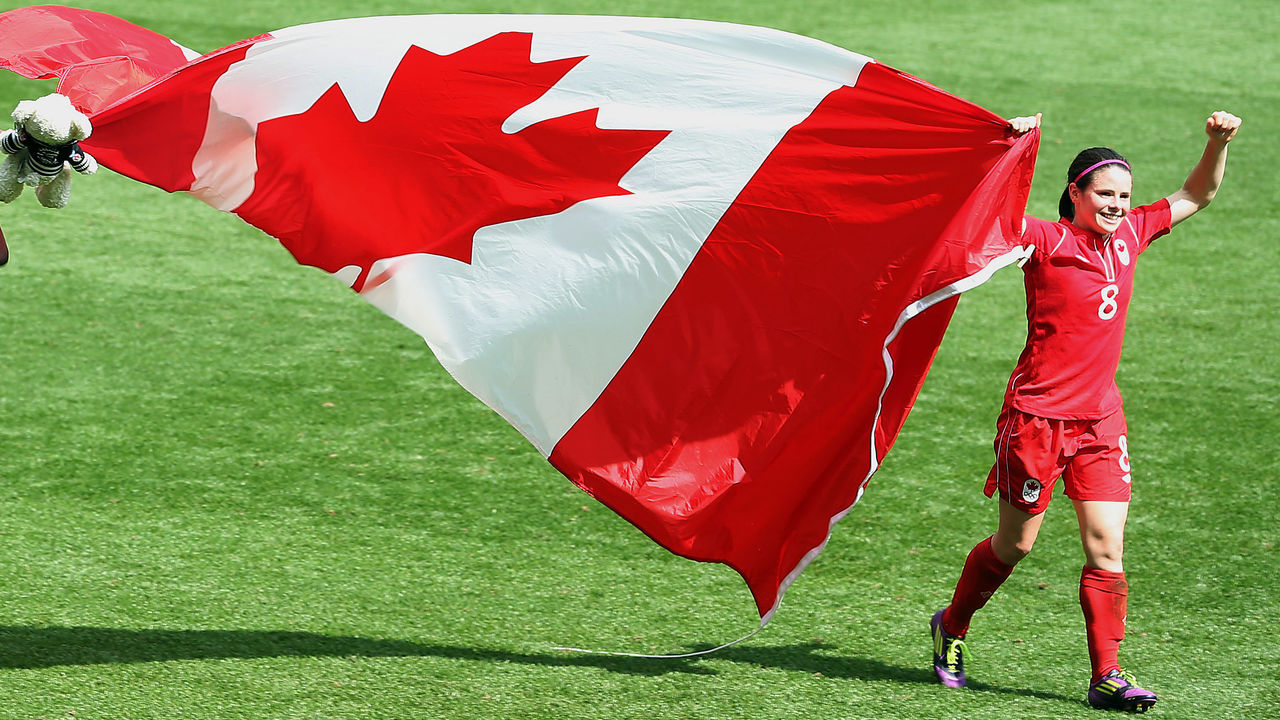 New Zealand celebrated a milestone with Herdman at the helm in 2011. Trailing Mexico 2-0 as time waned in the group stage, Smith and striker Hannah Wilkinson scored minutes apart in stoppage time to salvage the country's first World Cup point. The comeback saved Herdman's career, he once opined to The Canadian Press.
The Canadian women under Herdman elevated soccer in the country while the men flailed. The bronze medals they won together led to greater feats. Bev Priestman, a Consett native who used to go to Herdman's futsal sessions, per The Guardian, managed the team that blanked the U.S. last year in the Tokyo Olympic semifinal and rallied from a goal down in penalty kicks to beat Sweden for gold.
Schmidt received her third Olympic medal that night. Later, she linked up with Sinclair to phone Herdman from the athletes' village.
"As players, we felt like we were in the driver's seat with John. He had an incredible ability to get people to come on board for the vision that he had for the team," Schmidt said.
"We reached out (in Tokyo) and said, 'You're a part of this.' He started this journey with us. It was kind of a thank you. He played a huge role in the success of the women's program. Everyone has, but he changed the trajectory."
One afternoon in the years between the London and Rio Olympics, Herdman paced on stage in business attire to express tenets of his coaching philosophy. Delivering a TED Talk in Vancouver gave him a platform to define sports greatness: it's when a team pushes itself to perform to full potential. He said he doesn't motivate with the carrot or the stick, like most managers default to doing, but by kindling the fire inside each of his players.
"They don't need anything else," Herdman told his audience. "They know they're in charge of their destiny."
Herdman shared insight about the women's team's crash to rock bottom and rapid rise. Flopping on the world stage in 2011 traumatized the group, he remarked; everyone's instinct was to blame others. In the first meeting he ran as manager, Herdman challenged the players to peer inward and embody their national anthem.
"You Canadians sing about being glorious and free," Herdman said he told the team. "That tells me you're free every day to choose glory."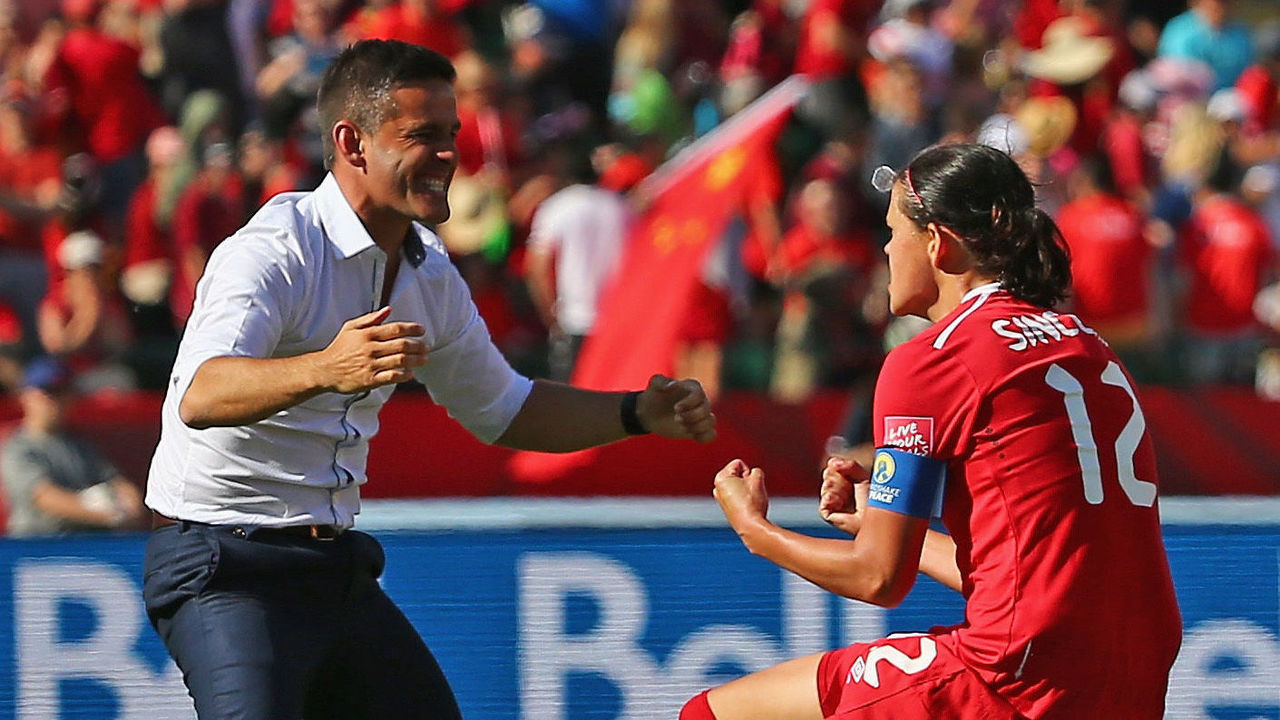 The speech reflected what Herdman understood about Canadian soccer from the outset. He knew the history, Kaye said, which meant he saw the opportunity "to create unbelievable change." Osorio, the Brampton-raised midfielder whose parents emigrated from Colombia, said Herdman harnesses Canadian diversity when he builds his squads, stocking them with players whose varied styles and strengths coalesce.
"Being from the northeast of England, it's not glitz and glamor. It's not London. It's working-class people. Shipyards. Stuff like that up in Newcastle. I think he can resonate with what the Canadian ideals are," Johnston said. "What we are is an unbelievable blend of cultures and backgrounds that come together to make this beautiful mosaic of a country. It's filled with hardworking, smart people who are honest. They don't take anything for granted.
"I think he buys into that. You can see it out there on the field. We have players from all over the world, all different parts of Canada, all different upbringings, all working toward the same common goal and all completely bought in."
On stage at his TED Talk, Herdman reminisced about flying from New Zealand to Canada in 2011, when he had hours in the air to dread what awaited him. He was going to coach Sinclair, "the Michael Jordan of women's soccer," and felt unnerved and vulnerable, knowing he might fail.
Life uprooted, aware he couldn't turn back, he said the plane ride was "a massive 'oh, shit' moment."
"When was your last one?" Herdman asked his audience. "Are you having one? Are you going to have one? Are you planning one? Because that's where the magic really does happen."
Canada has one scheduled. Wednesday is when the men face Belgium, the world's No. 2 team, in their Group F opener. Reigning World Cup finalist Croatia is the next opponent. The knockout stage could beckon if Canada draws one of those games and beats Morocco in the group-stage finale.
That's easier said than done. Canada is an underdog in Group F by all measures - FIFA ranking, World Cup track record, name recognition. The group's best players star for juggernaut English or Spanish clubs and are admired worldwide. This is Morocco's sixth tournament appearance; Hutchinson, Canada's 39-year-old captain, has zero teammates who were alive to witness the 1986 team's World Cup cameo.
"It's the best teams in the world on the biggest stage in the world," Johnston said. "You need to learn to leave that emotion to the side and remember: Hey, it's still 11-v-11. The pitch is the same size. The ball's still round. It's still football. They're not from a different planet.
"Leave that to the side and get down to the nitty-gritty part of playing the game. Because we have the talent, we have the athleticism, and we have the tactics to hurt teams."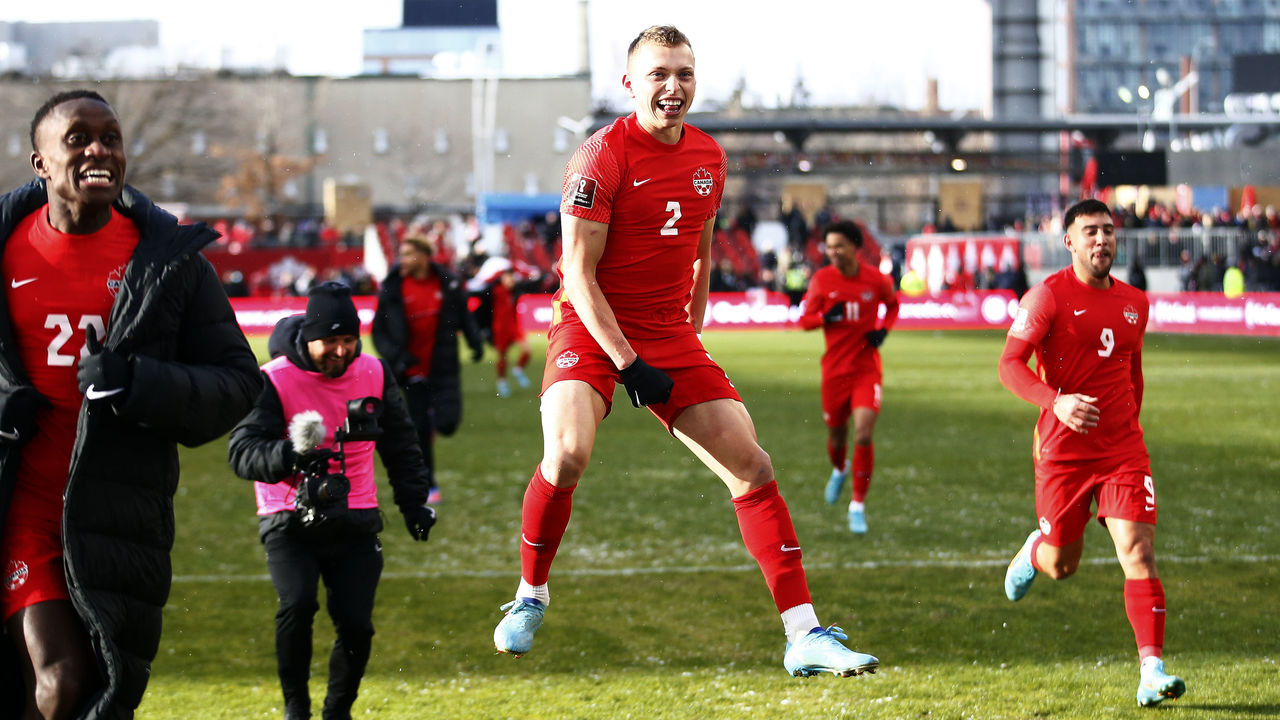 Even when Davies was sidelined in qualifying with myocarditis, the Canadians went unbeaten in CONCACAF play until March's Costa Rica trip, when the berth was almost clinched. They didn't crack defensively and bagged goals in key moments, thrilling fans nationwide. But Herdman's message changed as the World Cup approached: the form that powered them to Qatar won't help them prosper there.
Everyone has to dig deep, he's emphasized. The squad needs to reach a higher level. That takes humility and mettle - first to recognize that past triumphs only mean so much, and then to charge into the fight.
"We're not going to be a team that sits back and hopes. We're going to be a team that goes out there and plays," Johnston said.
"If we do that," Kaye said, "anything is possible."
Nick Faris is a features writer at theScore.
Comments
✕
John Herdman's way has lifted Canadian soccer to unprecedented heights
  Got something to say? Leave a comment below!