Tua's breakout performance against Ravens began in the offseason
With his mind right and his body in tune, Tua Tagovailoa authored the signature performance of his young career on Sunday.
The third-year Miami Dolphins quarterback threw six touchdown passes - tying the franchise record set by Bob Griese in 1977 and matched by Dan Marino in 1986 - while completing a 42-38 comeback win against the Ravens in Baltimore.
Miami is only the sixth team in NFL history to make up a 21-plus-point deficit in the fourth quarter and win in regulation.
So how did Tagovailoa do it, and is this a sign of things to come for the 24-year-old?
"I just love that he's finally throwing the ball down the field," an assistant coach told theScore.
"The speed threat of (Jaylen) Waddle and (Tyreek) Hill together (is) a game-changer, but he's never had someone like Mike (McDaniel) around him either."
McDaniel, the rookie head coach, praised the way Tagovailoa adjusted his mindset.
"Now maybe Tua will finally listen to me," he told reporters postgame.
"What I mean by that is, it's awesome to be critical of yourself. It is good. He has a high standard for himself. … The absolute worst thing could have happened in the beginning of the game - the contested ball, not really his fault on the first interception, and then he starts pressing and throws it up for the second interception.
"This is huge. He stopped worrying about the last play and went and played and took his responsibility seriously to his teammates. 'I'm going to lead this team confidently.'"
Through two weeks, what's most encouraging is Tagovailoa's third-down efficiency. His staggering 151.0 passer rating on third downs ranks second in the league. Last season, Tagovailoa was a woeful 42nd in third-down passer rating at 81.5.
He's 17 for 21 on third down this season and three of his TD passes on Sunday came on third down, including the 48- and 60-yard scores to Hill.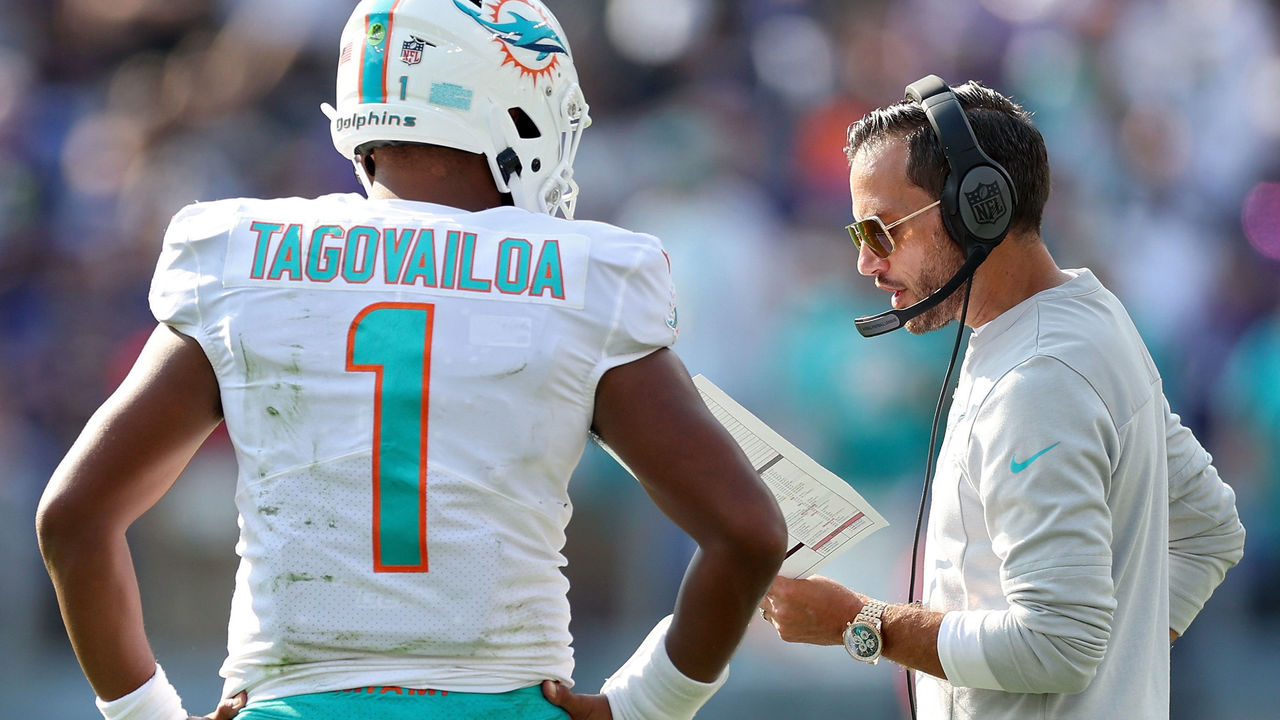 Why the drastic change? Credit him for being in much better shape, having dropped roughly 10 pounds while strengthening his core and improving his throwing mechanics.
"This offseason was completely different because he had maintained the strength he'd built in 2021 when he was still rehabbing," Nick Hicks, the co-owner of PER4ORM Sports and Tagovailoa's sports performance trainer, told theScore.
Tagovailoa was able to start the Dolphins' last seven games of the 2021 season after missing stints with fractures of a rib and a finger, allowing him and Hicks to enter the offseason with some momentum.
"'Let's polish this gem,'" Hicks said of their attitude. "We started working on movement-specific stuff, off-platform throwing, footwork, and getting his fast twitch back. A completely new program with real offseason training, as opposed to rehab."
Tagovailoa's improved arm strength and freedom of movement have been evident through two games, and they can be directly attributed to this change in approach.
"He had insane increases," Hicks said. "The results on the four different types of throws were pretty crazy."
They worked on game-like throws to make them second nature. Over eight weeks, Tagovailoa increased his maximum distance on throws by 15-21 yards.
"The number don't lie," Hicks said. "He's using his stronger lower body and allowing the kinetic chain to do its job. Tua is going to rely on fundamentals to push the ball down the field. He can do that now because his lower half is in shape, his footwork is crisp, and he's really making sure to generate force from the ground up."
And don't forget the best part.
"He loves football again," Hicks said. I've never seen him happier and more confident."
The Jimmy G effect
Trey Lance's season-ending ankle injury reverts San Francisco's entire offensive philosophy back to Jimmy Garoppolo, but as a result, head coach Kyle Shanahan can use his full playbook again. That means the 49ers remain a dangerous team in a wide-open NFC.
"The Lance kid is really talented, but there's a ceiling to what you can do with him," an NFL scout told theScore. "Kyle was going to have to be very creative. That's what you have to do with any young quarterback. He already knows Jimmy. Is he the most talented quarterback? No. But he knows how to operate an offense and he knows what's expected of him."
Style points won't matter for Garoppolo when the 49ers have a defense this talented and potentially dominant. If Sunday's 27-7 win - in which Seattle scored on a blocked field goal - was any indication, expect to see a healthy dose of Deebo Samuel and Brandon Aiyuk, who were targeted a combined 14 times.
Shanahan will also want to lean on the running game. Jeff Wilson Jr. and rookie Ty Davis-Price had a combined 32 carries for 117 yards, while Samuel added a 51-yard run of his own. Garoppolo completed a respectable 13 of 21 passes for 154 yards and a touchdown and rushed for a TD as well. His PFF grade is a healthy if not spectacular 66.5, which ranks 14th out of 34 this season.
"In some ways, having Jimmy takes the pressure off Kyle," the scout said. "With Trey, he has to scheme. Lance has some tools, but he hasn't seen anything in this league. Jimmy has seen pretty much everything. With (former offensive coordinator) Mike McDaniel gone, I know there's been more of an onus on Kyle as well. Things are simpler now."
Will simple mean better, or just different?
"I'm not sure yet," the scout said, "but given their history together, I do think they'll be successful."
Jordan Schultz is theScore's NFL insider and senior NBA reporter. Follow him on Twitter, Instagram, and TikTok.
Comments
✕
Tua's breakout performance against Ravens began in the offseason
  Got something to say? Leave a comment below!