Fantasy: Bold predictions for 2022 - NFC Edition
Find positional rankings, additional analysis, and subscribe to push notifications in the NFL Fantasy News section.
theScore's Justin Boone delivers some of his bold predictions for the upcoming fantasy season.
Fantasy Bold Predictions
AFC | NFC
Cardinals: Conner cracks the top-five at RB
James Conner was featured as one of our seven players who'll lead you to a title in 2022, so it shouldn't be surprising to see him also make this list. As outlined in the column, Conner was the second-highest scoring fantasy running back with 25.8 fantasy points per game - behind only Jonathan Taylor - when Chase Edmonds missed time from Weeks 9 to 14. Though Conner will always have durability concerns, he's only missed three-plus games once. With massive touchdown upside and limited competition for volume, he'll be an excellent back to roster this year.
Falcons: Pitts breaks Kelce's single-season yards record
One of my bold fantasy predictions last season was that Kyle Pitts would break Mike Ditka's long-standing record for most yards by a rookie tight end. He came up short (Ditka 1,076 - Pitts 1,026), but the Falcons' first-round pick did become just the second tight end to break 900 receiving yards in his debut campaign. Now his sights are set on Travis Kelce's record for most single-season receiving yards by a tight end (1,416). With the arrival of wideout Drake London giving defenses another weapon to account for, Pitts will continue to dominate as a TE/WR hybrid in a very condensed passing attack. He likely won't have the touchdown totals to match Kelce or Mark Andrews, but his targets, receptions, and yardage will put him among the elite at his position.
Panthers: Mayfield becomes long-term answer at QB
Baker Mayfield won't only emerge at the top of the depth chart this year, but he'll also kick-start his career. Amidst the negative news cycle, it's easy to forget that the fifth-year passer has had some pro success, including throwing 27 touchdowns as a rookie in 2018 and 26 scores with just eight interceptions in 2020. He now joins a roster with proven playmakers like Christian McCaffrey, D.J. Moore, and Robbie Anderson, as well as an underrated defense. He'll likely get an opportunity to pass more often with this group, too. In each of Ben McAdoo's last two seasons as New York's offensive coordinator, the Giants ranked in the top 10 in passing attempts. The Panthers have been desperate to find stability under center, and Mayfield will provide the kind of competent play that can help this offense reach new heights.
Bears: Mooney finishes as a fantasy WR1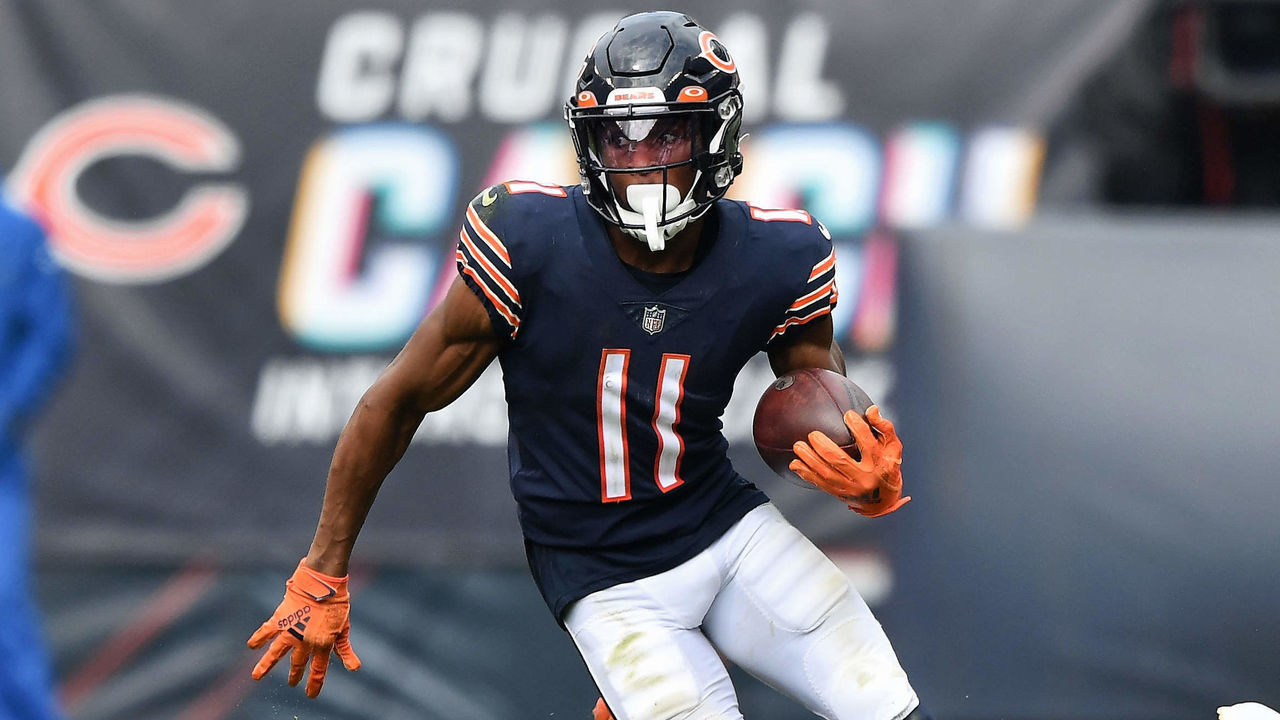 Volume is one of the most important factors in fantasy success, and Darnell Mooney is about to see a ton of it. The 24-year-old is coming off a campaign where he finished 18th in average targets per game and posted a year-end stat line of 81-1,055-4. Now, surrounded by a ragtag band of receivers, Mooney will need to take on an even bigger role in the Bears' passing attack - which will translate to fantasy stardom. Eight of the 10 leaders in average targets per game finished as top-12 fantasy wideouts this past season.
Cowboys: Schultz is a top-three fantasy TE
We had Dalton Schultz singled out as a bold prediction before the Cowboys lost yet another receiver. With Amari Cooper now in Cleveland and Michael Gallup recovering from a torn ACL, wideout James Washington is now slated to miss around two months after suffering a broken foot in training camp. Schultz was already an important weapon in this offense over the last two years. He's ended both seasons as a top-12 fantasy tight end, and he averaged the fifth-most points at the position last year. So, it's not a stretch to project his volume will increase even more given the lack of options for Dak Prescott.
Lions: Goff shocks as a borderline fantasy QB1
Before you click off the page, give me a chance to make the case for Jared Goff. It may not have been pretty, but during his time under Sean McVay, Goff put up two consecutive top-12 fantasy seasons in 2017 and 2018. So, we know he's capable of being a starting option in the right environment. And while the Lions have been one of the league's weaker teams for the last four years, that might be about to change. Detroit was frisky in its first campaign with head coach Dan Campbell, and the offense showed signs of life after changing play-callers down the stretch. Goff was the QB18 in fppg from Week 12 on with an injury-riddled supporting cast. This season, he'll have a complete set of playmakers with D'Andre Swift and T.J. Hockenson back healthy, as well as a receiving corps with Amon-Ra St. Brown, D.J. Chark, Josh Reynolds, and, eventually, first-rounder Jameson Williams. Behind an elite offensive line, Goff is about to post his best stat line since his days with the Rams.
Packers: Doubs leads Green Bay in receiving
Despite being the second receiver the Packers selected in this year's draft, Romeo Doubs has reportedly looked like the more pro-ready of the team's rookie wideouts, according to multiple beat writers. Normally, that wouldn't be enough to project a fourth-round pick as one of the top targets on an NFL offense. But without Davante Adams, Aaron Rodgers will be looking for pass-catchers to fill the void. Though Allen Lazard is widely viewed as the favorite to take over atop the depth chart, the veteran has never commanded targets during his four-year career. If he struggles or gets hurt, Doubs will have a legit path to significant Year 1 production as a major piece of the Packers' passing attack.
Rams: Henderson outscores Akers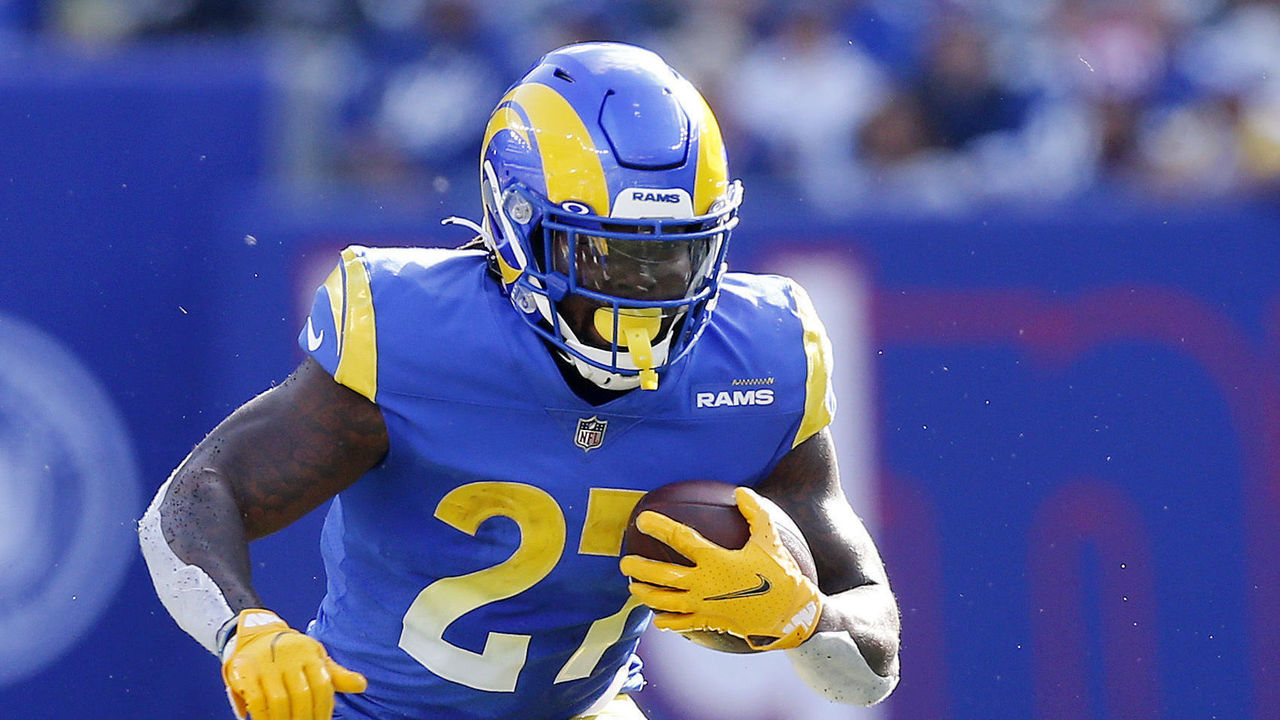 We're approaching Cam Akers with caution this season. He's just over a year removed from a torn Achilles, an injury that's derailed the careers of many ball carriers. Those who do return as NFL contributors often take multiple years to regain anything close to their previous form, like D'Onta Foreman. Though Akers returned to the lineup during the playoffs - around six months post-surgery - he clearly wasn't the same player that had fantasy managers excited for a breakout. It's also worth noting that the 23-year-old is far from a proven back. He flashed his potential over a four-game span in the second half of his rookie campaign, so fantasy managers need to be wary of overhyping him until we see evidence he's playing at the same level. Meanwhile, Darrell Henderson is ready to step in again if need be after he eclipsed 80 yards from scrimmage in six of his first seven outings last year. He also posted RB2 fantasy numbers until getting hurt in Week 12. Whether Henderson steps in for Akers or teams up in a committee, there are several ways he could end up as the better fantasy option in 2022.
Vikings: Thielen stays healthy, posts double-digit TDs ... again
If everything holds, Adam Thielen will have the same wide receiver ADP and age when his birthday rolls around in late August. Thielen is the 32nd wideout being selected, but his ceiling offers so much more. Though he's had two of his last three seasons cut short by injury, the longtime Viking has averaged top-12 fantasy stats four of the past five years. He's also one of the most consistent red-zone threats out there, having tied for the third-most receiving touchdowns (24) over the last two campaigns. There'll be plenty of targets to go around with the new coaching staff bringing a more pass-heavy scheme to Minnesota, making Thielen a top-20 fantasy receiver every time he takes the field.
Saints: Winston sets career high for TDs
Jameis Winston's best touchdown total came in 2019 when he threw 33 scores and 30 interceptions while playing recklessly for the Buccaneers. However, Winston spent a year resetting his career and learning the offense behind Drew Brees upon arriving in New Orleans. When he was asked to start, the team kept the training wheels on and helped give us a much more efficient version of Winston. While a torn ACL prevented us from seeing the results over a full 17 games last season, Winston did manage a touchdown-to-interception radio of 14:3 during his seven appearances with an injury-depleted supporting cast. That'd put him on pace for 34 scores and seven picks over a complete season. Plus, he'll have the benefit of better skill-position talent this time around with Michael Thomas returning, as well as the additions of first-rounder Chris Olave and veteran Jarvis Landry. The departure of head coach Sean Payton is also mitigated by the presence of Pete Carmichael, who's been the Saints' offensive coordinator since 2009.
Giants: Barkley regains his elite fantasy status
Through his first two NFL campaigns, Saquon Barkley lived up to the hype and finished as the RB2 and RB7 in fppg. Then, a torn ACL sidelined him for almost all of the 2020 season. When he returned at the start of last year, he was once again a top-12 fantasy back during the first four weeks before an ankle injury sapped some of his effectiveness the rest of the way. It didn't help that the Giants' offense sputtered under Joe Judge, leading to just one Barkley touchdown over the final eight outings. With new head coach Brian Daboll ready to inject life into this attack, and an upgraded offensive line featuring two young first-round tackles, a now fully healthy Barkley has a great shot to restore his value as a top-five fantasy back.
Eagles: Gainwell overtakes Sanders in Philly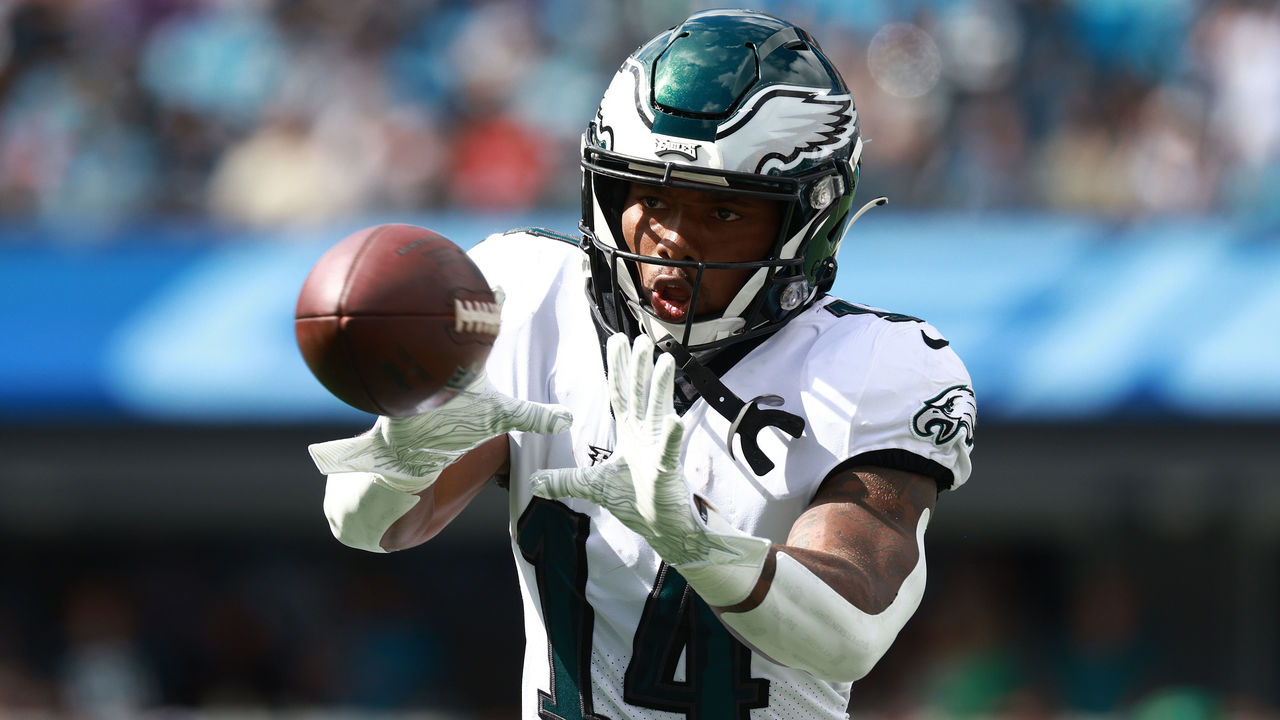 The fantasy community went wild over the training camp reports of Kenny Gainwell getting first-team reps over Miles Sanders. We always preach that it's important not to overreact to a single day of practice, but this is the latest sign the team might be open to exploring different options in the backfield. After all, Sanders has watched his yards from scrimmage totals decline each year since his rookie season and has never topped six touchdowns in a campaign. His lack of end-zone trips reached an all-time low last year when he failed to score a single touchdown. Meanwhile, Gainwell had six contests where he reached at least 40 yards and scored once, including in the playoff loss to the Buccaneers. Although he's currently the main backup to Sanders, Gainwell has a chance to provide weekly flex numbers thanks to his pass-catching skills. Plus, he'll continue to eat into Sanders' touches as the season goes on, drawing even and eventually overtaking him down the stretch. At their current ADPs (Sanders, RB26, 7th round - Gainwell, RB48, 13th round), there's no doubt who the better value is.
49ers: Aiyuk tops 1,000 receiving yards
Brandon Aiyuk was largely underappreciated by the fantasy world until he started making highlight-worthy catches from Trey Lance in training camp. It also helped that Deebo Samuel wasn't participating in practice before signing his new contract, allowing Aiyuk to serve as the No. 1 target. It's a role he's capable of filling, and we might see more of a tandem approach between San Francisco's top two wideouts this year. We touched on this in the 2022 breakouts column, but Aiyuk was the WR15 in fantasy points per game (16.4) from Week 3 on during his rookie season. Then, he emerged from Kyle Shanahan's doghouse over the final 10 outings last year to be the WR22 (13.4). If Lance can lift this offense the way we expect him to, Aiyuk will become a household name.
Seahawks: Penny is traded to a contender midseason
Unless the Seahawks find a way to acquire Jimmy Garoppolo, there aren't many starting-caliber options coming through the door. All apologies to Geno Smith and Drew Lock, but the downgrade from Russell Wilson is about to stifle the fantasy production of Seattle's skill-position players. With second-round pick Kenneth Walker locked in as the long-term answer at running back, the Seahawks will look to trade Rashaad Penny, who's a free agent after the season. Though Penny had a strong finish last year, he's spent the bulk of his time in Seattle injured. So, if he can stay healthy in the first month or two, and the team's record is bad as we project, general manager John Schneider would be wise to cash out and recoup whatever he can for the former first-round pick.
Buccaneers: Julio Jones sets career high in TDs
If the early signs from Bucs training camp are any indication, we can expect Jones to get a lot of looks from Tom Brady around the goal line. The 33-year-old Jones has never been a prolific touchdown scorer. He has just two seasons where he's found the end zone more than seven times, and his career high is 10 scores. That's stunning when you consider the volume he was getting during his peak years with the Falcons. He won't see that kind of target share in Tampa Bay, where he'll be on the field with Mike Evans, Russell Gage, Leonard Fournette, Kyle Rudolph, and, whenever he's back to 100%, Chris Godwin. In the meantime, Julio will make his biggest contribution as a big-bodied, Rob Gronkowski-style replacement in the passing game.
Commanders: Robinson takes over as lead back
Washington telegraphed its intention to add another running back when it brought in several prospects for top-30 visits before the draft. Ultimately, the Commanders selected Brian Robinson in the third round and immediately began talking him up as a one-two punch with incumbent Antonio Gibson, who the team clearly doesn't envision as being a workhorse back. Gibson didn't help his cause when he missed the start of camp due to a hamstring issue and looked rusty upon returning, according to beat writer Ben Standing of The Athletic. Meanwhile, Robinson has flashed as a runner and short-yardage back as well as a pass-catcher, though J.D. McKissic is likely to handle some of that work. We're probably heading toward a committee situation, but the writing is on the wall for Gibson to have a smaller role in this backfield. With a strong summer, Robinson will be in position to compete for more snaps and touches this season.
Fantasy Bold Predictions
AFC | NFC