Kevin Gausman has grown into the pitcher he was predicted to be
Cole Burston / Getty Images
CLEVELAND - There was some uncertainty as to how Kevin Gausman would fare in his return to the American League East, where his career began with Baltimore in 2013.
He debuted as a top prospect only a year after being selected fourth overall out of LSU, but endured an uneven five-and-a-half years with the Orioles, hampered by the smaller parks and strong lineups of the division.
After signing with the San Francisco Giants in 2020, he became a different pitcher, compiling a 3.00 ERA and raising his strikeout rate in 251 innings over two seasons. He earned the first down-ballot Cy Young votes of his career in 2021, and that allowed him to cash in on the free-agent market: Gausman signed a five-year, $110-million contract with the Toronto Blue Jays right before the lockout was imposed.
But that success came in a different league, in larger ballparks, and often against lineups where the pitcher batted. How much of those gains would transfer to the AL East? And could Gausman fill the void left by Robbie Ray, who dazzled in 193 innings last season to win the AL Cy Young Award?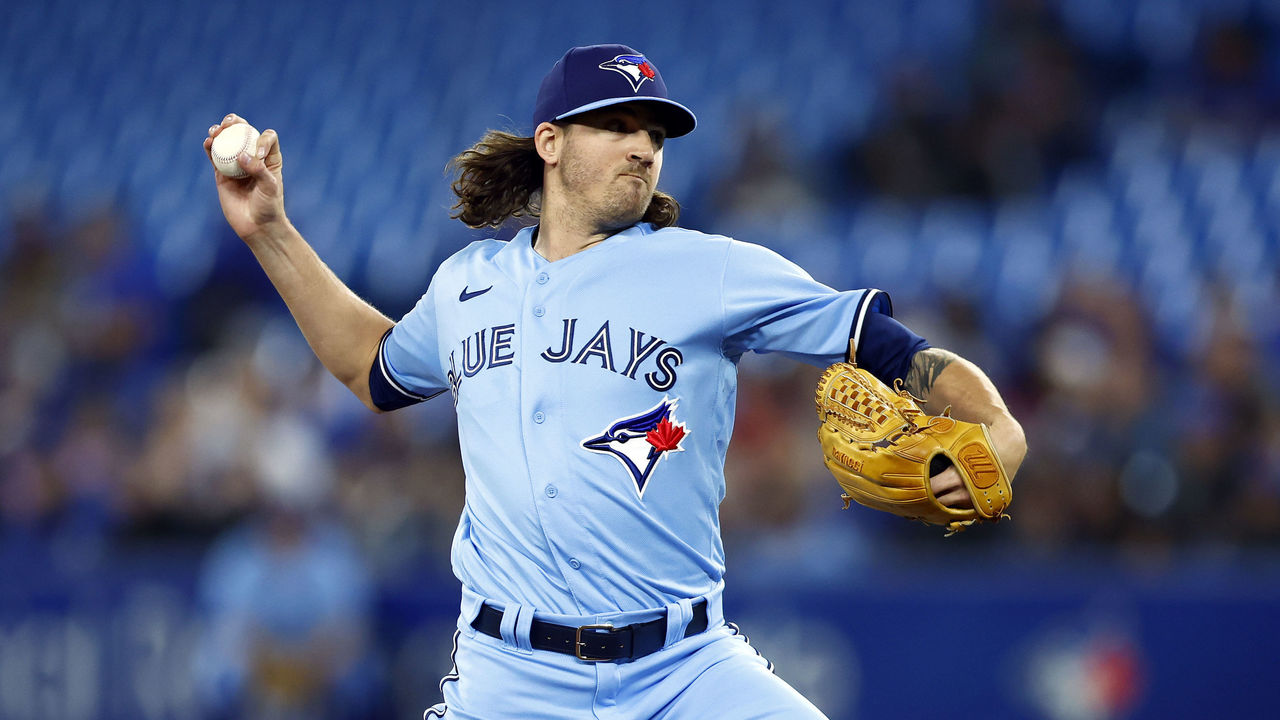 The early answers are: Many, and Robbie Ray who?
What's remarkable about Gausman this season is not just that he's been good in a division where it's terrifying to see a fly ball hit in the air, but that he's gotten better. Entering play Thursday, Gausman led the majors in pitching WAR (2.2), FIP (0.78), and strikeout-to-walk ratio (46-to-1).
How is Gausman doing it? With a new pitch, and a new focus.
Gausman's turnaround story begins in the sun-soaked bullpens of the Giants' spring-training complex in Scottsdale, Arizona, before camps were shut down in March 2020.
He arrived there on a one-year deal, after posting a 5.72 ERA in 2019, splitting time between Atlanta and Cincinnati after being claimed off waivers in August. He was essentially a two-pitch pitcher, throwing a fastball and his signature split-changeup. He tossed in an occasional breaking ball.
He'd experimented with other breaking-ball grips for as long as he could remember, but he never truly found anything he was comfortable with. That spring, Giants pitching guru Brian Bannister worked with him on another attempt to find the right breaking ball to complement his arsenal.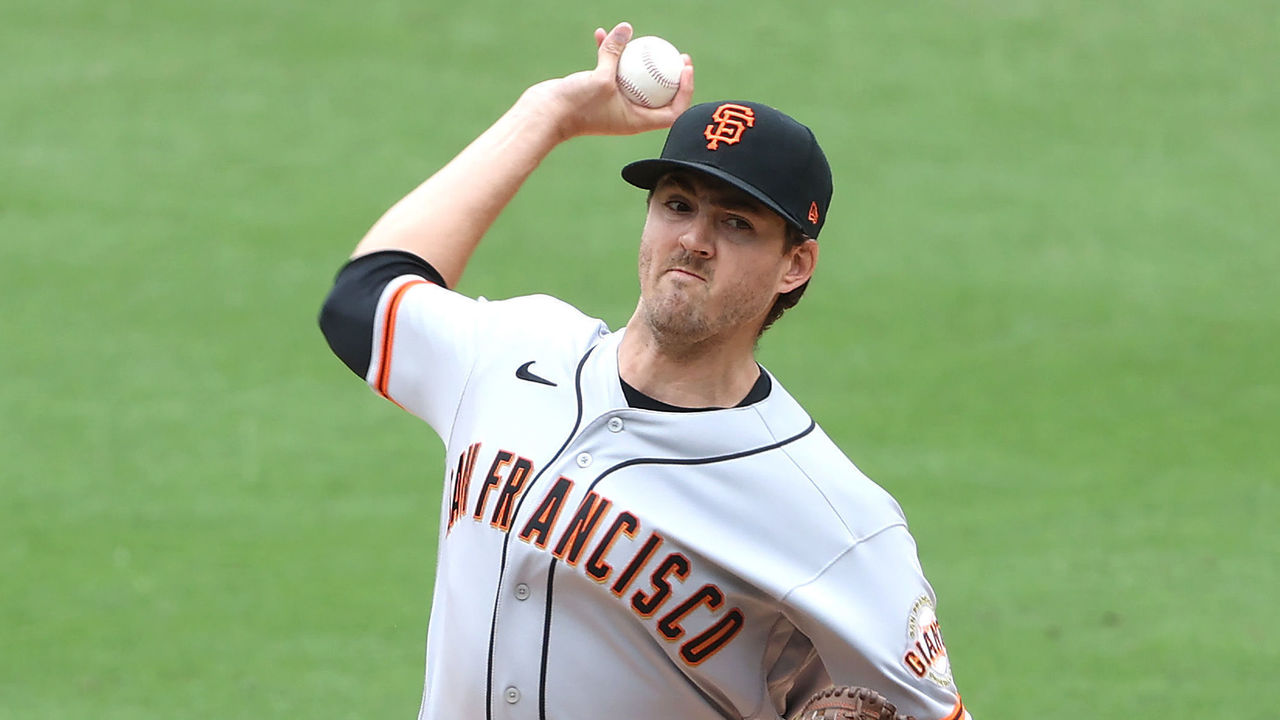 For the first time in his career, every throw Gausman made was observed by a high-speed Edgertronic camera. After throwing sessions, he watched the frame-by-frame, high-definition images illustrate how the ball rolled from his fingertips. He said the Braves used the cameras somewhat, but every pitch with the Giants was scrutinized.
Bannister had a specific type of slider in mind for Gausman. He wanted one with more subtle movement, one that used more bullet spin and less active spin. Bannister thought this shape would work best with his existing pitches.
"It's pretty cool to see the way the ball comes off your fingers. You think it comes off one way and it comes off another." Gausman said. "I was always told to really sit on top of the slider with that grip."
He saw he almost needed to grip it like a football, and get his index and middle fingers on the side of the ball.
His throws were often tracked by pitch-tracking tech, giving real-time ballistic metrics including velocity, spin rate, and spin efficiency.
This season, the slider enjoys the same vertical drop (37 inches) as his splitter (35), but the slider moves eight inches away from right-handed hitters compared to the split.
Consider this comparison of his slider versus his splitter from an at-bat against Astros catcher Martin Maldonado earlier this year:
He built the slider in the desert, but he didn't begin to use it until he moved to Toronto. Gausman threw it only 6.8% of the time in the shortened COVID season, to mixed results. He threw it even less last year, 5.6%, though the pitch performed better and the Blue Jays noticed.
This season he's thrown it 14.6% of the time. It's been above average and better than his fastball, according to FanGraphs' run values per 100 pitches.
The new pitch is playing a role in the best out-of-zone swing rate (50%) and swinging-strike rate of Gausman's career (19%). They also happen to be the best rates for starting pitchers this season.
According to Alex Chamberlain's pitch leaderboard, Gausman ranks ninth in swinging strikes from the slider (26%) among 161 starting pitchers this season. His rate was only 4% with a slider in 2019.
"My breaking ball last year was really good, I didn't throw it a high percentage, but all the numbers, the metrics on it were really good," Gausman said.
So, what happened? Why the new conviction? It came from conversations with Blue Jays pitching coach Pete Walker.
Walker said he and the analytics staff in Toronto look to see if a pitcher has an underutilized pitch. The Blue Jays' analysts liked the shape of Gausman's slider, and Walker thought it could help him navigate the difficult, right-handed heavy lineups of the AL East.
For his career, Gausman owns reverse splits, meaning he's actually better against lefties (.695 OPS) compared to righties (.752) because of the split-changeup.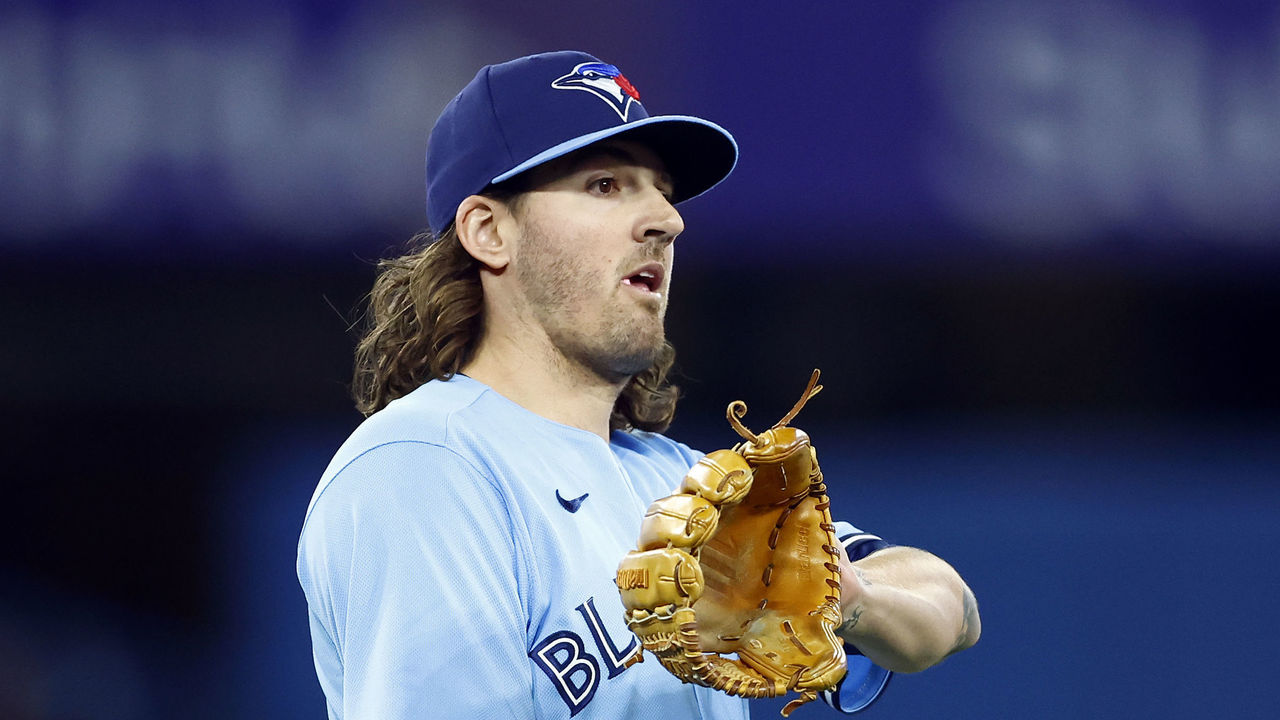 But how do you present an already good, established pitcher with the idea that he should be doing things slightly differently? It helped that Gausman was open to improving his slider. In their talks, Walker found Gausman to be a pitching "intellectual," curious about and open to getting better.
"I think as coaches, you can't force-feed a guy. There's a certain tact pitching coaches need to have," Walker said. "I think the info we are providing right now, I feel, is exceptional. I give a lot of credit to the group I am surrounded with. They are very diligent. We've found ways for certain pitchers to utilize pitches they aren't - not necessarily fixing pitches, but enhancing them to make them more efficient at the major-league level.
"He did a lot of the hard work prior to arriving here. He came in in a good place, we just reinforced it. (The slider) enhances a lot of pitches."
The slider allows Gausman to add a third variable for batters to consider in their calculus when facing him. Gausman's swing-and-miss rate on his splitter is up from 46% to 48% year-over-year, and the swing rate jumped from 54% to 71% on a pitch that is often falling out of the strike zone.
Gausman's enjoying his third pitch, but there was something else in those early conversations that Walker emphasized with Gausman and other pitchers, too. It's an idea that is seemingly simple to execute, yet no one is doing it as well as the Blue Jays.
Toronto leads the majors in first-pitch strike percentage (65.1%) by nearly a percentage point over the second-ranked Dodgers (64.3%). The MLB average is 61%.
If the Jays maintain that rate for the full season, it will be the best mark on record at FanGraphs. The 2005 Twins have the top mark to date (64.9%).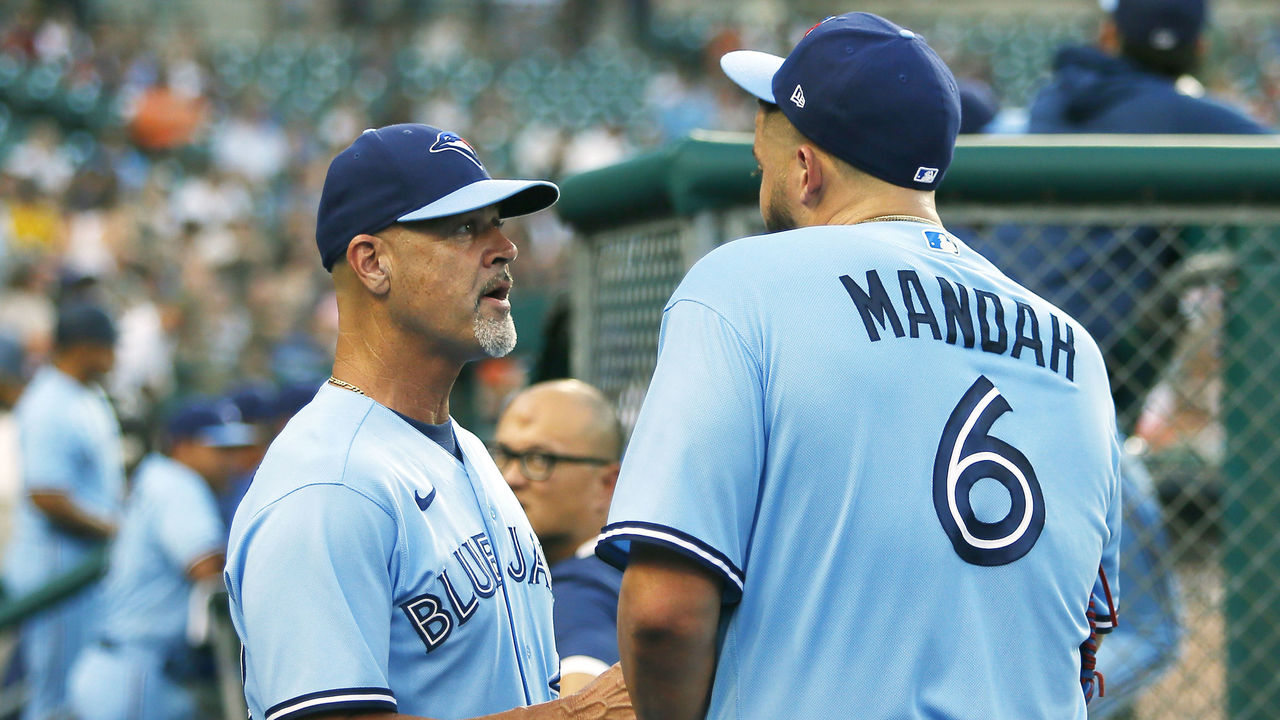 It's Gausman who's leading the way. Given his remarkable walk rate so far, it's not surprising he's posted a career-best, first-pitch strike rate of 71.4%, up eight percentage points from last year and nearly 12 percentage points over his career average (59.7%).
Gausman's bought in and flourished by altering his first-pitch mix.
"Knowing that I don't have to be perfect, just attacking guys, trying to be the aggressor, and never feeling like I'm kinda backed into a corner," Gausman said of the mindset change. "When you're ahead in the count, it completely changes the at-bat. You can take shots and do things you wouldn't normally do if it was full count or behind. As a pitcher, that's when you get in trouble, when you're trying to get back in the zone."
It would be one thing to confidently pepper the strike zone at night in San Francisco when the marine layer rolls in and the thick, damp air reduces extra-base potential. But how is that message sold in the AL East?
"It's something we've really focused on the last two or three years from a standpoint of minimizing walks, attacking hitters, getting strike one," Walker said. "I know with Robbie (Ray) last year it was a focus, and we continued to carry that through this year's staff. It was something we continue to preach this spring, in a lot of our meetings.
"Our biggest concern is guys who (nibble) early in the count. You have a lead-off walk, then there's a shallow fly-ball single, then you start attacking hitters, and you have a three-run homer. We totally emphasize that it's OK to give up a solo home run. I don't care if people know that. I don't care what park we are pitching in, whether it's Fenway Park, Yankee Stadium, or the Rogers Centre."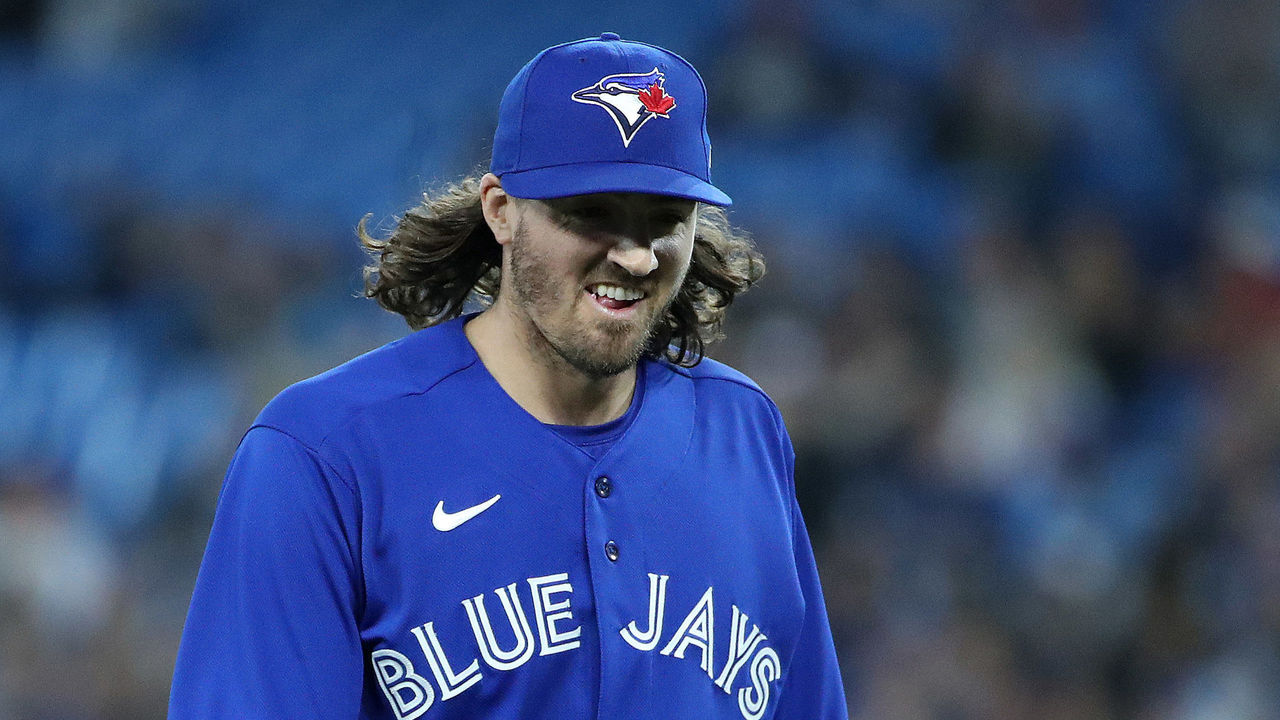 In his AL East return, Gausman's now a dominant top-of-the-rotation arm who makes opponents earn what little success they've found.
"I am a completely different pitcher than I was then," Gausman said of his Baltimore days. "I was learning then."
He's still learning, but the lessons are refined now. And perhaps they'll lead to his name added under Ray's on the Cy Young Award winners' list.
Travis Sawchik is theScore's senior baseball writer.
Comments
✕
Kevin Gausman has grown into the pitcher he was predicted to be
  Got something to say? Leave a comment below!