Selke Trophy king Patrice Bergeron is crafting a season for the ages
Andrew D. Bernstein / Getty Images
Some nights, when Connor McDavid's really dialed in, his highlight reel resembles a Cirque du Soleil show. A generational talent with an entertainer's skill set, McDavid is a high-flying circus act in the absolute best possible way.
Conversely, seeing Patrice Bergeron do his thing for a full NHL game is akin to watching a woodworker construct and assemble a custom table from scratch.
You won't gasp in awe as Bergeron stretches out to eliminate a passing lane on the penalty kill. You won't jump out of your seat as the Boston Bruins captain applies back pressure on the power play. You won't bat an eye as the perennial Selke Trophy candidate wins a neutral-zone faceoff at even strength.
By the end of the game, though, you will appreciate Bergeron and his craftsmanship. Like the woodworker drilling perfect holes for the table legs or sanding the tabletop flawlessly smooth, Bergeron is meticulous and efficient. His superpower isn't speed or puck skills; it's his attention to detail.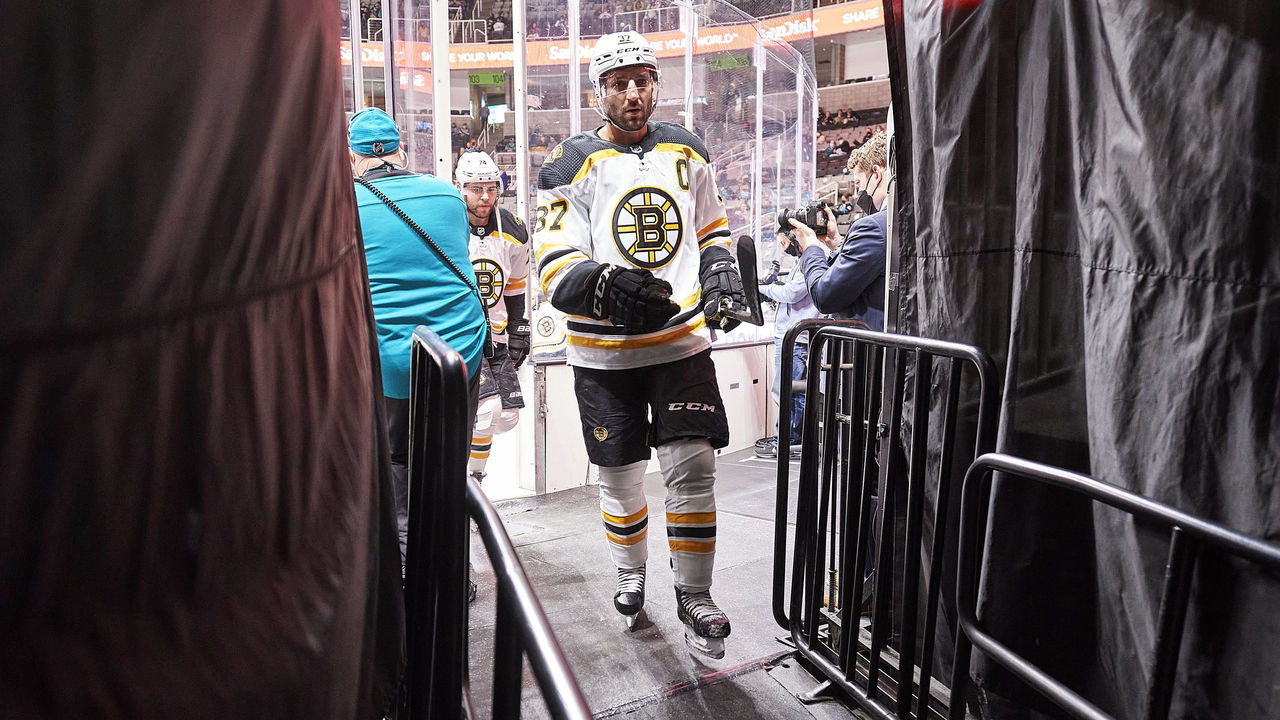 There's been plenty of digital ink spilled this season on the individual accomplishments of McDavid, Jonathan Huberdeau, Leon Draisaitl, Auston Matthews, and Roman Josi. The hype is warranted, too; these offensive dynamos have raised the league-wide scoring rate to a 25-year high.
With less fanfare, Bergeron has put on a show of his own. At 36 years old, the Bruins' longest-tenured player and first-line center is the clear front-runner for the Selke Trophy, which is awarded annually to the forward who "best excels in the defensive aspects of the game." If Bergeron receives a finalist nod, it'll be the 11th straight year (!) he's finished in the top three in voting. If he wins, he'll break away from Bob Gainey and stand alone in hockey history with five Selke honors.
As usual, what makes Bergeron's case compelling is the strong correlation between the eye test and his underlying numbers. His unrelenting motor, exemplary positioning, ability to force turnovers, and prowess in the faceoff circle - smaller details that frustrate opponents - also show up in the data.
With Bergeron on the ice at five-on-five, the 2021-22 Bruins have suppressed shot attempts, shots on goal, goals, and expected goals at elite levels. So elite, in fact, that Bergeron's on-ice defensive metrics tower over the 239 other forwards who've logged 700 minutes or more at five-on-five this season.
Seriously, Bergeron's in the 96th-to-100th percentile in all four categories:
There's no doubt Bergeron benefits from skating alongside stars. Brad Marchand has been on his wing for 621 of 771 five-on-five minutes. His next most common wingers - David Pastrnak, 362 minutes; Craig Smith, 192 - are no slouches. Yet the degree to which the ice tilts in Boston's favor when Bergeron's between the boards, no matter his linemates, is staggering.
Case in point: Bergeron ranks first among all NHLers - minimum 700 five-on-five minutes - in Corsi For Percentage Relative, according to Natural Stat Trick. It's a metric that aims to measure the gap in shot share when a player's on the ice versus when he's off it. The Bruins, generally an above-average possession team, see their share of attempts jump by a whopping 15.1% when Bergeron is patrolling all three zones. (For context, McDavid's at 6.4%.)
The stats suggest offenses typically go from generating a decent amount of scoring chances against the Bruins to almost none once No. 37 steps onto the ice. Bergeron kills that many opportunities.
Talking strictly goals for and against, Boston has potted 41 and allowed 22 with Bergeron on the ice at five-on-five. That's a 65% goal share. (In all situations, they're even better: 86 for, 41 against, or a 68% share.) Bergeron, who averages 18:18 of ice a night, largely against the opposition's top players, is also a key contributor to the NHL's eighth-ranked penalty kill.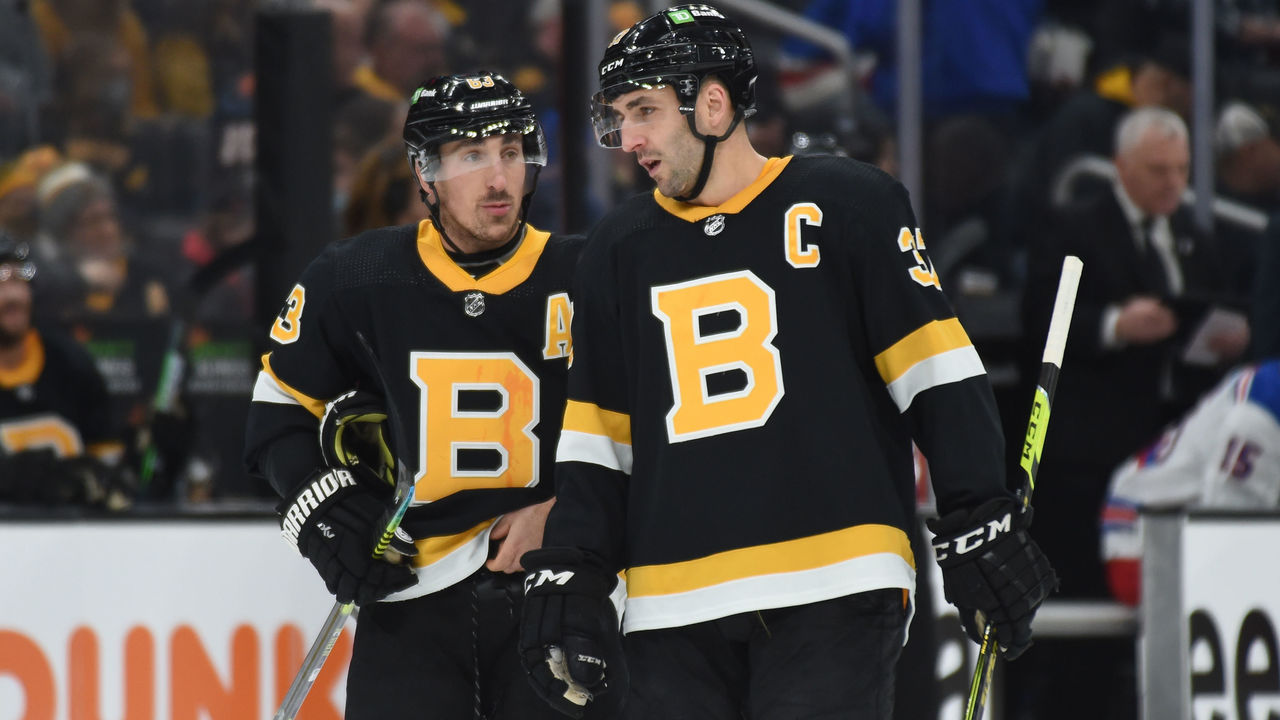 Of course, Bergeron's gaudy underlying numbers are old news. He's been a dominant NHLer for a decade. What's special about 2021-22 is that he's on pace to set new personal bests in several defensive metrics despite being in his mid-30s and while contributing 54 points in 62 games. To boot, he's plus-334 in the faceoff circle for a league-leading 62.4% success rate.
Bergeron, a second-round pick of the Bruins in 2003, has never been fleet of foot. His so-so skating is offset by his next-level intelligence, hand-eye coordination, and stamina. Nobody plays mistake-free hockey, but he's close.
Marchand has written that former Bruins coach Claude Julien once told him to "look at Patrice and do everything exactly like he does it. You're not going to be the best player on the ice every single night, because Patrice is going to be the best player on the ice every single night. So, I want you to be the second-best."
Watching Bergeron do his thing, with a Stanley Cup, four Selkes, and nearly 1,400 total NHL games to his name, you can't help but wonder if we're witnessing arguably the greatest defensive forward of all time play the best defensive hockey of his career. At 36. In what's possibly his final season.
The answer may be "yes." At worst, he's crafted a bulletproof Selke case.
John Matisz is theScore's senior NHL writer. Follow John on Twitter (@MatiszJohn) or contact him via email (john.matisz@thescore.com).
Comments
✕
Selke Trophy king Patrice Bergeron is crafting a season for the ages
  Got something to say? Leave a comment below!