'Alive within us': Roy Pejcinovski and the draft prospects who carry his memory
This story was first published on July 10 and is among theScore's best features of 2021.
Under pressure seconds earlier, Brandt Clarke had flipped a high-arcing pass out of Don Mills' zone to spring Wright in open space, and now Othmann glided into view on his left wing, three future NHLers linking up to create a glorious chance. The OHL Cup is Ontario minor hockey's marquee tournament, the peak of a great 16-year-old player's progress through the ranks. Seasons, daydreams, and a three-goal Flyers comeback built to Wright feeding Othmann's forehand. Othmann rang the puck off the post and in.
Mistry mobbed Othmann first. Gloves and caged helmets flew as teammates raced to pile on: Liam Arnsby, Payton Robinson, twins Alex and Paul Christopoulos, beaming and screaming a few weeks before they'd each be drafted to the OHL. Don Mills coaches jumped and hugged at the back of the bench. The team trainer joined in, the number 74 emblazoned on the back of his black hoodie.
On the ice, one sentiment resounded in the throng: This was for Roysy.
In the stories his friends tell, Roy Pejcinovski is 14 years old and in motion, beelining across the Don Mills dressing room to blitz their conversation, prolong a joke, demand an anecdote be retold. He blasts a Drake song that booms in his Fortnite squad's PlayStation headsets. He plays the saxophone in music class, group-texting a video clip to hype his skill. He's smiling. He's the first person to say hello. His energy never dwindles. He's their go-to goalie, wearing 74 for his dad's birth year, making windmill glove saves from the butterfly, chirping when he stones your breakaway attempt, refusing to quit on a play.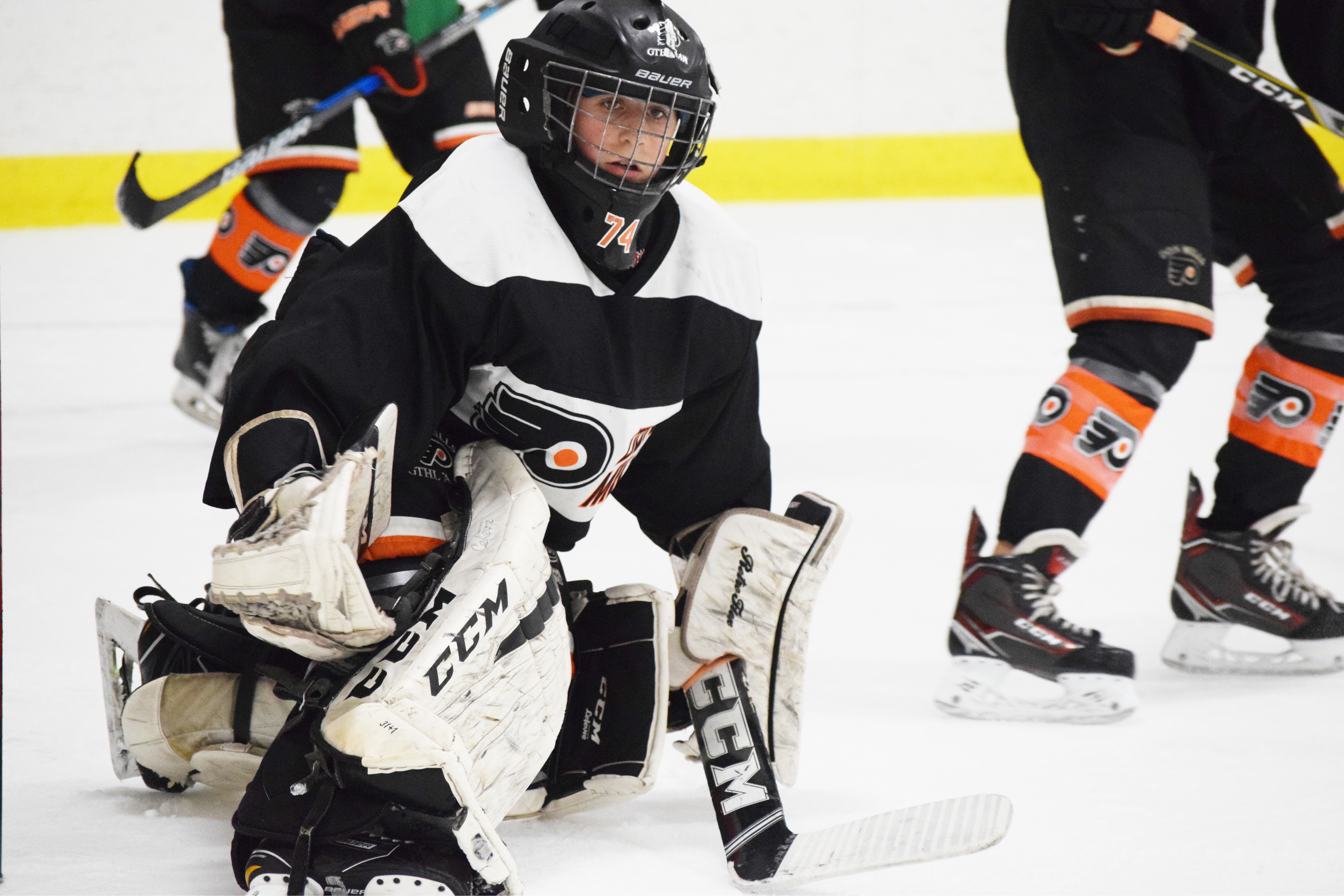 In 2018, Roy Pejcinovski was killed in a triple homicide in Ajax, Ontario, east of Toronto. His mother, Krissy, and his 13-year-old sister, Vana, were the other victims. Cory Fenn, Krissy's ex-partner, faces trial this fall for three counts of second-degree murder.
Krissy, Vana, and Roy died during a Don Mills playoff series, the Greater Toronto Hockey League's Under-15 AAA championship - a footnote to the family's grief, but context that was central to Roy's radiant life. Some of his Flyers teammates have matured into top-flight teenaged prospects, among the best in the sport. Clarke, a creative defenseman, might go in the top five in this month's NHL draft. Othmann snipes from the wing and is another projected first-rounder. Wright, a complete center and budding NHL captain, is the consensus top player available in 2022.
Knowing and loving Roy enriched their hockey journeys and young lives, these players and fellow 2003 Flyers told theScore in recent interviews. He was a dressing-room cornerstone during formative years, when lacing up the skates at the highest level fortifies a brotherly bond. Roy caught with his right hand. He bailed out defensive mistakes. He made call-ups feel welcome in the room. "He wanted to be best friends with everyone," Robinson said. Memorializing him will be a lifelong effort.
"He stays alive within us," Mistry said.
"Hockey was his sport. Hockey was his love and passion," Wright said. "I'm just trying to go out every skate, work as hard as possible, and do everything I can for him, and to help honor his legacy."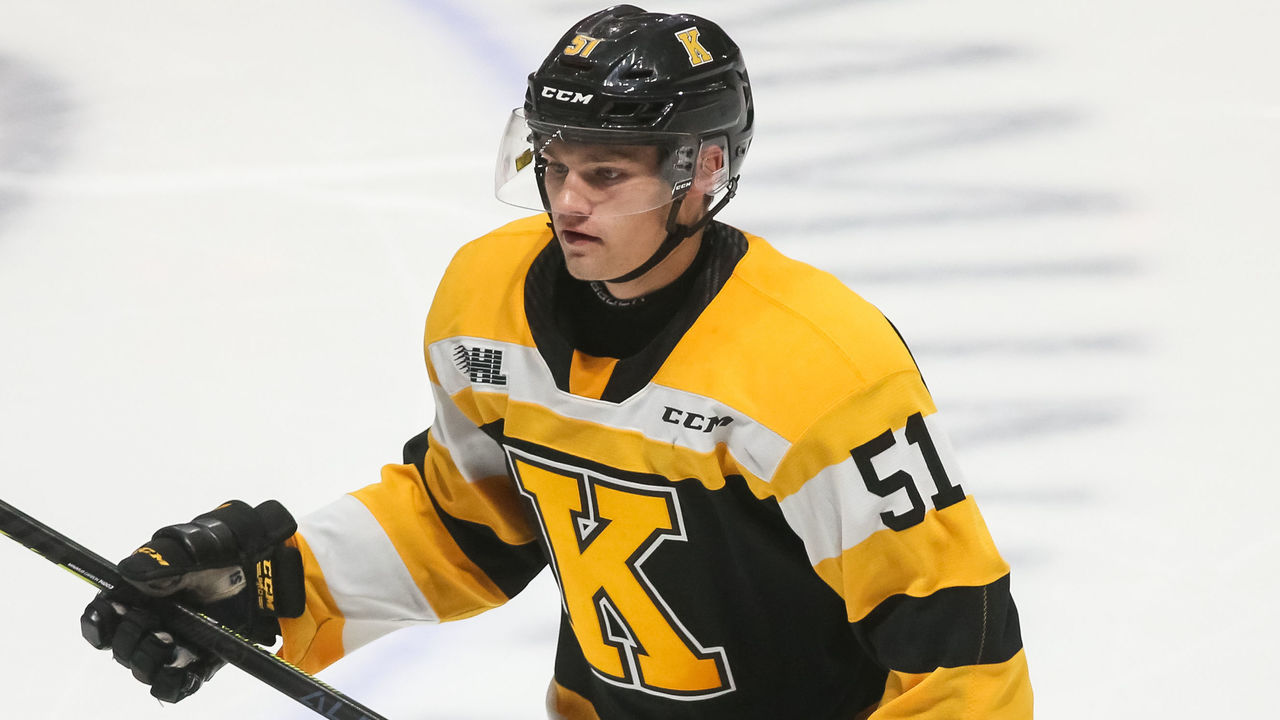 To remember Roy is to talk about his drive to stop pucks, but also about video games, which brought out all sides of him. Confidence: Late one Friday night, Roy and a few teammates won six straight Fortnite battles, and he yelled into his headset that he was unstoppable. Fieriness: When the next clash started and his character was felled first, Roy turned off his console. Selflessness: Knowing his limitations as a gamer but ever fearful of missing out, Roy volunteered on another occasion to be his squad's medic, carrying supplies for the guys who sprinted into the fight.
Other interactions made it clear that Roy was wise beyond the years he was given. He struck up conversations with Clarke's septuagenarian grandfather, Tom, whenever he saw him at the rink. Outside a chicken restaurant in Detroit during a tournament there, he handed $20 to a homeless man and paused to learn his story. He phoned Flyers trainer Marshall Bacon to consult about math homework: "You know this shit more than I do," was Bacon's stance.
Agile and cerebral, Roy played basketball with friends outside Othmann's house - "Terrible shooter," Othmann said - but excelled as an athlete between the pipes. One night in practice, Othmann scored off a three-on-two and made a show of raising his arms, prompting Roy to shut the door for the next half-hour. Playing for the Toronto Marlboros at the Under-13 level, the season before he joined Don Mills, Othmann clapped a one-timer that Roy lunged to glove. Roy saved video of that robbery to his phone, ready to be aired in the dressing room at his leisure.
Roy was 5-foot-7 but played bigger in the crease, and Clarke swears this memory isn't rose-tinted: "I love him, but I'm not trying to pump his tires. He just was a really good goalie." He challenged shooters without losing his positioning. He poke-checked from the splits to spoil breakaways. He and Mistry once retaped a stick blade for a full sleepover, testing Roy's thesis that certain tape jobs conceal the puck. During one tournament, a shot bruised his catching forearm and Bacon padded the wound with foam, only for Roy, his motion cramped, to replace the foam between games with sock tape.
"Whatever you do," Bacon told him, "do not show that to anybody and tell them your trainer taped you up like this."
He was OHL-caliber, like his 14 Flyers teammates who got drafted in 2019. Wright went first overall to the Kingston Frontenacs, Othmann second to the Flint Firebirds, and Clarke fourth to the Barrie Colts. The North Bay Battalion nabbed Arnsby and the Christopoulos twins. Robinson joined the Sudbury Wolves. At No. 73, the Hamilton Bulldogs drafted Owen Simpson from the Toronto Red Wings, the club that Don Mills was fresh off beating in the OHL Cup title game.
The league itself picked next, dedicating slot No. 74 to Roy's memory.
The night before Roy died, gloves and punches flew at Victoria Village Arena, the Flyers' home rink, after Alex Christopoulos scored in the third period of Game 3 of the GTHL final. This opened a 4-1 lead over the Marlboros, Othmann's former team and a heated rival that took issue with Don Mills' celebration. Ten skaters brawled as the benches bickered and the officials decided who to penalize and eject. Flyers coach Marc Slawson and his Marlies counterpart, Stephen Dennis, were booted from the game.
Two hundred feet from the fray, Roy left his crease to retrieve the puck, dangled it a bit, and wristed the disc to the Marlboros goalie. They traded ice-length saucer passes as teammates seethed, then stifled giggles, awed by the sight of this peace offering.
"He was just making friends and having fun," Mistry said.
In the room postgame, anticipating suspensions from the melee, the coaches urged the Flyers to be ready to play Game 4 with a shorter bench. Clarke was last to leave; he told his goalie he'd see him tomorrow. The next day was March 14, 2018, Wednesday of the spring school break. Othmann, Robinson, and Wright went to watch the OHL Cup, the 2002-born age group's turn in the spotlight. They could sense people staring when Wright's and Robinson's dads pulled the boys into an arena conference room, bearing news that shattered them.
The coaches texted the Don Mills parents to say the practice rink would be open that night, and anyone who wanted could stop in. The whole team showed. Roy's seat was empty as the Flyers talked and cried and screamed and sat silent, probably for two hours in all, and then as they unpacked their gear to skate together, the most comforting action available. They'd seen him yesterday. They were 14 and 15 years old. This had to be a mistake. The world seemed to freeze. They turned Roy's net around so that it faced the boards.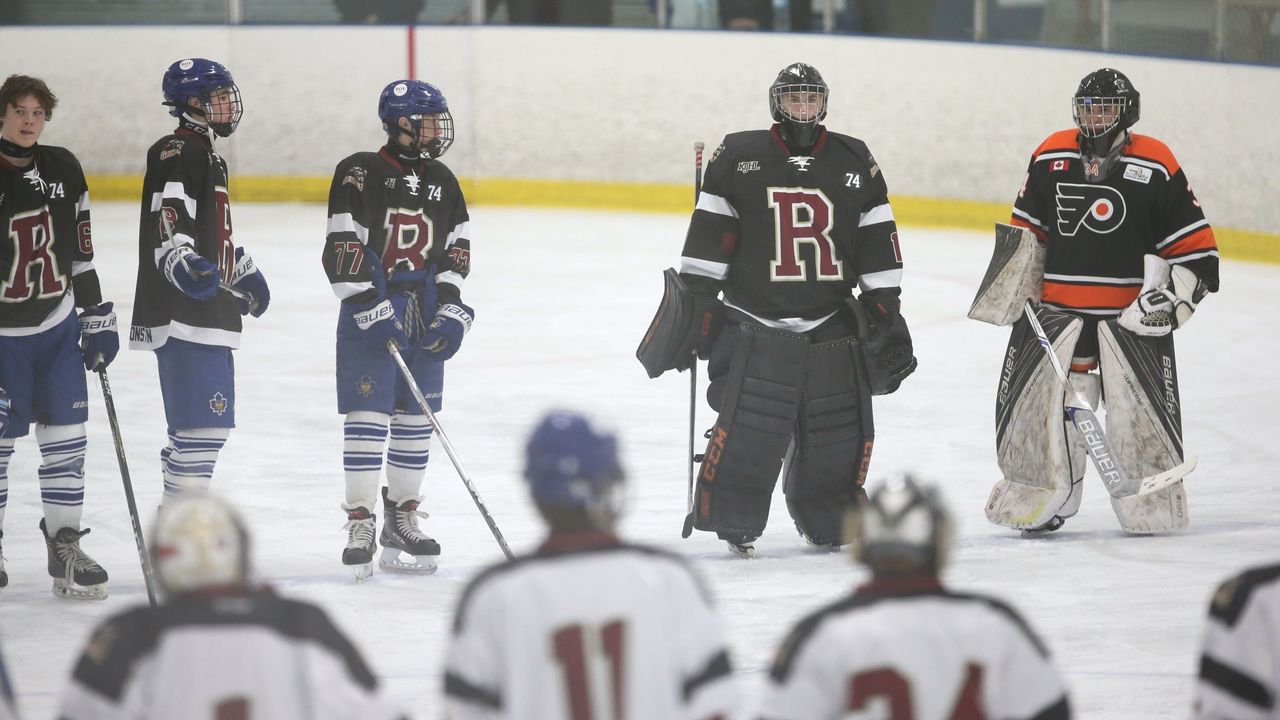 Game 4 was postponed, but the Flyers and Marlboros returned to the ice that Sunday for a memorial exhibition. Rivals piled their sticks in the neutral zone to mix the teams, black jerseys versus white jerseys that all featured a burgundy R, the Toronto Star's Victoria Gibson reported. Goalies from around the league turned up to watch. They and the Marlies knew Roy, too.
When the GTHL title series resumed, the Flyers topped the Marlies in five games to progress to the provincial AAA championships. They won that competition, Clarke netting the overtime clincher in the final. The heartache of losing Roy stayed with them, and they talked about it with grief counselors, reminiscing about him in circle formation at the rink. Company made living with the trauma a few degrees easier.
"It was a sense of brotherhood," Robinson said. "It makes you feel you're not the only one who's lost this amazing person."
Krissy, Vana, and Roy are survived by the kids' older sister, Victoria, and dad Vas, the inspiration for Roy's jersey number. At a memorial gala later in 2018, they took the stage to a 600-person ovation, and Vas told the crowd that Krissy was the family's glue. Vana was his light, he said. Roy was his "best friend." The gala, Sportsnet's Michael Grange reported, raised about $200,000 for the Pejcinovski Family Memorial Fund, to be donated to charities that support women's shelters and youth sports.
Vas visited the Flyers throughout the 2018-19 season. He announced the starting lineup in the room. He watched his son's friends compete with Roy stickers on their helmets and "74" patches on their sleeves. In any GTHL dressing room that was spacious enough, Don Mills kept an extra stall open. Sometimes Roy would get so engrossed in conversation that he talked through the start of his coaches' speeches. Now his teammates reprised pregame chants that he'd been part of, pausing for four seconds during his lines.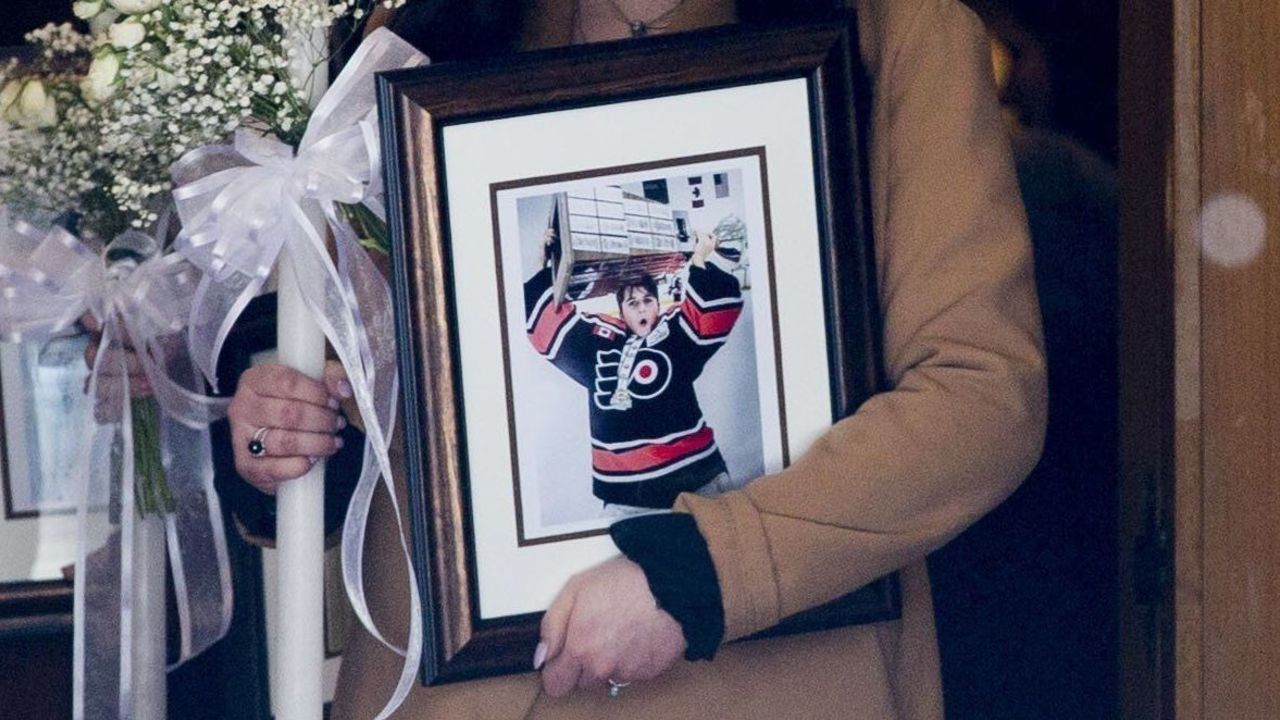 Those Flyers were an all-time minor hockey powerhouse. They lost once in 84 games and cruised to the OHL Cup. Don Mills outscored its first six opponents there 35-5, yet got down 4-1 to the Toronto Red Wings in the final, deflating portions of the crowd but not the bench. As a shorter goalie, perseverance - battling - was Roysy's hallmark. The thought galvanized Mistry throughout the year.
Goals from Edward Moskowitz, Othmann, Arnsby, and Alex Christopoulos got Don Mills back into the game. The score was 5-5 late in OT when Clarke flicked the puck over a defender's outstretched hands to Wright. Othmann was double-shifting and gassed. He drove to the offensive zone anyway. Wright found him in the slot and he found the net.
Othmann flung his gloves and stick and unfastened his helmet, ready to be blitzed. Roy came to mind. The players shouted his name in the throng. They broke apart to wait for the trophy presentation, Mistry's privilege as captain. Robinson looked toward the bench and noticed Vas, that funny, gregarious, kindred personality of his son who buoyed the Flyers every time they saw him, the collective mood lightened by his presence.
"He looked happy," Robinson said.
Seasons passed and COVID-19 upended the Flyers' transition to junior. Rookie years were cut short by the pandemic's onset. The OHL didn't play in 2020-21, so Clarke and Othmann joined pro clubs in Europe. The drive to honor Roy went worldwide. Photos of him still hang at Victoria Village Arena in north Toronto; guys write RP74 on every stick they tape. Robinson has a couple of Pejcinovski jerseys hanging in his basement that he wants to get framed. Clarke plays pingpong with his brother Graeme, a New Jersey Devils prospect, and smiles when the score ticks to 7-4. On NHL draft day two Fridays from now, Othmann hopes to host Vas at his watch party.
This spring, Clarke, Othmann, and Wright headed to Texas to play at the Under-18 World Championship, three Don Mills kids shining for Canada - they combined to score 27 points in seven games - as their country charged to gold. In quiet moments at the tournament, they swapped memories of the '03 Flyers and Roy's antics, of quips slung and time shared. In Don Mills, this trio sat together at the far end of the room from their goalie. Maybe something funny happened at school that day, material to bank and laugh about with stallmates as they dressed for practice.
They'd look up and Roy was in the mix.
"He'd be screaming. He'd be having to know what we were talking about," Clarke said. "Having us tell the whole story over again."
Nick Faris is a features writer at theScore. He can be reached at nick.faris@thescore.com.
Comments
✕
'Alive within us': Roy Pejcinovski and the draft prospects who carry his memory
  Got something to say? Leave a comment below!