Saudi consortium completes controversial Newcastle takeover
Owen Humphreys - PA Images / PA Images / Getty
A consortium backed by Saudi Arabia's Public Investment Fund (PIF) finalized a deal Thursday to take over Newcastle United for a reported £300 million, bringing to an end Mike Ashley's unpopular 14 years as owner of the storied Premier League club.
PIF will reportedly have an 80% stake in the club, with PCP Capital Partners and Reuben Brothers sharing the remaining 20%.
Fans celebrated the news at St. James' Park amid an outcry from activist groups over Saudi Arabia's human rights record. Amnesty International accused PIF, the kingdom's sovereign wealth fund, of using Newcastle to "sportswash" its "appalling" history of human rights abuse.
PIF revived its bid to acquire the Magpies after withdrawing from negotiations in July 2020. The Premier League had previously expressed concern that Saudi Arabia's government was directly involved in the bid.
That has now been resolved, according to the Premier League, which said Thursday it has "received legally binding assurances that the Kingdom of Saudi Arabia will not control Newcastle United Football Club."
Fans largely viewed the deal with a renewed sense of hope and relief. Large swaths of Newcastle supporters campaigned for several years for Ashley's ouster, criticizing the retail tycoon for a lack of investment in the first team and using the club to promote his own business interests.
Newcastle suffered relegation from the Premier League in 2009 and 2016 and hasn't won a major domestic trophy since the 1955 FA Cup.
"We are extremely proud to become the new owners of Newcastle United, one of the most famous clubs in English football," PIF governor Yasir Al-Rumayyan added. "We thank the Newcastle fans for their tremendously loyal support over the years and we are excited to work together with them."
The Newcastle United Supporters Trust said a "resounding" 96.7% of its membership supported PIF's takeover.
"We admire your desire and tenacity to buy our football club despite the protracted issues with the Premier League, and we appreciate your clear understanding of the special place Newcastle United holds in our communities, the passion of our supporters, and your commitment to developing Newcastle," read the trust's statement.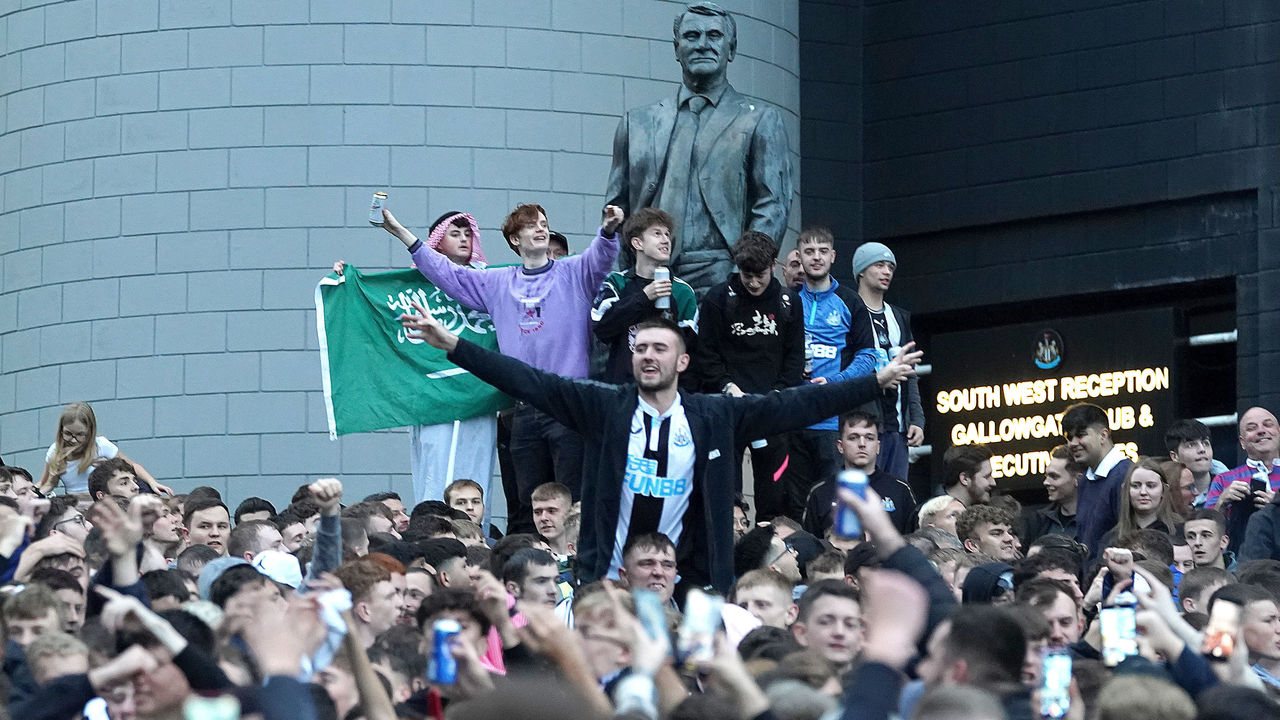 Former Newcastle striker Alan Shearer tweeted: "Yesssssssss. We can dare to hope again."
Negotiations were far from straightforward. While the consortium first struck an agreement with Ashley in April 2020, the club said the Premier League had rejected the offer despite "overwhelming evidence and legal opinions that PIF is independent and autonomous of the Saudi Arabian government."
The Premier League argued that the group had rejected an invitation to appoint an arbitrator to determine who would own the club.
Crown Prince Mohammed bin Salman, PIF's chairman and Saudi Arabia's de facto ruler, reportedly warned U.K. Prime Minister Boris Johnson that the country's diplomatic relations with Saudi Arabia could suffer if he failed to intervene.
Amnesty condemned Prince Mohammed's involvement in the deal, citing a U.S. report that accused him of ordering the killing of exiled journalist Jamal Khashoggi in 2018. Prince Mohammed has denied any wrongdoing.
The bid also came against the backdrop of geopolitical tension between Saudi Arabia and neighbouring country Qatar.
Qatari-backed beIN Sports, a primary carrier of Premier League matches, filed a case against Saudi Arabia with the World Trade Organization over the piracy of its broadcasts in 2018. beIN, which was banned from operating in Saudi Arabia, sought damages totaling more than $1 billion and later asked the Premier League to block the Saudi-backed takeover.
Saudi Arabia reversed the ban this week, according to The Athletic's Adam Crafton and Matt Slater, and the network that pirated beIN's matches has ceased operations.
Comments
✕
Saudi consortium completes controversial Newcastle takeover
  Got something to say? Leave a comment below!