Ranking the NHL's 8 best lines heading into this season
Some of the NHL's most potent lines from last season were broken up in free agency, but many of the top forward units remain intact heading into 2021-22.
Zach Hyman leaving the Toronto Maple Leafs for the Edmonton Oilers shook up two of the league's best trios, while the departures of both Phillip Danault and Tomas Tatar from the Montreal Canadiens put an end to another dominant 2021 forward group.
However, more than a few of the NHL's elite threesomes are still together and primed to overwhelm opponents yet again in the upcoming campaign.
Here are the league's most dangerous lines entering this season.
Statistics guide:
GP = Games played together
TOI = Total time on ice together
GF% = Goals for percentage
xGF% = Expected goals for percentage
SCF% = Scoring chances for percentage
All chart figures are 2021 regular-season numbers as a line at five-on-five unless otherwise indicated
8. Kaprizov-Eriksson Ek-Zuccarello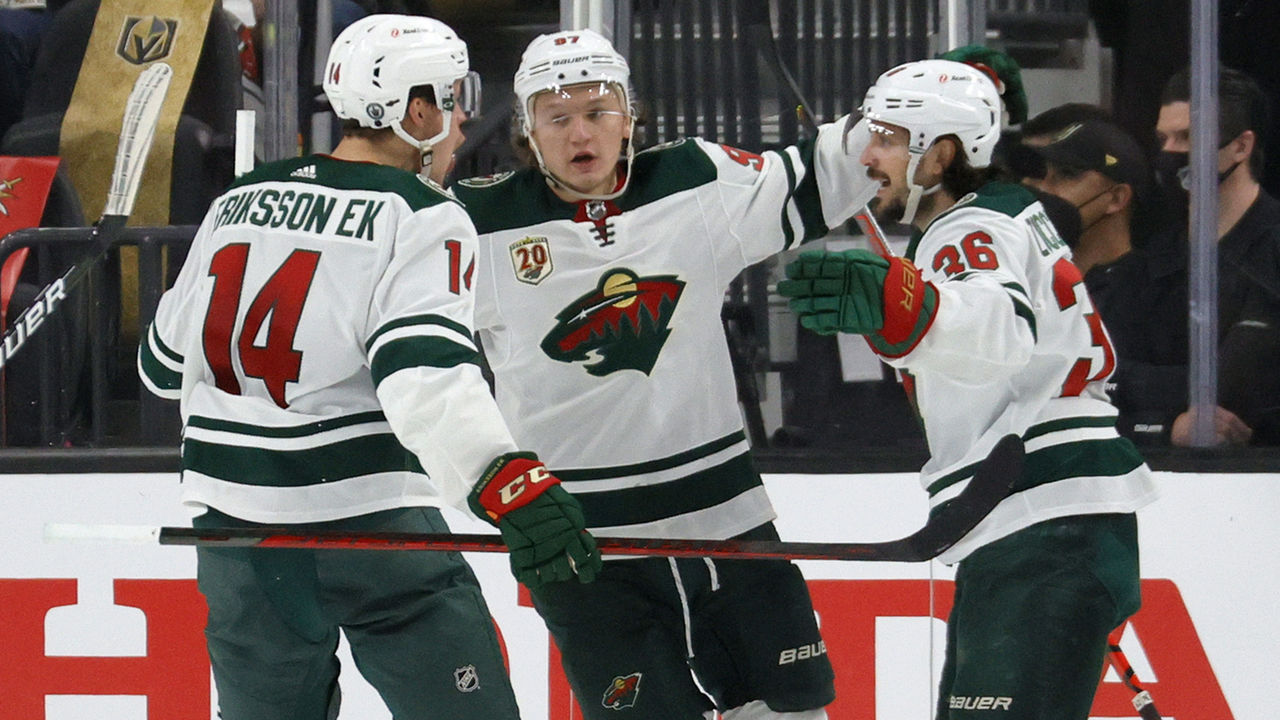 | GP | TOI | GF% | xGF% | SCF% |
| --- | --- | --- | --- | --- |
| 42 | 21:46 | 33.33 | 71.34 | 63.64 |
Combined cap hit: $20.25 million
The Minnesota Wild should ice one of the NHL's most versatile forward units in 2021-22, as long as Kirill Kaprizov sticks with Joel Eriksson Ek. Kaprizov, the recently re-signed reigning Calder Trophy winner, will surely build on his stellar rookie year alongside one of the game's most talented two-way players after the pair didn't often play together last season.
Kaprizov meshed well with Mats Zuccarello in nearly 500 minutes at five-on-five, and Eriksson Ek - who finished fourth in Selke Trophy voting - also posted excellent underlying numbers individually as he did with previous longtime linemates Jordan Greenway and Marcus Foligno in 2021. The center's new line should more than control play, and if Kevin Fiala gets bumped up to Zuccarello's place, it'll be even more efficient.
7. DeBrincat-Johnson-Kane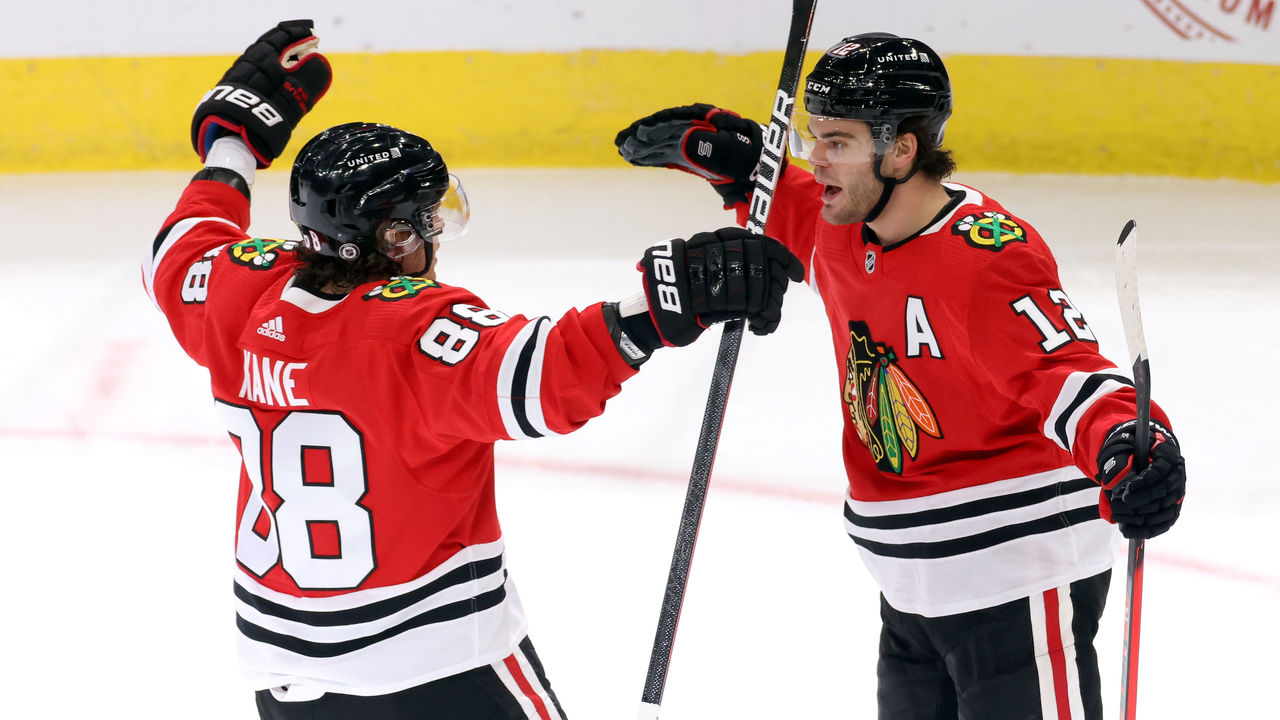 Combined cap hit: $21.9 million
Patrick Kane and Alex DeBrincat didn't drive possession last season despite their individual exploits, but the Chicago Blackhawks' poor defense and goaltending were major reasons for that. The team should improve in both areas this season with Seth Jones and Jake McCabe solidifying the blue line and 2021 Vezina Trophy recipient Marc-Andre Fleury manning the crease.
If Kane is his usual high-flying self and DeBrincat comes close to duplicating his third-place finish in the goal-scoring race last season, it might not matter who skates between them.
For now, the newly acquired Tyler Johnson is that center. The 31-year-old brings positive underlying numbers and a championship pedigree to Chicago. The club may eventually give Kirby Dach or Jonathan Toews the role, but even with Johnson as its No. 1 pivot, this line should be among the NHL's most effective.
6. Ritchie-Matthews-Marner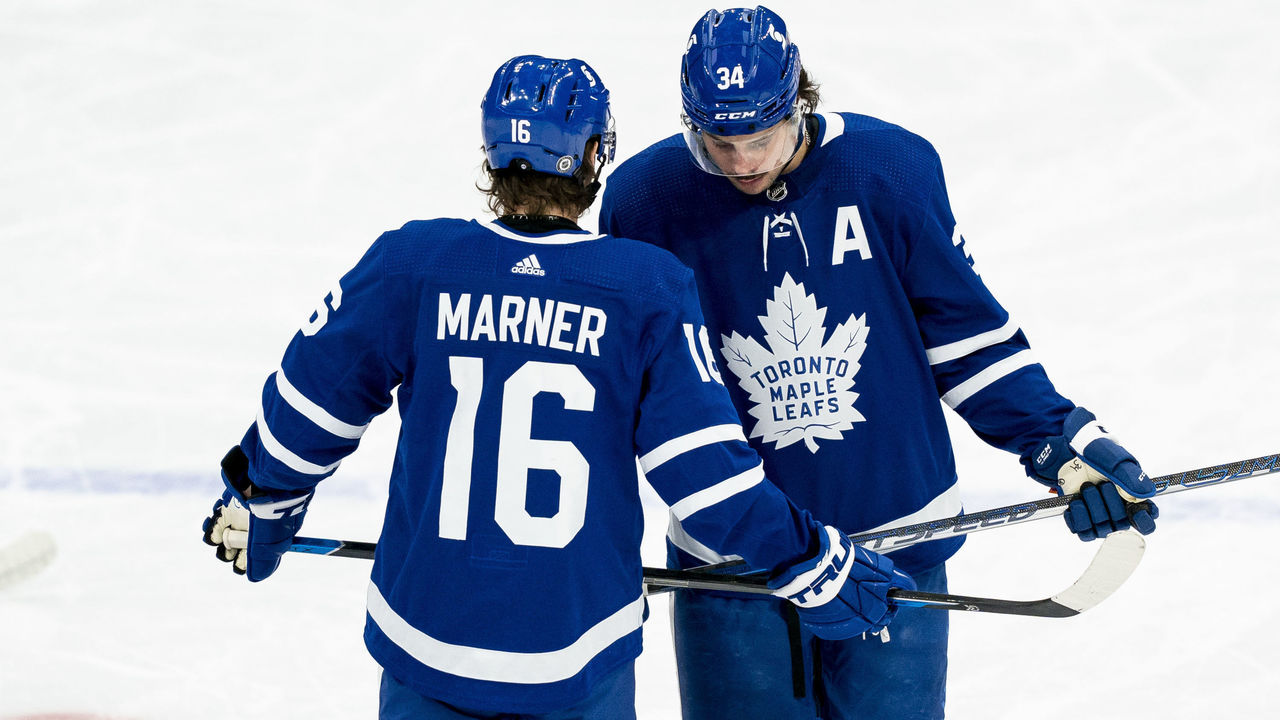 Combined cap hit: $25.04 million
This is the most expensive line on this list, but it warrants inclusion because it includes arguably the NHL's best shooter and one of the league's top passers. Auston Matthews has a strong case as the former after outpacing all NHL skaters with 41 goals over 52 games last season, while Mitch Marner ranked fourth in the NHL in assists and points.
Offseason signing Nick Ritchie will get the first crack at top-line duties for the Maple Leafs. His size and net-front abilities should be a good fit on the otherwise skilled unit. Matthews and Marner authored goals for, expected goals for, and scoring chances for percentages above 60 at five-on-five as a duo in 2021. As long as Matthews returns to full health as expected, that should continue.
5. Hyman-McDavid-Puljujarvi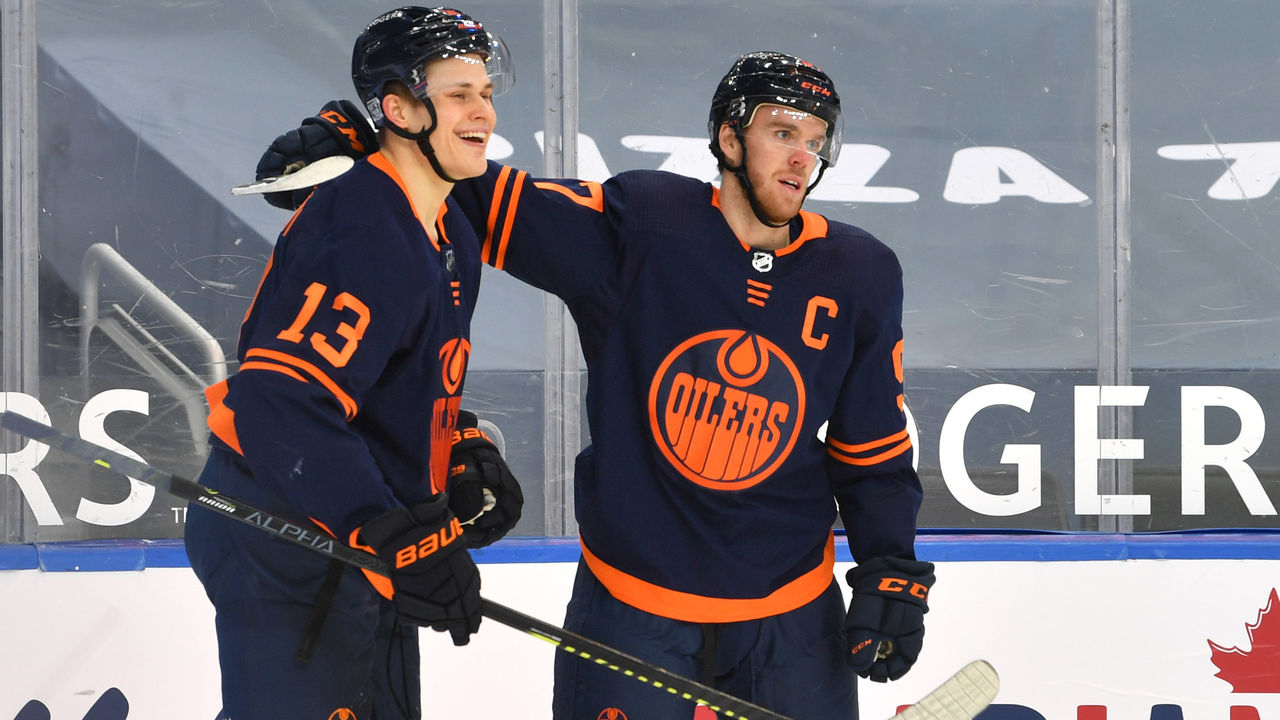 Combined cap hit: $19.18 million
Connor McDavid and Jesse Puljujarvi outperformed teammates Leon Draisaitl and Kailer Yamamoto in terms of underlying numbers last season. While Hyman could join the latter duo with Ryan Nugent-Hopkins skating on the top unit, it's more conceivable that the Oilers will put their big offseason signing on the top line.
Hyman's tenacity and puck retrieval skills could help McDavid improve on his remarkable Hart Trophy campaign, especially given the chemistry the reigning MVP already displayed with Puljujarvi. That pair produced favorable analytic figures while playing more than 550 minutes together at five-on-five last season. So it should have no problem exceeding, or at the very least replicating, those numbers with Hyman in the fold.
4. Pacioretty-Stephenson-Stone
| GP | TOI | GF% | xGF% | SCF% |
| --- | --- | --- | --- | --- |
| 42 | 442:10 | 69.09 | 56.78 | 55.96 |
Combined cap hit: $19.25 million
Much has been made about the Vegas Golden Knights' deficiency at center, but they still managed to boast one of the league's very best lines in spite of that. Of course, having talented wingers Max Pacioretty and Mark Stone certainly helps make up for Chandler Stephenson being less than elite, but he drove possession in his own right last season, too. Nolan Patrick's arrival could inspire some line-juggling, but look for the team to keep its top line together to start the campaign.
As a whole, the trio produced a better goals for percentage than any other line on this list that played together in 2021, but its expected goals for rate - while still favorable - was more comparable to the others featured here. While this group may have benefited from some puck luck, it still produced at rates that made it one of the league's best lines.
3. Palat-Point-Kucherov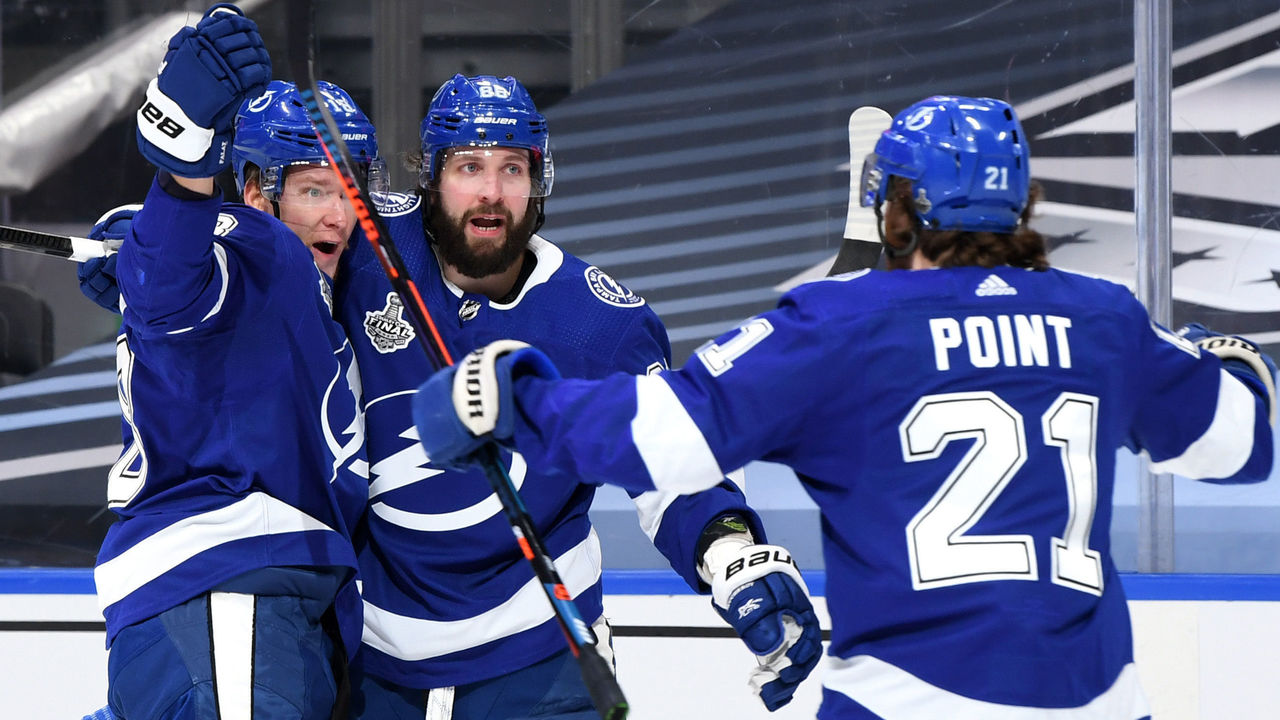 | GP | TOI | GF% | xGF% | SCF% |
| --- | --- | --- | --- | --- |
| 23 | 264:49 | 60.87 | 54.58 | 52.33 |
Stats above are from 2021 Stanley Cup Playoffs
Combined cap hit: $21.55 million
Nikita Kucherov missed the entire 2021 regular season. But considering what he and his linemates accomplished upon his return this spring, as well as how well they've clicked in the past, there's no denying the immense impact Kucherov can have alongside Brayden Point and Ondrej Palat.
Kucherov led the NHL in playoff assists and points in 2021, while Point topped all skaters in postseason goals as the Lightning claimed their second straight title. These three Bolts also excelled together in 2019-20, when they posted a 66.67 goals for percentage, 61.09 expected goals percentage, and 61.73 scoring chances for percentage in just over 369 minutes at five-on-five across 63 games.
2. Marchand-Bergeron-Pastrnak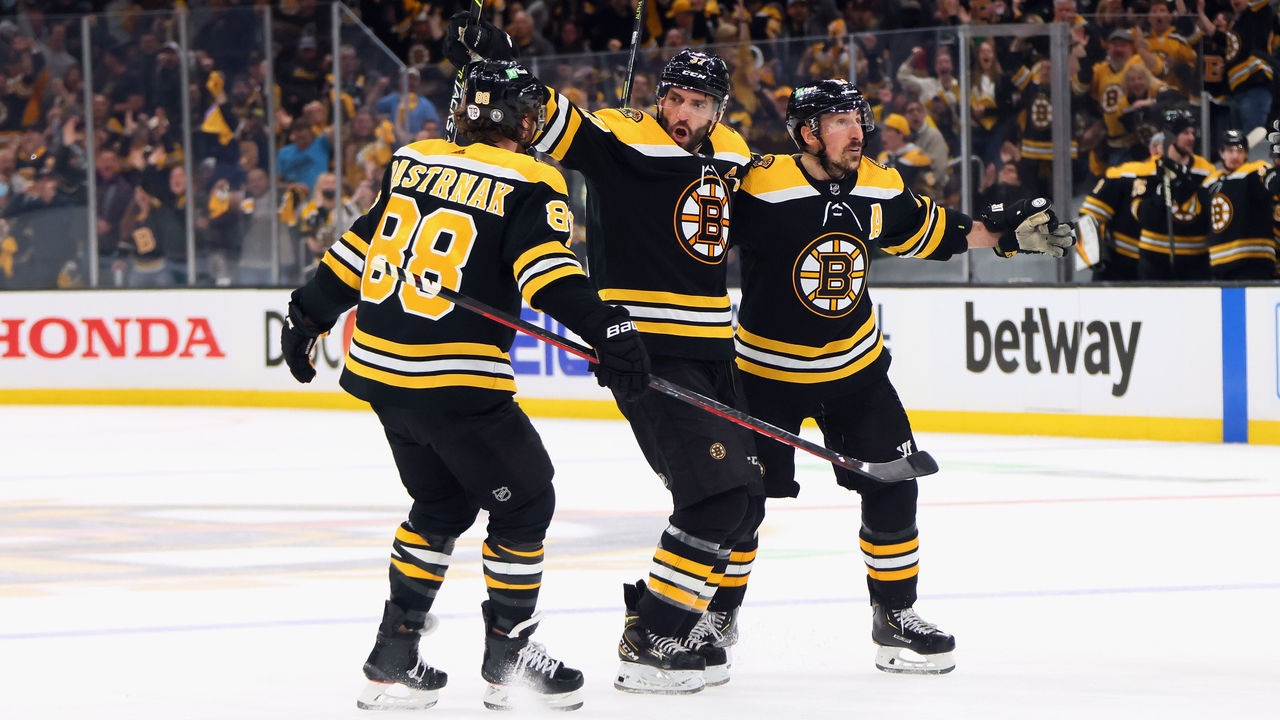 | GP | TOI | GF% | xGF% | SCF% |
| --- | --- | --- | --- | --- |
| 45 | 431:52 | 66 | 64.03 | 64.27 |
Combined cap hit: $19.67 million
The Boston Bruins' vaunted top unit of Brad Marchand, Patrice Bergeron, and David Pastrnak remained formidable in 2021, and no one should expect anything less in the upcoming campaign. It didn't log as much ice time at five-on-five as the No. 1 group on this list despite spending a few more games together last season, but this perennial powerhouse continued to cause major damage.
It's remarkable that these three continue to be so effective at driving play and taking care of both ends of the ice, especially considering Bergeron is 36 and Marchand is 33. Bergeron is a pending unrestricted free agent, and Pastrnak is only on the books through 2022-23, but for the time being, this ever-dangerous line still ranks among the NHL's absolute best.
1. Landeskog-MacKinnon-Rantanen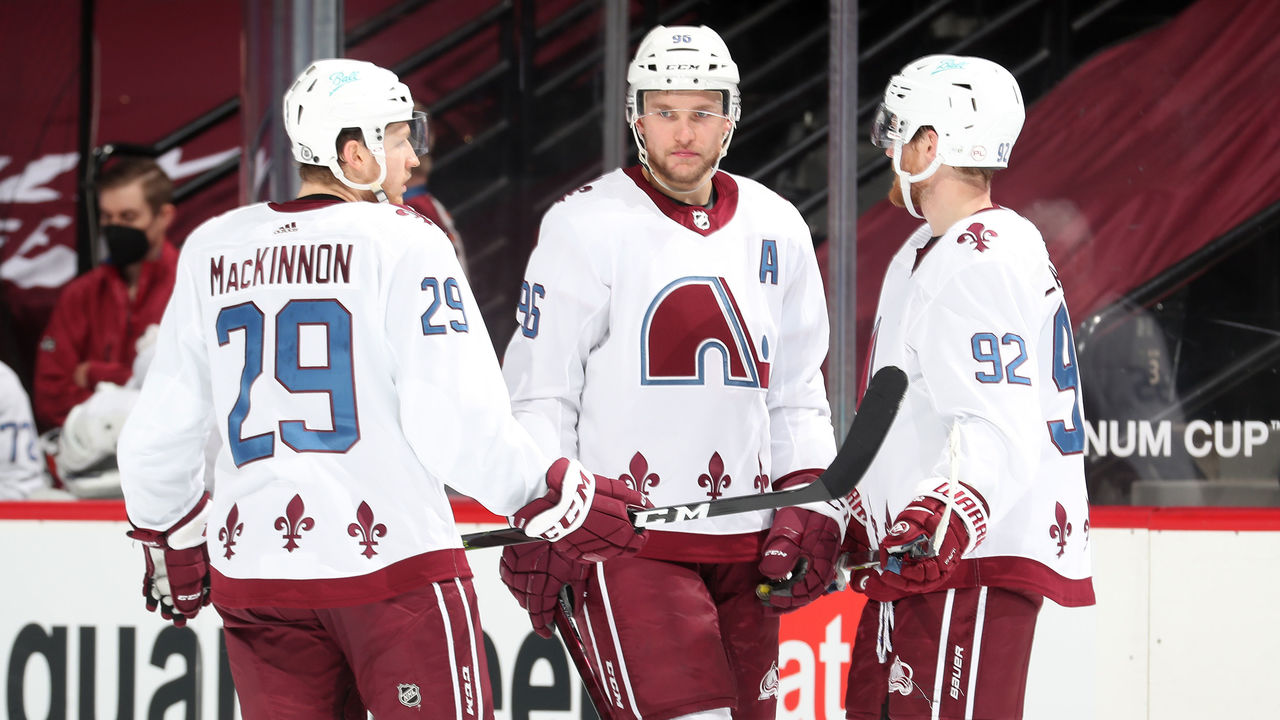 | GP | TOI | GF% | xGF% | SCF% |
| --- | --- | --- | --- | --- |
| 42 | 507:31 | 68.63 | 66.65 | 68.74 |
Combined cap hit: $22.55 million
The prolific Colorado Avalanche triumvirate of Gabriel Landeskog, Nathan MacKinnon, and Mikko Rantanen has been at or near the top among the NHL's best lines for several seasons, and 2021-22 should be no different.
MacKinnon is clearly the catalyst of this explosive unit, but Rantanen has blossomed into a superstar in his own right. The Finnish winger notched 30 goals and 36 assists last year, or 47 markers and 57 helpers over an 82-game pace. Landeskog, the Avalanche captain, provides physicality in addition to scoring as a perfect complement to his more offensively gifted linemates.
The best part for Colorado is all three players are still in their primes or just entering that stage. MacKinnon just turned 26 (though he'll need a new contract after 2022-23), Rantanen will be 25 in late October, and Landeskog - who signed an eight-year deal to stick around in July - will turn 29 in November. As long as MacKinnon ultimately re-signs, the trio's ages all but guarantee the ultra-productive forward group will remain among the league's most feared for years to come.
(Analytics source: Natural Stat Trick)
(Salary source: CapFriendly)
Comments
✕
Ranking the NHL's 8 best lines heading into this season
  Got something to say? Leave a comment below!