The son also rises: It's a golden age for major leaguers' kids
Cliff Welch / Icon Sportswire / Getty Images
Baseball is a game of fathers and sons. And at the major-league level, it's typically been about dads having better careers than their kids.
While there are outliers like Barry Bonds and Ken Griffey Jr. - sons who topped their father's careers in a big way - fathers have usually outperformed their children, according to Baseball Reference data analyzed by theScore. Of the 127 father-son pairings of position players entering the 2019 season, the dads averaged 14.2 career WAR while their sons averaged 8.1. Head to head, fathers held the edge, too, having the better career 74 times versus the sons' 48. There were also five ties.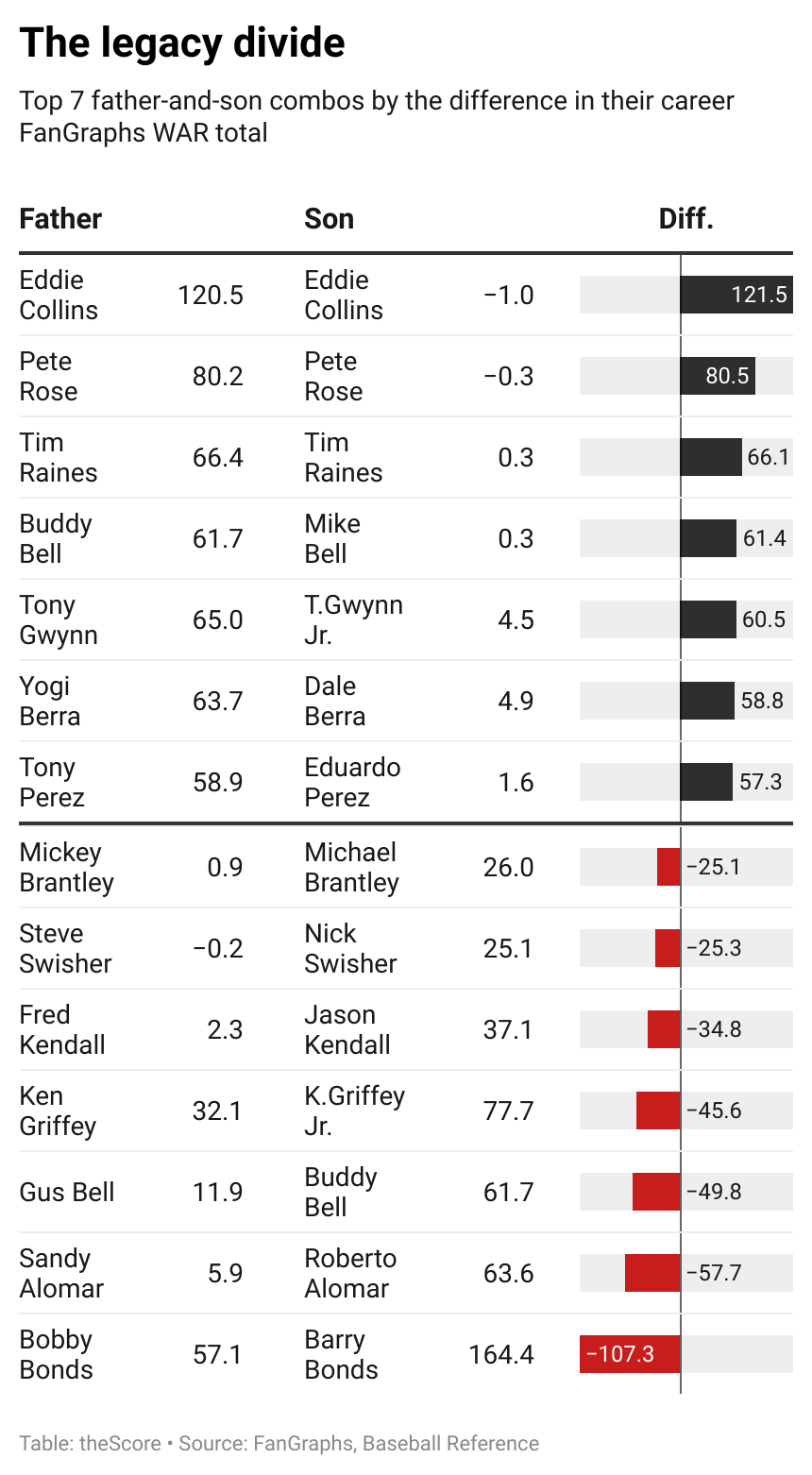 But in this generation, there might be a role reversal. This is the era of rising sons. It could be the best group since Griffey Jr. and Bonds roamed MLB outfields.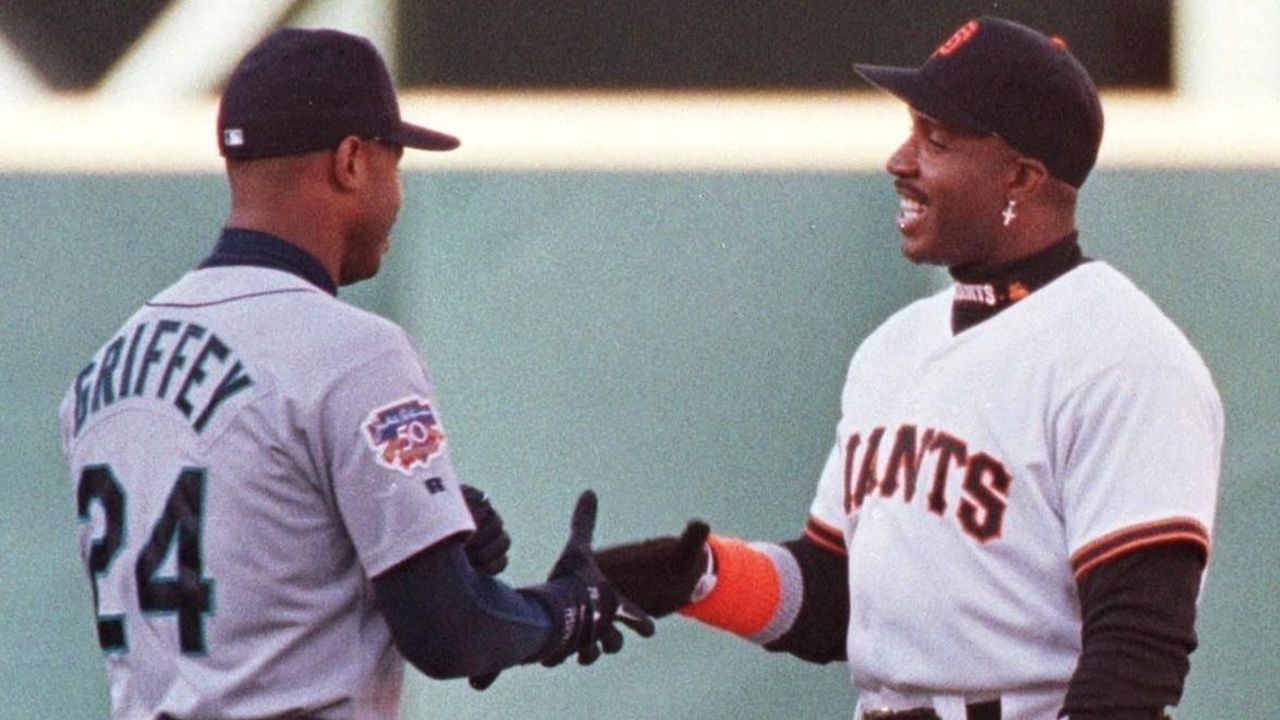 Cody Bellinger has bettered his father Clay's career WAR multiple times over. Fernando Tatis Jr. has already surpassed his father's career production, according to FanGraphs WAR, and is perhaps the game's top overall talent. Adalberto Mondesi, with health, stands a chance of exceeding Raul Mondesi's production, and in Toronto, Bo Bichette looks like a near-lock to surpass the 8.9 WAR that his father, Dante, put up in 14 seasons.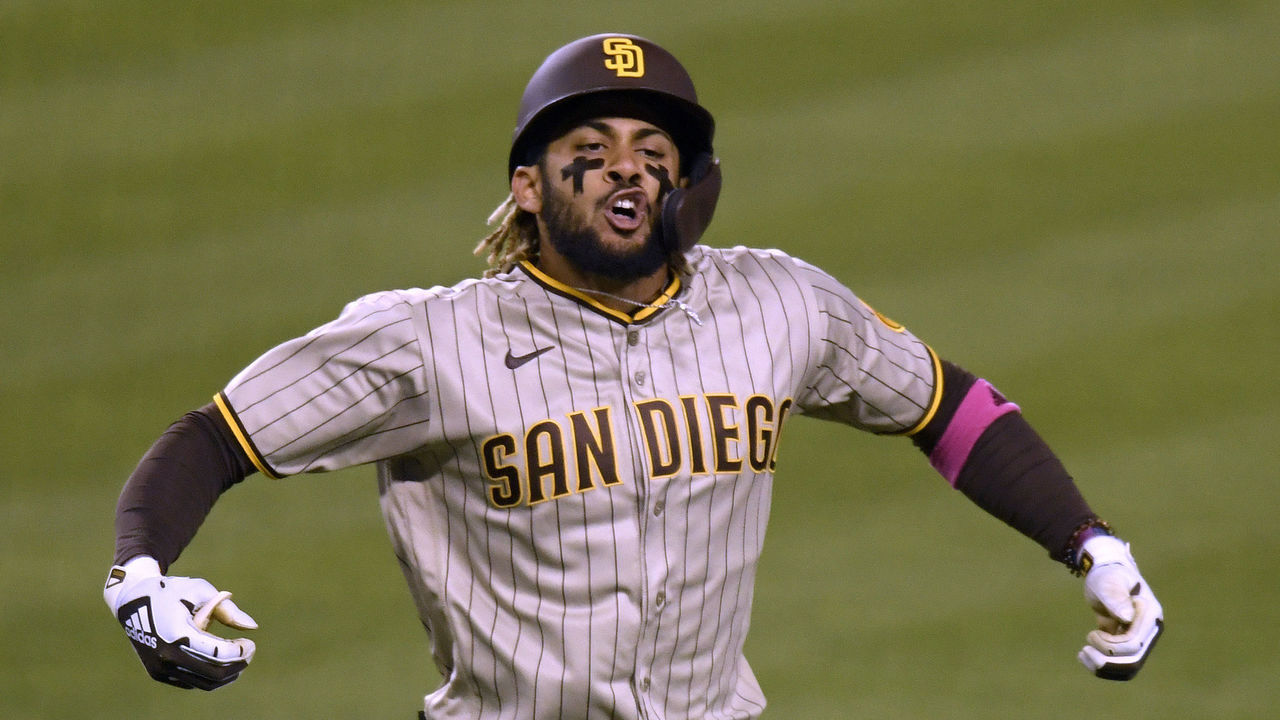 The Blue Jays are the legacy team. In addition to Bichette, they roster a Biggio and a Guerrero. While Cavan Biggio faces a tall order to outproduce his father Craig, a Hall of Famer, perhaps the most interesting case is that of Vladimir Guerrero Jr., who is enjoying what appears to be a breakout season at age 22.
Guerrero entered play Friday slashing .330/.465/.592, supported by the majors' sixth-best average exit velocity. A Hall of Fame father has never been outdone by a son, and no Hall of Fame hitter is joined by a Hall of Fame son in Cooperstown. Two sons of major leaguers are enshrined in Cooperstown: Griffey Jr. and Roberto Alomar, who will remain honored in the Hall despite being placed on the league's ineligible list after an investigation into a sexual misconduct allegation.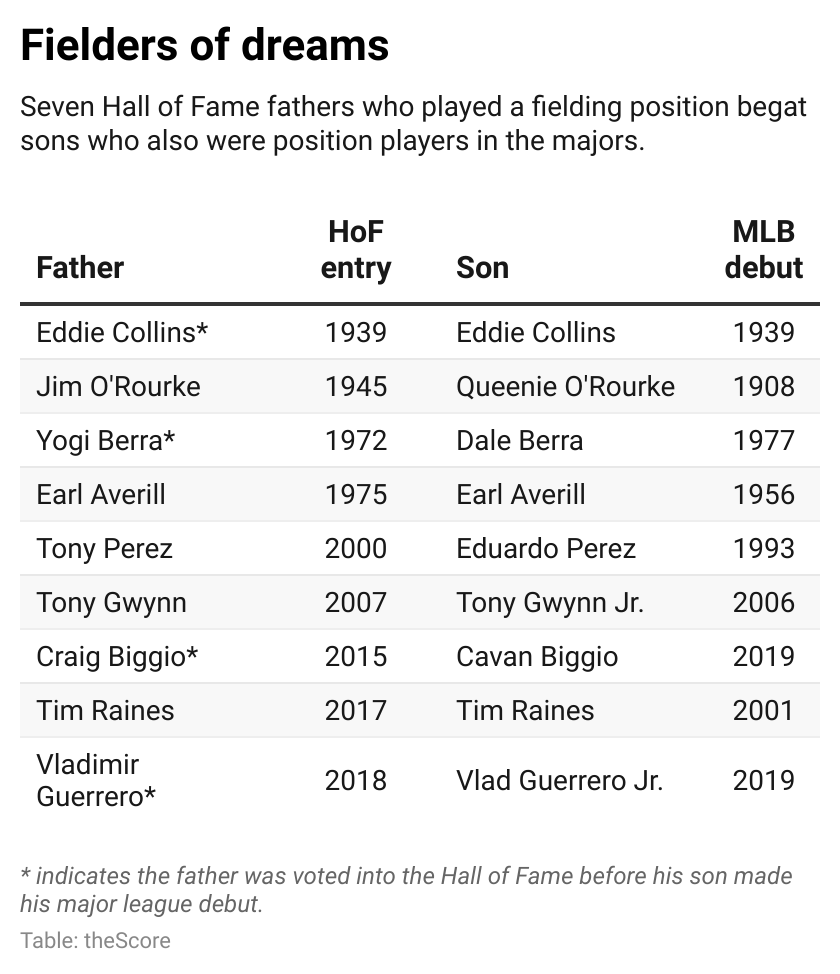 While it's very early in Guerrero Jr.'s career, his skill level gives him the theoretical ceiling of a player who could one day be a Hall of Famer, though he'll need to sustain elite production over thousands more at-bats. This season, Guerrero Jr. slimmed down and learned to lift the ball a bit more to unlock his gifts. He's not far removed from the player whose hitting and power potential drew elite scouting grades of 80 from Baseball America, nor is he far removed from batting .402 at Double-A in 2018 or being the consensus No. 1 prospect in the game. If any father-son duo owns a chance to be the first Cooperstown duo, as of this moment, it's the Guerreros. And for what it's worth, Vlad Jr. is having a better age-22 season than his dad did.
Even if he doesn't have a Hall of Fame career - and the odds, of course, are against it - just being a productive major leaguer would place him and his father in extremely rare company. Only 32 pairs of fathers and sons have combined for more than 30 WAR, and only 26 of those pairs had a father and son who each contributed more than 10 WAR to the total.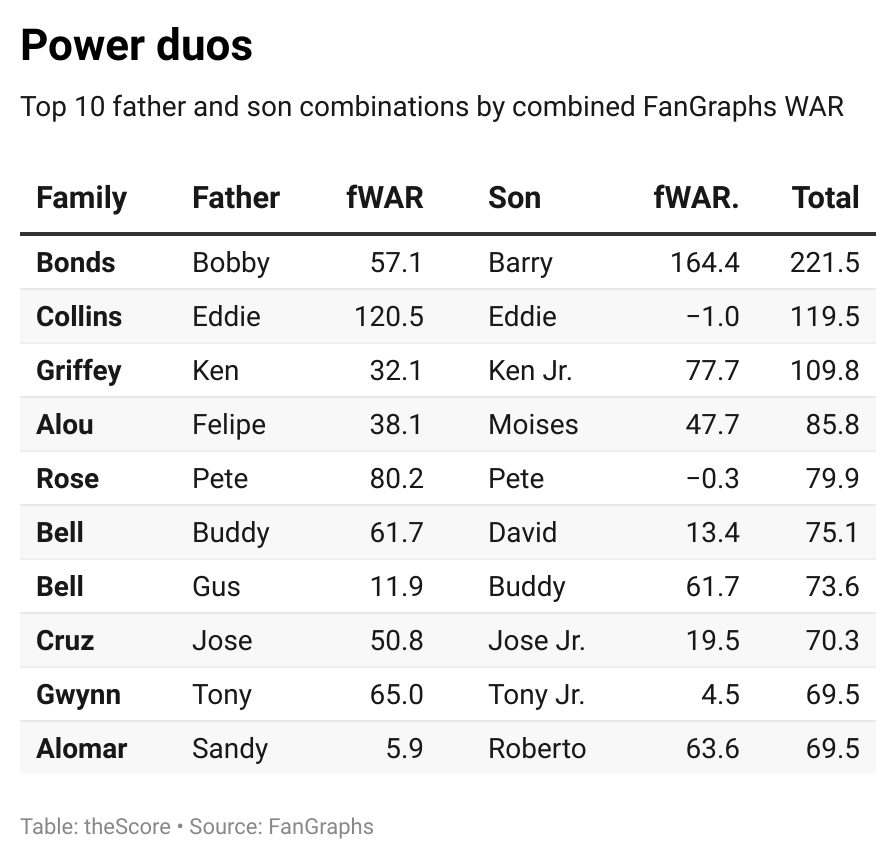 While being the son of a major leaguer gives one a leg up on reaching the majors - thanks in part to genes, financial means, and the motor-learning benefits of watching a parent who has elite athletic patterns - the odds are still extremely low. About 10,000 position players have reached the majors, and less than 2% were related as father and son. The chances of being a major leaguer and outperforming your major-league father are even lower.
But this special collection of big leaguers' kids in the majors right now has surpassed the fathers, or at least has a real opportunity to do so. It looks like a golden age for the sons.
Travis Sawchik is theScore's senior baseball writer. Follow him on Twitter @Travis_Sawchik.
Comments
✕
The son also rises: It's a golden age for major leaguers' kids
  Got something to say? Leave a comment below!