The Hawks' surprising defense has them thinking big
Kevin C. Cox / Getty Images
The Atlanta Hawks' 10-9 record is about as nondescript as it gets. At a cursory glance, the team's performance appears very much in line with preseason projections of a team that should be on the bubble for the playoffs or the play-in games.
But dig deeper, and you'll find a surprise.
There's a reason for optimism in Atlanta that extends beyond the Hawks' top-10 point differential and the mouth-watering offensive potential once the healthiest versions of Danilo Gallinari and Bogdan Bogdanovic join Trae Young on the court.
The most significant development through a quarter of Atlanta's season has come on the opposite end of the court, where the team's defense has been a revelation.
After finishing with a bottom-three defense in each of the last two seasons, the Hawks entered the weekend 10th in defensive efficiency. If you adjust to exclude garbage time and quarter-ending heaves - as Cleaning The Glass does - Atlanta owns a top-eight defense.
Given how potent their offense should be as they get healthier, the Hawks being able to defend this well changes their outlook on this campaign. More importantly, it significantly raises the future ceiling for this group. What heights could the franchise reach if Young ascends to superstardom with a squad capable of boasting top-10 marks on both ends of the court every year?
The big question is how real and sustainable is this Atlanta defense?
What hasn't changed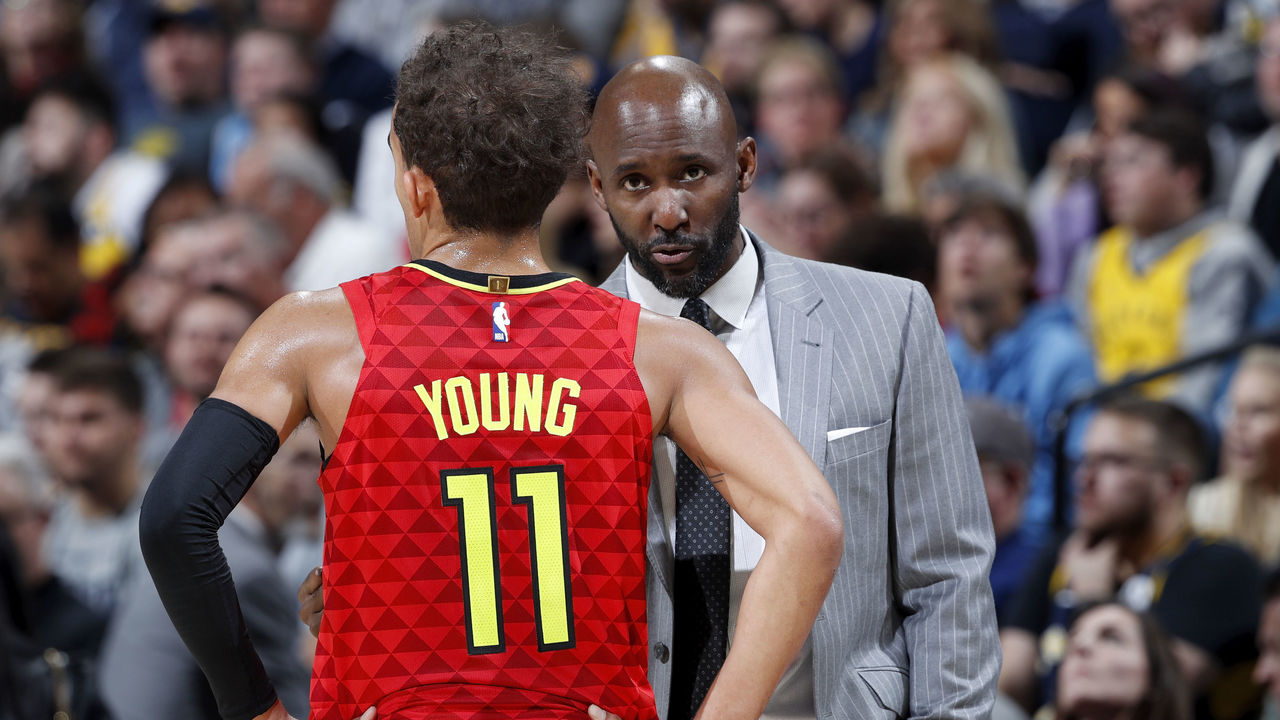 What coach Lloyd Pierce's Hawks haven't done is drastically overhaul the defense or revolutionize their opponents' shot profile.
Teams are getting to the rim against them at nearly the same rates. The share of 3-pointers and corner-3 attempts the club gives up has actually gone up slightly. And while the percentage of opponent field-goal attempts Atlanta's players are guarding tightly is actually down from last season, according to NBA.com, teams are shooting worse against them through 19 games.
Last season, teams shot 1.9 percentage points better against the Hawks than they shot on average, which was a bottom-three defensive mark. This year, teams are shooting 1.3 percentage points worse than their averages when facing Atlanta and a whopping 4.6 percentage points worse from deep, which is a top-two defensive mark.
The Hawks also aren't creating turnovers as often as they did last year. So when you add it all up, there is evidence to suggest at least some of Atlanta's early-season defensive success can be attributed to luck, and regression might be in store.
The difference makers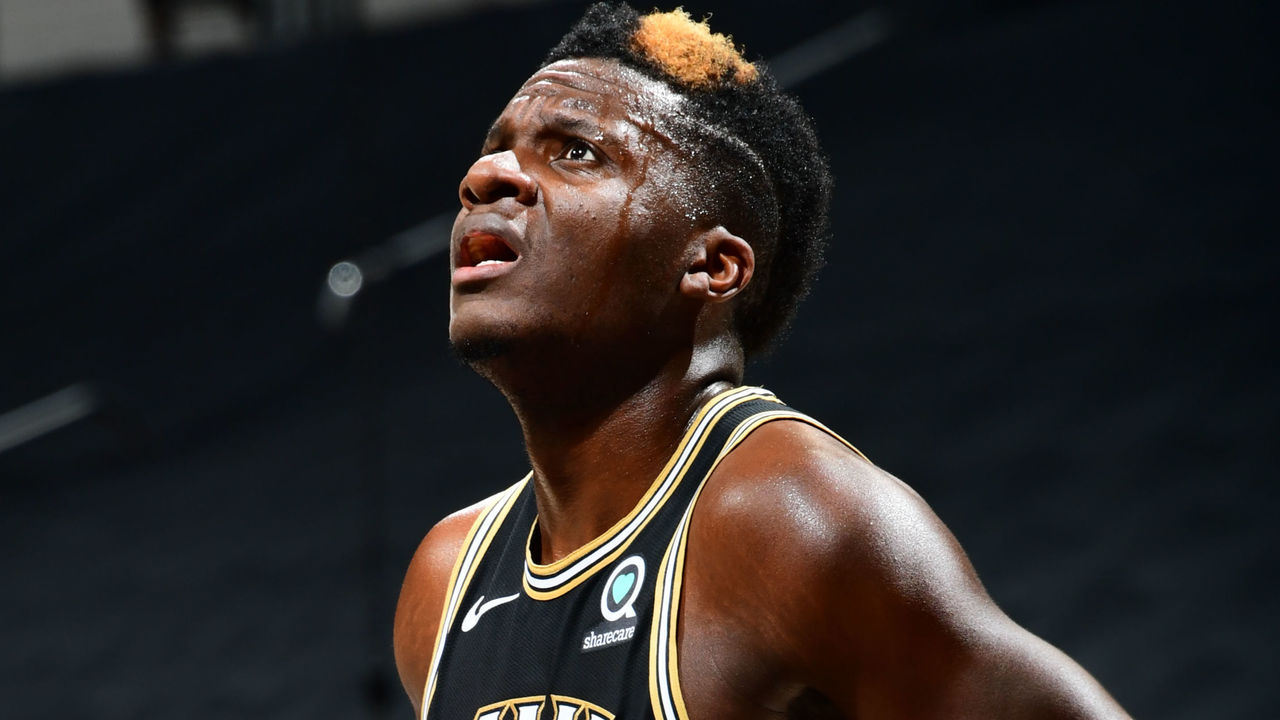 Still, luck doesn't explain the full breadth of the Hawks' improvement.
For one, Atlanta's been much better at taking care of the fundamentals. They're fouling less and turning the ball over less themselves, helping eliminate easy opportunities for opponents at the free-throw line and in transition. According to NBA.com, the Hawks have gone from 28th last campaign to 11th this year in limiting opponents' transition opportunities.
Additionally, the arrival of Clint Capela - who Atlanta acquired before last year's trade deadline but didn't make his team debut until this season - has solidified the Hawks' defensive rebounding. According to Cleaning The Glass, Capela's in the 94th percentile among centers when it comes to defensive rebound rate.
If you can utilize a set defense on a balanced floor, can keep opponents off the free-throw line, and take care of the defensive glass, you're well on your way to a respectable defense, no matter your personnel.
But even that personnel has improved - it seems like the basketball world underestimated the defensive potential of a Hawks roster that looked like it was saying "F--k defense" coming into the season.
Capela's playing his best defensive basketball in at least three years. Among the 40 players who have defended the most shots at the rim, the big man's 54.2 defensive field-goal percentage ranks 11th.
And it's not just pure rim protection - the 26-year-old has looked more capable of moving his feet on switches, too. In terms of picking up Kyrie Irving from the 3-point line and guarding him without fouling, this is about as good as it gets:
Capela's performance thus far helps explain why roll men haven't been as efficient against Atlanta as they were last season, even though opposing ball handlers in pick-and-roll scenarios have been. The roll man scored 1.19 points per possession against the Hawks last season, which ranked 26th defensively. This year, roll men are down to 1.13 against Atlanta, ranking 18th.
It's a modest improvement, but moving from dreadful to middle-of-the-pack in enough areas - the team has also moved from 29th to 15th in defensive rebound rate - adds up.
| 2020-21 Hawks | Capela on | Capela off |
| --- | --- | --- |
| Def. rating (rank) | 101.3 (1st) | 113.5 (27th) |
| Def. reb. rate (rank) | 74.6% (12th) | 71.3% (26th) |
Internal improvement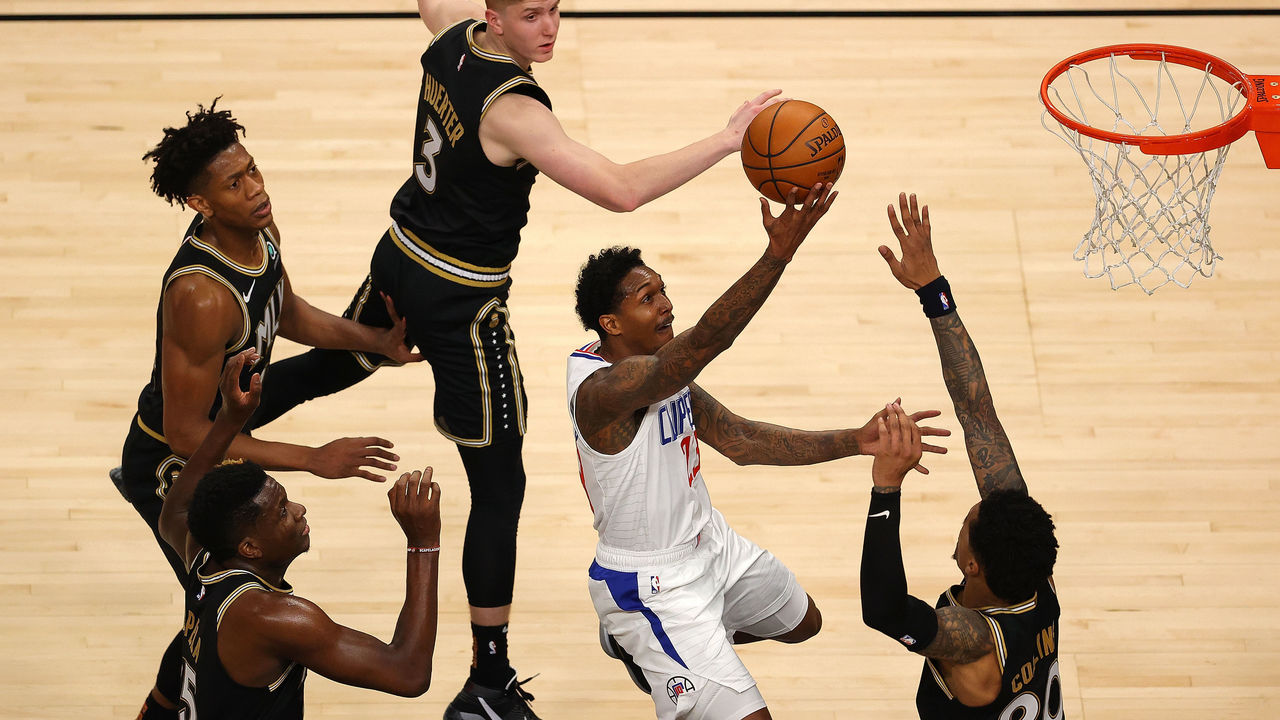 De'Andre Hunter's two-way play should put him in the conversation for Most Improved Player. Already impressive defensively as a rookie, Hunter's taken his game to new heights as a sophomore and is easily the Hawks' most important wing defender.
Among the 40 players who have defended the most shots overall, only Myles Turner and Rudy Gobert have negatively impacted opponents' shooting as much as Hunter has. In fact, Hunter and Utah's Royce O'Neale are the only non-bigs in the top 20.
Atlanta's lesser defensive players being better on that end and trying harder has also greatly helped the team this season, as simplistic as that sounds.
Cam Reddish's steal percentage ranks in the 85th percentile, according to Cleaning The Glass, but he's not a great defender by nature and is prone to high-risk gambles that can compromise a defense. Young is probably the worst defensive player in the league. Kevin Huerter isn't much better.
Perhaps it's the exhilaration of finally playing meaningful ball, but all three have looked more engaged on the defensive end over the last month.
Check out this sequence against Brooklyn. That's a disciplined Huerter (No. 3) staying with James Harden, while Hunter (No. 12) chases and denies Kyrie Irving around screens:
Despite mostly hiding Young on Joe Harris during that same overtime loss to Brooklyn - even though the Nets don't have anyone to truly hide on - the Hawks also utilized the 22-year-old's speed to chase Harden.
"As we were scrambling and trying to get the ball out of James Harden's hands, (Young) was the guy we were using," Pierce told theScore after Wednesday's overtime loss. "He was flying around, doing a tremendous job trying to get the ball out of James' hands so we can play (defense) through other guys. They burned us a couple times, but in order to do that, it requires a tremendous amount of effort."
Young's never going to be a good defensive guard - opposing offenses will continue to target him - and there's a reason lineups with him, Huerter, and Reddish on the court have been massacred (124.8 defensive rating, -16.1 net rating). But a healthy Atlanta team has the depth necessary to keep the three separated. Meanwhile, the trio's improved effort has alleviated some of the burden on their big men, in turn helping fuel the best defensive stretch of John Collins' career.
"Having Cam and Trae take that step was monumental," Collins told theScore after the loss to Brooklyn. "With the elevation of their defense, it helps me defend better. We have (Clint Capela) now, a true rim protector, a true rebounder, a true big fella. It just gives our team so many dynamics on defense. The way we can switch and cover ground now helps our defense in many ways."
Pierce's Hawks definitely seem to be switching more in a slightly less conservative defense this season while trying to keep players like Young and Gallinari out of some of those switches.
There will always be miscues and breakdowns, especially when employing some of the defensive liabilities Atlanta does. Just look at the way Harris breaks free in the first clip or what happens when Gallinari guards Harden in the second clip below:
It's tempting to think that as Gallinari, Bogdanovic, and (regular season) Rajon Rondo get healthy and start soaking up more playing time, the Hawks' defense might fall off a cliff.
But don't forget Atlanta has been waiting for Kris Dunn, who is one of the best perimeter defenders on the planet, and rookie center Onekya Okongwu, who profiles as a potentially elite defensive big man, to recover from their injuries (Okongwu returned Friday).
Not to mention Bogdanovic at least competes on the defensive end, and the club's depth is underrated. While playing Brooklyn, the Hawks even had Solomon Hill chasing Irving around at times while Brandon Goodwin proved he's a solid defender at the point of attack. Also, Tony Snell is somewhere on their bench.
If anything, Atlanta's incoming reinforcements might boost and diversify its already competent defense, giving Pierce a bevy of fun two-way lineup combinations to explore.
The takeaways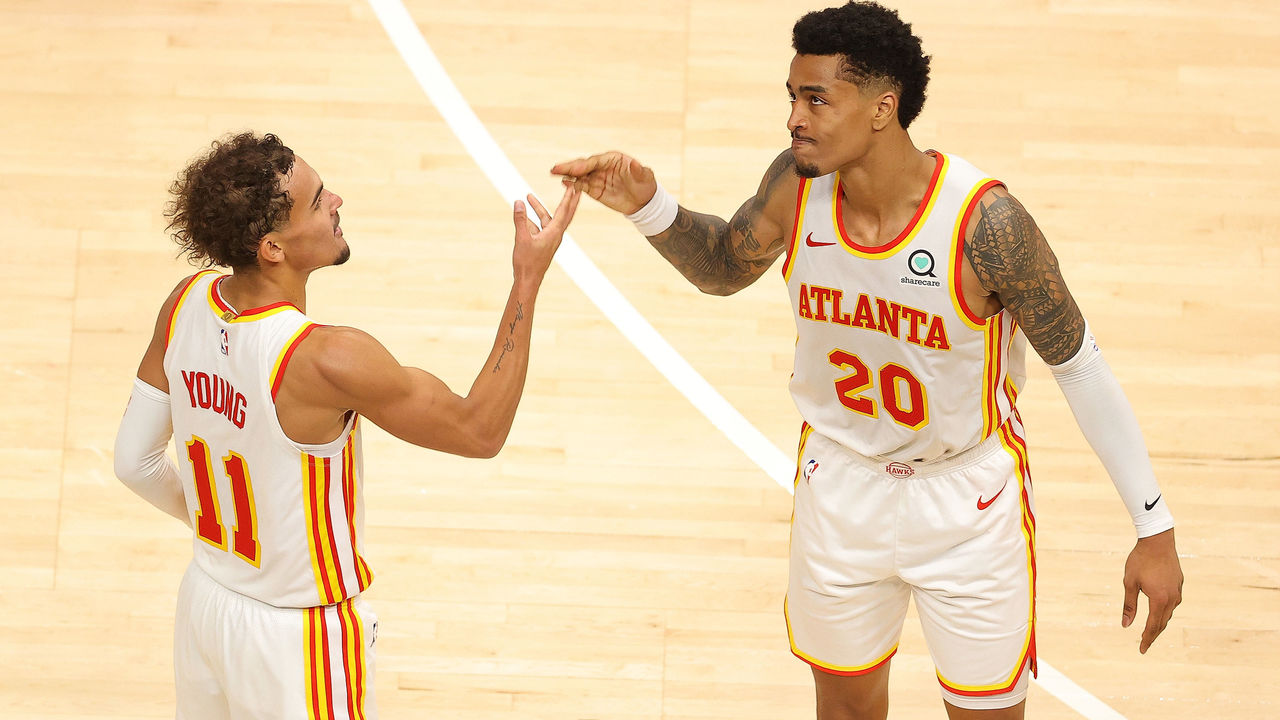 The most promising development so far is now having evidence the Hawks can build a functional defense with Young on the floor, and they don't need to surround their franchise cornerstone with non-threatening offensive players to do so.
Capela, Collins, and Hunter have especially given Young a solid defensive frontcourt to protect him while providing two elite pick-and-roll partners and finishers on the offensive end and a 3-and-D wing averaging 18 points per game.
Among the 100 most common four-player lineup combinations leaguewide, that quartet ranks seventh in defensive rating. Slide Bogdanovic into that lineup, and the two-way potential could trouble East contenders come playoff time (The Young-Bogdanovic-Hunter-Collins-Capela lineup has only played 10 minutes together).
The big question to tackle next will be what to do with Collins.
When Atlanta landed Gallinari as part of its big-money offseason after already acquiring Capela, it only made sense to envision the team eventually trading Collins to balance the roster. Collins, a pending restricted free agent seeking a max contract, came into the season viewed as somewhat of an empty-calorie stat-stuffer who gave it all back on the defensive end.
If Collins' defense falls off a cliff later in the season, the Hawks may have already missed their chance to trade him before potentially losing him for nothing in free agency. But it does look like this roster might already be far more balanced than we imagined, and refusing to believe in what's unfolding before your eyes because it doesn't match your preseason expectations can be just as dangerous - especially when dealing with young players.
Collins is only 23 years old. Young, Hunter, Reddish, Huerter, and Okongwu are still on their rookie-scale deals. Capela and Bogdanovic are under contract through 2023. Gallinari might prove to be the odd man out if Collins keeps this up, but Gallinari's 2022-23 salary also isn't fully guaranteed.
What's transpired so far this campaign, especially on the defensive end, makes it a lot easier to consider paying Collins and locking up this core well into the decade. Atlanta can do that, continue to assess things going forward, and still be in a position to make changes and move the chess pieces as things unfold. The Hawks' loud 2020 offseason was a step in the right direction, but don't mistake them for a team in a rush - this is a young team on the rise that still owns all of its first-round picks.
Atlanta can compete for a playoff spot in the short term and continue to build for something of greater significance in the long term, perhaps even planning to wait for veteran East contenders, like the Nets, to fall.
The Hawks, at long last, are giving fans and even scrupulous observers reason for hope. Who would've thought they would be doing it with defense?
Comments
✕
The Hawks' surprising defense has them thinking big
  Got something to say? Leave a comment below!