Editor's note, Nov. 18: This article was written under the premise Bogdan Bogdanovic was headed to the Milwaukee Bucks via sign-and-trade. That deal is reportedly off, with Bogdanovic set to become a restricted free agent.
The Milwaukee Bucks did what any small market team would do if the future of their generational superstar was on the line - they went all-in.
The path Milwaukee took to get there wasn't the most logical or prudent. It included giving up control of five first-round draft picks (three picks plus two pick swaps) for Pelicans guard Jrue Holiday and agreeing to a sign-and-trade deal with Sacramento for sharpshooter Bogdan Bogdanovic. But a team that's won nearly 75% of its games over the last two regular seasons is now significantly better.
In moving Eric Bledsoe, George Hill, and Donte DiVincenzo in the two deals, the Bucks gave up a sizeable chunk of ball-handling and perimeter defense. Holiday, one of the league's premier two-way point guards, more than makes up for it, while bringing more shot creation to a team that was too easy to defend when Giannis Antetokounmpo didn't have the ball in his hands or couldn't get to the rim.
Over the last three seasons, Holiday's averaged nearly 20 points, seven assists, and five rebounds on 55.5% true shooting, while maintaining his career 3-point mark of 35%. He also made two All-Defensive Teams during that time.
Bogdanovic is one of the league's truly unconscious gunners. The 28-year-old has shot better than 37% from deep while nearly 48% of his career field-goal attempts have come from behind the arc.
In all, Milwaukee moved five players who combined for 306 3-pointers in 5,786 minutes last season. Bogdanovic drilled more than half as many 3s (164) in under a third of that group's combined minutes.
Bogdanovic also brings some playmaking and positional versatility, as he can log minutes at shooting guard or either forward position. He should absolutely feast on the open shots Antetokounmpo's drives and defensive magnetism will create for him.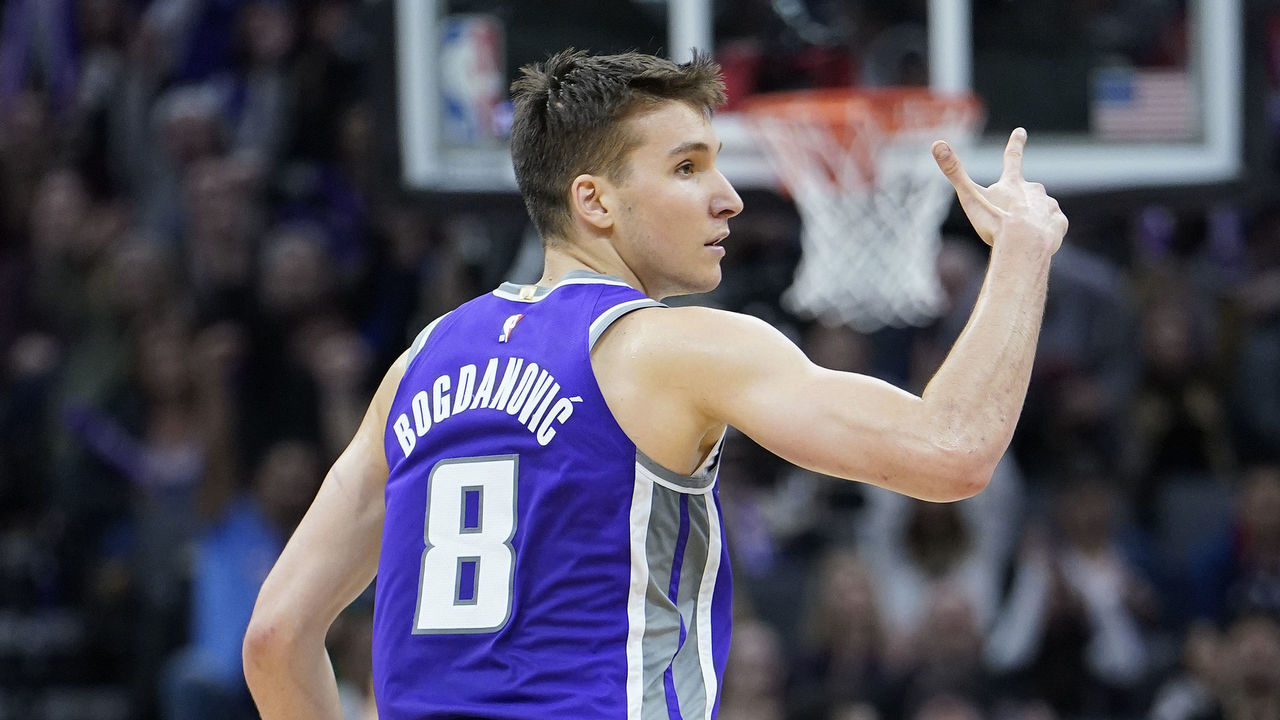 A new-look lineup featuring Antetokounmpo, Holiday, Bogdanovic, All-Star Khris Middleton, and Brook Lopez might be the best in the league on both ends of the court. And in a vacuum, that's all that matters when the point is to beat another team's five best players.
But deals of this magnitude cause ripples elsewhere, and there's plenty of context to wade through.
As good a two-way player as Holiday is, he's not worth trading five first-round picks for. A one-time All-Star who's missed an average of 21 games per season over the last seven years, he'll turn 31 in June, and can opt for free agency after the season. Moving Bledsoe's contract was a win - he's owed $38.9 million guaranteed through the summer of 2023 - but Milwaukee subtracted an important defensive starter, a key rotation piece (Hill), and control of five firsts for Holiday.
By acquiring Bogdanovic in a sign-and-trade transaction, the Bucks also triggered a hard cap (which comes in $6.3 million above the luxury tax line), which means that aside from signing players to minimum contracts, Milwaukee only has about $11.6 million left to complete a roster currently comprised of just seven players.
If Monday night's trades secure a long-term commitment from Antetokounmpo, the reward outweighs the risk tenfold. Some were even quick to assume the shortsighted deal for Holiday is an indication Milwaukee must already know Antetokounmpo will sign a supermax extension before the season begins.
I'm skeptical on both fronts.
If the Bucks had assurances The Greek Freak will remain in Milwaukee long term, thereby prolonging their path to championship contention, then why would the team sacrifice so much of its future in an overpay for a short-term rental? It's possible an extension with Holiday could already be in the works, but that remains a lot to give up to sign Holiday into his mid-30s.
The more likely explanation is that the Bucks were acting to secure Antetokounmpo's commitment. In that scenario, acquiring and locking up Bogdanovic to partner with Middleton and Lopez as Antetokounmpo's core support staff of the future was a fantastic bit of business from general manager Jon Horst, while the acquisition of Holiday helps Milwaukee win now.
But if you're Antetokounmpo, even if you're thrilled with the obvious talent upgrades, what's the incentive to sign an extension this year?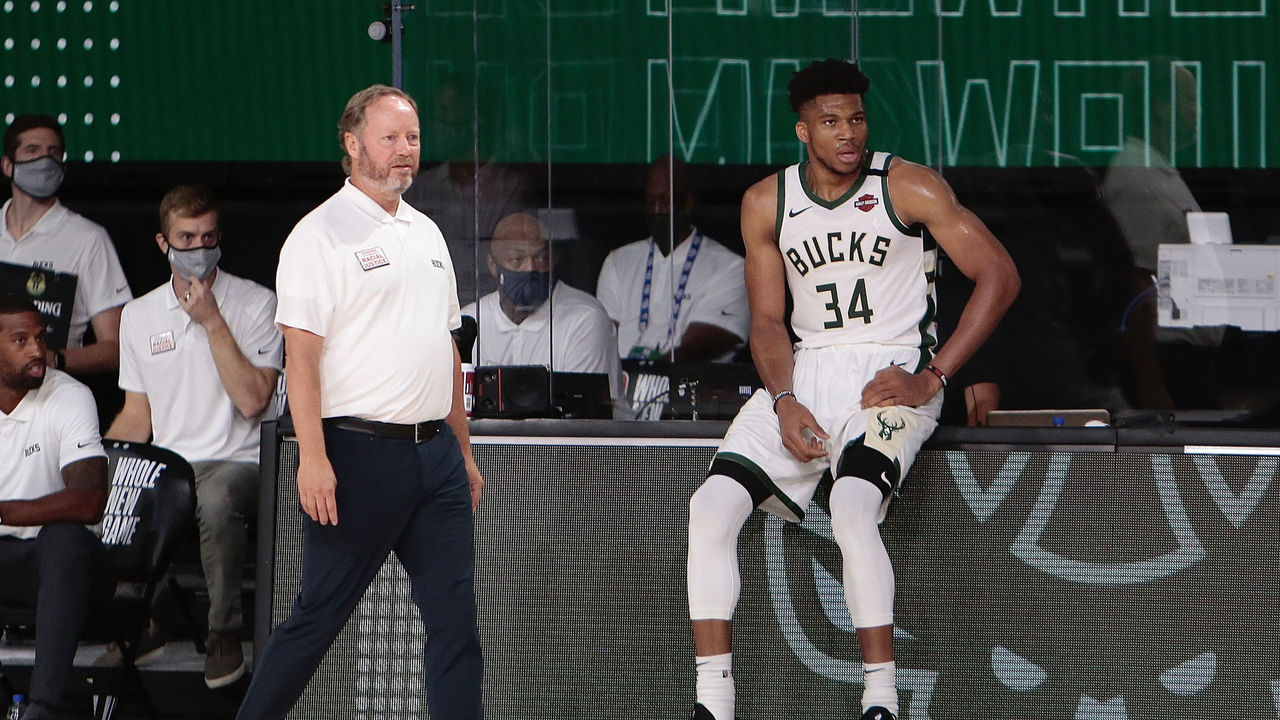 As a 25-year-old two-time reigning MVP, Antetokounmpo is the type of talent who can be sure a full, five-year supermax will still be on the table after the coming season. No injury or down year will change that, and there's no potential revenue loss in waiting until his current contract expires in 2021.
By letting the season play out, Antetokounmpo can also fully evaluate what exactly he's committing to.
On paper, the revamped Bucks look awesome, and the fact Horst sacrificed depth to build a more top-heavy team might actually be a blessing, as it will force head coach Mike Budenholzer to lean on his stars the way contending teams are supposed to, especially in the playoffs.
But this team is going to lack depth, in a condensed season, under the guidance of a coach who's struggled to figure things out on the fly in the postseason.
The Bucks' short-term playoff success is far from guaranteed, and if the team falls short again, how confident should a superstar free agent really be in the long-term outlook of a franchise now lacking draft capital, but locked into a core of Middleton, Bogdanovic, Lopez, and potentially Holiday? In dealing DiVincenzo, Milwaukee also surrendered its last piece of young talent to dangle in trade talks.
Without any financial ramifications to worry about, and with the NBA's balance of power at his fingertips, the best decision for Antetokounmpo remains playing out the season and surveying the landscape before committing the next half-decade of his career to this team.
Joseph Casciaro is theScore's senior basketball writer.