Path to the draft: How LaMelo Ball won over skeptics in 12 games Down Under
Photo illustration by Nick Roy / theScore
"Here's what you don't know," Corey Williams said over the phone recently. It was morning in Australia, and he was monologuing to a reporter who lives in an NBA city, a stand-in for every American analyst who doesn't grasp what LaMelo Ball accomplished Down Under last season. A retired point guard who played pro on five continents, Williams once was the MVP of Australia's National Basketball League. Now he's the NBL's loudest pundit and color commentator, self-identifying as a cross between Stephen A. Smith and Mark Jackson - "with Jalen Rose swagger" to boot.
What we don't know, in this instance, was the caliber of the competition Ball vanquished in the best performance among his 12 games with the NBL's Illawarra Hawks. The box score recounts Ball's line - 32 points, 13 assists, 11 rebounds - in an overtime win over the Cairns Taipans last Nov. 25. At 18, he became the youngest NBLer to record a triple-double. "History in this league," Williams said, but his take goes deeper. To merely restate those numbers is to omit nuance, to sell Ball short - to overlook, specifically, that the opposing point guard was Scott Machado, an MVP candidate who got some run with the 2018-19 Los Angeles Lakers.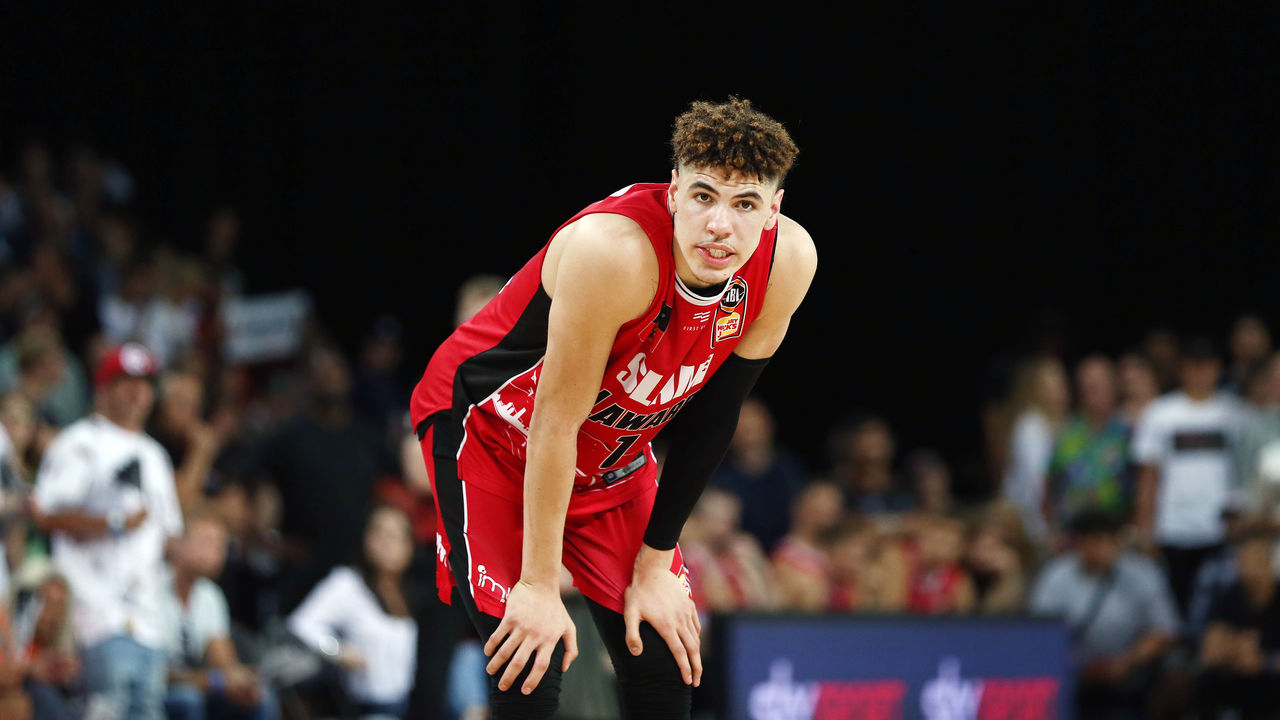 "It's not like he did it against some Joe Schmoes. He did it against an elite point guard who finished with the Lakers last year! You understand what I'm saying?" Williams said, advancing his case for why Ball should go first in next week's long-awaited NBA draft.
"These are the things, the intangibles, that people don't know when they're talking about other things. He played 12 games, OK, and got injured, so they shut it down. OK. How many games did Kyrie Irving play in college at Duke? Ten? Where did he go? Number f------ one." (Irving played 11 games for Duke in 2010-11, but point taken.)
"Talent is undeniable," Williams said, shifting his focus to Ball again. "That's the kid. That's who you need right there. Anything else?"
There's always something else to say about Ball, the 6-foot-7 playmaking prodigy who's lived his whole teenage life in the public eye. He has 5.6 million Instagram followers, more than Zion Williamson. He once faced Zion in a summer AAU matchup that drew his brother Lonzo, Damian Lillard, and a crush of fans so dense - standing-room demand stretched seven rows deep - that Las Vegas police had to turn away stragglers at the door.
LaMelo is the Ball brother who scored 92 points in a high school game. He called his shot on a pull-up jumper from half court, a Babe Ruthian flex for the Ballislife generation. He sank three threes and a buzzer-beating layup in 45 seconds in the Drew League. Reality-show cameras trailed him at age 16 to Lithuania, where LaVar Ball, the family ringmaster, feuded with the coach and nixed his son's professional debut after eight uninspiring appearances.
Buzz has long influenced how people process LaMelo's career, and that kind of overlay can obscure a slender track record. Because he gave up his amateur status for a shoe deal and pro opportunities, Ball has never played a consequential game in his own country, a novelty among NBA prospects that ESPN's Tim Keown noted in a recent profile. No McDonald's All-American Game nod, unlike Anthony Edwards and James Wiseman. No star turn at March Madness, unlike Williamson and Ja Morant.
Hype filled the void until he got to Australia. As Williams said, Ball played 12 NBL games in fall 2019 and then bruised a bone in his left foot, prompting him to return to the U.S. to prep for the draft. That was still enough for him to win Rookie of the Year honors and prove, to at least one close observer, that his stopover was substantive.
"I live basketball. I know what it takes to stay and play at the next level, and the tools that you need. As an old-school guy, what we used to say growing up is, 'If a kid is good, let's see what he does - f--- his age group - let's see what he does against men,'" Williams said.
"The kid averaged 17, seven, and seven in one of the best leagues outside of the NBA."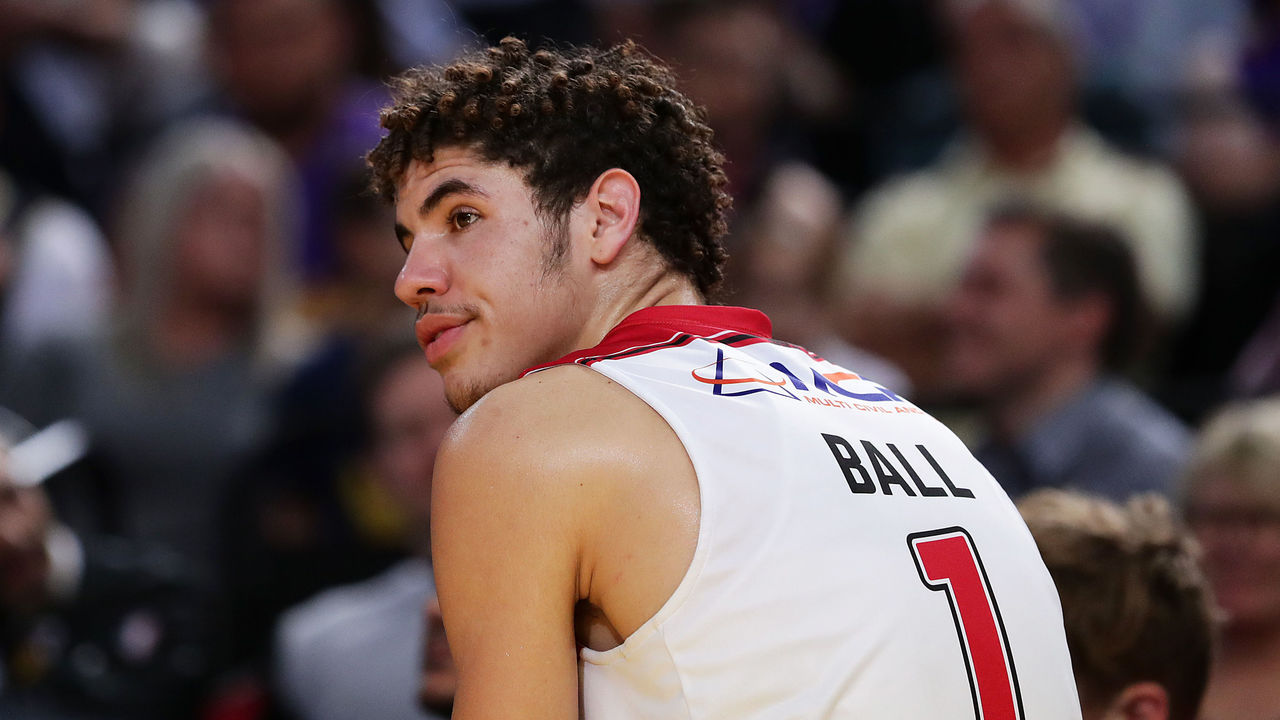 Williams and Matt Flinn, Ball's coach in Illawarra last season, both cop to wondering at first if Ball could hold his own against mature opposition determined to shackle him. "This is not a chump league," Flinn said in a recent phone interview. He invoked a noted pest to make his point: "Everyone looks at (Matthew) Dellavedova in the NBA: 'Oh, he's a hardass. (Australian rules football) background, he'll dive at your legs, dive on loose balls.' Every team out here's got three or four of them."
Williams recalls welcoming Ball to the NBL orbit on Aug. 22, 2019, the player's 18th birthday, when he and R.J. Hampton joined Williams on a preseason TV panel. Challenged to name the league's three best point guards, Ball and Hampton could only think of one, leading their questioner to smack the studio table. "I blasted them," Williams said, annoyed that the American rookies hadn't done their homework.
Ball barely blinked, not then nor in his Illawarra debut a month later. In exhibition play against the Perth Wildcats, the eventual league champion, Ball started, rained in four threes, and scored 19 points to go along with 13 rebounds and seven assists - primarily against Damian Martin, the NBL's six-time best defensive player for whom that award is now named.
"Damian Martin is like a Patrick Beverley-type defender. He's picking you up full court," Williams said. "When I tell you 'Melo Ball was unbothered and unfazed, I couldn't believe what I saw."
On offense, Ball is a crafty dribbler and sublime passer, as the above behind-the-back sequence from later in the season attests. Without the swiftest first step, he beats and baffles defenders with deception tactics: fakes, hesitation dribbles, look-offs that create openings for teammates only he can see. He slings attentive, ambitious lead passes in transition with either hand and sometimes covering the full court. The NBL is stingy with crediting assists on buckets where the scorer dribbles, but Ball still distributed 6.8 assists per game, second in the league to Machado.
Of all people, Flinn said, Ball's playmaking instincts remind him of Wayne Gretzky, the NHL legend with a singular knack for thinking a couple of moves ahead.
"When (Gretzky) was a kid, he just played. He didn't come through a structured environment with ice hockey. He saw things before they happened and could remember every play. Once he got into the games, everything sort of slowed down for him," Flinn said. "I sort of see that with LaMelo a little bit."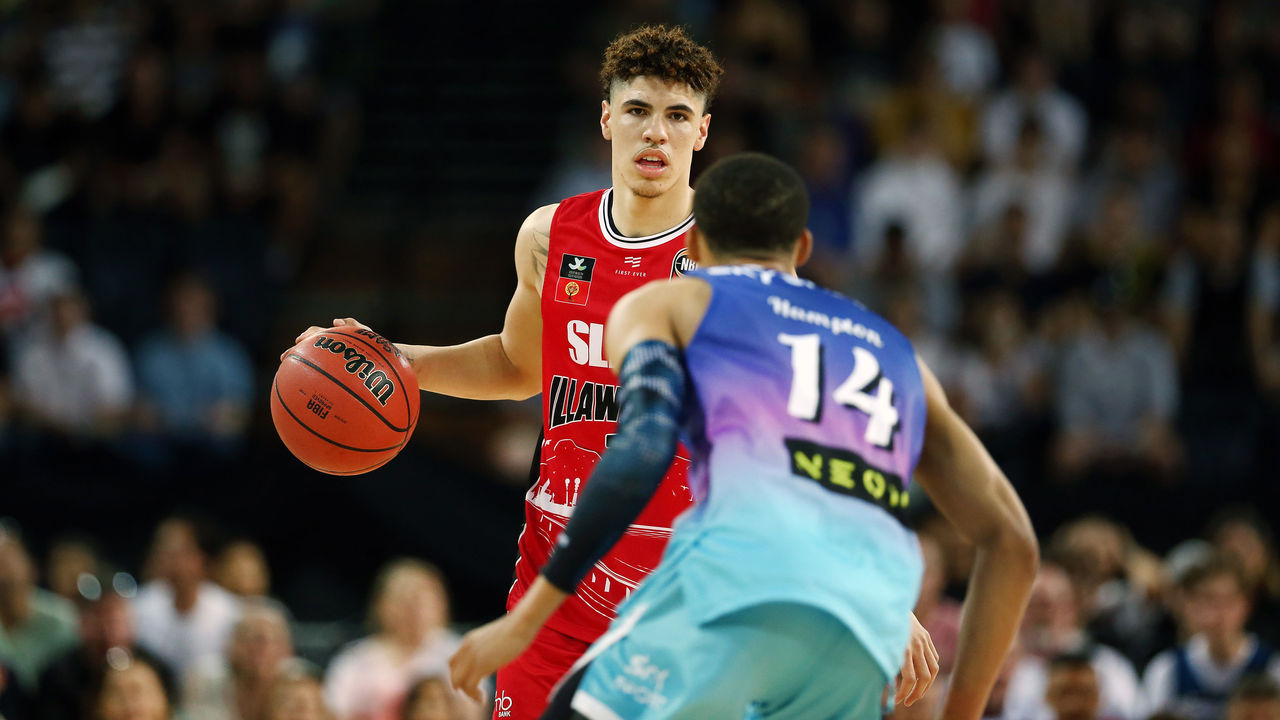 The knocks on Ball's game surface when he doesn't have the ball, either because he's defending or he just clanked a shot attempt. He can hit 20-foot floaters and the occasional pull-up from Steph Curry range, but the wonky look of his jumper - his low, pushy release; the susceptibility to drift off-balance - hardly allays concerns about his efficiency and shot selection. His NBL splits ranged from below average to dire: 51.2% at the rim, 33.3% from midrange, and 24.4% behind the arc, as visualized by this chart from the NBL analytics website SpatialJam.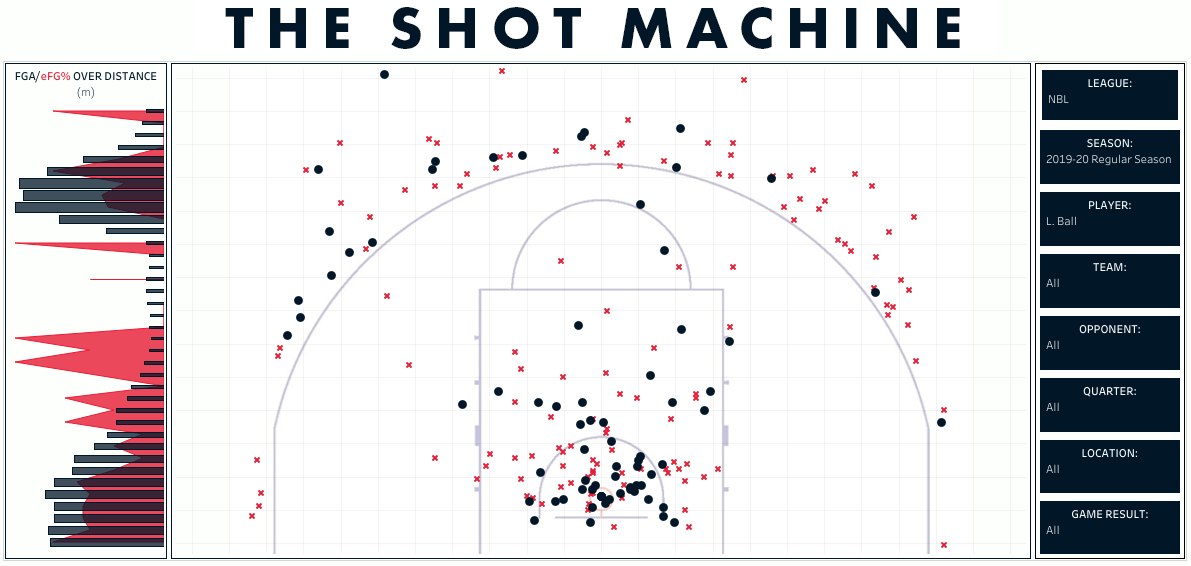 Defense isn't his calling card, either. Ball's 1.67 steals per game ranked second in the NBL, but he struggled with one-on-one containment and too often was inattentive off the ball. This is the downside of lacking experience in structured systems, Flinn said, though he thinks some of Ball's tools - the length and quick feet that help him stalk ball-handlers around screens - could prove useful on a team with strong rim-protection.
What every hoisted shot makes clear is that Ball doesn't lack for self-belief. He's also a gym rat who takes joy in playing the game, Flinn said. Illawarra gave Ball his own key to the facility so that he could train at night with his personal manager, the retired NBA guard Jermaine Jackson. Seared in Williams' memory is how Ball responded to a shoddy defensive showing early last season: The next day, he visited the beach with Jackson to run slide drills in the sand.
By the time Ball attends his first NBA training camp, more than a year will have passed since he played a competitive game, the byproduct of his foot injury and delays wrought by the pandemic. Back then, his triple-double breakthrough against Cairns provided a glimpse of his peak - a snapshot of what happens when his offensive gifts click. In the first half, Ball nailed a deep three, a stepback three, and a stepback deep three. A fourth trey, from several feet behind the line again, forced overtime, and as Illawarra nursed a narrow lead, hesitation shakes opened lanes for him to finish at the rim and ice the victory.
That was his second-last game in Australia. Five nights later, against Hampton's New Zealand Breakers, he put up 25 points, 10 assists, and 12 rebounds - another triple-double to cap the sojourn.
"Let me tell you what's more impressive," Williams said. On the phone, he notes that Charlotte Hornets executive Mitch Kupchak was at the Cairns game, showing Ball doesn't wilt in the presence of NBA decision-makers. He argues that the Minnesota Timberwolves, if they don't want to pair Ball with D'Angelo Russell and Karl-Anthony Towns, should draft him first anyway to key a trade for a veteran guard. He racks his brain for the last 6-foot-7 guy who could set the table like LaMelo. He settles on Penny Hardaway, or maybe Shaun Livingston before his knee troubles.
He explains why his advocacy for Ball is so impassioned: because he doubted Ball, learned not to, and now believes it's on him to spread the word with the same energy. Hopefully loud enough to be heard stateside.
"This kid is still a f------ underdog," Williams said, astounded by the thought. "Because people don't know."
Nick Faris is a features writer at theScore.
Comments
✕
Path to the draft: How LaMelo Ball won over skeptics in 12 games Down Under
  Got something to say? Leave a comment below!