New author Brian Burke reflects on a wild career and what's next for the NHL
Dave Sandford / NHL / Getty Images
Brian Burke's shoulders are wrecked, the lifelong price he pays for suiting up at prop for Harvard Business School's men's rugby team in his twenties. Labrum and rotator-cuff troubles have forced him to undergo major surgeries, including in the spring of 2007. When he won the Stanley Cup that June as general manager of the Anaheim Ducks, he struggled to lift the 35-pound silver grail overhead.
That isn't to say Burke's physical limitations marred the moment. Besting the Ottawa Senators in a tidy five-game final was the crowning achievement of his NHL executive career, and he thinks those bellicose, supremely skilled Ducks - led by Scott Niedermayer, Chris Pronger, Teemu Selanne, and young Ryan Getzlaf and Corey Perry - could have beaten pretty much any team that's clinched the Cup since.
Winning at Anaheim's Honda Center felt like scaling Everest, the Toronto-based Sportsnet television analyst said in a phone interview Tuesday. He got to bask in the glory of victory for five days - tops - before flying to Montreal to try to re-sign star goalie Jean-Sebastien Giguere.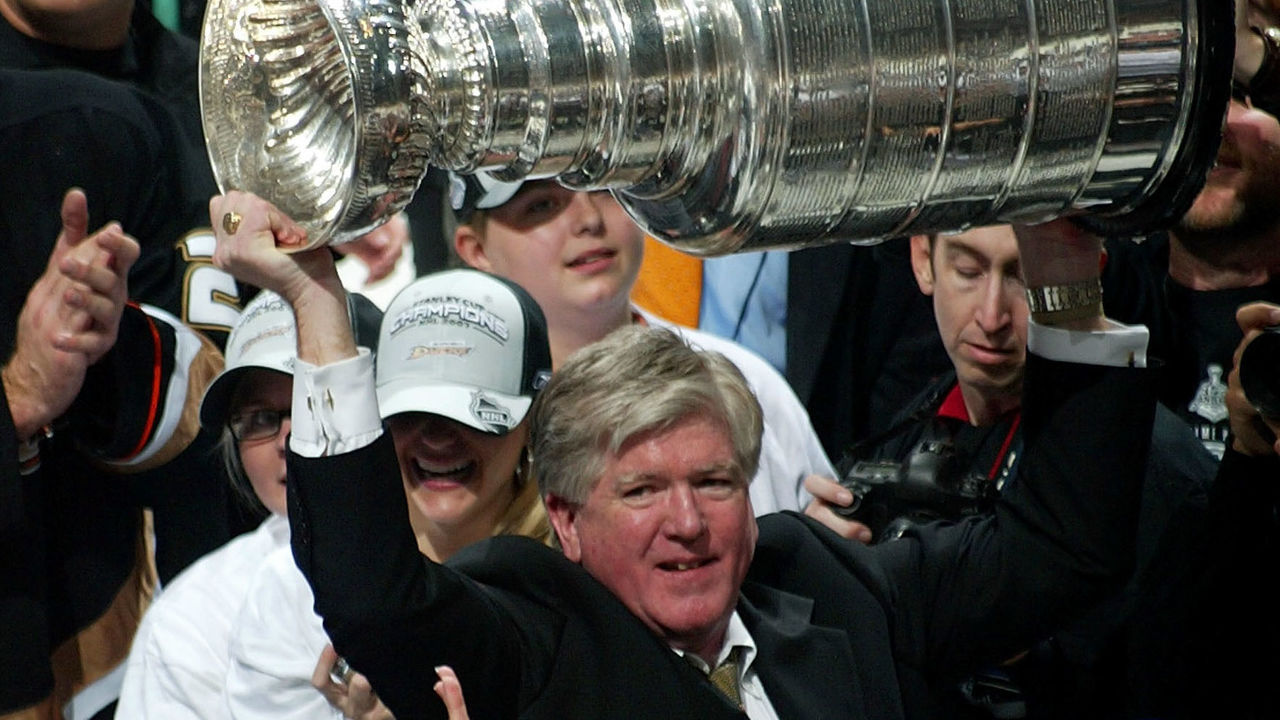 The compartmentalization Burke's old job demanded mirrors the burden Tampa Bay Lightning GM Julien BriseBois is bearing this month. Little more than a week passed between the Lightning's Sept. 28 coronation as champions and the NHL draft, and BriseBois had to plot all the while for free agency. Defensemen Kevin Shattenkirk and Zach Bogosian have already signed elsewhere. Restricted free agents Anthony Cirelli, Mikhail Sergachev, and Erik Cernak need new contracts. That Tyler Johnson just went unclaimed on waivers means BriseBois remains cap-crunched.
"I know exactly what Julien's going through. But I got on that plane (to meet with Giguere) with a pretty big smile on my face, too," Burke said. "He's got a lot of headaches, but he's got a ring. That changes everything in your life."
Burke's own eventful hockey journey is the subject of his new memoir, "Burke's Law: A Life in Hockey," out in hardcover this week under Penguin Random House. His resume justifies the title: Burke is a Harvard Law grad who chose school over an attempt to crack the NHL as a scrappy right-winger. He scored in the 98th percentile of LSAT takers in 1976, he recalls in the book, after his college coach - one Lou Lamoriello, himself a decade out from ascending to an NHL front office - ordered him to take the entrance exam.
| Burke in the NHL | Team | Title |
| --- | --- | --- |
| 1987-92 | Vancouver Canucks | Director of hockey operations |
| 1992-93 | Hartford Whalers | General manager |
| 1993-98 | NHL | EVP and director of hockey operations |
| 1998-2004 | Vancouver Canucks | General manager |
| 2005-09 | Anaheim Ducks | General manager |
| 2009-13 | Toronto Maple Leafs | General manager |
| 2013-18 | Calgary Flames | President of hockey operations |
Lots of hockey people, Lamoriello among them, have seen their share of seismic moments in the game. Burke's outspokenness is what's long distinguished him in the public eye, and it's easy to see how his flair for the candid might entice readers. Yet Burke did plenty in his own right to shape NHL history across his stints heading hockey operations for five franchises, episodes he and co-author Stephen Brunt narrate in revealing and colorful detail.
Remembering his tenure as Pat Quinn's right-hand man with the Vancouver Canucks, Burke recounts how he could have brought Wayne Gretzky to Vancouver in 1988. How the Edmonton Oilers' $25-million asking price - plus two good players and three first-round picks - was prohibitively steep. How, in order to dispel rumors that he'd acquire No. 99, Burke leaked word to future TSN sportscaster Gord Miller - then a 23-year-old radio reporter in Alberta - that Gretzky would soon be bound for the Los Angeles Kings instead.
Burke put his law degree to use the next year when he argued in court that Pavel Bure's Russian playing contract should be voided, paving the way for the dazzling 18-year-old to eventually join the Canucks - after Bure told the judge he'd pay part of the settlement himself. In 1999, then employed as Vancouver's GM, Burke negotiated three trades to select Daniel and Henrik Sedin with the second and third overall picks, respectively. Those were the last blockbuster offers any rival entertained from him on draft day.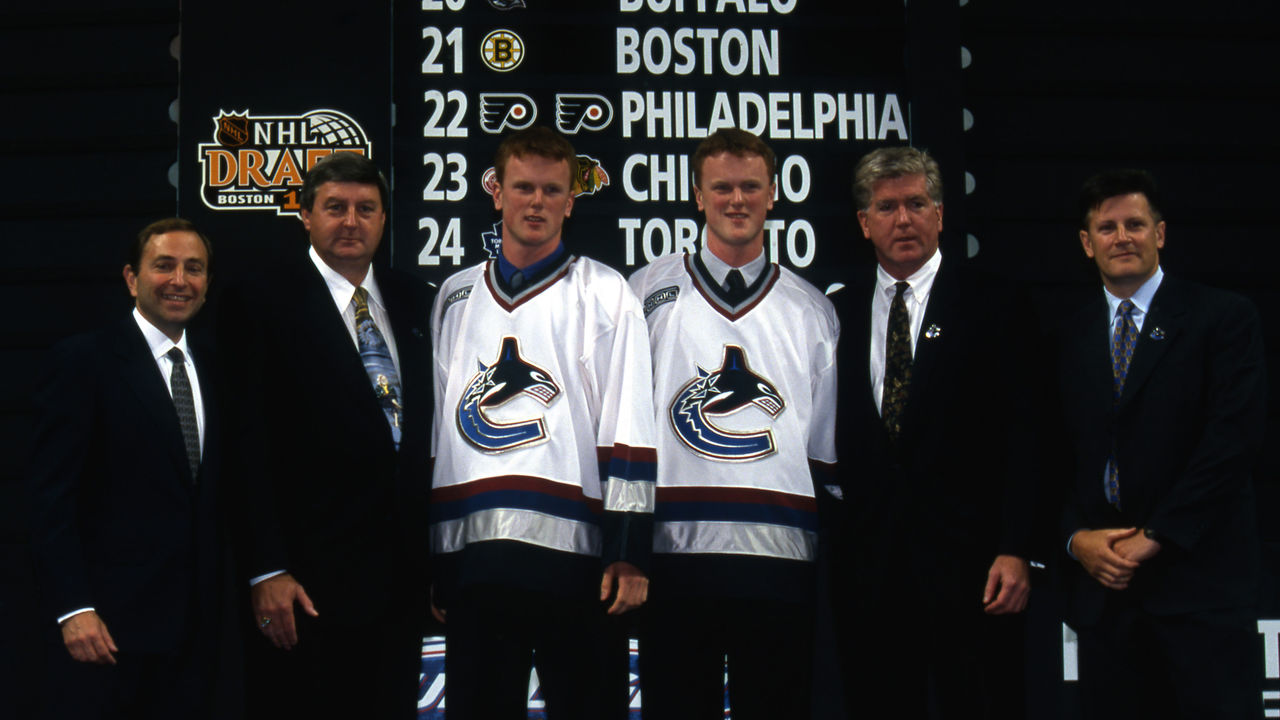 As the NHL's lead disciplinarian in the 1990s, Burke helmed a fledgling department of player safety, the resources of which totaled four VCRs. (Kris Draper's family, irked by the four-game suspension Claude Lemieux received for an infamous playoff cheap shot, once mailed Burke a petition calling for his firing.) As Ducks GM in 2005, he endured history's most painful commercial break right before his club finished second in the Sidney Crosby draft lottery. Later, he orchestrated the Toronto Maple Leafs' Phil Kessel trade, built the U.S. men's team that claimed Olympic silver in Vancouver, and threatened to rent a barn in Lake Placid, New York, to fight Oilers executive Kevin Lowe over an offer sheet. (Commissioner Gary Bettman phoned within 10 minutes to threaten a suspension.)
The memoir originated from a 100-page outline Burke penned following his departure from the Calgary Flames in 2018. Though Brunt handled the final draft - "Stephen didn't like any of my writing," Burke said. "He said I wrote like a lawyer, not like an author" - the principles and convictions that surface throughout the text are characteristically his. Even in non-pandemic seasons, Burke maintains, the schedule should be shorter than 82 games. Bettman is a brilliant and fearless leader. A team ought to play fast, tough, and to entertain. The end of a GM's first season in charge is a great time to make a big move, a la the Sedin and Kessel trades.
In that spirit, here are some of Burke's unfiltered thoughts on pressing and evergreen hockey issues, which he shared with theScore.
On what the league at large can learn from the 2020 postseason: "The final four teams, and most of the final eight teams, were all big. They're big and they're deep. You can say that Tampa beat (the) Dallas (Stars) because they were deeper. They banged Dallas up. They took out Roope Hintz with a legal hit. They took out Blake Comeau with a legal hit. (Tyler) Seguin was hurt. A lot of that was inflicted by the Tampa Bay Lightning."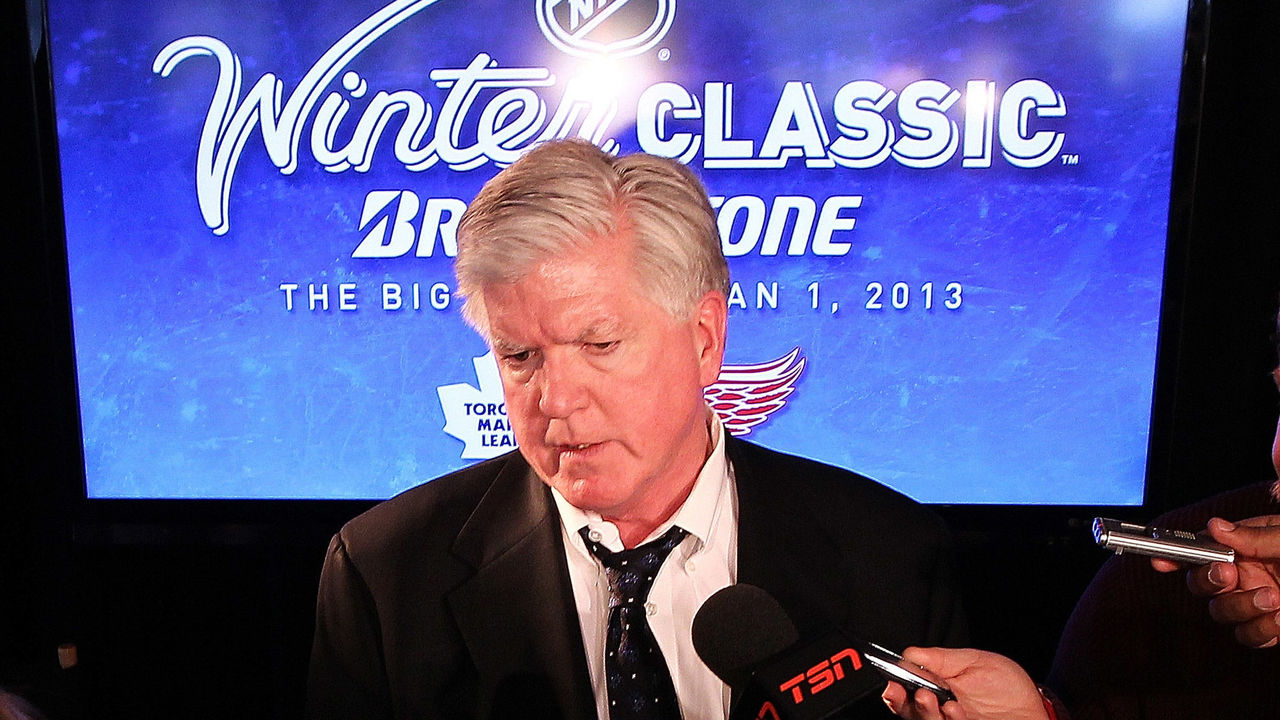 On the challenge of planning the 2020-21 season: "(The NHL gets) straight A's for what they did with the bubbles and pulling off the Stanley Cup championship. It was amazing. But this is still the same pandemic, the same set of problems, and they've got to pull another rabbit out of their hats. My prediction is we're not going to play 82 games. My prediction is we'll start in January with no fans, and then progress to socially distanced seating, and then wait and see what happens with a vaccine."
On the broadcasting prowess of Kevin Bieksa, a 2001 draft pick of Burke's who contributed to Sportsnet's game coverage throughout the playoffs: "There are very few players who can explain technical situations that clearly. He's self-deprecating. He's funny. He's a star. He could work full-time in the media whenever he wants. Fortunately for people like me, he doesn't want to do it full-time right now."
On the scrutiny that accompanies life with the Maple Leafs: "The issue in Toronto isn't that there's an overwhelmingly negative media here. In fact, most of the media are supportive. It's the size. You get 75 or 80 people in the room after a game, and if you lost - and we did a lot of losing when I was here - they're all picking up a different rock. Twenty rocks for Dion (Phaneuf), 20 rocks for me, 20 for the coach, 10 for Phil Kessel, 10 for Vesa Toskala. It's overwhelming negativity when you're losing just based on volume."
Eventually, Burke said, one executive or another will return the Maple Leafs to the promised land using the same blueprint as any winner: "Draft, develop, ignore the white noise, and put a team together that's competitive." Unlike in 1998, when his competitiveness compelled him to leave the league's headquarters to run a team again, he's content knowing it won't be him. He likes his coworkers, bosses, and analysis duties at Sportsnet. He sees his youngest daughters far more often than he did as an NHL executive. At 65, the lifestyle change suits him: "I sleep in my bed every night now, and that's worth its weight in gold to me."
That said, Burke's favorite experience to recount for the book was Anaheim's 2007 title. He still has the puck Pronger retrieved for him at the buzzer following Game 5. He's among those who believe Tampa Bay's bubbled championship deserves an asterisk - not because it's tainted, but because of the magnitude of the feat. In this or any year, and in a league stocked with quality GMs who have never won a Stanley Cup, he knows to properly value a trip to the mountaintop.
"If you go back and look, every game we played against Ottawa in the finals was a (close) game, except the last one. Even though we won in five games, they weren't a pushover. It's right down to the bitter end," Burke said, reminiscing about an encounter with his Senators counterpart in the waning minutes of the series.
"Even when John Muckler told me congratulations, I thought, 'He's jinxing me. He's trying to jinx me,'" Burke said. He laughed at the memory. "I mean, how paranoid are we?"
Nick Faris is a features writer at theScore.
Comments
✕
New author Brian Burke reflects on a wild career and what's next for the NHL
  Got something to say? Leave a comment below!