Get ready for your season with theScore's 2020 Fantasy Football Draft Kit and subscribe to push notifications in the NFL Fantasy News section.
It's become the norm for fantasy managers to wait on quarterbacks to maximize value on draft day, but you still need to hit on the right players for the strategy to be effective.
Let's identify this year's crop of late-round or undrafted quarterbacks who will outproduce expectations and emerge as low-end fantasy starters or quality streaming options.
Who will exceed expectations?
Gardner Minshew, Jaguars
If you asked me during the 2019 season which quarterbacks we'd highlight in this column, Minshew would have been well off my radar. He performed well as a sixth-round rookie who was thrust into the lineup when starter Nick Foles went down in Week 1, but his hold on the starting job was shaky with several intriguing options available in free agency and the draft.
However, the Jacksonville Jaguars passed on the likes of Jameis Winston and Andy Dalton and elected to trade Foles away. It also appears unlikely the club will sign Cam Newton after it filled out the depth chart with journeyman Mike Glennon. Jacksonville didn't use an early draft pick on a passer, either, so Minshew enters the season unchallenged in the QB room and is poised to build on his promising debut campaign.
Minshew finished as the QB20 in fantasy despite seeing the field in only 14 contests. At his June ADP of QB26, you're already getting him at a value, but there could be an even bigger stat line on the horizon when digging a little deeper. If you take the 12 games when Minshew played 100% of the snaps, he would have produced 3,798 passing yards, 24 touchdowns, five interceptions, 85 carries, and 440 rushing yards over an entire season.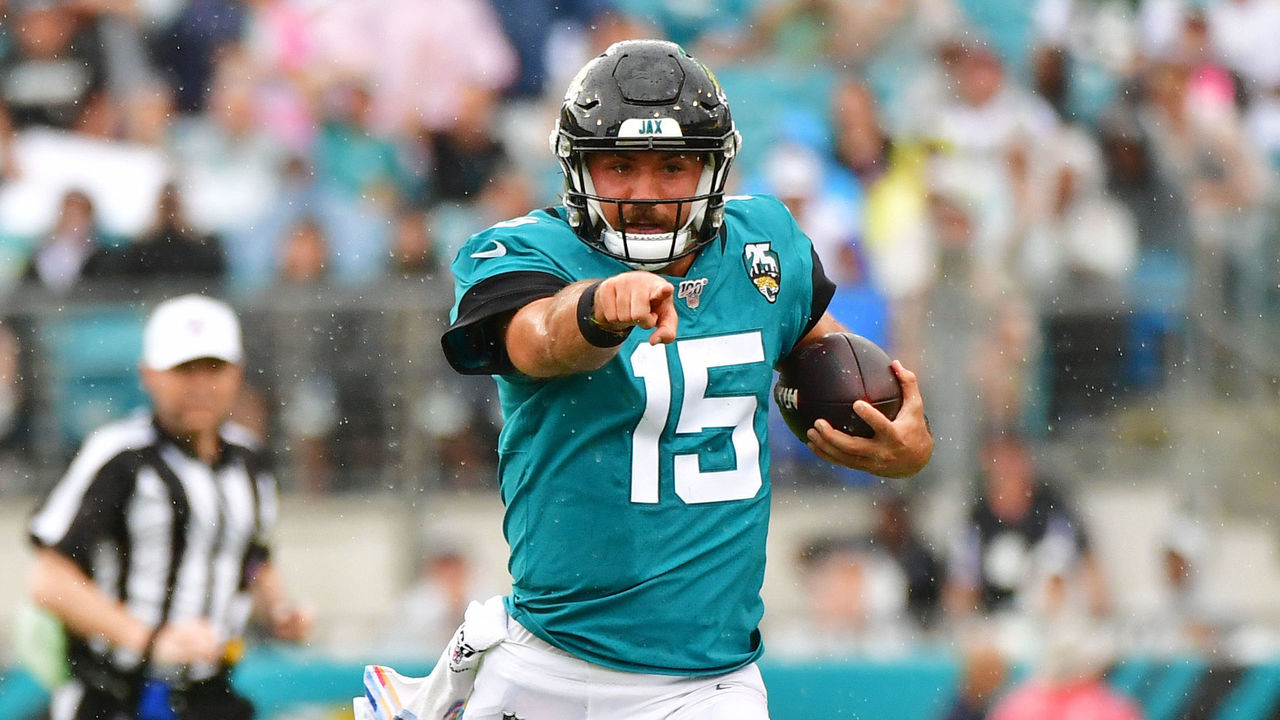 Those numbers would have made him the QB13, and that's without scoring a rushing touchdown. New offensive coordinator Jay Gruden has a history of getting the most out of his passers and isn't afraid to call their number on the ground near the goal line. Over the last nine years, quarterbacks playing under Gruden averaged 2.8 rushing touchdowns per season.
The front office added a few more pieces to Minshew's arsenal in first-year wideout Laviska Shenault Jr., tight end Tyler Eifert, and pass-catching back Chris Thompson. Eifert and Thompson will provide some experience to a young offense and have played for Gruden before, which helps during an unconventional offseason.
Many quarterbacks in recent seasons have taken a step forward in their sophomore year, and with his underappreciated rushing production, Minshew could finish as a low-end QB1.
Joe Burrow, Bengals
Burrow is the most expensive player on this list, as he's going off the board as the QB19 in drafts. That's actually decent value for a first overall selection who's entering the league after one of the best statistical campaigns we've ever seen from a college passer.
The LSU product set the FBS record for passing touchdowns (60) and led the nation in passing yards (5,671), completion percentage (76.3%), adjusted passing yards per attempt (12.5), and passing efficiency rating (202.0).
He might not be fast enough to be a game-changing rushing threat in the pros, but Burrow gained an impressive 767 yards with his legs during the last two seasons. Cincinnati Bengals fans who are worried about the team's offensive line should take solace in the fact Burrow excels at sensing pressure and stepping up, rolling out, or running. His ability to extend plays will be fun to watch as the 23-year-old tests himself against the sport's best defenders.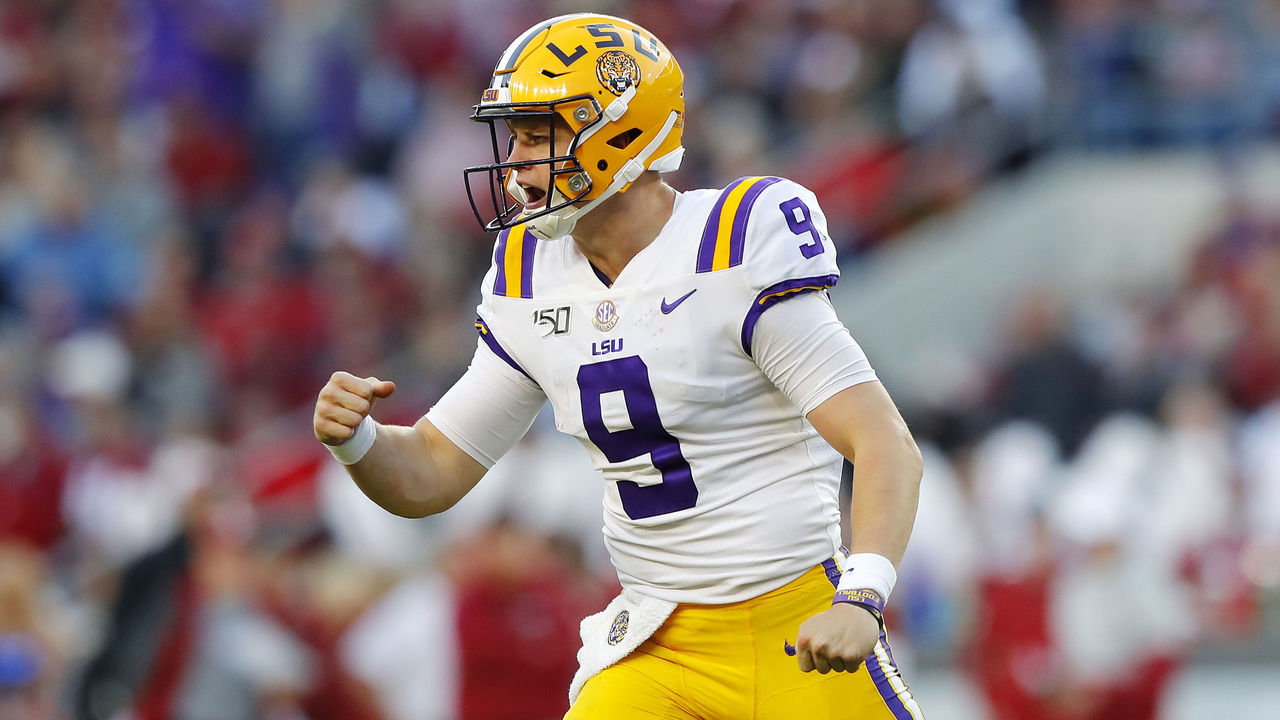 Now he joins a roster with a talented group of skill position players in A.J. Green, Tyler Boyd, Tee Higgins, John Ross, and Joe Mixon, as well as an offensive-minded coach in Zac Taylor. Prior to getting temporarily benched halfway through last season, Dalton was the QB15 over the first eight games. Don't let Cincy's run-heavy play-calling down the stretch fool you; this is a team capable of producing through the air.
And though his arm strength isn't elite, Burrow possesses enough power to complete any throw. He's shown good accuracy and touch, often placing the ball where only his receiver can make a play.
As a rookie, Burrow will provide sufficient yardage on the ground to boost his fantasy value as a QB2 with upside. It's not out of the question for Burrow to emerge as a fantasy starter in 2020, depending on how fast he can adapt to the pro game.
Teddy Bridgewater, Panthers
Bridgewater might be the least exciting of these three, but at his current ADP of QB25, it won't cost you much to find out whether he can be the Carolina Panthers' new franchise quarterback.
As a part-time starter with the New Orleans Saints last year, Bridgewater put up top-12 fantasy production over a five-game span in an offense that helped maximize his skills. That stretch featured three multi-score performances, highlighted by 314 yards and four touchdowns against the Tampa Bay Buccaneers in Week 5.
Bridgwater showed significant improvement in a variety of key stats as he grew more comfortable in the lead role. Even if he does profile as someone who prefers to target shorter routes, the Panthers have an ideal group of players to use in that area.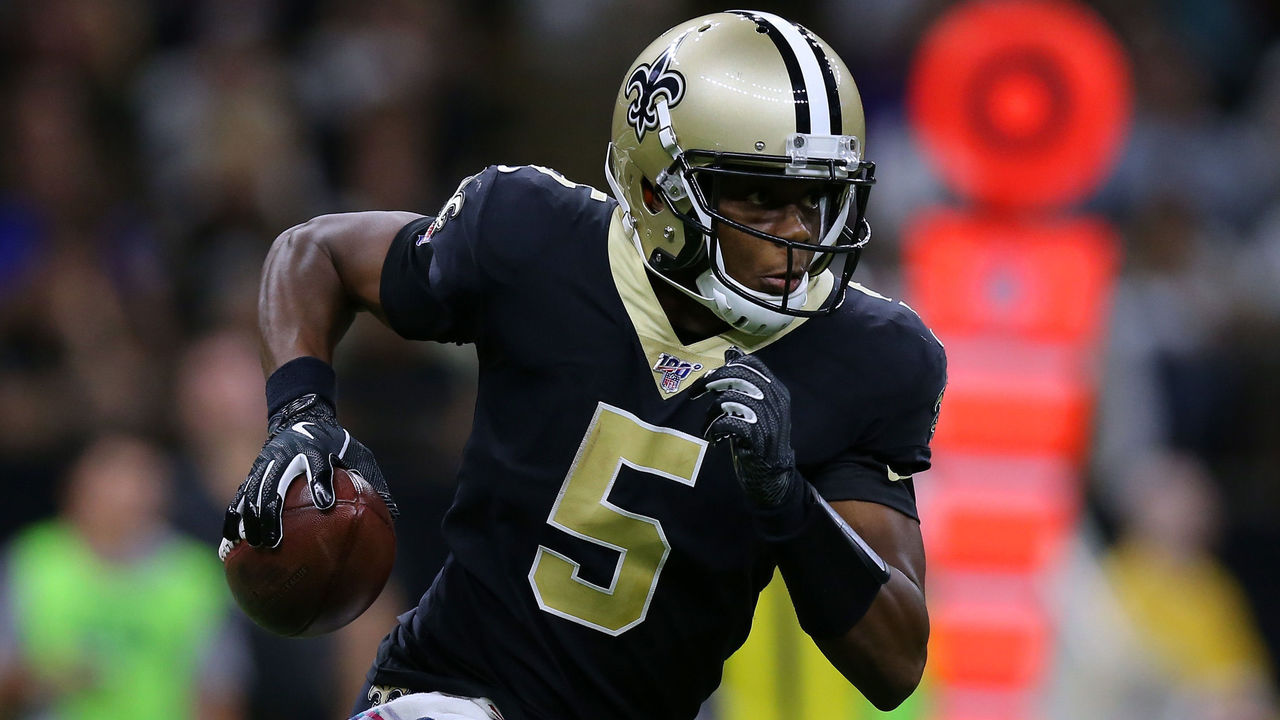 In Carolina, Bridgewater teams up with one of the league's best pass-catching backs in Christian McCaffrey, a breakout star in wideout DJ Moore, a field-stretcher in Robby Anderson, and a pair of promising youngsters in receiver Curtis Samuel and tight end Ian Thomas.
New head coach Matt Rhule is an intriguing offensive mind who projects to have a high-volume attack in the pros. The Panthers were already second in the league last year with 633 pass attempts, so expect them to stay in that range.
Rhule's choice at coordinator is also positive for Bridgewater's outlook. Prior to guiding the unstoppable LSU attack in 2019, Joe Brady was an offensive assistant for the Saints in 2018, Bridgewater's first year in the Big Easy. The familiarity with Brady's scheme can't be understated during an offseason when on-field time is limited.
Bridgewater may not be the most exciting name in fantasy drafts, but his time with the Saints proved he can be a low-end fantasy starter when surrounded by talented skill position players. He's worth a late-round pick to find out if he can continue that type of production over a full season.
Deep shots
Jarrett Stidham, Patriots - As the favorite to take over for the New England Patriots after Tom Brady's departure, Stidham isn't getting much respect from the fantasy community. Don't sleep on his ability to generate yards on the ground or through the air with reliable options Julian Edelman and James White, as well as a potential future No. 1 wideout in N'Keal Harry. The Pats always found a way to create offense when Brady wasn't in the lineup, so have faith in Bill Belichick and Josh McDaniels to get the most out of their new starter.
Tua Tagovailoa, Dolphins - Ryan Fitzpatrick is likely to be under center for the Miami Dolphins when the season kicks off, but his time in that role will depend on Tagovailoa's recovery. We should see the torch get passed by midseason at the latest, giving the rookie fantasy appeal for the second half of the year. The Dolphins' offense is quietly loaded at the skill positions and their new QB could be the piece that brings it all together.
Cam Newton, Free Agent - Rarely do you see a past MVP sitting on the free-agent market this late in the offseason. With teams unable to bring him into their facilities for a full examination by their medical staff, Newton's health has remained an unknown variable. That could change soon as restrictions begin getting lifted, but his best approach at this point might be to wait until a starter goes down. If he's healthy, Newton could be a fantasy difference-maker in the right situation.
Who will exceed expectations?