Find positional rankings, additional analysis, and subscribe to push notifications in the NFL Fantasy News section.
The fantasy strength of schedule matrix is used to determine the overall difficulty of players' matchups from Week 1 to Week 16.
The No. 1 rank means the team is forecasted to see the easiest slate, while No. 32 will face defenses projected to allow the fewest fantasy points to that position.
Our model takes into account several variables, including historical defensive data, offseason roster changes, new coaching staffs, home/road splits, and individual player matchups.
AFC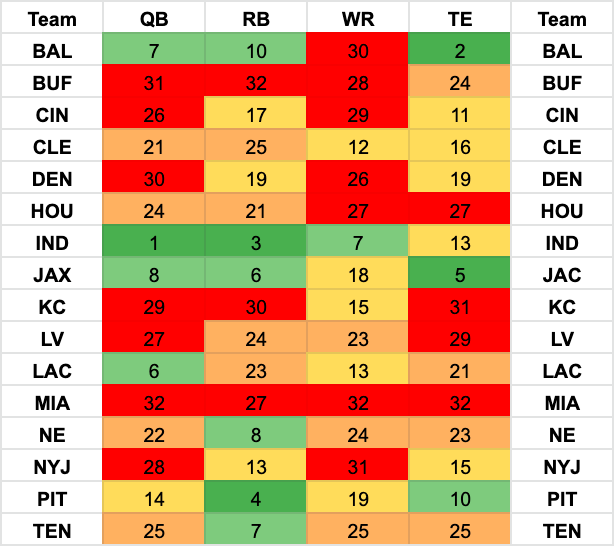 NFC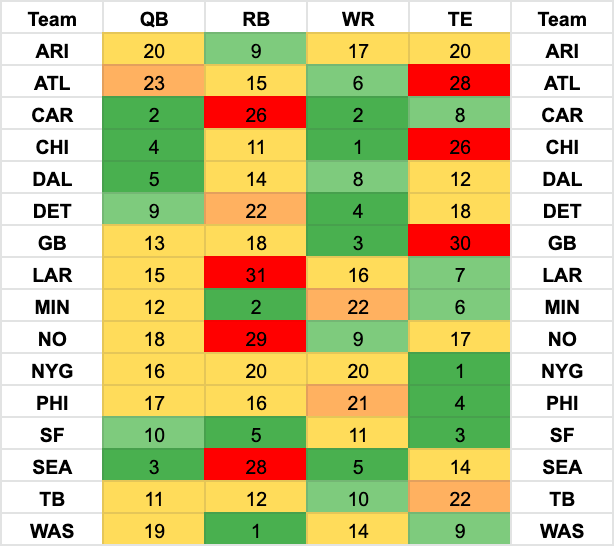 Quarterbacks
Across all positions, the AFC faces a much tougher schedule than the NFC does in 2020. That's particularly true at quarterback, as the nine toughest slates land in the AFC.
If you're trying to decide which of the two elite fantasy QBs to draft, it's worth noting that Lamar Jackson (seventh) will encounter a much easier schedule than Patrick Mahomes (29th) will. Jackson also gets extremely favorable matchups in the fantasy playoffs with the Jacksonville Jaguars and New York Giants in Weeks 15 and 16, respectively.
Josh Allen is locked in as a top-eight fantasy quarterback, but his schedule is a nightmare after the Bills' Week 11 bye. He'll square off with the Los Angeles Chargers, San Francisco 49ers, Pittsburgh Steelers, Denver Broncos, and New England Patriots over the final five games of the fantasy season. Though he displayed a very high floor in 2019, his fantasy owners might want to consider picking up a second QB off the waiver wire in November, in case Allen struggles down the stretch.
With offseason activities disrupted this year, quarterbacks joining new clubs will face an even bigger challenge in building chemistry with their teammates. However, Philip Rivers (first) and Teddy Bridgewater (second) will get the benefit of the two easiest schedules at the position. The same can be said for Nick Foles (fourth) if he can win the Chicago Bears' starting job over Mitch Trubisky. All three veterans should be viewed as QB2s in fantasy, but their schedules give them hope to rise to the top of that range.
Running Backs
Four of the five most active rushing attacks from 2019 land inside the top-10 easiest schedules for running backs this season. The 49ers (5th), Baltimore Ravens (10th), Minnesota Vikings (2nd), and Indianapolis Colts (3rd) were already backfields to target in fantasy, and this only furthers their cause. It's a perfect storm for starters Mark Ingram, Raheem Mostert, Dalvin Cook, and Jonathan Taylor; but also gives added value to respective backups J.K. Dobbins, Tevin Coleman, Alexander Mattison, and Marlon Mack.
Derrick Henry and the Tennessee Titans have the seventh-best slate at the position. While it's early to be looking at the fantasy playoffs, Henry's matchups over the final three weeks - the Jaguars, Detroit Lions, and Green Bay Packers - are ideal for another late-season surge.
Rookie Cam Akers will be given every opportunity to become the new lead back for the Los Angeles Rams, but with questions on the offensive line and the second most daunting list of opponents, expectations should be kept in check. Akers remains an RB3 with plenty of upside; just remember the degree of difficulty will be high.
Wide Receivers
Will a 43-year-old Tom Brady be able to support two top-10 fantasy receivers in Tampa Bay? The schedule shouldn't be a problem, as Chris Godwin and Mike Evans prepare to take on the 10th most generous collection of opponents. The Tampa Bay Buccaneers, New Orleans Saints, Atlanta Falcons, and Carolina Panthers have all loaded up on offensive playmakers this offseason, setting up a lot of potential shootouts. If you're looking for a division to invest in, the NFC South is it.
Speaking of which, Panthers wideout D.J. Moore is about to become a household name in 2020. After an 87-catch, 1,175-yard, four-touchdown breakout campaign, during which he caught passes from backup Kyle Allen for most of the year, Moore gets an upgrade at quarterback, an offensive-minded coaching staff, and the second softest schedule among receivers. The 23-year-old is poised to be a WR1 for a long time.
Forced to catch passes from Blake Bortles and Trubisky for most of his career, Allen Robinson has proven he can produce with any quarterback under center. The arrival of Foles could make life much easier on Robinson, but the real beneficiary will be Anthony Miller. We highlighted Miller as one of our breakouts candidates, and now he gets the least troublesome docket for 2020. There might not be a better value in fantasy drafts this season.
We haven't mentioned the Miami Dolphins yet because the schedule makers were not kind to them. Miami graded out 32nd in three of the four positions, with running back (27th) being the lone exception. A quarterback change is likely coming at some point in 2020, adding even more volatility to the fantasy stock of receivers DeVante Parker and Preston Williams.
Tight Ends
If you're looking to split hairs between the top two tight ends, George Kittle (third) and Travis Kelce (31st) are at opposite ends of the strength of schedule spectrum. Kittle was already above Kelce in my rankings, so this only solidifies him as the No. 1 fantasy tight end in 2020.
Evan Engram and Mark Andrews will face more target competition this season, but that'll be offset in part by having the best two schedules among fantasy tight ends. Engram has already shown his elite upside and just needs to stay healthy after missing 13 games over the last two years. Andrews, who hauled in 10 scores, will be out to prove his touchdown rate of 15.6% wasn't a fluke despite it being nearly double the league average. Both players have a strong case to finish in the top five.
There are a lot of factors working in Hayden Hurst's favor now that he's taking over as the starting tight end in Atlanta. Unfortunately, his schedule isn't one of them. Hurst will go up against the 28th hardest slate, which isn't a reason to shy away from him entirely but could lower his ceiling slightly in 2020.
Tyler Higbee is a polarizing fantasy player due to a massive production increase over a short sample size in December. His schedule, which is seventh-best at the position, won't hurt his ability to pick up where he left off. A couple of deeper breakout options with solid schedules include Ian Thomas and Irv Smith Jr.