Rory McIlroy, Dustin Johnson, Rickie Fowler, and ... Matthew Wolff?
Some people are questioning why Wolff is included alongside three of golf's superstars in the charity skins game set for May 17. Some are even discrediting him altogether.
"They got Matthew Woof. ... Nobody knows who he is," golf instructor Hank Haney said while discussing the match. "Name recognition is hovering around nothing. Zero."
Despite mispronouncing "Wolff," maybe Haney is right. Maybe nobody outside of diehard golf fans knows who Wolff is. To Haney's point, Wolff is currently ranked 110th in the world and has never played in a major championship or represented the United States at a Ryder Cup.
But the 21-year-old has already earned a PGA Tour win and is on his way to becoming one of golf's most recognizable figures. He possesses the skill, attitude, and charisma required to do so, which will be on full display when he and teammate Fowler take on the formidable duo of McIlroy and Johnson.
Still, you're forgiven if you don't know who Wolff is since he's only played in 18 PGA Tour events. But let's change that.
The talent
Wolff was born in Simi Valley, California, in 1999. Let that birth year soak in for a second.
Like most professional athletes, it was obvious Wolff was a special talent from a young age. However, after he started golfing around the age of five, Wolff's journey through junior golf can be considered somewhat unconventional based on today's standards.
He wasn't raised at a fancy country club and he didn't have any type of formal coaching until his freshman year of high school. His unique swing was self-taught and resembles the movement he learned playing baseball.
"Matt was better than the rest of us kids at everything," Wolff's childhood friend, Seldon Doyle, told Guy Yocom of Golf Digest. "Basketball, baseball, soccer, it didn't matter. He just had this effortless way of doing everything."
The point: Wolff was an athlete and wasn't specifically groomed to become a professional golfer.
But when Wolff began focusing solely on golf, he won more and more junior events. People - and even club manufacturers - started to notice.
"We got in this amateur game around 2011, with (Wolff's) junior game," TaylorMade's manager of player development, Ryan Ressa, told theScore. "In 2013, we had him out to The Kingdom (TaylorMade's performance center in Carlsbad, California) and just started our relationship with him. ... He obviously took off when he got to (college) and the rest is history."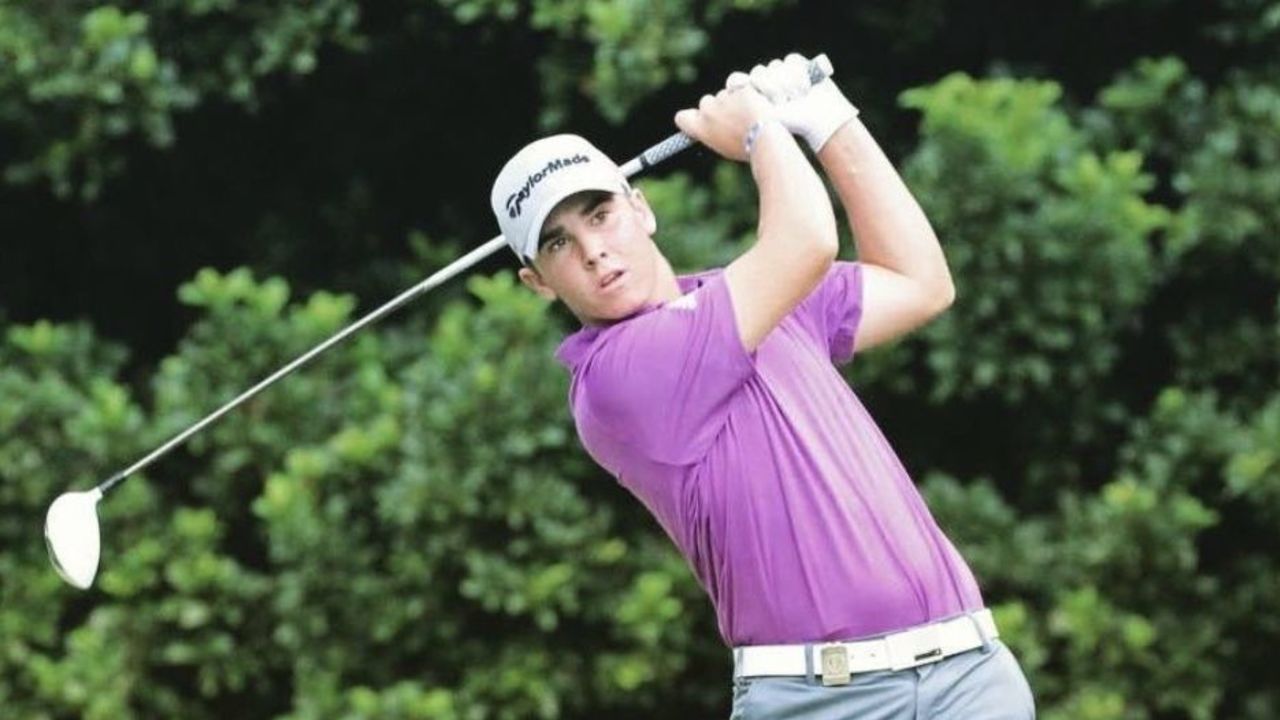 Wolff turned even more heads when he started practicing at Westlake Golf Course with his high school team, which is where he crossed paths with his first and only swing coach, George Gankas.
The 13-year-old was hitting the ball so far back then, he was clearing the 60-foot net at the end of Westlake's 280-yard driving range and landing balls on the adjacent freeway.
After Wolff shattered a windshield, the course was forced to increase the net height and implement limited-flight balls.
The high-schooler received his first scholarship offer from USC when he was a freshman and quickly committed. But as his stock continued to rise, more offers began to pour in from top programs across the country.
Once Oklahoma State caught wind that a kid dominating the junior circuit in California fired a 61 and won an event by 13, the school immediately brought him in for a visit. Wolff, who proves his youth by admitting he looked up to Fowler as a kid, jumped at the opportunity to become a Cowboy.
The swing
Before getting into his collegiate career, let's discuss the elephant in the room: Wolff's swing.
The 21-year-old owns the most unique move the PGA Tour has seen since Jim Furyk. From his trigger motion to his old-school leg kick, to the big loop and vicious downswing - it's a powerful sequence to marvel at.
Various instructors wanted to change Wolff's swing to make it more consistent. But he had no desire to fix something that wasn't broken, which makes his connection with Gankas - an unconventional instructor who preaches swing speed - a match made in heaven.
"I loved it when I first saw it," Gankas told Golf Channel's Ryan Lavner. "I was like, 'This is sick.' I thought for three weeks about changing some of those things but then I said, 'F--- it, I'm not changing this kid.'"
The two hit it off thanks to their similar approach to golf and laidback SoCal vibes. To this day, Gankas remains the only swing coach Wolff's ever had.
The rise
"I've always been an Oklahoma State fan because I've always been a Rickie Fowler fan," Wolff said on the "No Laying Up Podcast." "Even when I was younger, when I was 12, 11 years old, when I first started playing tournaments, he was always my favorite. I always wanted to go to (Oklahoma State) but never thought I'd be able to."
Wolff's dream of following in Fowler's footsteps came true when he accepted a scholarship to attend school in Stillwater, and it didn't take long for him to make an impact.
During his freshman year in 2017-18, Wolff helped lead a stacked Cowboys team to the program's first NCAA National Championship since 2008 and its 11th all time. The freshman drained the team's championship-clinching putt.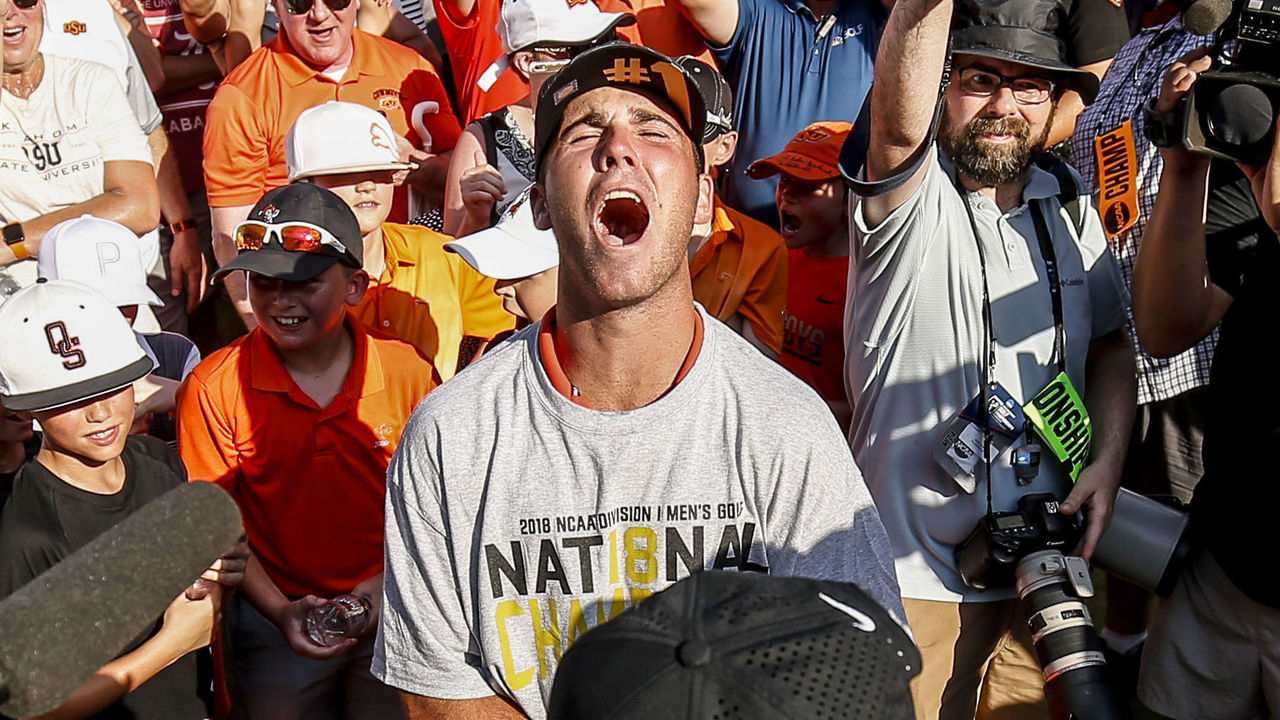 As an individual, Wolff was named a first-team All-American by the Golf Coaches Association of America and received the Phil Mickelson Award as the country's top freshman. He had three runner-up results and a third-place finish during Year 1 at Oklahoma State.
Wolff decided against turning pro and returned to dominate the NCAA circuit as a sophomore.
In Year 2, he found the winner's circle six times, including a five-shot victory for the NCAA individual title. He finished the year with nine top-10 results in 12 starts and set an NCAA record with a 68.69 scoring average.
The accolades continued to mount. He won the Fred Haskins Award for the most outstanding Division I male golfer, the Jack Nicklaus Award for the best golfer in men's college golf, and, of course, another first-team All-American honor.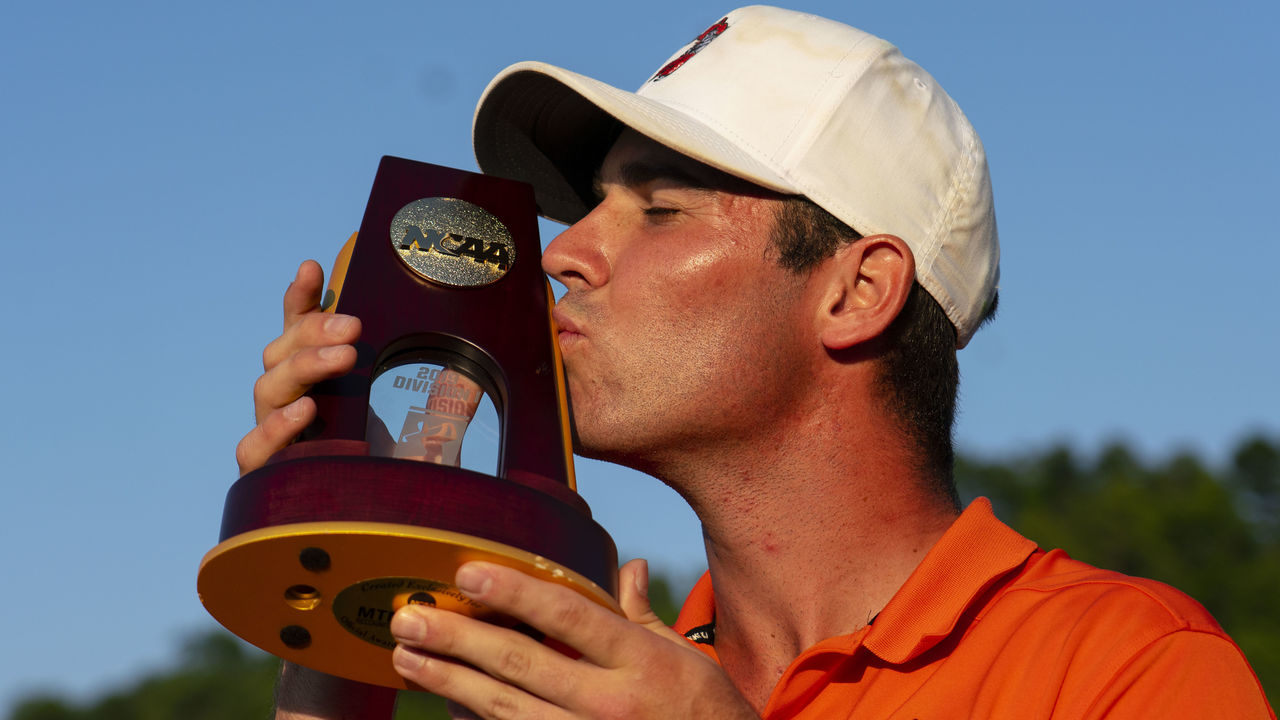 Wolff was officially on the golf world's radar and comparisons - unfair or not - to another outstanding collegiate athlete were being made.
"There's a lot of expectations for me," Wolff continued on the "No Laying Up Podcast." "I saw something on Golf Channel this morning that was, 'Am I the Zion Williamson of college golf, or is Zion Williamson the Matt Wolff of college basketball?' That's a pretty big statement. At times, it's a little overwhelming."
But Wolff has always lived up to expectations, including in the pros.
The emergence
"I knew I had the confidence to win. I wouldn't have turned pro if I didn't know I could win out there," Wolff told theScore.
The self-believe stems from Wolff's appearance at the 2019 Waste Management Phoenix Open as a 19-year-old amateur five months prior to turning pro. He received validation that his game stacked up to the top golfers in the world by making the cut despite not playing, what he considered, his best.
Fresh off of winning the NCAA individual title, Wolff's first two professional starts didn't go as planned. He missed the secondary cut in his debut and failed to make the weekend during the following event.
But his life would forever change after the 3M Open in Minnesota.
After comfortably making the cut, he posted a 62 on moving day to find himself in contention. He would need to fend off world No. 8 Bryson DeChambeau and fellow rookie Collin Morikawa down the stretch Sunday.
Then, trailing by one on the final hole, Wolff drained a lengthy eagle effort to secure his first PGA Tour title in dramatic fashion.
At the age of 20, Wolff became the youngest PGA Tour winner since Jordan Spieth in 2013 and the ninth youngest of all time, doing so in only his third professional start.
"It's a dream come true. I'll say that over and over again. My life changed as soon as that putt went in," Wolff said a week after his victory. "I'm so thankful for it all. It really means a lot, and like I said, just that weight off my shoulders."
His breakthrough also placed him in elite company. The list of players who have won both the NCAA individual honor and a PGA Tour title in the same calendar year is very short:
Ben Crenshaw
Tiger Woods
Matthew Wolff
That's it. That's the list.
Crenshaw, who is arguably the best collegiate golfer of all time, went onto a Hall of Fame career and Tiger is, well, Tiger. Between them are seven green jackets and over 100 PGA Tour wins.
This isn't to say Wolff is a lock to win multiple major championships, although it would be surprising if he doesn't. However, being shortlisted alongside Tiger is a notable feat.
While Wolff does not have the same pedigree as the other three participants in Sunday's charity skins game, he's only 21 and has a desire to achieve greatness.
"My goal is to become the No. 1 player in the world," Wolff said.
And who knows. Perhaps in another 10 years, when Rory, DJ, and Rickie are all into their 40s, the PGA Tour's next future star will be fresh out of college saying, "I've always been a Matthew Wolff fan."