Find line reports, best bets, and subscribe to push notifications in the Betting News section.
If there are odds on it, they know we'll bet.
It's the approach sportsbooks are taking as leagues worldwide suspend play in response to the coronavirus outbreak. With most sports shelved for the foreseeable future, books are attempting to fill the void with odds on anything from NFL free agency to spelling bees to reality TV.
And, yes, even the weather.
It sounds like a punchline about these somber times for bettors, but it's true. If you've got a lean on the high or low temperatures of any major city across North America, this is your time to shine. See for yourself the odds for Wednesday's weather:
Maximum temperature (F)
| CITY | OVER | UNDER |
| --- | --- | --- |
| Houston | 81 (Even) | 81 (-140) |
| Jacksonville | 83 (-120) | 83 (-120) |
| Los Angeles | 61 (-140) | 61 (Even) |
| Philadelphia | 59 (Even) | 59 (-140) |
| Vancouver | 53.6 (Even) | 53.6 (-140) |
Minimum temperature (F)
| CITY | OVER | UNDER |
| --- | --- | --- |
| Chicago | 42 (+120) | 42 (-160) |
| New York City | 44 (Even) | 44 (-140) |
| Phoenix | 46 (-140) | 46 (Even) |
| San Antonio | 68 (-120) | 68 (-120) |
| Toronto | 37.4 (Even) | 37.4 (-140) |
The only thing worse than betting on the weather is not taking Chicago under 42 degrees. That's the lock of the century.
I wish I were kidding, but this is where we find ourselves without sports to bet on. I mean, even the KHL is suspending its playoffs for at least three weeks. We're lucky that snooker is still at full speed, but we can only cherish that gift for so long.
For the next few weeks (or months), bettors will need to look elsewhere to scratch the itch. The weather is one solution. Another is esports, which has been hit with delays but still has plenty of wagering options in the ESL Pro League. Time to brush up on your knowledge of Counter-Strike: Global Offensive.
Politics take center stage without sports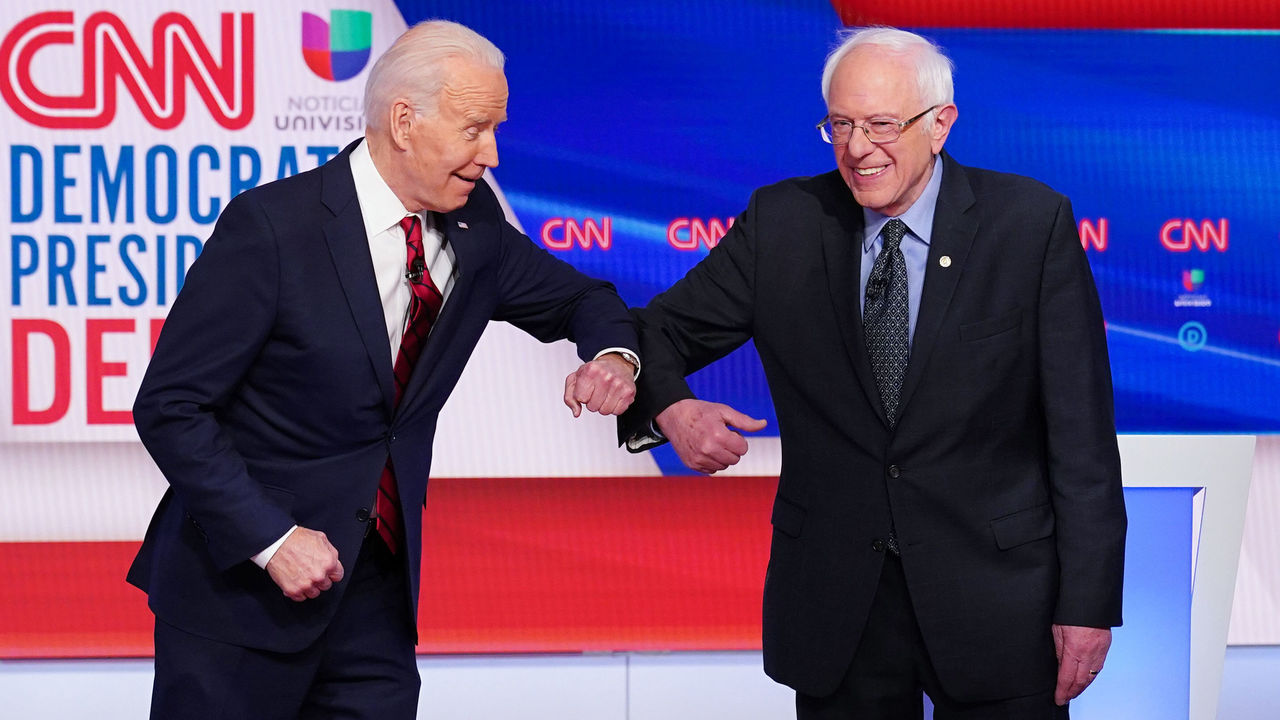 If weather and esports aren't for you then hopefully politics is, because that'll be the main course for bettors over the next few months as the Democratic primary transitions to a general election cycle.
We've already seen bettors flock to the window for political wagering: At least one sportsbook took more action on Sunday's Democratic debate than the average NBA game. That might say more about the Washington Wizards or Sacramento Kings than it does about bettors' civic interests, but desperate times call for desperate wagers.
With limited offerings elsewhere, books were taking bets on which candidate would "win" the debate, what topics they'd mention, and even whether the candidates would greet each other with a handshake or an elbow bump. (After some sharp action, elbow bump was the winner.) Some even staged daily fantasy contests around, yes, a primary debate.
Without sports, there's still a voracious appetite for wagering, and bettors will find something to lay their money on. If this sports lockdown carries into fall, September's first debate for the general election will be like Game 1 of the NBA Finals with even fiercer fan bases.
Until then, bettors will have to settle for the available markets. So schedule your nights around the evening forecast and set your Twitter alerts for breaking news from The Weather Channel. When in doubt, bet under in Chicago.
C Jackson Cowart is a betting writer for theScore. He's an award-winning journalist with stops at The Charlotte Observer, The San Diego Union-Tribune, The Times Herald-Record, and BetChicago. He's also a proud graduate of UNC-Chapel Hill, and his love of sweet tea is rivaled only by that of a juicy prop bet. Find him on Twitter @CJacksonCowart.