There's something appropriate about the Chargers' decision to move on from Philip Rivers within weeks of Eli Manning's retirement from the Giants.
Rivers and Manning are forever linked because of a 2004 draft-day trade that changed a lot of fortunes by positioning them with their respective teams. They both proved to be uncommonly durable - neither missed a start because of injury over the years - in addition to thriving and disappointing, albeit in decidedly different ways: Manning stuffed a pair of charmed Super Bowl-winning runs inside a resume of sustained mediocrity, while Rivers maintained high-volume productivity without getting to savor the ultimate prize.
Rivers will become a free agent next month. He'll likely get an opportunity to be a late-career bridge quarterback somewhere else. Which means he still has a chance to craft a perfect ending, though his time to do so is obviously running out. But his years with the Chargers will always be marked by what might have been.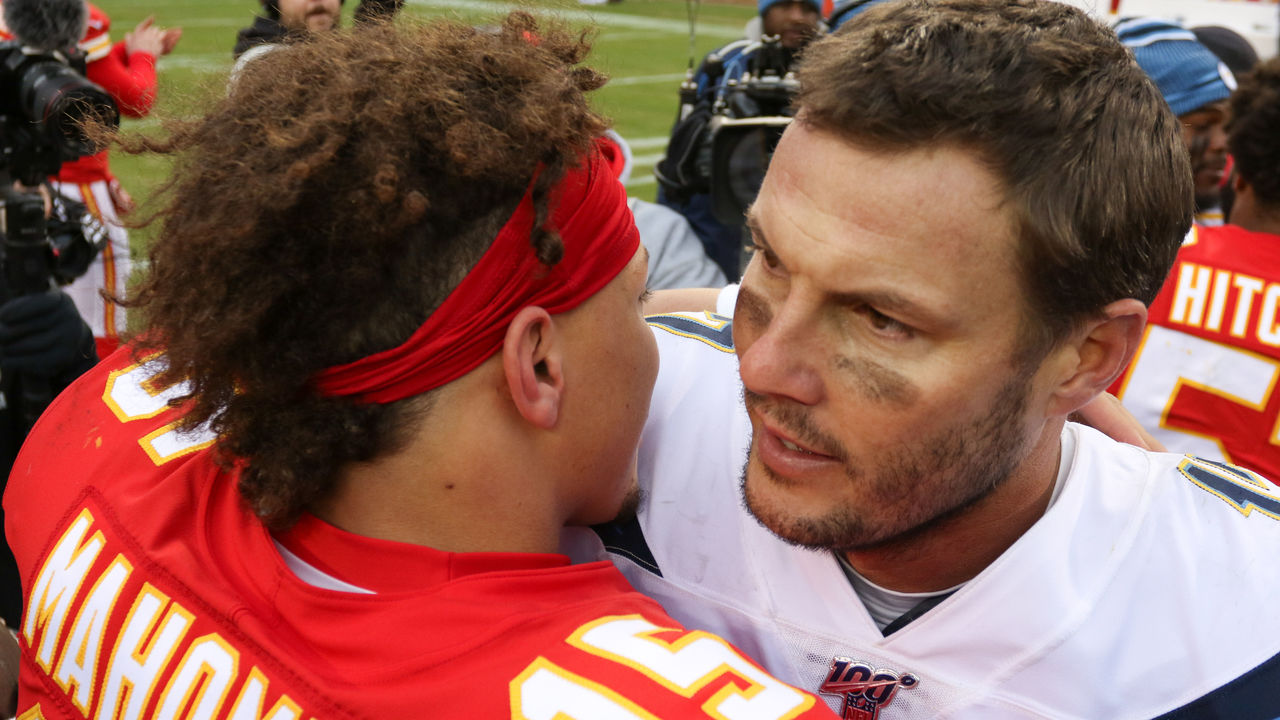 Rivers took over for Drew Brees as the starter in 2006, and promptly led the Chargers to four straight AFC West titles. Though he would stick around for another 10 years, all four playoff runs perfectly encapsulated the highs and lows of the Rivers-Chargers era:
2006: A 14-2 finish and the AFC's No. 1 seed, with Rivers posting a QBR of 67.6, fourth-best in the league. Hall of Famer LaDainian Tomlinson rushed for 1,815 yards and caught 56 passes. The Chargers drew the Patriots at home in their first postseason game in the divisional round. They led 14-3 and were ahead 21-13 with six minutes to go when Marlon McCree picked off Tom Brady. But McCree fumbled it right back after Troy Brown stripped the ball from him. The Chargers would go on to lose 24-21.
2007: A wild-card win against the Titans followed by a huge upset at the Colts, who were primed to repeat as Super Bowl champions. But Rivers tore his ACL. He somehow played in the AFC Championship Game the following week against the undefeated Patriots, but the Chargers lost again.
2008: Another playoff win against Peyton Manning and the Colts, this time at home. But it was followed by a divisional-round loss to the eventual-champion Steelers.
2009: A 13-3 regular season in which Rivers posted a career-best QBR of 76.9 and led the league in yards per attempt (8.8), adjusted yards per attempt (9.1), yards per catch (13.4), and net yards per attempt (8.0). But it all quickly went up in smoke thanks to a divisional-round loss to the Jets at home, with Rivers throwing two brutal second-half interceptions.
In the decade that followed, the Chargers made just two more postseason appearances with Rivers. The NFL became a passing league during that time, and Rivers continued to put up big numbers - both good and bad. Among QBs to make 100 starts between 2010 and 2019, Rivers ranked sixth in AY/A (7.62). He had nine seasons during that span in which his AY/A was at least 7.0, tying him with Brees and Ben Roethlisberger, and trailing only Aaron Rodgers. At the same time, his 153 interceptions during the 2010s ranked second only to Eli Manning's 156.
As Robert Mays of The Ringer pointed out, the Chargers finished in the top three in Football Outsiders' passing DVOA seven times in Rivers' 14 seasons as a starter, and they made the top 10 a total of 11 times - including 2019. He leaves as the Chargers' all-time leader in completions (4,908), attempts (7,591), passing yards (59,271), passing TDs (397), passer rating (95.1), game-winning drives (32), 4,000-yard seasons (11), and wins (123).
"In nearly every way," Mays wrote, "Rivers's numbers rival the best quarterbacks not only of the 2004 draft class, but of all time."
Eli Manning and Roethlisberger - the other longstanding QB from that 2004 class - won two Super Bowls each. But Rivers never got there. The Chargers always seemed to be wracked with injuries, and Rivers always seemed to be playing behind a porous offensive line - even as he managed to make 235 consecutive starts, playoffs included:
Rivers made his share of mistakes, too, as his interception totals make clear. He wore his emotions on his sleeve, playing with an infectious joy and a good-natured love of trash talking that was offset by flashes of obvious frustration. It's impossible to quantify this, but it's fair to wonder whether Rivers' passionate outbursts - a fire that certainly fueled him - sometimes consumed him.
Rivers also had a real connection to the city of San Diego, which seemed to return the love with equal measure. He famously continued to live there with his wife and nine children even after the franchise's 2017 move up the coast to Los Angeles. Rivers opted to commute the 70 miles each day, hiring a driver and converting a van into a makeshift studio for studying tape.
The Chargers' relocation drama has been a constant theme for several years. When they moved to L.A., they were shunted into a tiny soccer stadium that robbed them of any real home-field advantage, even as Rivers still had some prime seasons left in him. They now lack much of a fan base in L.A., and a longtime Chargers fan who lives in San Diego once told me Rivers was all that remained of his interest in the team.
At 38, Rivers no longer has the deep-ball arm strength he once possessed, and he's coming off a season in which he threw the fifth-highest percentage of turnover-worthy throws in the league, according to Pro Football Focus. But he still has something to offer a team, provided the circumstances are right.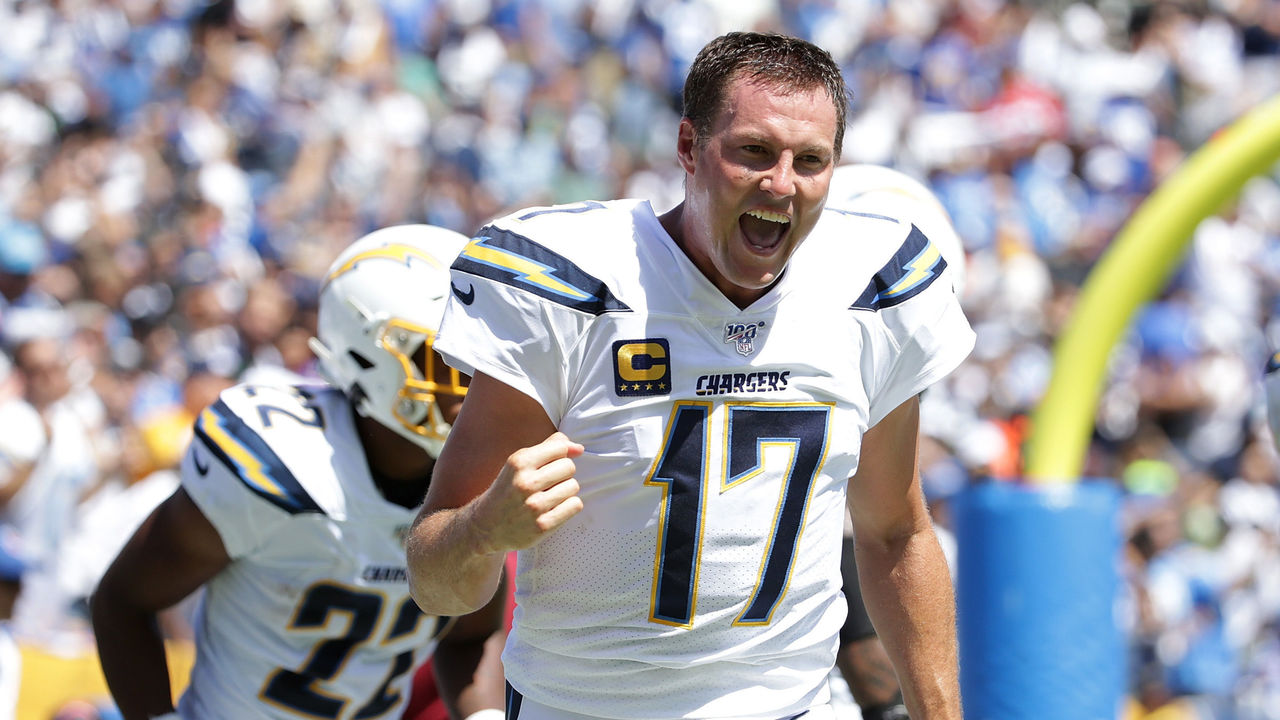 Of the QB-needy teams out there, the Colts seem to be the best fit for Rivers to get one last win-now opportunity. GM Chris Ballard pointedly did not commit to Jacoby Brissett after the season ended, and the Colts have roughly $86 million in cap space. They can afford to eat the $12.5 million in dead money it would cost to cut Brissett, or to keep him and his $21.5-million cap number while also taking on Rivers' deal, which likely won't be cheap.
As Mays noted, Rivers has a history with Colts head coach Frank Reich and offensive coordinator Nick Sirianni, who both used to work as Chargers assistants. The Colts have a solid offensive line and a quick-timed passing game that suits Rivers' skill set. All the pieces seem to be in place there for him.
When he's not playing, Rivers often wears a cap that says "nunc coepi." He had it on the day of his emotional press conference after the Chargers' season-ending loss to the Chiefs in December, which turned out to be a farewell:
What might have been with the Chargers is behind Philip Rivers now. "Nunc coepi" is Latin, and it translates to "Now I begin." There's something appropriate about that, too.
Dom Cosentino is a senior features writer at theScore.