Find line reports, best bets, and subscribe to push notifications in the Betting News section.
On this date last season, the Carolina Hurricanes sat three points out of a wild-card spot with less than a 40% chance of making the playoffs.
Not only were the Canes three points back of the Columbus Blue Jackets, who had played one less game, but they were eight behind the Montreal Canadiens for seventh in the Eastern Conference.
However, the Hurricanes passed both teams over the final two months of the regular season and ultimately reached the conference finals before losing to the Boston Bruins, who later came within one win of lifting the Stanley Cup.
Fast forward exactly one year to Feb. 7, 2020, and Carolina is currently occupying the final wild-card spot in the East with a 60.8% chance to make the postseason. It's a much better position than the Hurricanes were in at this time last season, yet their Stanley Cup odds are a staggering 40-1 - more than double the odds of the Toronto Maple Leafs (16-1), a team with just a 39.3% chance to reach the playoffs.
| Team | Stanley Cup odds |
| --- | --- |
| Tampa Bay Lightning | 6-1 |
| Boston Bruins | 8-1 |
| St. Louis Blues | 8-1 |
| Vegas Golden Knights | 8-1 |
| Colorado Avalanche | 10-1 |
| Washington Capitals | 10-1 |
| Dallas Stars | 12-1 |
| Pittsburgh Penguins | 12-1 |
| Toronto Maple Leafs | 16-1 |
| Vancouver Canucks | 16-1 |
| Arizona Coyotes | 25-1 |
| Edmonton Oilers | 25-1 |
| Florida Panthers | 25-1 |
| Calgary Flames | 30-1 |
| Carolina Hurricanes | 40-1 |
| Columbus Blue Jackets | 40-1 |
| Nashville Predators | 40-1 |
| New York Islanders | 40-1 |
| Philadelphia Flyers | 50-1 |
The Canes were actually being offered at 16-1 earlier this season after a strong start, but oddsmakers have since cooled on a team that's been winning fewer games despite no drop-off in its underlying performance.
On the surface, it appears Carolina's offense is average, with the team ranking 12th in goals for this season. However, the Hurricanes lead the NHL in expected goals for per game (xGF/60). They're also first in high-danger scoring chances per game (HDCF/60) and fourth in total scoring chances created per 60 minutes (SCF/60).
Why haven't they scored more goals? The team is being hindered by below-average shooting percentages on scoring opportunities - both high danger and overall - which should be due for some positive regression.
The Canes also lead the NHL in expected goals for percentage and Corsi For percentage (CF%), which refers to the percentage of shot attempts per game that are for that team. That's partially due to the quality chances the Hurricanes have been generating, but it's also because they've allowed the third-fewest shots against per game (SA/60). Additionally, only three other teams have given up less scoring chances per contest (SCA/60).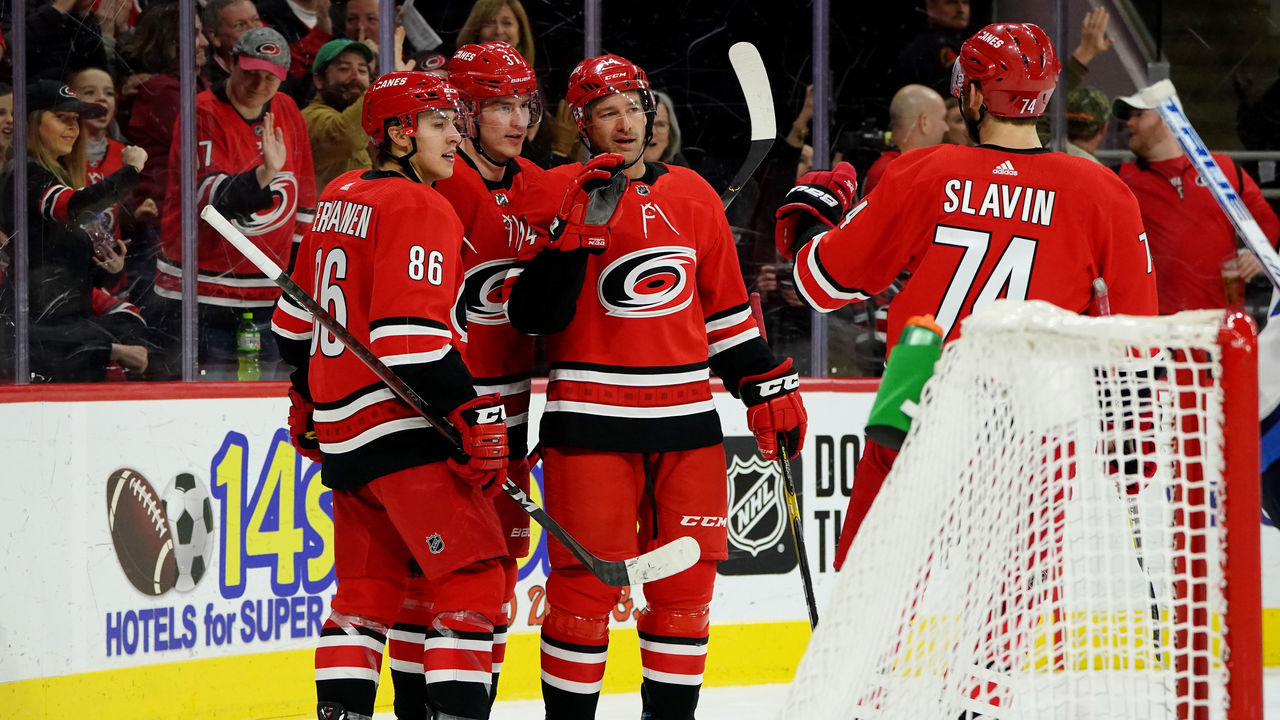 Carolina's unique ability to create quality chances at one end and limit them at the other makes this a very dangerous team, which isn't accurately reflected in the standings.
The Canes will have to fight down the stretch to secure a playoff spot, but it's nothing they aren't used to. They were worse off at this time last year but played their best hockey down the stretch, closing out the regular season on a 21-8-1 run.
This season, a lot will depend on whether the capable Petr Mrazek can get his 2.73 goals-against average and .900 save percentage closer to the 2.39 and .914 marks he posted last season. With respectable goaltending, this Carolina team is certainly capable of another strong finish and a deep playoff run.
Alex Moretto is a sports betting writer for theScore. A journalism graduate from Guelph-Humber University, he has worked in sports media for over a decade. He will bet on anything from the Super Bowl to amateur soccer, is too impatient for futures, and will never trust a kicker. Find him on Twitter @alexjmoretto.