Any complete assessment of Eli Manning's NFL career, which officially ends with his Friday retirement announcement, is going to sound like it was made up.
The abridged version goes like this:
Archie's youngest son and Peyton's kid brother.
A surefire No. 1 pick in the draft who made it clear he refused to play for the Chargers, who held that selection. The Chargers chose him anyway and immediately traded him to the Giants.
In 16 seasons as the quarterback and the face of one of the league's blue-blood franchises, he never missed a game or a start because of injury.
So much mediocrity: As many wins as losses as a starter (117). Just six playoff appearances, including only one in his last eight seasons. More career interceptions (244) than games played (236), even as the bulk of his career spanned this current era of improved passer efficiency.
That boyishly hangdog, very meme-able face.
Anything else? Oh, right: Two Super Bowl titles. Two Super Bowl MVPs. And both Super Bowl wins came against the juggernaut Patriots, who have largely steamrolled the rest of the league for the last 20 years. The season the Pats nearly went 19-0? Manning and the Giants stuffed them into a closet, sparing everyone west of Guilford, Connecticut, from having to hear about those UNDEFEATED GREATRIOTS for the rest of eternity.
I placed all that Super Bowl glory last on the list, but it just as easily could have been first. That's the riddle of Eli: It all depends. One can plausibly question whether he was actually any good while simultaneously debating whether he belongs in the Hall of Fame. To consider Eli Manning is to straddle both extremes. There are no wrong answers.
The Eli Legend side of the ledger is defined by two plays. The first one perfectly aligns with the haywire trajectory of his career. It came on a third down near midfield as the Giants trailed by four points with roughly a minute to play - against those undefeated Patriots in Super Bowl XLII:
It's appropriate that Eli was bailed out by an absolute circus grab from David Tyree, an otherwise forgettable player who never caught more than 19 passes in any of his seven NFL seasons. At the same time, Eli had to do this before he was able to chuck that ball into the Arizona night:
Four plays later, the Giants scored the winning touchdown. That kind of magic in a big game - and there probably isn't a better phrase for it, as trite as it may sound - is what tends to put quarterbacks on a different plane.
Never mind that the Giants' defense - most notably defensive linemen Osi Umenyiora, Justin Tuck, and Michael Strahan - snuffed out one of the most prolific offenses in league history. Or that they did it by pressuring Tom Brady on 43% of his dropbacks despite blitzing just 26% of the time, per PFF, which allowed them to blanket the field with seven men in coverage. Or that they limited Brady to 4 of 14 passing for 57 yards on throws of more than 10 yards downfield. The Patriots averaged an astounding 37 points per game that year; the Giants held them to 14. But Eli led two fourth-quarter TD drives, so the MVP went to him.
Still, it's remarkable, all these years later, to consider just how good Eli was in getting the Giants to that Super Bowl. He had thrown 20 interceptions during the regular season - tied for the league's worst total - but none in three road playoff wins against the Buccaneers, Cowboys, and Packers. His adjusted passing yards per attempt - a statistic that factors in sacks and interceptions - came in at 5.5 during the regular season, the second-lowest total of his career, surpassing only his rookie year. During those three playoff wins, it was 8.6.
In 2008, the Giants were poised for a repeat. Eli was terrific, completing 62% of his passes with an AY/A of 7.1 as the Giants rolled to an 11-1 start. But he was awful in the final four games, throwing just two TD passes with an AY/A of 5.2. The Giants lost three of those four, backing into an NFC East title, and were promptly eliminated by the rival Eagles in the divisional round. Eli was dreadful in that game, too: 15-for-29 for 169 yards and two interceptions.
The Giants missed the playoffs the next two years and were well on their way to doing so again in 2011. They were 7-7 and on life support heading into a Christmas Eve clash against their Meadowlands housemates, the Jets, who were 8-6 and in similar straits. With a little more than two minutes remaining in the first half, trailing 7-3, the Giants were backed up on their own 1-yard line, facing a third-and-10. Then this happened:
Yes, that's Eli successfully completing a pass at the first-down line to Victor Cruz, who tucked his curl route just so to give Eli an open window. It would have been enough to sustain what was still going to be a lengthy, difficult drive. But two Jets defenders biffed the easy tackle, and Cruz had the breakaway speed to burst free for an astonishing 99-yard score. The Giants went on to win - and wouldn't lose again, all the way through to Super Bowl XLVI and that second title clash with the Patriots.
Man, Eli was brilliant during that playoff run. The Giants waxed the Falcons at home before going on the road to take out the 15-1 Packers and the resurgent 49ers. In those three games, Eli threw eight touchdown passes against just one interception, with an exceptional AY/A of 9.0. But could he do it again against the Patriots?
It was another defensive struggle until the fourth quarter, when the Giants took possession at their own 12 with 3:46 remaining and trailing 17-15. The other play that defines the Eli Legend happened on first down:
It's not a stretch to suggest this was one of the greatest throws in NFL history. Eli split two defenders and placed that ball right along the sideline where no one but Mario Manningham could get it - and in perfect stride. The Giants were suddenly at the 50-yard line with a ton of time left. They would be in the end zone seven plays later, unlikely champions who somehow wiped out the freakin' Patriots again.
Eli would be named Super Bowl MVP again. Yet outside of those two charmed playoff runs, he and the Giants never won another postseason game.
The Eli narrative would be a clean, easy story to tell had it ended right there.
Statistically, the years ahead were some of the best of Eli's career. Four of his five best seasons for passing yards, completion percentage, and interception percentage came between 2014 and 2018. But those numbers, rather than indicating Eli's exceptional play, instead demonstrated how diminished he'd become. The results speak for themselves: Since Super Bowl XLVI, the Giants have reached the playoffs just once and failed to win more than six games in five of the last six years.
Eli had primarily become a checkdown artist who padded his stats with a lot of short, easy throws. NFL's Next Gen Stats has a metric that calculates air yards on completed throws (CAY). Their publicly available figures only date to 2016, but Eli ranked near the bottom of the league in CAY in each of his last three seasons as a full-time starter - even as he was surrounded with weapons like Odell Beckham Jr. and Saquon Barkley.
| Season | CAY | League rank* |
| --- | --- | --- |
| 2016 | 5.4 | 33rd of 39 |
| 2017 | 5.1 | 37th of 41 |
| 2018 | 5.3 | 27th of 39 |
The argument was often made that Eli was at the mercy of a porous offensive line that didn't seem to get much better even when the Giants attempted to bring in reinforcements. This was true, and it was also a handy excuse that masked reality and delayed the inevitable.
Eli wasn't tossing a lot of interceptions, but he was missing open throws and flinging his fair share of untimely picks, even as injuries wracked his skill players and the O-line continued to be a turnstile. By 2017, so much decay had set in that head coach Ben McAdoo elected to bench Eli for Geno Smith - a reasonable move for a doomed coach trying to defibrillate a dying season, but one that was met with derision from a fan base desperate for Eli to conjure another miracle.
Oddly, Giants management bought into this sentimental thinking. Eli was back under center the following week, and after McAdoo and GM Jerry Reese were fired following the season, the Giants foolishly entered 2018 thinking they could spackle a few holes around Eli to make another run. "If no one ever really knew how Eli did it in the first place," as David Roth once wrote for Deadspin, "there was always the chance that he might somehow do it again." It will forever be no small irony that McAdoo had the right idea all along.
By clinging to so much nostalgia, the Giants set back their rebuild. In 2018 they drafted Barkley rather than any number of potential high-end quarterbacks. Barkley's immense talent is obvious, but running backs remain devalued across the league because they tend to be replaceable and to have short shelf lives. There's a reason Barkley is one of the league's highest-paid backs, even on his artificially suppressed rookie contract.
Once the Giants drafted Daniel Jones last spring, Eli's split from them was a matter of time. Sure enough, Jones got the wheel after just two games. Eli's contract was up and he was about to turn 39. The only question was whether he'd try to sign on somewhere else for 2020.
Now that he's retiring, the conversation can focus on Eli's candidacy for the Pro Football Hall of Fame. But let's be real: Eli spent his career being accessible and perfectly bland and polite to New York sportswriters, who have plenty of sway among the Hall's voters. Hall of Fame elections tend to be silly popularity contests, and it's hard to imagine that kind of lobbying muscle will fail Eli forever.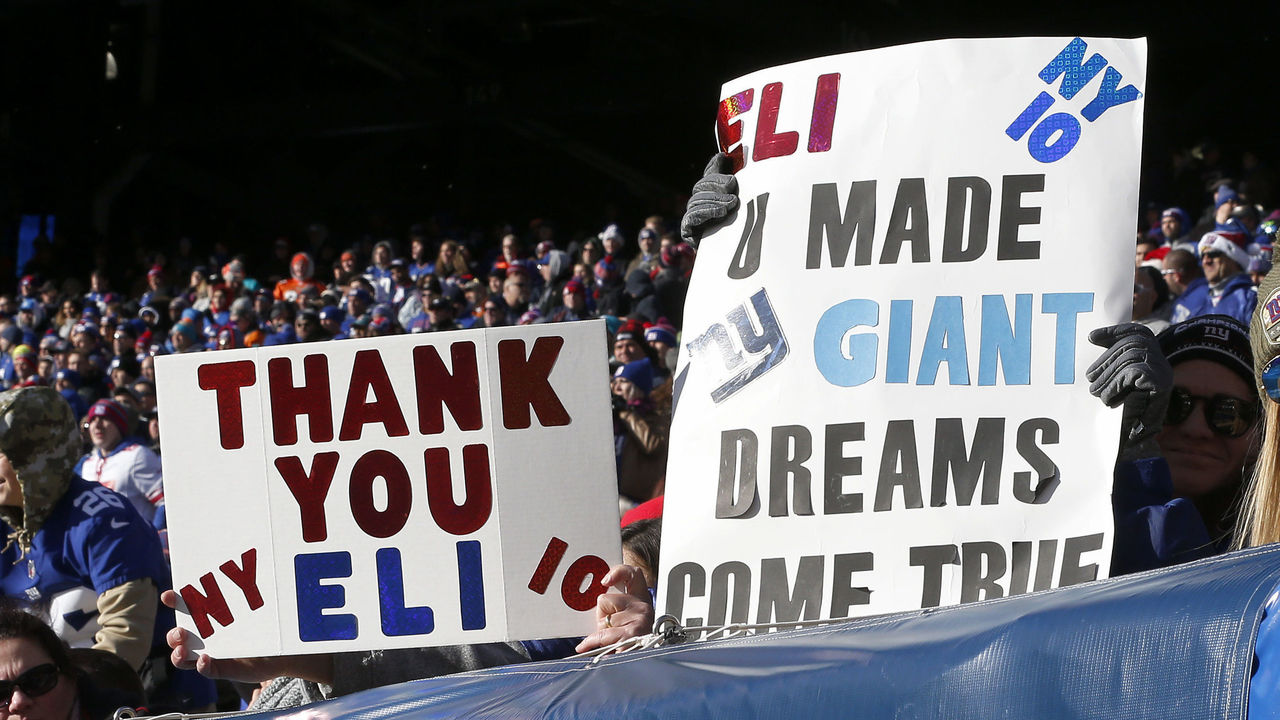 Of course, as with all things Eli, there was one final plot twist before he shoved off: With Jones injured, Eli got to make one last home start. It was a meaningless Week 15 game against the similarly sad-sack Dolphins, but it was also an occasion for one last win, one last triumphant goodbye before the Meadowlands faithful. You couldn't make it up if you tried.
Dom Cosentino is a senior features writer at theScore.